You might be wondering what furniture items will make a living room look bigger, and you're right to be thinking this. Certain pieces can make even the smallest room feel airy and bright, making it feel much more relaxing to be in.
When choosing living room furniture, it can be easy to just tick off the basics without thinking about shape, material, and color. By being more thoughtful when choosing, you can pick pieces that really open up the space, even if you haven't got a lot of room.
Choosing furniture items that will make the room look more spacious is a really great small living room idea. That's why I've spoken to experts to find out what you should choose if you want to make your place look larger — and spoiler alert, there are some really genius tips ahead.
These are the 6 furniture items that will make your living room look so much bigger
Ready to take note? Here are seven furniture items that will make a small living room look bigger.
1. Light-colored furniture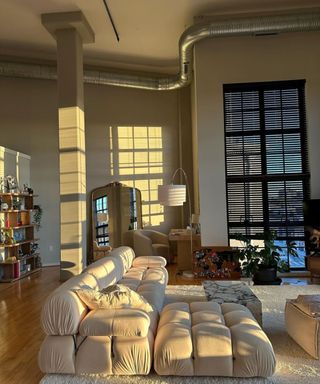 Color and material are both important factors in choosing furniture that will make a space appear larger. "Go for furniture with light-colored upholstery, as it reflects more light and makes the room feel airy and spacious," says Raf Michalowski, interior designer and founder of Meble Furniture. This will create an illusion of more space, making your living room look bigger.
Raf Michalowski is an interior designer. He is also the founder of Meble Furniture, which is one of the largest leading furniture retailers within North America.
2. Garden stools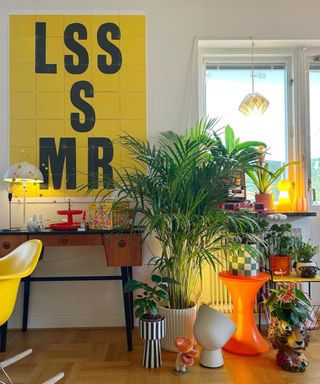 Don't be fooled by the name — garden stools aren't just for the outdoors. "They're incredibly versatile and can serve as side tables or even additional seating when you have guests," says Jim Olenbush, founder of Austin Real Estate. "For instance, one of my clients incorporated ceramic garden stools in her living room. Not only did they add a touch of elegance, but they also occupied minimal space and could be quickly moved around as needed." Their height also will draw the eye upwards.
Jim Olenbush is the founder of Austin Real Estate, a brokerage firm based in in Austin, Texas. He has been in the real estate business for over 26 years.
3. Low-profile furniture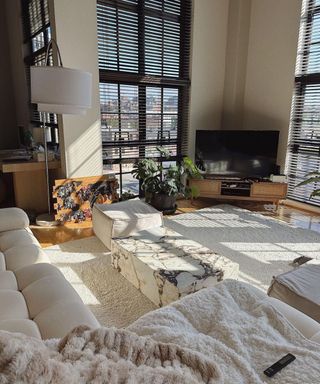 While utilizing vertical space can make a room look bigger, too much tall furniture can actually have the opposite furniture. "I have seen that low-profile furniture like a low-slung sofa or a platform bed can make a room feel more open and spacious," explains Michalowski.
For your living room, he says to consider replacing bulky and tall furniture with lower profile pieces that will create the perception of higher ceilings and more floor space. "You can also use furniture with legs, as these will give the appearance of more space underneath."
4. Round tables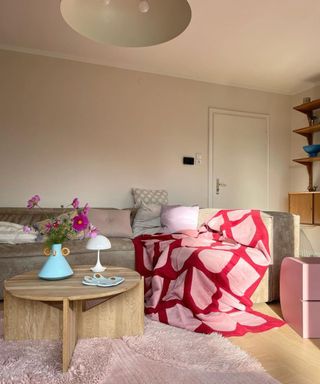 Whether you need a dining table or a coffee table, choosing a round one is good if you want to make your living room look more open. "They provide more seating than square or rectangular ones, and they take less space too," Michalowski tells me. "This will make the room look more spacious than it actually is.
5. Transparent or glass furniture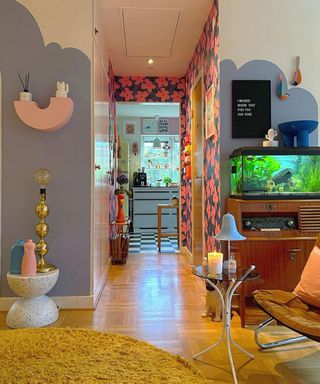 It's clear to me that this is a brilliant idea. "Look for transparent furniture, such as acrylic or glass coffee tables, console tables, or side tables," explains Michalowski. These will reflect light and allow for a clear view of the floor, making the space feel more expansive. Acrylic furniture is an especially budget-friendly option, and gives serious Y2K vibes, too.
6. Floating media console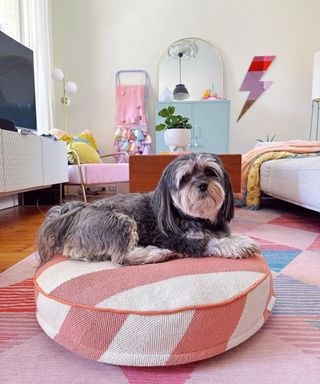 If you have a landlord that allows you to drill into walls (lucky!), you can install a media console on the wall, rather than having it clutter up the floor. "Using a floating media console not only gives you extra storage but also creates a space illusion," says Michalowski. "It is always better to use a light-colored one, as this will help you create a sense of openness."
You can go for a white media console or any other light color that suits your living room's decor. Renting and can't use these? Go for a standing media console that's heavily lifted off the floor, like @picsfromcandice has.
6 furniture items that will make your living room look bigger
Want to put our experts' advice into action? These budget and renter-friendly options will help you do that in any space.
The prices below were correct at the time of publishing this article.
FAQs
What colors make a small living room look bigger?
Go for lighter colors, such as soft neutrals and pastels, as these will make a space feel more airy and bright. Transparent materials will also have this effect.
What things make a small living room appear bigger?
Choosing furniture pieces that optimizes vertical space, are light in color and material, and have rounder edges will all make your small room look larger than it actually is.
---
Now you know what furniture you need to make your small living room furniture, you might be thinking about other important pieces for this area of the house. Luckily, there are just six things that every small living room needs.