We've sourced DIY Christmas card ideas to get your creative juices flowing, whether you're a seasoned crafter or a first-timer.
Bought Christmas cards, whilst lovely at this time of year, can mean that you may receive a couple of the same cards. However, if you make your own, each one will be unique and no one will receive the same from someone else.
There's kits that come with everything you need, designs that only need coloring, and some that require a spot of stitching. Most of all, it's about having fun with your own designs and passing on that lovely sentiment that you get from a hand-crafted card.
If you love crafting at this time of year then why not have a go at making decorations too? Head over to our DIY Christmas decorations feature for more fabulous ideas.
DIY Christmas card ideas
Bring back the joy of crafting with these fabulous DIY Christmas card ideas that you can send to friends and family. Who knows – it might be the start of a wonderful new hobby.
1. Buy some pre-made festive stamps and print your own cards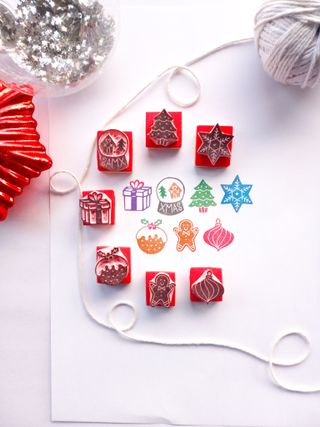 Not keen on drawing or painting? Then opt for a Christmas rubber stamp set that you can use to design cards with, wrap and gift tags. This set from christmas stamps set from PaperGrapePrints is hand-carved and made to order, you can choose individual designs or the whole set – Christmas tree, pudding, gingerbread man, bauble, snow globe, snowflake and present – and they ship worldwide.
2. Or, if you're feeling brave, buy this lino print Christmas kit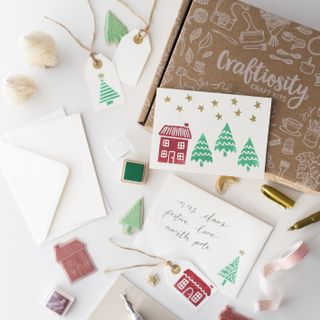 Take it to the next level by carving your own lino print blocks that can be used every year like this lino stamp kit from Craftiosity. You could create your own designs or opt for iconic shapes like a star, tree and house. Roll on some ink and print as many as you like.
3. Stitch on top of a card to give it a textured effect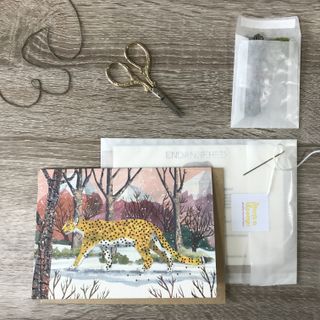 This unique idea from Plant a Bloomer features an embroidery kit, card and envelope.
The idea is that you embroider the card using the perforated holes and thread. The leopard featured is 'endangered' and is seen walking in the snow. This card is ideal for a wildlife fan and they'll love the extra texture that the stitching will add. Plus it'll look amazing in anyone's Christmas card display.
4. If you're not the arty crafty type, personalize instead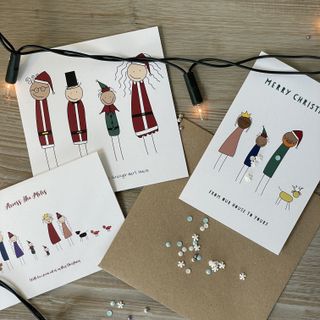 There are some great personalization options if creating your own designs isn't for you.
Posterhaste's 'family portrait' Christmas cards are printed on weighted and textured cards, with a kraft envelope. You can choose from a selection of people, pets, animals and festive themes, add in names if you want and make them look as near to yourselves as possible.
The final touches are the font and Christmas color scheme, and et voila – your family Christmas card is ready for you to send out.
5. Make a bauble bunting Christmas card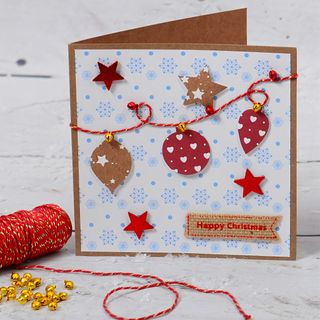 This oh-so-cute Christmas card has a difficulty rating of 1 out of 3 - so that's great right? It's the perfect DIY Christmas card idea for a beginner and the result is really effective.
Get crafting your own bauble bunting Christmas card with Hobbycraft's step-by-step instructions .
6. Learn how to 'iris fold' these marvelous baubles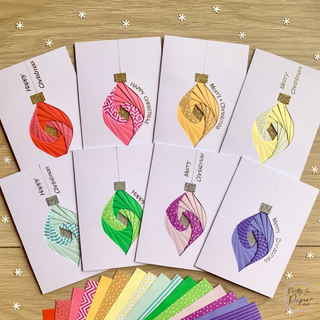 Have you heard of 'iris folding'? It's when paper is folded in strips to mimic the iris of a camera, it looks great when finished and you can use it to make all sorts of shapes.
This amazing Christmas rainbow bauble iris folding kit from Etsy contains enough resources to make eight baubles in eight different colors and you can see how striking they look when they're complete.
7. Color in your Christmas cards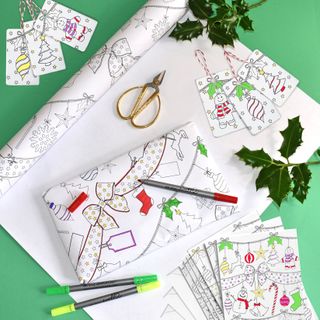 Coloring for adults has become a big hit over recent years, it's fun and therapeutic, so why not consider this color-in Christmas craft activity pack by Eat Sleep Doodle that will be something you can do with the children too - or hide it away and do it yourself in the evenings - we won't tell.
It comes with 3 large sheets of color-in gift wrap, 6 gift tags and 6 cards with envelopes, so it's a great Christmas gift wrapping idea too.
8. How to make a winter scene shaker card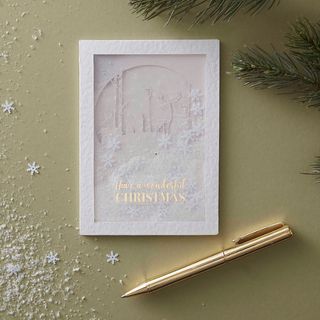 We love a shaker card as they add that lovely festive extra that you don't get from a standard card. Inspired by the magic of a snow globe, we have a fabulous step-by-step on how to make a winter scene shaker card from Hobbycraft so you can make your own – and don't forget you can add in your own favorite extras like fake snow, confetti and sequins.
What you'll need:
Winter scene cards and envelopes pack
White snow confetti or similar
Artificial snow or similar
Gold sentiment foil stickers
Craft Essentials white hammered card
Stix 2 anything clear acetate sheets
White foam pads
Double sided sticky tape
You'll also need a craft knife and ruler
Step 1: Trim the card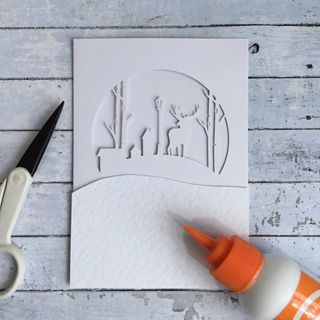 Trim a sheet of white hammered cardstock to 10.5 x 7cm, then trim the top into a curve and adhere under the aperture.
Step 2: Stick acetate to the card's frame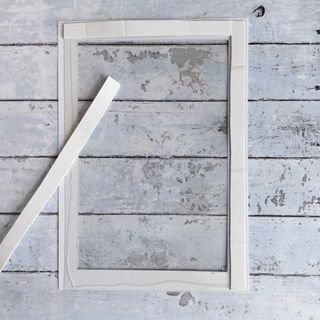 Trim white hammered aperture cardstock to 10.5 x 15cm, draw 1cm border around the edge and trim away with a craft knife to create a frame. Adhere acetate to the back of the frame then run foam pads around the edges.
Step 3: Sprinkle fake snow and confetti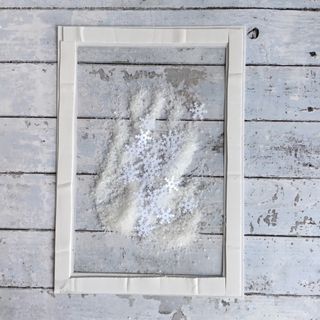 Sprinkle faux snow and snowflake confetti onto the acetate, then momentarily place to one side. Trim another piece of acetate to 10 x 14.5cm, then remove the backing from the foam tape and attach the second acetate panel on top.
Adhere the frame to the card front then attach a sentiment sticker towards the bottom.
9. Keep it simple with a beautiful snowflake stencil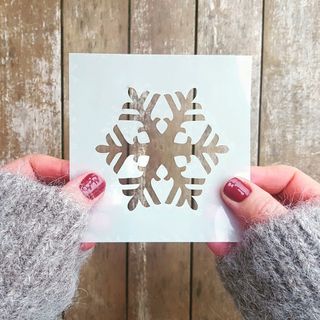 How gorgeous is this stencil? It's so versatile as you can use it for stenciling snowflakes on windows, fabric and Christmas cards and wrap.
The possibilities are endless. Created by Nicolette Tabra on Etsy, it's made from quality, reusable 190 Micron Mylar stencil and is 12.5 x 14cm.
10. Learn some new stitches with this sewing kit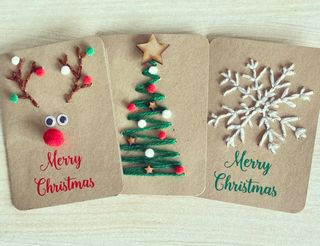 This super cute Christmas Mama B Craft kit from Etsy is ideal for kids and adults, it comes with enough thread, a blunt knitter's needle and pompoms to make three cards, or you can opt for the bumper pack which will give you 5.
Instructions are sent via email to save paper – we love this touch – and it means you won't lose them.
11. How to make a Christmas layered scene card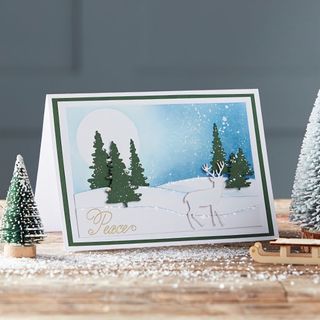 Cards that have a 3D quality are always more effective and striking visually, so if you're feeling crafty – this Hobbycraft layered Christmas card has a difficulty rating of 2 out of 3 – then have a peek at the step-by-step here and give it a whirl.
How do you make a simple Christmas card?
'Since we recently repainted the inside of our house, we had a plethora of paint sample cards around. An easy way to recycle those, as well as make your own Christmas cards, is to cut the paint chips in a triangle shape and glue them to the front of your card.'
'You can use multiple colors on the same card. Cut them into different size "trees" to give the card depth. Add a star to the top of the largest one. You can also add stars to the sky above the trees and voila, you have a super easy, homemade Christmas card and you've also recycled all those paint color sample cards,' says James Green, owner at Build A Head.
How do you make Christmas cards from old ones?
We're always up for ways to reuse and recycle and creating new Christmas cards from old ones is something that can be very effective.
The only new thing to buy first would be some blank cards, we like these white blank cards with white envelopes from Amazon.
Take your old cards and cut out sections that you like – it might be a festive scene, a tree, some baubles or a modern pattern. Then, using one of your blank cards, start playing around with the cut out elements onto the front.
Keep it simple, and stick down the parts that you like, it could be a row of baubles, one large tree or snowflakes. You can then add in decorative elements like sequins, ribbon and washi tape as finishing touches.