Choosing tiles for a small bathroom – whether for walls or floors – can be a bit tricky. But fear not because we have plenty of tips and tricks here to help you make the right choice. We've put our bathroom design know-how together below to help you understand which tiles you need. From the ideal size of tile for your floor, to what will work with your walls to only enhance the sense of space, we've got you covered.
For even more small bathroom ideas and inspiration, be sure to check out our gorgeous gallery.
What's the best size tile for small bathrooms?
Small bathroom tiles: myths busted!
Myth 1: Don't use small tiles
There is a risk smaller tiles might be too busy in a small bathroom but if you have found some tiny tiles you are obsessed with of course you can still use them! Just keep them for small surface areas (shower, splashback, alcoves) and use bigger tiles to cover larger expanses.

Myth 2: Only use light coloured tiles
We know lighter colours make a room feel bigger and brighter, but that doesn't mean you should always shy away from using darker colours in smaller spaces. A dark tile can add a sense of depth as the parameters become less clear and, much like a lighter tile, can make a space feel bigger.

Myth 3: Avoid busy patterns
While we probably wouldn't recommend you go full floor to ceiling on every wall, patterned tiles definitely have a place in small bathroom. Just choose one wall or a splashback or just the floor to add pattern to and keep the rest plain.
Tile size shouldn't be determined by bathroom size, despite what you may hear. A small bathroom can actually benefit from a large tile. With fewer grout lines the walls and floor are less cluttered and the room visually expanded.
Using smaller tiles, such as mosaics, will give you lots of grout lines, which can give the bathroom walls a grid-like appearance that can promote the feeling of being boxed in – making your bathroom feel smaller still.
This doesn't mean you have to rule out small tiles out, however. If you've fallen for some beautiful mosaics, you can mix it up a bit by using different sized tiles in different zones of your bathroom, with smaller tiles being limited to the showering area, a larger format tile used in the majority of the room, and mosaic tiles in alcoves or recesses (spaces you don't expect to feel generously-sized).
It can be hard to tell what size tile will work in a small bathroom when you're looking at it on the shelf of a tile shop, so it makes sense to request samples (a few to lay on a sample board if you can) to see them in situ.
Going to be tiling a bathroom wall yourself? Now would probably be the best time to mention we have an really easy to follow step-by-step guide to help you out.
Does how you lay out the tiles make a difference?
A clever trick to use in small bathrooms is to lay your tiles in diagonal patterns, which tricks the eye into seeing the space as bigger than it really is. When you take a look at normal squared options they are fairly easy to count, but arrange them diagonally and your eyes are drawn to the longest dimensions of the room. Popular chevron patterns can do this well.
If a diagonal tile pattern doesn't sound appealing, consider laying your tiles in brick bond. This is a popular choice for metro tiles, but helps limit the grid pattern effect mentioned earlier, which can emphasise the limited width and height of a room.
We have loads more clever ways to improve your bathroom, so make sure you go and check those out too.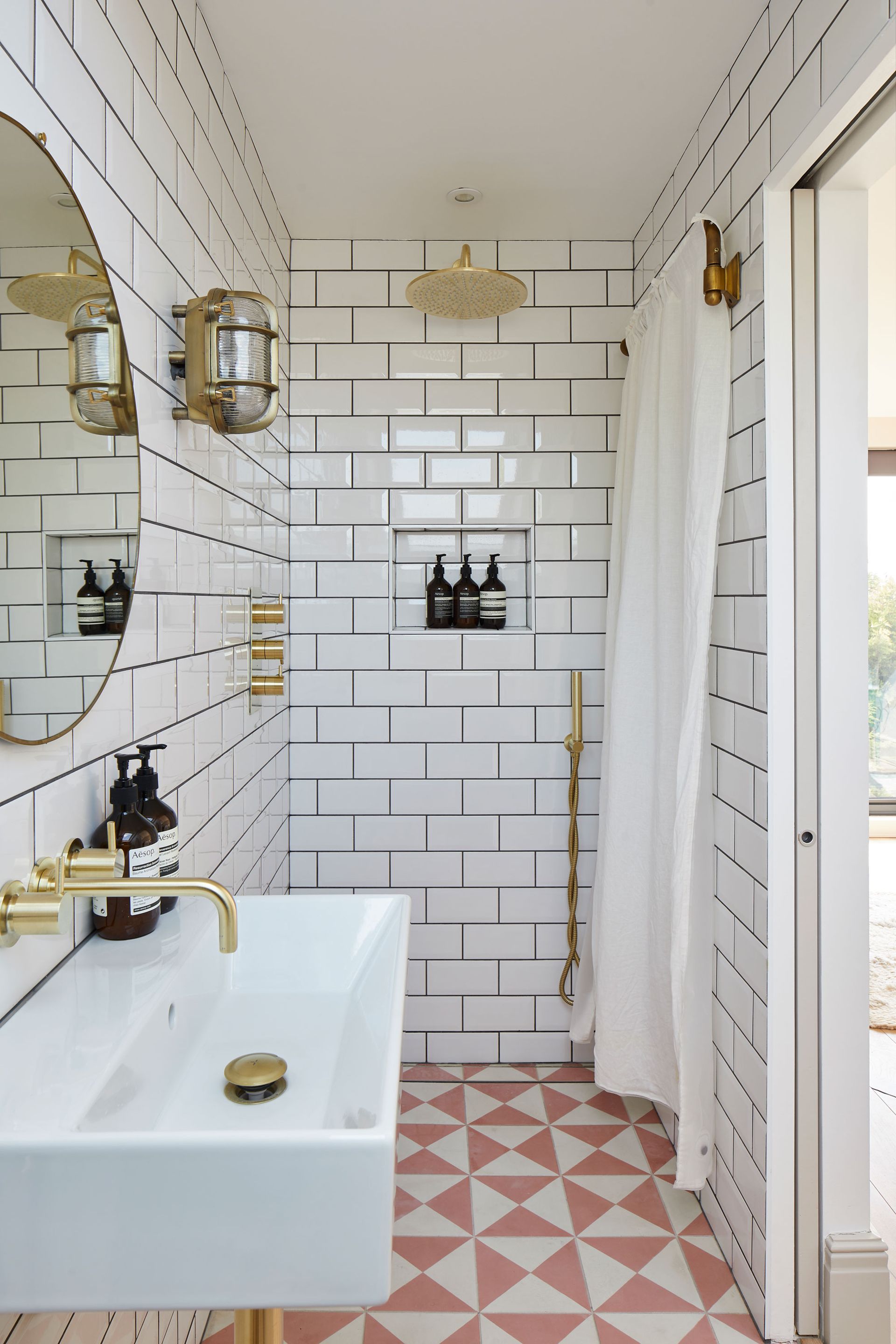 Which colour tiles to choose for a small bathroom?
It's a well-known rule that using lighter colours will help a small room look bigger, so apply that to your picking the right tile size for a small bathroom, too. Choosing lighter colours, such as white or cream, for your bathroom tiles will help reflect more light than darker colours would.
Another trick for getting the right tiles for a small bathroom is to use glossy, metallic or mother-of-pearl finish tiles, which will enhance the space by reflecting light, giving a sense of grander proportions.
However, don't shy away from dark colours – a darker tile can be used effectively to add a sense of depth to a space, either throughout the room or, on walls, as a pencil line around the width of the room, which will make it look longer and wider.
Patterned or plain tiles for a small bathroom?
Which to choose? Patterned tiles, especially busy ones, will inevitably make walls advance visually, which means they'll make a bathroom feel smaller. However, if you'd like to use patterned tiles to add character, put them below dado rail height, and use plain, light-coloured tiles above. Taking this approach will draw the eye upwards and across the room, making it feel larger and lighter.
Where to tile in a small bathroom
More from Period Living
Period Living is the UK's best-selling period homes magazine. Get inspiration, ideas and advice straight to your door every month with a subscription (opens in new tab).
A small bathroom can feel unwelcoming and clinical if it's tiled from floor-to-ceiling and wall-to-wall but, to enhance the feeling of space in the room, you need to aim for as much decorative flow as possible. In other words, if the placement of the fixtures and fittings means that there will only be small gaps of painted wall between, say, a bath splashback and a basin one, it's better to tile across the length of the wall and to limit the changes in tiling levels than to interrupt the tiling.
If you find you are tiling the majority of your walls, just make sure you choose a bathroom floor tile that doesn't look too matchy-matchy. A entirely white tiled bathroom? Weird vibes. Choose a patterned floor tile to add some contrast you wall tiles (or vice versa), we have loads of inspiring patterned tiles over in our gallery.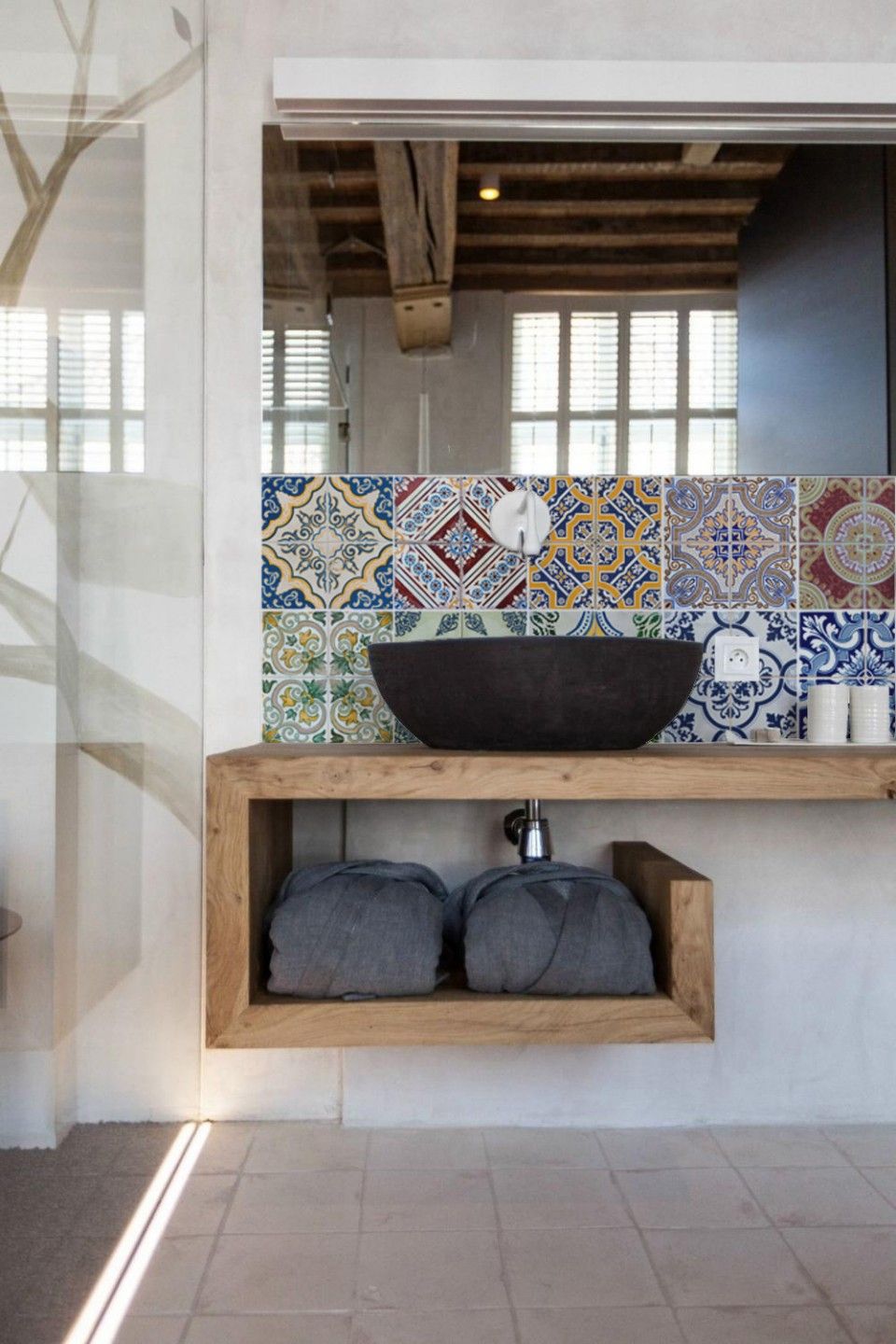 How to calculate how many tiles you need for a bathroom
Measure up and calculate the number of tiles you need before you head out to buy them. To make life easier for you, there are many tile calculators (opens in new tab) available online. You can also go to your local retailer armed with the measurements and they should be happy to help you out.
Make sure to add on an extra 10 per cent to allow for breakages, cuttings, waste and pattern matching. You don't want to be halfway through tiling your bathroom before you realise that you don't have enough to finish the job.
Choosing the right tile materials for a small bathroom
Travertine, marble, limestone, slate and granite are all natural stone options for small bathroom tiles, each with its own natural properties. Slate in particular is great for bathrooms, as it has low porosity and its riven texture is non-slip, while stones such as marble, travertine and limestone can be polished to a high shine for a stunning finish, but need to be sealed. If you need any more advice of choosing natural stone flooring then check out our guide.
Ceramic and porcelain tiles are usually a more affordable manmade option, and there is huge scope in the range of finishes available. From those that mimic stone and even wood, to bright colours, decorative patterns, high glosses and raised prints. We have plenty more ideas and tips on choosing ceramic and porcelain tiles.
Mosaics, in stone, glass or ceramic, look beautiful over smaller areas, such as behind the basin, and give a sense of having been meticulously laid. They are also available in sheets for easy installation.
Choosing the right grouting for a small bathroom
It might seem like a minor thing, but the grout you choose for laying your tiles could make a big difference. It depends on the look you are going for, but we think in a small bathroom the fewer grout lines the better. As we have said many a time previously, that doesn't mean you have to shy away from small tiles, it just means using a grout that matches them. The smaller the tile, the more essential this becomes.
Of course, stark grout lines can make a bit of design statement and can work well in small bathroom. Metro tiles or simple rectangular tiles are the perfect example of when choosing a contrasting grout, even in a small bathroom, looks super stylish.
Change the proportions of tiles in a small bathroom with tile stickers
If you are renting and have been blessed with a small bathroom or if you are trying to decorate on a tight budget, you probably don't have the option of ripping out all the tiles and replacing them with new ones. The answer? Tile stickers. You can pick out a tile design that suits your small bathroom better and stick them over the top of your existing ones. Etsy (opens in new tab) and Dunelm (opens in new tab) both do loads of designs that are really affordable.
Expand a small bathroom with floor tiles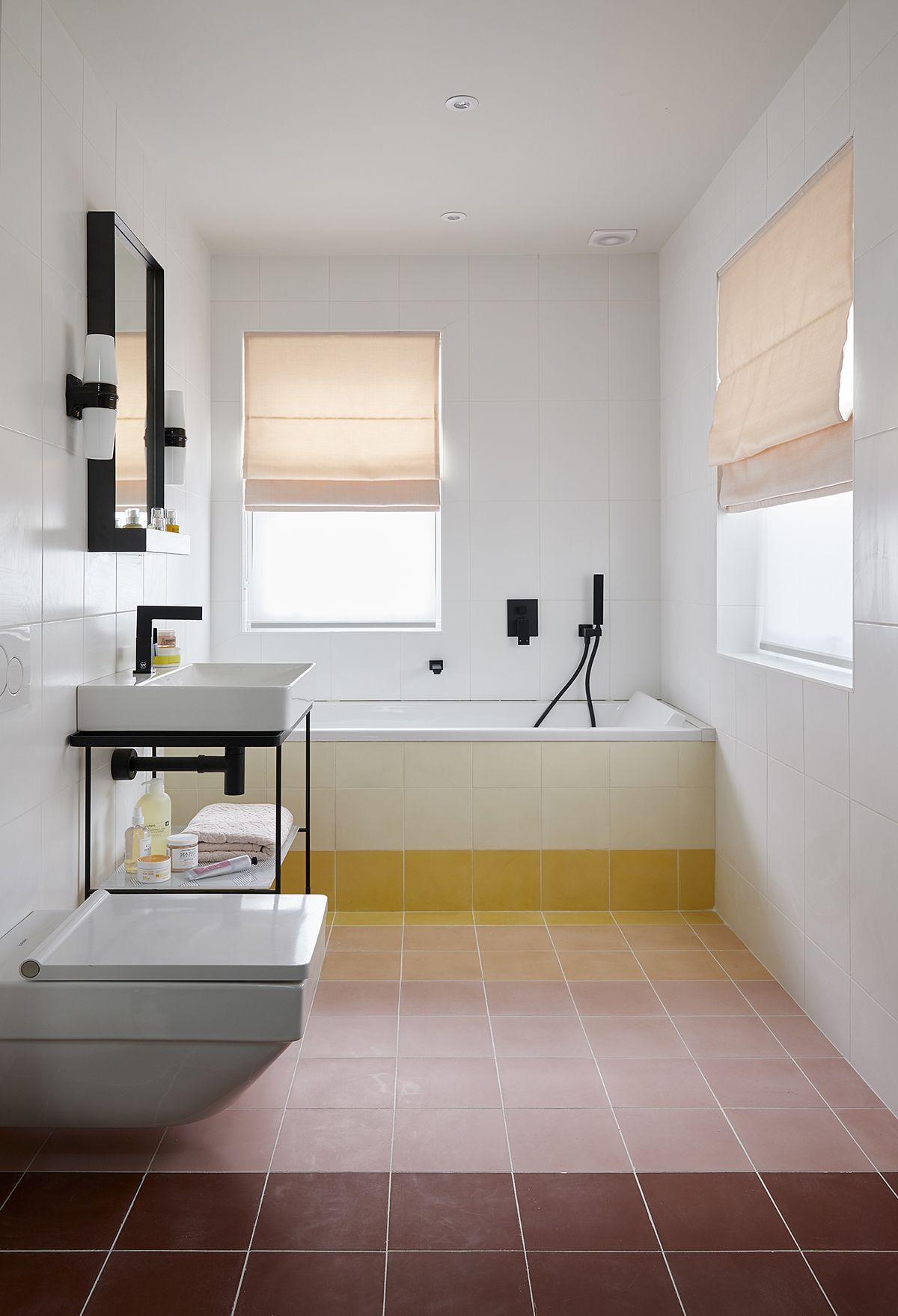 How cool is this bathroom? And it's actually a pretty small space too, it's just been made to look bigger with the clever choice of floor tiles. The fading colours draw the eye to the end of the room, giving the illusion that the room is longer than it is and running the tiles up the side of the bath only adds to lengthening the room. We love the sunset colours used here but if you are more into a monochrome bathroom this would work really well fading black into white.
Bring in an extra dimension with textured tiles
A subtle way to add interest without closing in the look of a small bathroom is by using texture. Tiles with 3D surfaces instantly grab attention, whether they're in small-scale mosaic patterns, regimented ribbed designs or feature undulating wave effects. Opting for white or neutral colourway will give you the confidence to play around with the design, combining textured tiles with co-ordinating smooth ones to divide up the space, or to create a feature panel that will highlight a basin or shower area.
More tiling know-how: