Although the name sounds like a fancy cherry-on-top home addition, a butler's pantry is simply a form of extra storage area in the home – but it can be a game changer for anyone who is a regular dinner party host or entertainer. It is usually located near the kitchen but can be placed anywhere in the house.
Designing a butler's pantry can be difficult because there are many things you need to consider; it's one of those rare spots in the house that should be both playful and functional. Below, we've rounded up a handful of expert-approved butler's pantry ideas that'll add style and practicality to your dining and kitchen space. Letting you max out on your best pantry organization tricks and more.
Butler pantry ideas for style and function
You can put just about anything you want in a butler's pantry but it's most often used as a practical storage solution, holding all your additional kitchen and entertaining essentials in one convenient spot. Not only does this allow your organized kitchen to look more minimal and magazine-perfect but it's also highly functional if you tend to entertain regularly or have a lot of countertop appliances, fine china, or baking and cooking ingredients that you don't need in your kitchen. There are lots of different ways to add and style a butler's pantry in your home, let us inspire your next design move:
1. Consider using a small closet or wall niche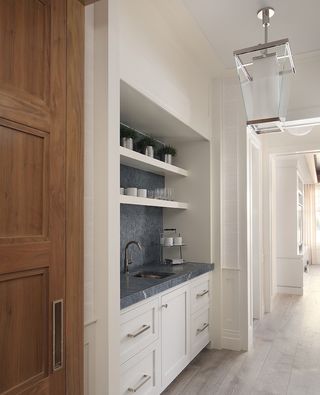 If you don't already have a designated butler's pantry in your home, you'll have to decide on where it would make logical sense to put one. You also have to think about what cabinets are going to go in it and how much storage space you'll need.
'If you have a small closet near your kitchen that you don't use, the butler's pantry is a great way to utilize that unused space near your kitchen,' explains Evan Nelson, founder of Nelson Cabinetry. A generous sized wall niche can also provide enough space to create a butler's pantry.
2. Match the cabinetry with your kitchen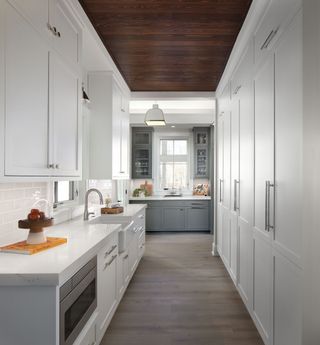 According to Nelson, one of the most important things when designing a butler's pantry is to choose perfect kitchen cabinets. 'Most people choose to match the cabinetry and counters with their kitchen cabinets and counters,' he explains.
3. Experiment with funky colors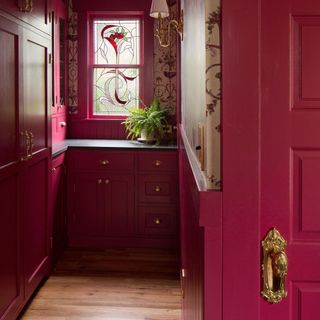 That being said – if you want to do something a bit more fun to match the entertaining style you're aiming for, Nelson suggests experimenting with other styles and colors that play off your kitchen decor but go in a slightly different direction.
4. Consider adjustable shelving to suit your needs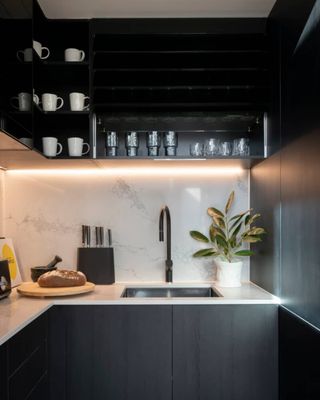 'Butler pantries are an amazing space to add extra storage for larger serving pieces, fine china and crystal, and even small appliances that aren't kept on kitchen counters,' says Jennifer Q. Williams, CEO of Saint Louis Closet Co. 'If you're lucky enough to have a butler's pantry I recommend outfitting it with adjustable shelving and pull-out bins and baskets.' Adding one is perfect if you want to up your kitchen storage game.
5. Create a coffee bar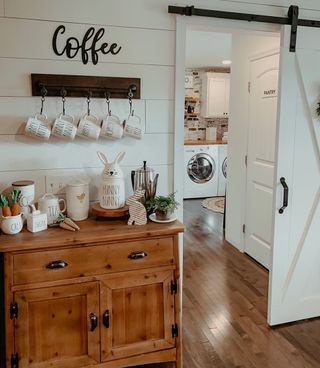 According to Williams, the butler's pantry is a common solution to coffee fiends who find themselves managing more coffee accessories and machines than they can fit in their kitchen. The easy-access coffee bar is also a great way to facilitate serving espresso at the end of a dinner party without having to dart back and forth between the kitchen and the living room.
6. Or stick to cocktails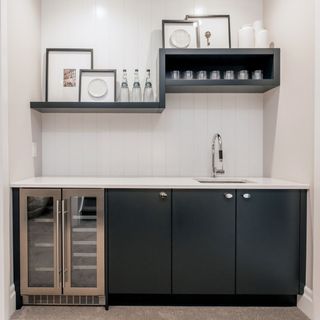 Prefer cocktails and champagne to coffee? A butler's pantry is the perfect spot to foster a more practical version of bar cart, says Williams. Simply add a wine cooler or rack, a couple of bottles of vodka or gin, and keep your cocktail glasses and champagne flutes on the counter or tucked into the shelving.
7. Employ patterned wallpaper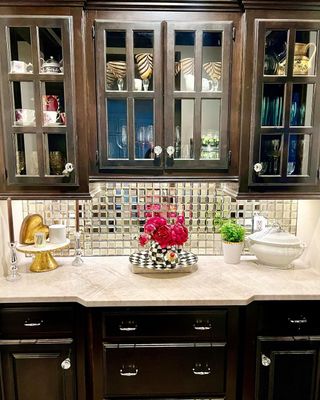 When styling your butler's pantry, consider going bold with wallpaper or tiling. 'Opt for a patterned wallpaper – you can even use a stick-on kind if you're not ready to commit—and painted cabinets to really give the space a personality of its own,' suggests Andre Kazimierski, CEO, Improovy Painters Chicago. 'Experiment with colors and textures and figure out what you like.'
8. Ensure sufficient lighting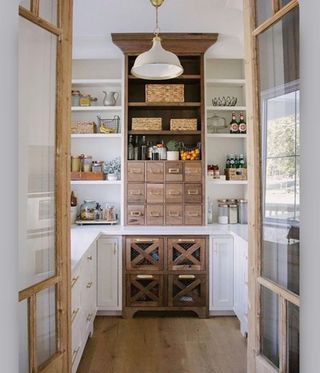 'If you're using your butler's pantry for meal preparation or storage, it's essential to ensure that this space has the right amount of light to help you complete kitchen tasks and find stored items,' points out Dan Wiener, founder and lead interior designer for Homedude. This can mean setting up your pantry across from a window, adding mirrors to brighten the space, or adding a series of built-in kitchen lighting solutions.
9. Opt for open shelving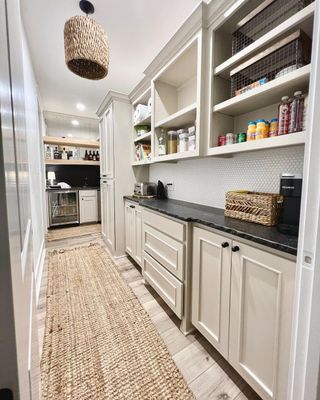 Having a butler's pantry means extra space in the kitchen. One of the best ways to maximize this benefit is to build an open storage space so you can quickly find kitchen items you'll be placing there.
'One of the primary purposes of this area is to provide space for kitchen appliances like microwaves, blenders, and coffee machines,' says Wiener. 'This is why it's essential to find a storage solution that will allow you to find and store these items quickly. Open shelves and cupboards both have a convenient and straightforward design to help you with just that.'
10. Include a sink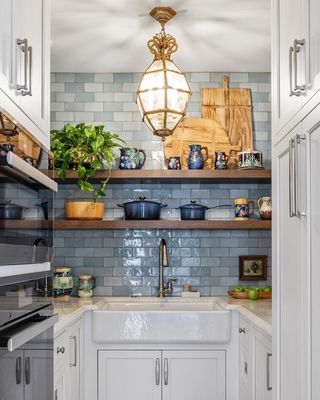 Installing something like a small sink—or even a dishwasher—in the butler's pantry will make washing the dishes much more convenient and organized. It also allows you to keep the clutter of used plates and kitchenware away from the eyes of your guests!
What's the difference between a butler's pantry and a regular pantry?
The butler's pantry and a regular pantry have very similar functions—but the butler's pantry is more of a workstation than a basic storage space. You'll often see butler pantries wedged in between the kitchen and the dining room in older heritage homes (when having staff in the kitchen for dinner parties was more common) but these days butler pantries serve as an aesthetically pleasing solution to everything from serving cocktails to storing and using overflow from the kitchen.
Are butler pantries worth it?
Butler pantries are certainly worth it if you have a lot of kitchen storage overflow that you want to be able to use without having to dig through a regular storage closet or organized pantry space. You will also benefit from a good butler's pantry set up if you tend to entertain a lot or serve multi-course dinner parties and want to optimize the flow of your evening.
How do I style my butler's pantry on a budget?
Whether you're building a butler's pantry from scratch or you're curating an existing pantry, the most important part is to have clear counter space and easy access to everything you're planning to store.
Consider storing your wine glasses, whiskey glasses, and champagne flutes and finishing off the space with a selection of alcohol and a wine rack if you're simply hoping for a workable bar station.
Otherwise, the best thing you can do to style a butler's pantry on a budget is to ensure you have a great shelving system that gives both easy access and an aesthetically pleasing finish to the space.