If you're spending a lot of time at home, it's easy to get bored of the way things look. No matter the room, it can be frustrating to see the same thing every single day. But, whether it's a new season or you find your sense of style evolving, leveling up your home isn't as challenging as you might believe and there are many changes you can make on your own without a large budget, lots of extra time, or HGTV-worthy DIY skills.
Perfect for renters and homeowners alike, from peel-and-stick wallpaper to plug-in wall sconces, here are six quick ways you can easily refresh your space for less this month.
1. Install sheer window curtains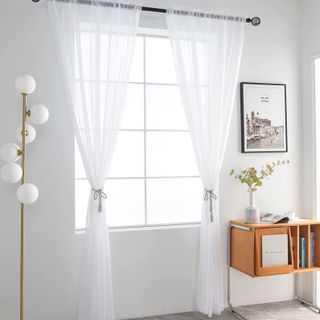 Adding window treatments or swapping out your old ones can majorly impact the design of a room. Sheer curtains are best especially for winter months because they let more light in than other types of curtains. Sheer white curtains complement most rooms but especially smaller spaces. However, curtains are also a good opportunity to add a pop of color.
Start by measuring your old curtain or window. If you don't currently have curtains, it's best to install the rod just below the ceiling to help give the illusion of higher windows. So be sure to purchase a measuring tape before beginning this project.
Then install the curtain rod. Choose a stylish rod to complement the room. The Project 62 Dauntless Curtain Rod looks great in any modern space and is available in brass, black, brushed nickel, and grey.
Not sure what curtain to get? SpaceDresser Basic Rod Pocket Sheer Voile Window Curtain Panels are stylish and inexpensive. Better yet, they are available in a range of colors including white, pink and beige.
2. Add a plug-and-play sconce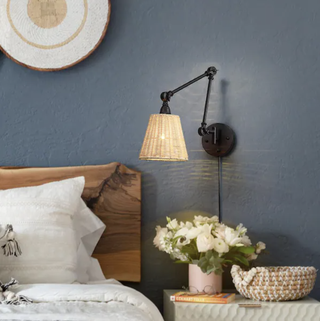 Adding a sconce can be a stylish and sophisticated touch to a living room, bedroom, or home office. Fortunately, there are plenty of "plug and play" sconces that plug into your wall like any lamp. No electrician or hardwiring is required.
The McKibbon Wall Sconce from The Novogratz has a modern industrial look with a swinging arm that makes it ideal for reading or just getting some focused extra light wherever needed.
For boho aesthetics, go for a rattan shade and coordinating cord which will look fabulous on any wall.
Don't have a free outlet? This Tessan Multi Plug Outlet Splitter with USB has four traditional plugs and three USB ports.
3. Paint an accent wall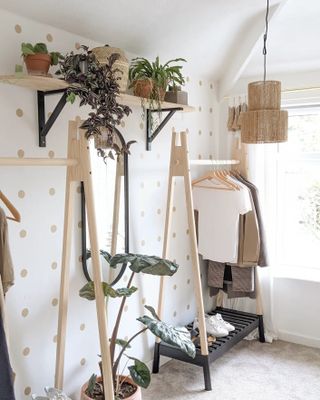 Painting an accent wall can have a major design impact without needing to paint the entire room. In only a few hours, there can be a completely different vibe and feeling. Backdrop has lots of unique colors that are Green Wise Certified and low-VOC. So they're better for your health as well as the environment. Don't forget primer and a roller kit. Or, do something cute and more creative like a DIY polka dot wall as created here by DIY blogger Jo Lemos.
4. Dress up your walls with peel-and-stick wallpaper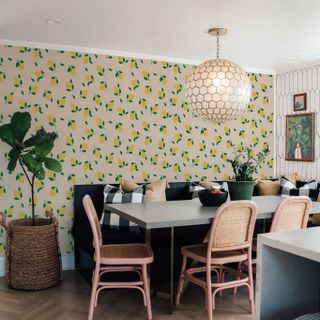 If you don't want to paint, consider installing peel-and-stick wallpaper instead. Easy to install with a friend or even by yourself, it peels off easily and will not damage the wall underneath. If you have lots of solid furniture, choosing a bright or cheerful print can instantly elevate any room whether it's a bedroom, living room, kitchen, or even bathroom.
Tempaper Bird Of Paradise peel-and-stick wallpaper adds a touch of sophistication to a living room or bathroom.
Looking to add an element of fun to a kitchen or breakfast nook? Tempaper Lemons Peel And Stick Wallpaper By Nesting With Grace is whimsical and cheerful.
While this type of wallpaper isn't difficult to install, it's important to have the right tools on hand, especially for beginners. The Art3d Smoothing and Cutting Tool Kits for Applying Peel and Stick Wallpaper from Home Depot has all the essentials including a smoothing tool and cutting blades.
5. Refresh your kitchen with a peel-and-stick backsplash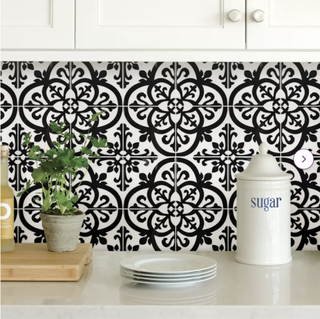 Having a dated kitchen can feel frustrating, especially because a full renovation is expensive and a lot of work. So, putting a peel-and-stick backsplash over your current backsplash can instantly change the space. These Avignon 10" x 10" Vinyl Peel & Stick Mosaic Tile by Wallpops look vintage. Easy to cut and flexible, it's crucial to have a good pair of scissors and a box cutter on hand to cut the tiles to fit your kitchen.
6. Get organized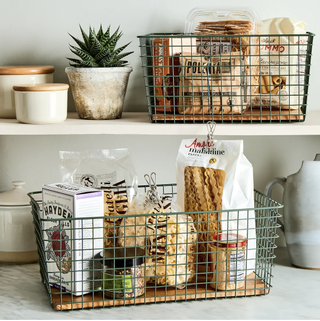 Spending a few hours decluttering and re-organizing your space is a fast way to refresh it. You can also find stylish organizers to hide everything from paper to odds and ends or extra kitchen and bathroom supplies. These Stackable Bins With Bamboo Lids from mDesign look clean and neat on a shelf.
However, if you're looking to organize your kitchen cabinets, a Lazy Susan is essential for storing spices and other small accouterments.
On the other hand, if you're looking to organize your bathroom, wire bins are ideal for storing extra soap, razor blades, lotion, and other toiletries. We love Food52's Grid storage basket which comes in three cute colors.