Looking for some cute blue and grey living room ideas? We all love grey living rooms and we all love blue living rooms, so it just made sense to bring these two ever-popular hues together and show you how you can decorate with both in your space.
Grey and blue is such a versatile combo. You can go for a really contrasting scheme with light blue and a deep charcoal grey or create a really cohesive look where your colors blend so seamlessly you barely notice the difference between the two. There are so many ways you can work this classic combination into your living room, and we've pulled together plenty of looks to get you inspired.
Does blue and grey go together?
Before we get started, let's get the big question out the way, do blue and grey work together? Of course! They are a really popular color combination for living rooms because they layer together so nicely. The key to getting it right is to always pick shades have the same undertones, so generally a cool grey works best with a cool blue, and a warm grey with a warm blue. You might also want to pick shades that create a contrast – light with dark. So if you are going for everyone's favorite dark blue walls, add in a light grey to lift that deeper color.
What accent color goes with grey and blue?
The best accent colors to pair with grey and blue in a living room as those on the opposite sides of the color wheel. We are talking oranges and yellows, but what tones you pick totally depends on your style. If you are after a more subtle contrast a warm terracotta orange can look lovely or for something bolder try a pop of vibrant yellow.
1. Go dark on the walls and light on the floors
It's pretty obvious from just a quick scroll on Pinterest that dark blue walls are having a bit of a moment. Who hasn't got a Hague Blue wall right now? But there's a reason everyone loves this deep hue so much – it's dramatic, it's bold and yet it's actually a super versatile shade that works perfectly with all neutrals, including grey. Dark blue is like the colorphobes way of bringing in something brave, without it interrupting the previous color scheme.
The key to making these dark blue hues liveable is to pair them with plenty of crisp light colors. So always contrast your walls with a lighter woodwork and add in a pale grey on the floor – whether that be in the form of LVT like you see here or a large area rug.
2. Create a cozy cohesive look
It's often said to avoid cooler colors when decorating a north-facing living room, but check out this space. It clearly proves light-starved rooms can handle blues and greys and can in fact become really cozy spaces.
What makes this room so inviting, despite the lack of light and the cooler tones, is all that layering going on with really similar shades. The blue-grey walls, the grey sofas, even the flooring is grey – this really cohesive look creates a cocooning feeling to the room. Plus, all the cushions and throws help soften up the space.
3. Pair sky blue with charcoal grey
If you are looking to add a splash of color to a monochrome scheme, a lovely light blue can really lift a space. See how this couch makes the deep blue/black and white seem less stark? It brightens up the space and softens it at the same time. If you don't want to commit to a colored couch, bring in those blues with artwork, lampshades, cushions or a rug would work too.
4. Create an elegant look with light grey and jewel tones
If you are looking for a color that just going to work in all sized spaces, all levels of natural light, a pale warm-toned grey is the way to go. It just makes any room feel so lofty and elegant, and it looks lovely paired with bolder, jewel-toned blues. For this look, stick to greys for the walls and floors and bring in those pops of color with furniture and accessories.
5. Go for a laid back beachy vibe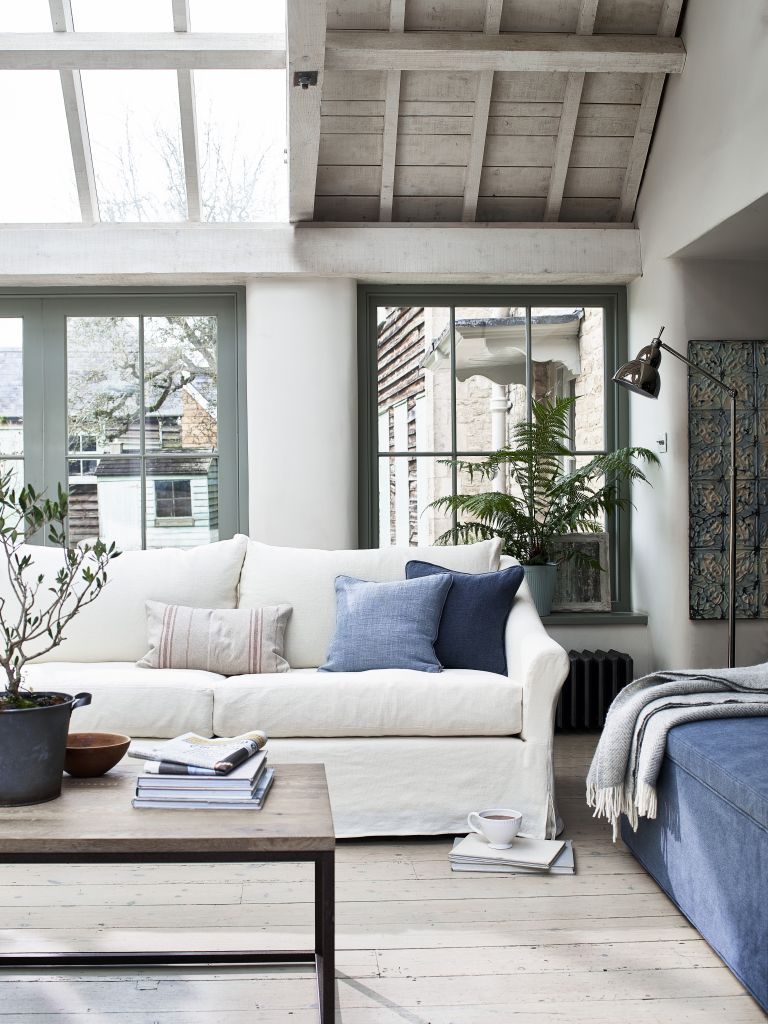 Don't you just feel more relaxed looking at this living room? All the soft linen furniture, the denim blues and the touches of grey at the windows. It's giving us definite beach house vibes, which you could totally recreate no matter how far from the ocean you actually are. Just copy this soothing scheme and add in some slubby fabrics and some whitewashed wood and you are pretty much there. Oh, and nice big fern wouldn't go amiss either.
6. Warm up grey and blue with wooden accents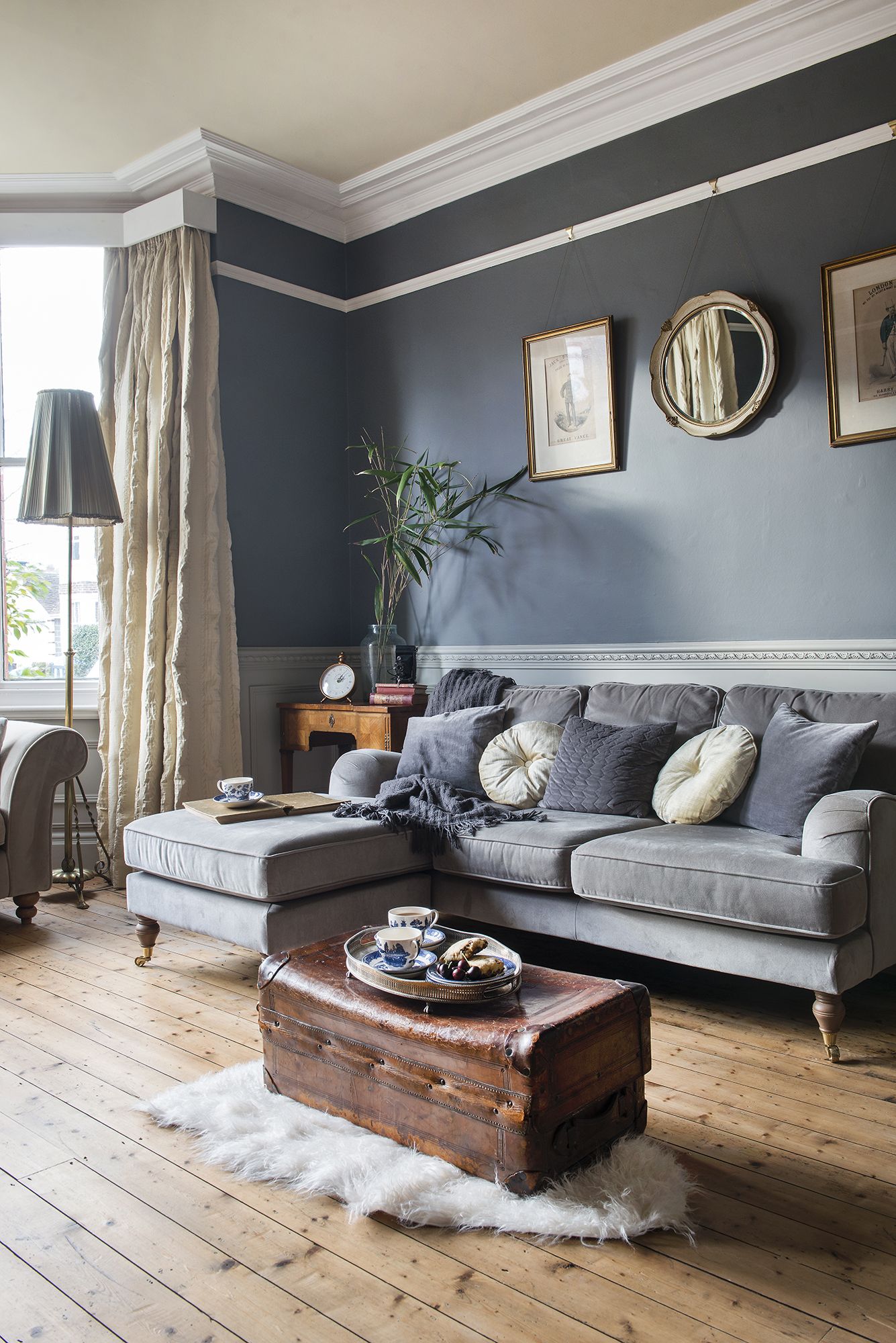 Grey and blue is a cool combo, literally speaking, but it's really easy to warm up those tones with some wooden touches. If you've been blessed with wooden floorboards, easy, that's all the warmth you need. And if not, wooden shelving, a cute wooden side table or even just some wooden picture frames will have a similar effect.
7. Pick grey and blue furniture
A really easy way to create a two-tone blue and grey living room is with furniture. Combine a blue sofa with a grey armchair and you already have your new color scheme sorted, then it's up to you have much further you take it. You could keep the rest of the space neutral with pale grey walls and wooden decor. Or bring out more
of those blues and greys by hanging prints in similar hues or throwing down a rug to intensify the colors.
8. Paint a mural
Why not tie together your grey and blue furniture with a stylish wall mural? You could so easily DIY something like this ombre wall for a really contemporary feel to your living room. All you need a paintbrush and a dreamy bluey-grey paint – then just add white to it to create a faded look.
We have a whole guide to how to create an ombre wall if you want the full step by step.
9. Go Mid-century with cool blues and grey
See, blue and grey can be so versatile, you can find a combination that will suit any style. If you are a fan of Mid-century modern and love those orange and yellow tones that come with that vibe, blue and grey work really well in that mix. A pale blue wall is really going to make those brighter, warmer colors pop.
10. Pair a blue sofa with grey cushions
A teal blue velvet sofa has just shot straight to the top of our wish list. This gorgeous hue works perfectly with grey, and we think it gives it a more grown-up, sophisticated feel. So are too, now very much considering a blue sofa but concerned about it being a bit too brave, you can totally tone it down with grey soft furnishings and bring out those more steely tones.
11. Don't be afraid to bring in black accents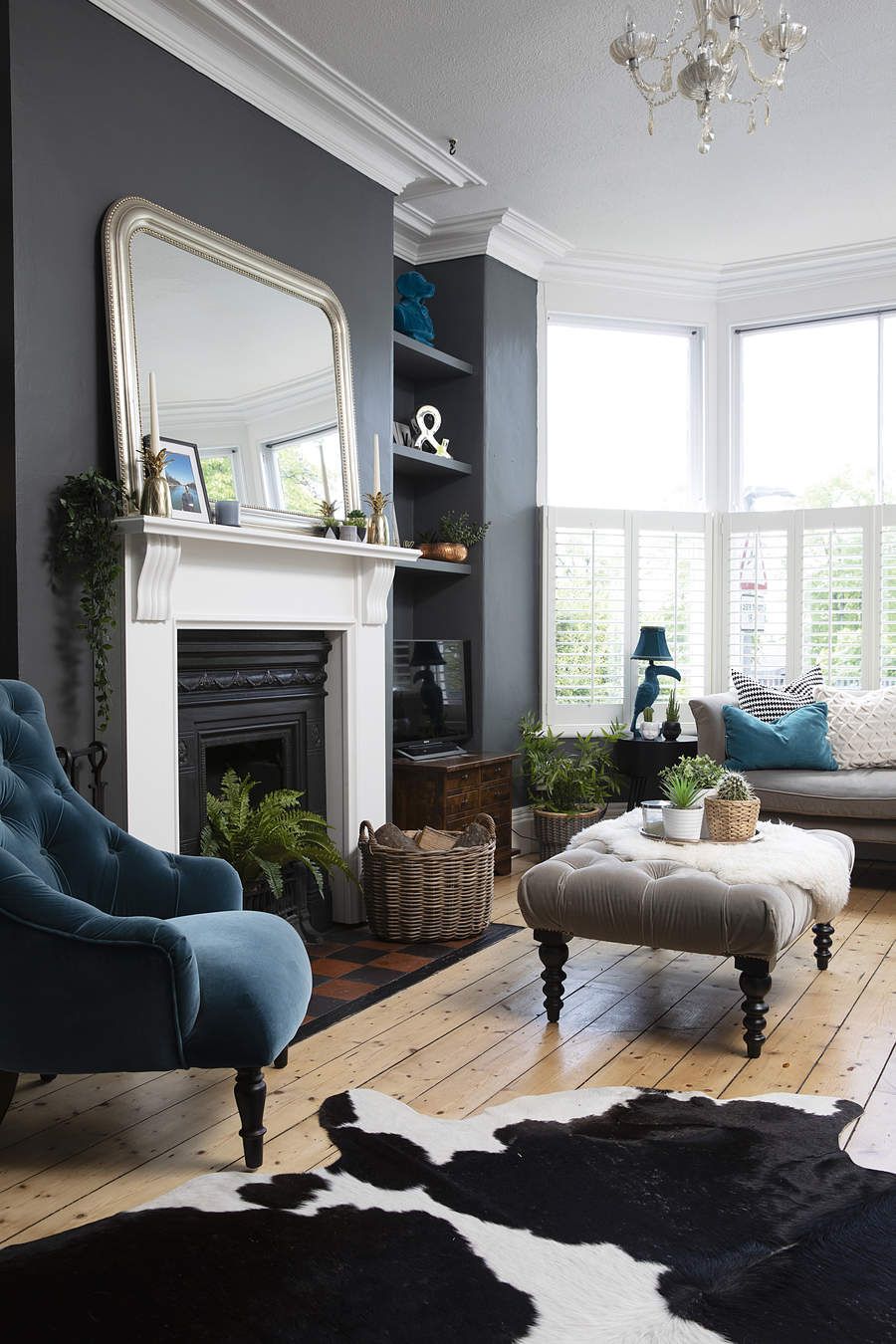 Blue and black traditionally have not been a color combination we see all that often, it's just one of those things ingrained in your head not to mix them. But, you know what, we think there's a strong case for mixing navy and black and in fact these two colors can create very elegant spaces. Especially true if you add in some greys and white as a contrast to freshen up the look.
Make sure you check out our black living room ideas feature too if you like a more dramatic style.