Loft conversions with dormers are a great way to create the extra space you need in your home. If you've outgrown the current rooms or your requirements have changed, a loft conversion of this type can save you the time and trouble of finding a new, larger home, plus allow you to stay in a location you already know and like.
There are a whole host of possible uses for a dormer loft conversion. You might want a fabulous new master bedroom and bathroom. Or maybe it's time to get a dedicated home office so you don't have to work on the kitchen table any longer? You could let teens enjoy the space, or make a playroom for little ones, perhaps. And what about opting for a home gym or cinema room?
You'll find all you need to know about dormer loft conversions in our feature, so you can decide if it's the home improvement that's right for you. Just scroll down to get savvy.
What is a dormer loft conversion?
If your plan is to turn a loft from storage space to useful additional room(s), there are a few options on offer, including a dormer loft conversion. So you can appreciate the plus points of going for this type of conversion, we'll start with what a basic loft conversion would provide.
The simplest type of loft conversion is what's called a rooflight conversion. Rooflights such as Velux windows are fitted into the slope of the roof to bring natural light into the space. Also necessary are strengthening the floor of the loft and adding insulation, plus plumbing and electrical work. Stairs up to the loft will have to be fitted, too.
A rooflight conversion doesn't, though, add any extra space to the loft. The existing volume is all there is. The conversion that can make your loft larger? A dormer loft conversion. Dormer windows project from the existing roof, and they increase the volume of the roof space with full headroom, as well as introducing daylight to the loft area. Often added to the rear, it's also possible to add them to the side or front subject to planning rules.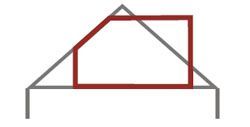 Dormer loft conversions are a popular choice because they'll make the loft more spacious but the building work involved is still relatively simple. Of course the other tasks involved with the more basic rooflight conversion will be required, too.
What dormer window options are there?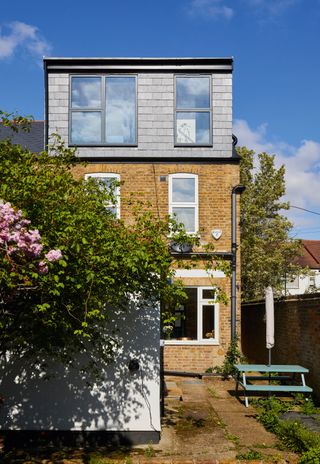 The dormer windows of a loft conversion can be single, and you might include one or two of these in a design. It's also possible to have a full width dormer that maximises the space available in the loft.
On some homes – such as Victorian houses which have a rear addition – an L-shaped dormer is also an option.
Generally dormers have a flat roof, but those with pitched roofs – gabled dormers – might be required by planners if you live in a conservation area.
Can any home have a dormer loft conversion?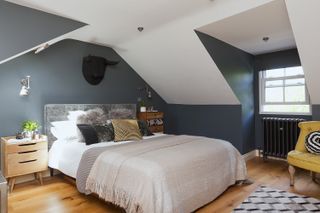 Your roof should measure a minimum of 2.3m at the highest point to be suitable for conversion. There are ways to convert roofs that don't meet the height criteria with solutions including rebuilding the roof, or lowering the ceilings of the rooms below the loft. These would make the project more complex and costly than a simple dormer loft conversion, however.
The structure of the roof is also important. Older homes built with rafters are more straightforward to convert. Their roofs usually have a steep pitch that creates good height, which you can then complement with increased width by adding dormers. Homes built more recently generally have trussed roofs. Conversion of the loft can still be possible, but more structural work will be needed.
Size does matter, too in the case of a loft project. Although dormers add to the volume of the loft, its dimensions still need to be generous enough to ensure you'll end up with a useable room in the end.
Other factors that will determine if your loft is suitable for conversion include features such as chimney stacks, which can be an obstacle.
How much does it cost for a dormer loft conversion?
Thinking that a dormer loft conversion sounds like it might be the right loft conversion option for your home? Then your next question is likely to be: how much will it cost?
The good news is that it's a cost-effective way to make your home bigger. You can expect to pay from around £35,000 for a dormer loft conversion. Bear in mind that your total bill will be influenced by where you live and also how your loft is going to be used. Fitting out a bathroom, for example, will require a bigger budget than creating living space.
How long does a dormer loft conversion take?
Another big benefit of a dormer loft conversion project is that it can be achieved quite quickly. Generally, you'll be looking at a timescale of five to six weeks once the builders or conversion company start.
Bear in mind that before the work begins on site there will be a preliminary inspection and the plans will need to be drawn up. If planning permission is needed, you'll also need to add this into the schedule.