A popular decorating option for the kitchen, living room, bedroom or kids' bedrooms, wall stickers are an easy and affordable option that adds colour and interest to a space. Mess free and easy to remove, they are ideal if you are renting or want to incorporate trends into your space. With a variety of options available, we've selected a range of wall sticker designs ranging from customisable stickers to on-trend styles for your inspiration.
1. Create contrast in a dark scheme
While wall stickers are most commonly used to enhance a neutral space, they can be equally effective in a room with a darker scheme – the contrast of light wall stickers against grey and navy blue is particularly effective.
Recreate this look with Urban Forest wall stickers from Zazous. Choose from white or grey trees and a choice of 14 different coloured birds, for an easy addition to any scheme.
2. Enhance a kids' bedroom with stylish wall stickers
Are you designing a kid's room and looking for a decorating inspiration? Wall stickers are a fun alternative to our great wallpaper and inspiring paint ideas that allow a child to inject personality into their space. With wall stickers being so easy to remove, they can be changed regularly to suit a child's interests.
We love the contemporary feel of these PÖM Le Bon Homme gold and pink cloud wall stickers from Mini Maison, especially when paired with a stylish, Scandi inspired bed – find similar in our guide to kid's beds for modern homes.
3. Opt for a design that complements your space
In spaces such as the kitchen and bathroom, room-specific wall stickers can make for a sweet design feature worth considering if you're in a rental property.
A stylish addition to a kitchen, we love this Giant Cutlery wall sticker set in black, available from Brume.
4. Incorporate on trend prints and patterns
Similarly to beautiful botanical wallpapers, flamingoes are an on-trend motif that add a sense of fun and a pop of colour to a space. To this extent, it's worth considering wall stickers as an easy way to incorporate interiors trends into your home.
Available in two sizes, we love this Pink Flamingo fabric wall sticker from Chameleon Wall Art.
5. Design a space that your child will love
Fire up your child's imagination with a sticker set that reflects their interests and (if you can relinquish some control) let them go to town decorating their space. Whether space, dinosaurs, animals or mystical creatures are their (current) passion, you're sure to find a sticker set that reflects this.
A great alternative to our inspiring paint ideas and wallpaper inspiration, you can find these Space Rocket wall stickers, along with many other designs, at Koko Kids.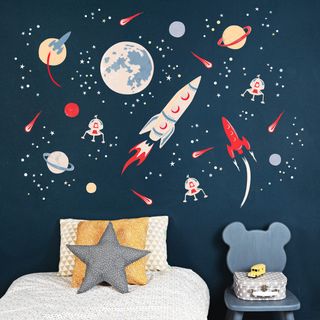 6. Create a calming space with delicate floral wall stickers
For a bedroom or living room with a calm ambience, consider pairing a white or neutral scheme with delicate floral wall stickers. Opting for a set that comes in different pieces will allow you to customise a design, ensuring it suits your style and space.
If this water-colour finish Blossom Branch wall sticker from Oakdene Designs has inspired your love for florals, why not take a look at our beautiful botanical wallpapers?
7. Use wall stickers on furniture for a cohesive look
If you've opted for a wall sticker set when designing a kids bedroom, remember that they're removable and reposition-able so can also be used on furniture and mirrors to create a more cohesive feel.
We love the idea of pairing this Woodland Tree and Friends sticker set from Studio with modern furniture (take a look at our selection of modern kid's beds for inspiration) and injections of colour.
8. Enhance a home office with stylish wall stickers
If you're designing a home office and looking for decorating inspiration, wall stickers are a lovely option that can make a tired space feel inspiring. Keep clutter to a minimum with our home office storage solutions and surround yourself with happiness-inducing pops of colour and desk-friendly house plants.
We love these Colourful Confetti Stickers from Tenvinilo.
9. Create a contemporary look with stylish wall stickers
Modern, almost futuristic wall stickers are an easy option if you like the idea of creating a space with a contemporary feel – try pairing white stickers with a concrete grey scheme for a stylish combination.
To recreate this look, try Zazous for contemporary wall stickers.
10. Make your space your own with customisable stickers
Make your home your own, or offer a lovely housewarming gift to a friend with personalised wall stickers.
Available at John Lewis, these Welcome To Our Home, personalised wall stickers make the perfect addition to a modern family home.
Looking for more decorating inspiration?