After living in their London flat for over 10 years, and with a second baby on the way, Caroline and Stephen Kilgour felt it was time to return to the North East.
"Although we have family in Darlington, we wanted to be in a city," says communications manager turned interior designer Caroline. "We did a few recces and loved the vibe in Heaton, Newcastle. The main street has some lovely shops and restaurants, which swung it."
Profile
The owners Caroline Kilgour, an interior designer
(@room_service_by_caroline), her husband, Stephen, an education advisor, and their children, Albie and Isabelle
The property A four-bedroom Victorian terrace in Heaton, Newcastle
Project cost £50,000 to £60,000
After selling their home in Streatham, London, the couple moved into rented accommodation in central London until their daughter was born. Fortunately, they found a four-bedroom Victorian house in their preferred area quite quickly. "Everything felt very spacious and light when we walked into the hallway with lovely high ceilings," says Caroline. "We could move in and put our stamp on it without it being a huge fixer-upper."
Daughter Isabelle was born in London not long after they bought the house. "It was stressful trying to pack up a flat with a newborn, and there was a heatwave the day we moved — that made the drive fun!" recalls Caroline. "I was desperate to nest and make it ours, so we got cracking straight away."
Faced with "wall-to-wall magnolia", son Albie's bedroom and the main bedroom were decorated first. A woodburning stove was installed in the living room along with alcove bookshelves before the pair jumped headlong into renovating the kitchen-diner and converting the attic into a guest bedroom and en suite.
The five-week project involved adding bi-folds to the dining area and new kitchen, while the top floor needed a new staircase, skylights and steel joists to be classified as a bedroom. The roof was retiled while the scaffolding was up.
"Before the attic was just storage space with a pull-down ladder — you could even see into next door's attic," says Caroline. A lot of thought went into the new layout. "We initially thought we couldn't squeeze in an en suite," she explains. "However, the adjustments made to the space to meet building regulations configured the room slightly differently, giving us the space we needed for a shower area."
Rather than snaffle the attic bedroom for themselves, it doubles up as a guest bedroom and Stephen's office. "We prefer having our bedroom on the same floor as the children," explains Caroline. "It was the best thing we did as it means we have a whole floor to offer guests."
Although the new kitchen layout is similar, replacing the white uPVC French doors with black bi-folds, updating the back door and replacing the tired cream units with a modern sage green design has made a huge difference. "At first I wanted Crittall windows, but we compromised with black aluminum frames that have a similar vibe and still really maximize the south-west facing light,' says Caroline. "It's lovely to have the one main family space where we cook and eat together."
Throughout the house, the key thread has been mixing old and new. "Ultimately I wanted the décor to be sympathetic to the house," says Caroline. "I like clean lines and classic styles with pops of color. Trusting your instincts is one thing, but mood boards can be really helpful to collate all your ideas and see if things look right together."
Having previously been a communications manager, moving home led Caroline to switch careers. During lockdown she started an online interior design business (@room_service_by_caroline). "It satisfies my creative interests and gives me flexibility with a young family," she says. "I love helping other people reimagine their rooms." Caroline admits she's learned a lot from renovating her home. "Planning is everything," she says. "You need to think of every little thing to avoid any last-minute rash decision making."
She has no regrets about moving north either. "We love the area; the
nearby beaches are beautiful, schools are within walking distance and
the city center is on our doorstep," she says. "My sister's just moved up
to Newcastle, so I definitely think we'll be here for a long time."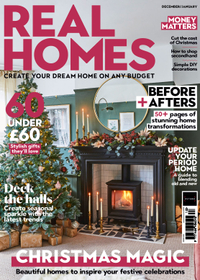 Subscribe to Real Homes magazine Want even more great ideas for your home from the expert team at Real Homes magazine? Subscribe to Real Homes magazine and get great content delivered straight to your door. From inspiring completed projects to the latest decorating trends and expert advice, you'll find everything you need to create your dream home inside each issue.