Mood boards are designed to help us really focus on getting a colour scheme right. After all, we're surrounded by more inspiration than ever before for our homes, but while that's great for giving us plenty of ideas for our next decorating scheme, it can also make it harder to decide how we want our rooms to look.
That's why a mood board can be the perfect solution to your decorating dilemmas. It helps to firm up your ideas and gives you a clearer picture of what it is you love, as well as allowing you to build up a cohesive scheme where all the different elements, such as paint colours, wallpaper, flooring and furniture, work well together. And the best part? You can make as many mistakes as you like before putting any paint on the walls or splashing out on that must-have velvet sofa.
It's also the perfect way to get other family members involved (if that's what you want, obviously). Get their input at these early stages and there's less chance they'll be rolling their eyes at your wallpaper choice when it finally goes up.
Kids will also love the opportunity to have their say for their own rooms, and while you might veto all-matching Disney-themed wallpaper and bedding, there's a chance you'll be happy with their suggestions of colourful storage and a loft-style bed.
Below, we show you how to create a mood board – don't miss our videos, too. For more design ideas and advice, check out our hub page. Want ideas on where you can find your essential decorating supplies? Check out our decorating sourcebook.
Why have a mood board?
Instagrammer Lisa Dawson talks Sian Astley through her design process and how it has helped her collaborate with her children to design their bedrooms.
Where to start when creating a mood board
Find images of rooms that you instantly swoon over. Tear them out of magazines (Real Homes, of course) and start pulling them together. You'll soon start to notice similar themes in the pictures, whether it's the use of bold colour and texture, a pared-back Scandi aesthetic or maybe on-trend industrial touches.
These images should form the basis of your new room so have them on your moodboard as a constant reference point throughout the process.
Start to build up the colours, furniture and accessories you'll need for your scheme and add them to your moodboard. Pick up tester pots, paint colour cards and wallpaper samples from your local DIY store (or order them online), then mix and match with images of different sofas, lighting and accessories to see what works best together.
'Don't be afraid to take things away at this point – your dream sofa might stay, but perhaps that wallpaper you had your heart set on just doesn't sit well next to it and needs to go,' says Anna Morley, style editor of Real Homes magazine. 'Using a moodboard is all about refining your ideas to make sure you're confident with your final look.'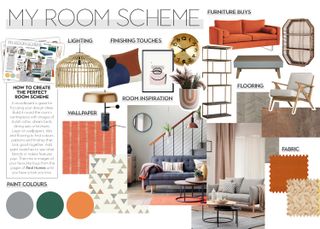 5 reasons you'll love using a moodboard
You can refine your decorating ideas to create a cohesive scheme
Helps you keep control of your budget
Lets you make all your mistakes on paper before you spend any money
You can wow your family with your ideas (and then maybe they'll even help with the decorating part, too)
The key to decorating success is in the preparation. Planning the room on a moodboard takes away some of the stress
Ready to design your own moodboard?
Want to show off your new room schemes? Share pics of your moodboard and decorated space with us on Instagram using the hashtag #sorealhomes – we'd love to see what you've done.
Plus, if you want even more stylish ideas for every room in your home delivered straight to you door or inbox each month, why not subscribe to Real Homes magazine? Don't miss our fantastic summer sale – subscribe today and you'll get five issues for just £5.
More inspiring ideas: