On entering this pretty cottage summer garden through an archway in the hedge, you are presented with the picture of a perfect country idyll. A rustic gravel path, edged in soft grey Stachys byzantina and white standard David Austin roses, leads up to the characterful, white timber-clad cottage. The scene, however, has taken years
of hard work to create.
Read on to find out what the owners did to create their beautiful garden, or find more cottage garden inspiration in our gallery.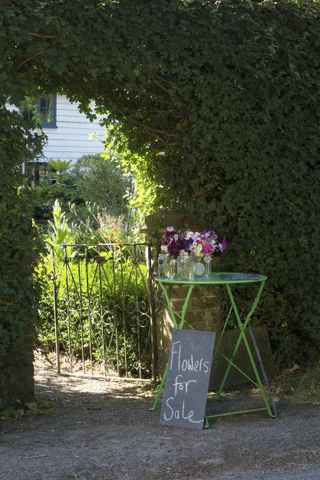 When Jayne and Chris Hendy moved to Rushers Cross Cottage in East Sussex more than 10 years ago, the property needed a complete renovation. 'It had stood empty for about two years, so we spent the first few years renovating our beautiful cottage
and then turned our attention to the garden about five years ago,' recalls Jayne. 'It was completely overgrown, all the boundaries obscured by shrubs, trees and long grass.'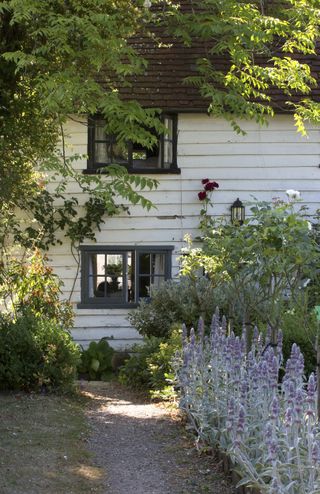 During the clearing process, only a few of the existing plants were retained. New herbaceous borders on either side of the front lawn and along the terrace at the back transformed the space. Five raised beds, added for both produce and ornamentals and which are reached through arches clad with white wisteria and clematis that were salvaged from the garden clearing, also added another aspect to this summer garden.
For more advice on creating raised beds, see our advice on how to plan a kitchen garden.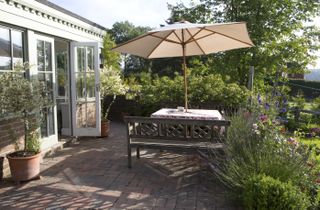 'Chris, who is a carpenter, replaced an old, small conservatory, which leaked like a sieve, with a lovely orangery, painted green to blend with the garden, and laid a terrace out of reclaimed pavers to keep the cottagey feel, adding steps to lead down to the lawn,' explains Jayne.
Does this inspire you to add a conservatory? Find advice in our guide.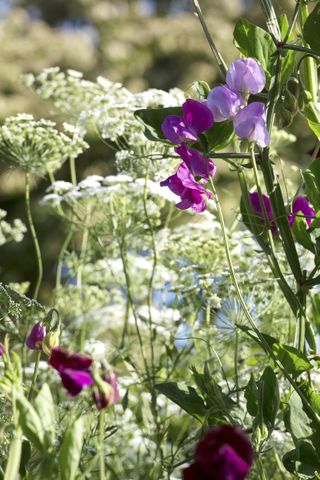 Across the back garden, the planting palette is effusive with carefully thought through colours. 'I like the cottage look, with a soft palette, and I tend to like the same colours,' says Jayne.
In the summer garden, there are clouds of Ammi majus, spires of blue delphiniums, fringes of Lavandula angustifolia 'Hidcote', Allium 'Purple Sensation' seedheads and pretty roses, including 'Rhapsody in Blue', 'Hot Chocolate' and 'Golden Celebrations'. There is also an abundance of sweet peas, grown for cutting flowers, scrambling over supports.
Find more advice on choosing a colour scheme for your garden.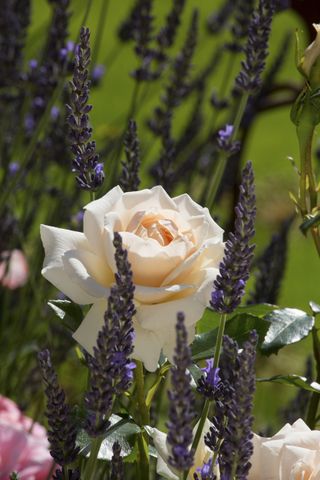 The borders, edged in box, each side of the arches leading to the raised beds are filled with peonies, lupins, penstemons, Solomon's seal, hydrangea and geraniums in soft hues. 'There is also a rather nice cardoon, brought from our previous garden, which reaches a great height during the summer,' adds Jayne.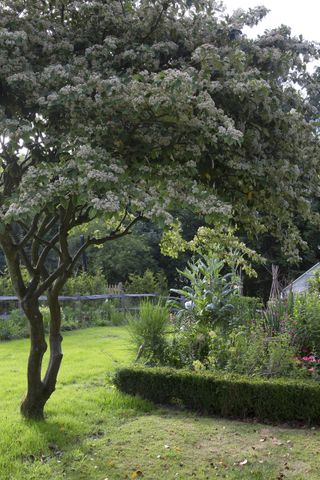 It is, however, the practical yet charming raised bed potager, built by Chris with help from their three sons, that is at the heart of the garden.
Complete with a greenhouse surrounded by trailing nasturtiums, a hen coop, and bounded by fruit trees, about half of the potager is productive and the other half ornamental. 'I take great pleasure in pottering in this area, it is so much easier with raised beds and the garden is much more useful to us now,' explains Jayne.
Find more kitchen garden inspiration in our gallery.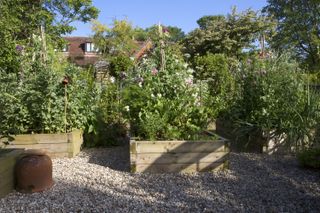 One raised bed is dedicated to fruit production, with strawberries and rhubarb, accompanied by billowing herbs (see our advice on how to grow yours); others are brimming with ripening vegetables and companion flowers.
Every year the beds are rotated, with crops such as lettuce, leeks, chard, onions, carrots, parsnips, peas, beans, gooseberries and currants on the menu.
'At the centre of each bed I have placed a tripod of canes, to grow sweet peas up. This adds height and makes more use of the space. My sweet pea flowers that I sell at the garden gate are hugely popular with our neighbours,' says Jayne.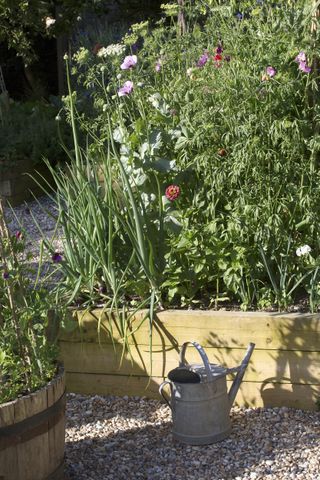 Keen gardener Jayne has an ambition to take her cut flower growing beyond the pretty posies of her favourite sweet peas in her summer garden, and is creating more productive floral areas on an extended stretch of land that she and Chris have recently purchased beside the main garden.
If you, too, are inspired to grow cut flowers, see our advice on how to grow a cutting garden.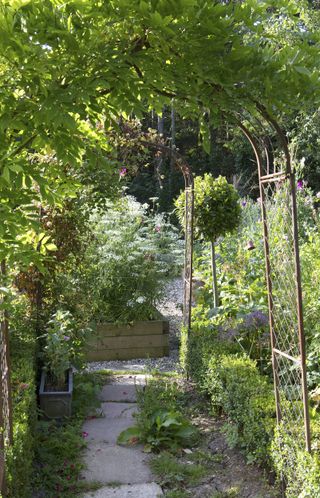 Experimentation is ongoing with additional cut flowers being trialled in new raised beds and borders, including vibrant zinnias, candy pink cosmos, tufty cornflowers, massed poppies and antirrhinums. 'I'm a plantaholic,' admits Jayne. 'There is always room for more.'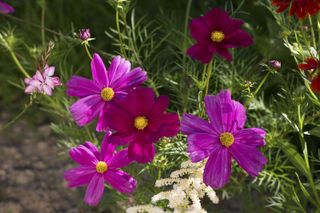 More gardening inspiration