Jude and Mat Jansen are used to people peering over the garden fence to admire their colourful cottage garden. They have even welcomed a few curious passers-by who have mistakenly wandered through the garden gate for a better look.
It's no surprise though, as their beautiful displays of fluffy astilbe, hostas, sweet-smelling roses and purple masses of lavender, peppered with helenium and phlox, are a sight to behold.
In fact, their garden is so full of flowers that some spill onto the railway platform next to their home – the Grade II-listed former stationmaster's house in the pretty Cumbrian village of Wetheral.
Read on to find out how they created their beautiful garden. Then find more real garden and home transformations or advice on creating your own cottage garden.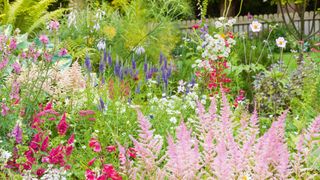 For rail passengers, the Jansens' garden is a real visual treat as they cross the railway line via a Victorian footbridge. From the elevated view they can take in all of Jude and Mat's glorious creation, including its neat terraced vegetable plots and flower beds bursting with vivid hues.
Yet the garden has only really taken shape in the past nine years, since Jude retired and developed a passion for gardening and the outdoors. 'When we bought the house, the land around it was just one continuous slope of grass and very overgrown,' she says. 'There were a lot of outbuildings and an old greenhouse; it all looked very neglected.'
Find more cottage garden design ideas.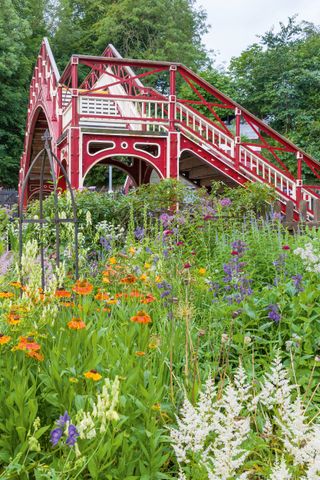 To create some kind of focus to the large garden, Jude and Mat employed a young stonemason to demolish the outbuildings and use the reclaimed stone to turn the slope into a series of terraces for growing soft fruits and vegetables. The remaining rubble became the hardcore for a series of patios.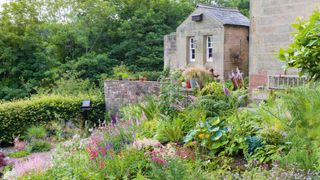 The next phase was to demolish a station toilet block and waiting room to the side of the house and turn it into a walled garden, using the original room layout to define the position of raised beds, a barbecue and a dining area. 'We tried to reuse everything that was already on site,' says Mat.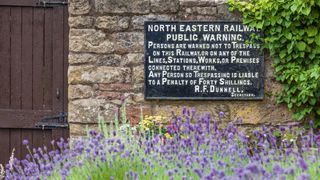 'The main access to the house is over the railway footbridge, so everything has to be manually carried from the car to the garden. There used to be a sleeper crossing on the railway line so we could use a wheelbarrow to bring things over, but that was eventually removed for safety reasons,' says Mat.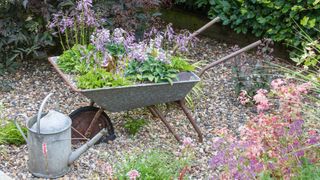 The sleeper did come in handy, though, for ferrying tonnes of shingle, used to create a gravel garden and footpaths. Jude and Mat have also incorporated leftover railway paraphernalia to create features and focal points, like an old sack barrow, window lintels, stone railway sleepers, metal signs and even a lamppost.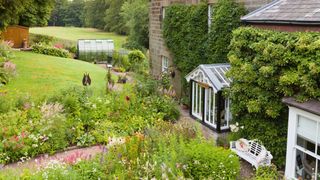 In recent years, the main things to be carried over the footbridge are plants – and Jude is always on the lookout for something new.
'Once the structural elements of the garden were in place it was a case of letting the planting evolve,' she says. 'I come from a farming background, so I was keen to grow lots of fruit, herbs and vegetables. We have four children and 12 grandchildren so we get through a lot! '
Find advice on creating your own kitchen garden brimming with vegetables, fruit and herbs.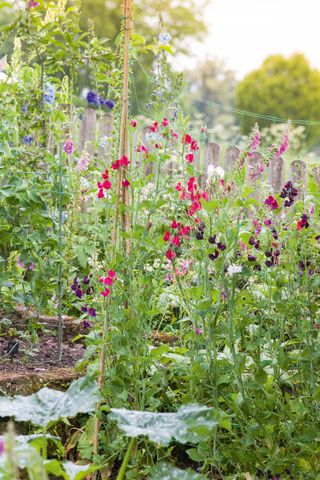 Jude has filled the garden with textures, shapes and colour, planting everything from lavender, phlox, and roses, to lilies, clematis and lobelia. One of her favourite plants, hostas, with their lush foliage, variegated colours and beautiful leaf shapes, look spectacular grouped together in pots on a patio, or planted as a border display.
Find advice on how to create successful displays with container planting.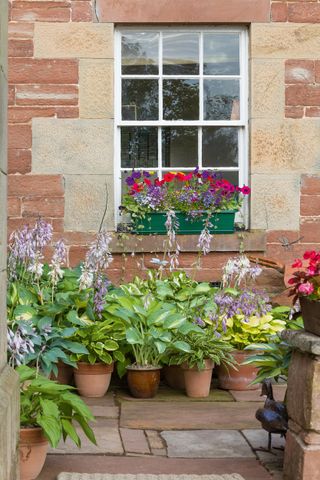 Succulents have also been included in the gravel garden and decorative pots around the garden walls, while the cottage garden flowers are constantly being replenished and added to, creating a riot of colour around the front door of the stationmaster's house.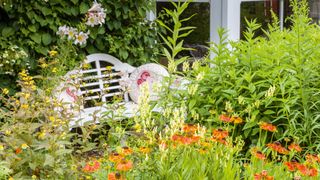 Jude is particularly fond of ferns, which are ideal for north-east facing gardens, and cottage garden flowers, which bring summer-long colour into the beds and borders.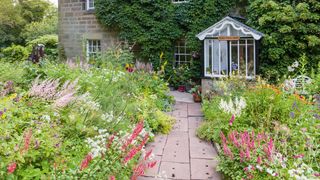 'It was a huge learning curve,' says Jude. 'I'm still learning. In the early days I would plant things that were too big for the position and end up moving them, or I'd plant something that overpowered the plants next to it; but gradually you learn how things work together and when they will be at their best.'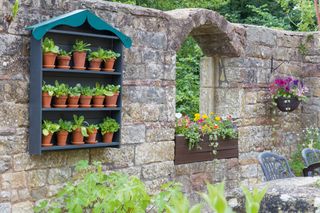 The garden also includes a small orchard of pear and apple trees, and a chicken run – created and cared for by Mat. As a result, it comprises a series of 'rooms', each with their own character and purpose, all of them leading down to a beech hedge that divides the garden from a deep gorge down to the River Eden.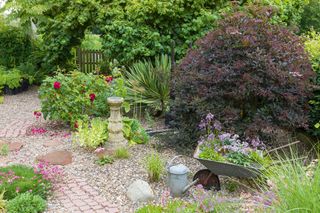 'We love it when people waiting for trains look into the garden and enjoy the flowers,' says Jude. 'A garden is for sharing and we share it every day with people travelling to and from the village.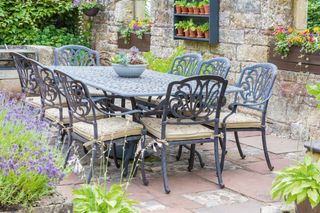 Tips for growing hostas
Otherwise known as plantain lilies, hostas generally thrive in shade but the lighter the leaves, the more sun they can tolerate
Plant them in rich organic soil and keep moist, watering regularly at the base to make sure the hostas don't dry out
Hostas are a magnet for slugs, so sprinkle an area around the base of the plants with sand or light, sharp gravel, to prevent them getting to the plants
They are a natural weed suppressor as the roots spread, but choose a sheltered, shady spot if you are using them to create ground cover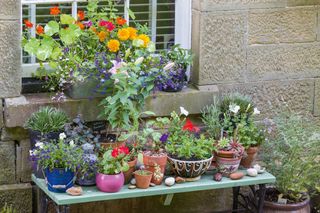 MORE GARDEN INSPIRATION