One of the most exciting parts of a kitchen renovation is getting stuck into your 'to decide' list. From cabinet colours to worktop materials, there are a lot of decisions to make. And with every one comes the question – can I, or indeed, should I, save money on this?
Knowing where to invest and where to scrimp is of the utmost importance for a successful project. Like anything, practice makes perfect, and serial renovator Jessica's open-plan kitchen-diner and living area is a masterclass in style and how to spend money on a real home transformation wisely.
We chatted to her to share her renovation journey.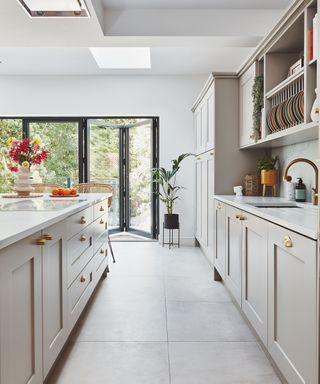 Profile
The owners Jessica McKenzie (@mckenzie_interiorscapes), a client journey manager for a gaming company, her husband, Mark, an international e-commerce manager, their son, Mason, Mark's daughter, Miya, Jessica's mum, who lives in an annexe, and their Cockapoo, Bailey
The property A five-bedroom detached 1960s house in Essex
Project cost £140,000
'When we bought the house, it had been extended to the side, but still had three narrow rooms and a large conservatory,' says Jessica. 'We wanted that sought-after open-plan lifestyle, so we knocked down the walls of the rooms, kept the foundation of the conservatory and turned it into an extension.'
'I wanted to keep one of the walls in so we could have a smaller playroom, but my husband Mark wanted a larger, completely open space. We argued for far too long about this and I eventually gave in. But to be honest, he was right!'
'It was the best thing to open up the space entirely as it makes such an impact when you walk through the door.'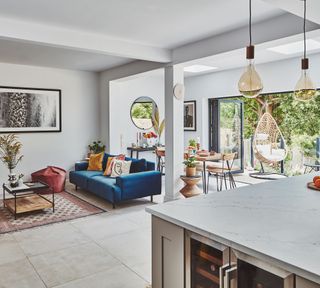 'Living through a house renovation is an experience in itself. At the end of November we had no back wall, just temporary pieces of plasterboard, and all the ceiling joists were taken out, so it was very cold.'
'We didn't have a kitchen for about six weeks and we had to wash our dishes in the downstairs loo sink. Takeaways were a real lifesaver at this point! Our builders were brilliant.'
'They practically lived with us and were here working away until midnight every day, so in the evenings we'd sometimes have a rum and Coke together and have a laugh. We built up a good bond and I really trusted them, which is important when someone's transforming your home for you.'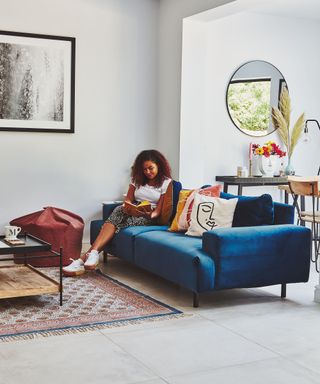 'As this is such a big space, I didn't want too much going on to draw the eye in different directions, so I kept the kitchen simple. I looked to the popular kitchen companies for inspiration, and chose a smaller local company to create my idea and save money.'
'I knew gold finishes and wicker would work really well – in fact, I chose the bar stools before the kitchen! We are serial renovators, so a neutral kitchen helps with selling appeal, too.
Jessica is full of budget kitchen ideas. 'I got all of my appliances on Ebay and The Appliance Depot – they're ex display or slightly damaged, but you can hardly tell and I saved hundreds in comparison to the high street.'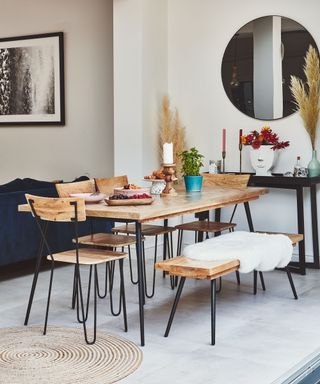 'I wanted some bold living room colour schemes using furniture, to create a contrast and add warmth and personality to the neutral space. I love mango wood, which is why I went with the mango wood range from Swoon.'
'All of my Swoon furniture is actually from Ebay – they're returns and some have tiny scratches on them, but they're heavily discounted and you still get the great look and quality.'
'I must admit I'm a bit Ebay obsessed – if there's one thing I've learned from my renos, it's how to save money. I'm into an Eastern, Moroccan vibe at the moment and the patterned rug, rich colours, wicker and rattan materials bring this feel to life.'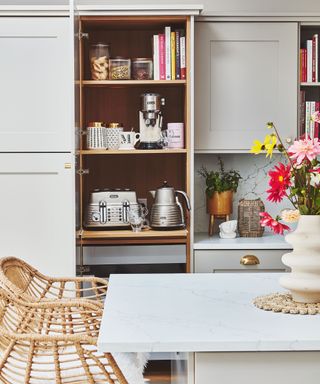 'This open-plan layout works perfectly for us. My husband is a passionate cook, so he's constantly cooking. We can look after the kids, take meetings and cook all in one room, which has been very useful during the lockdowns.'
'The quartz worktop and tiled floor have proved invaluable with the kids: it means they can make a complete mess and I never worry about it as I know it can be cleaned up easily.'
'The one thing I'd changed would be our floor tile grout. We didn't use flexible silicone grout, so as the tiles have moved with the ground, some of the grout has come away. Learning how to choose grout colour is definitely worthwhile when you're thinking about flooring.'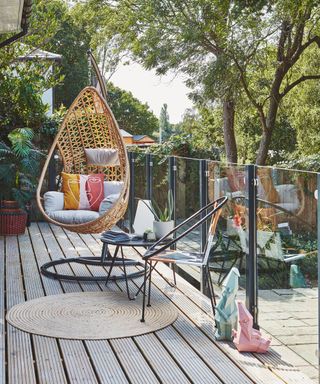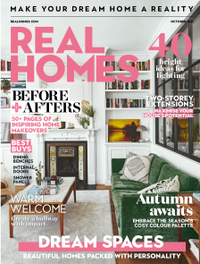 Subscribe to Real Homes magazine
Want even more great ideas for your home from the expert team at Real Homes magazine? Subscribe to Real Homes magazine and get great content delivered straight to your door. From inspiring completed projects to the latest decorating trends and expert advice, you'll find everything you need to create your dream home inside each issue.