Cotswold stone cottages have an iconic look, coming in various colours depending on which region of the Cotswolds the stone was mined. In the north, the stone has a shade similar to honey, while in the south there is more yellow and gold running through it. Using these simple rules, you can identify almost exactly where the stone a Cotswold home was built from originated.
Take a look at these beautiful homes, all built from this traditional material. From a historic thatched cottage, to listed Georgian houses and converted barns, see how this beautiful stone has been shaped into the most coveted homes.
Related articles: 9 Gorgeous country farmhouses | 10 open plan spaces in traditional homes | 16 traditional country kitchen ideas | 7 practical boot rooms and utilities
1. An 18th century barn
This converted barn in Gloucestershire is quaint and traditional, blending into the beautiful landscape seamlessly. The stunning home was converted from a traditional Cotswold barn and adjoining piggery in the 1980s.
2. Conserving a Cotswold cottage
Charlie Rayward, owner of this beautiful home, has respectfully preserved the very best elements of his Grade II-listed, 14th-century Cotswold cottage. The exposed walls inside the home showcase the original Cotswold limestone, unchanged since its construction.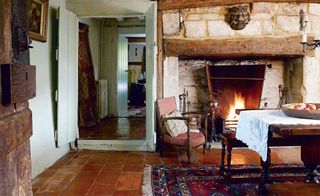 3. Grade II-listed Cotswold stone cottage
This impressive listed property dates back to 1806 and is just minutes from Bicester, on a plot of just under one acre with its own secluded garden backing onto rolling farmland. Built in Cotswold stone, it has high ceilings, big windows and is filled with period features.
4. Renovating a cottage in Oxford
This Cotswold stone cottage was built in Oxfordhire in 1860. The house looks idyllic in its countryside setting and has a large, beautiful garden.
5. Renovation of a Cotswold stone country home
Built in the 1640s, this traditional Cotswold stone cottage has been respectfully restored by owner Simon Fenwick. Soon after buying the property, Simon discovered that there was a wealth of skilled master craftsmen in the Cotswolds that would be able to help with his restoration.
6. Victorian cowman's cottage in the Cotswolds
Very little work needed doing on this gorgeous Cowman's cottage in the Cotswolds. The previous owners had replaced the electrics and the plumbing, and had even converted the loft. All that was left to do was for the new owner, Bethan Lewis-Powell, to put her own stamp on the interior.
7. A 17th-century farmworker's cottage renovation
Built as part of a row of seven farmworker's dwellings, this mid-17th-century cottage hadn't been lived in since the 1980s, and the main section had almost completely collapsed. The owners had to almost completely rebuild this central section, whereas the other part of the cottage, comprising the living room, third bedroom and a bathroom, required a simpler renovation.