The cows had only just moved out of this Victorian farm building when Vanessa Arbuthnott and her family took it on. Since then, Vanessa and her family have turned their artistic talents to creating a welcoming and inspiring space. Read on to find out how they did it, then browse more real home transformations...
The story
Owners: Textile designer Vanessa Arbuthnott lives here with husband Nicholas, who is an architect. They have a whippet dog called Ruby, Pickle the cat, and some chickens
Property: A converted u-shaped cow byre, near Cirencester, Gloucestershire, built in 1890
What they did: The couple converted the property in 1993. Two years ago they converted an old studio into a contemporary living room and updated a downstairs bathroom
Scorching shades of tangerine and hot pink, rich mossy greens, celestial blues and moody charcoals - these are the colours of Vanessa Arbuthnott's palette. They are the tones she favours for her distinctive textiles and for the décor and furnishings of the converted cow byre that has been the family home for 25 years.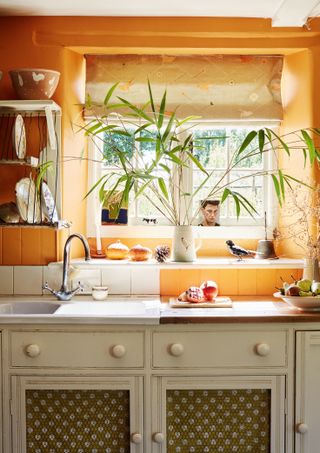 Stepping into Vanessa's kitchen, visitors are cosseted by cosy orange walls, the warmth of the range cooker and, at the far end of the room, huddled among comfy sofas and plump cushions, the glow of a wood-burning stove. It's a scene crowded with sculptures, pictures and family treasures, while near the French windows, a still life on easel captures the remnants of autumn sun.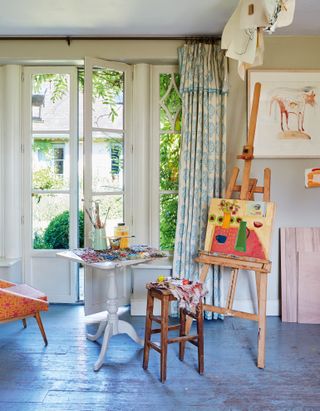 This eclectic domestic scene, bursting with pattern and creativity, brings to mind the famous Bloomsbury Artists' painted interiors. Yet these Victorian farm buildings haven't always felt quite so idyllically homely. 'We bought the property 25 years ago when the cows had just left. It was an open u-shaped building with a corrugated iron roof and a Dutch barn for animal feed,' explains Vanessa. It took six months to make just a section of the property habitable enough to move in.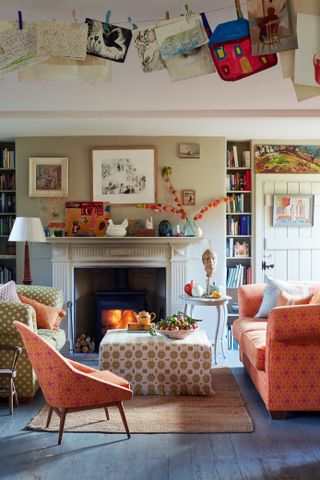 'There were no doors or skirting boards, and the children slept on mattresses on the floor,' recalls Vanessa. But slowly, she and Nicholas began to transform their home around the family, painting walls and hanging doors as they went, although without any overall defined plan for the buildings or their eventual purpose.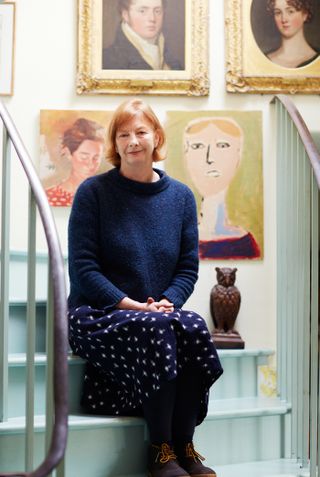 'When you've got four children, all under six years of age, it's like the survival of the fittest,' says Vanessa, although she charts her passion for interiors back to those early days in the property. 'It was the first time that I became interested in interior design – a bit like having your first garden – it was really fun to start discovering what my style was,' she adds.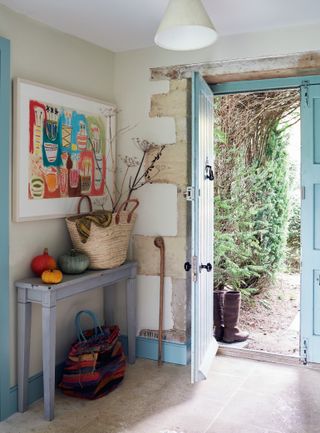 Vanessa and Nicholas agreed on one key area of style: they both like painted woodwork. 'We didn't really like the colour brown at all. In retrospect, I think we should have left the oak beams above the woodburners unpainted… But no, we painted everything!'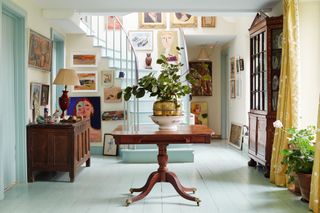 Upstairs under the eaves, where all the bedrooms are, the painting transformation was somewhat slowed down by the need to conceal the thick blue insulation between the rafters with wallpaper, before covering it over with white paint. The children chose the wall colours for their own rooms – from a carefully collated selection!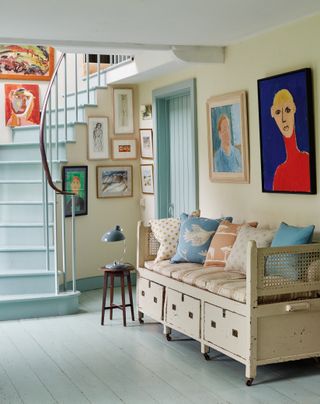 On a limited budget, the couple covered the chipboard bedroom floors with huge worn rugs for £50 or £60 pounds apiece from the auction rooms in Wotton-under-Edge. 'Initially all the furniture was old bargain buys that we've gradually replaced with better pieces,' says Vanessa. 'In fact, it wasn't until 2010, when I started to design and sell sofas for the business that I had a new one of my own.'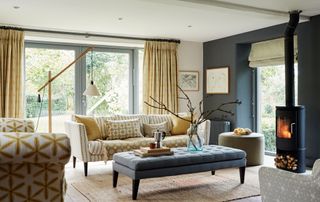 Two years ago, Vanessa and Nicholas converted a studio space at the back of the property into a contemporary living room. The new space has full-height glazed doors on two sides, through which they can enjoy the yew arch and lime avenue that Nicholas planted some years ago.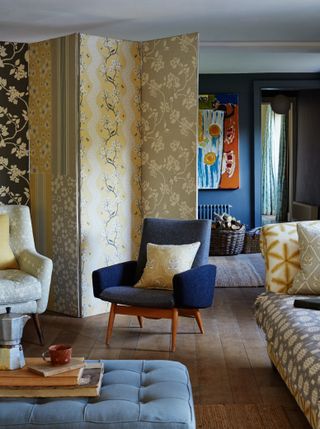 The latest update is the downstairs bathroom, refitted and redecorated in a mix of coastal blues, including a fabric designed by Nicholas.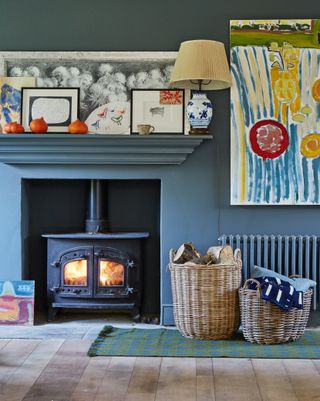 Just as the property, furnishings and accessories have been added to over the years, so Vanessa's textile designs are frequently refreshed with new techniques – whether this is the Japanese art of Shibori, or the cut paper technique she explored
at a workshop on designer Lucienne Day, which inspired this season's cut designs.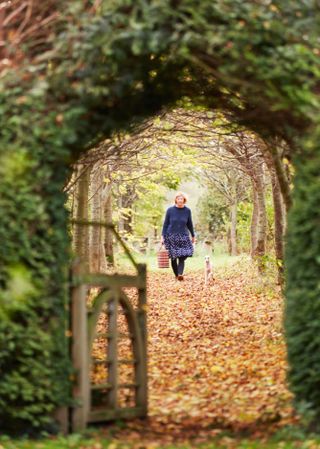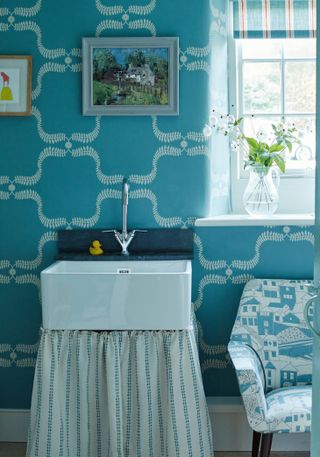 MORE FROM PERIOD LIVING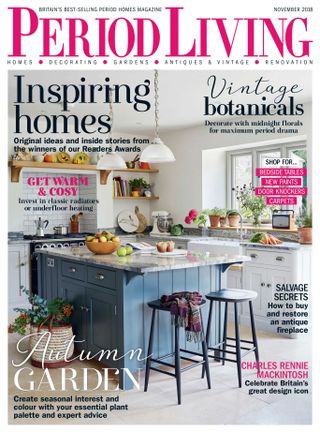 Get the best period home inspiration, ideas and advice straight to your door every month with a subscription to Period Living magazine
'I like to learn different skills as it sets you off in a new direction,' she explains. 'Otherwise it's just my hand, doing the same style of drawing. When I'm ready to start new designs I'll set up a table in the kitchen and pin things up, or I'll work in the studio. But I always draw in pencil on tracing paper. Other than that, nothing in my life is ritual or predictable.'
One constant, though, is the presence of artistic talent – from the Arbuthnott family and from the artists and craftspeople who use the studios opposite the home. Many of them run workshops at Vanessa Arbuthnott's showroom in Cirencester, including community projects for refugees, and art therapy for the elderly and people in need.
'That's where my real passion lies,' says Vanessa. 'I love these sorts of projects, and I miss being involved in them directly, but now with the art space at the showroom I feel I can give something back.'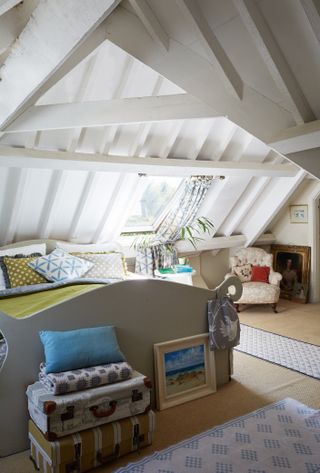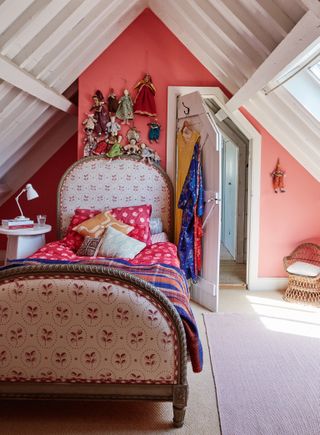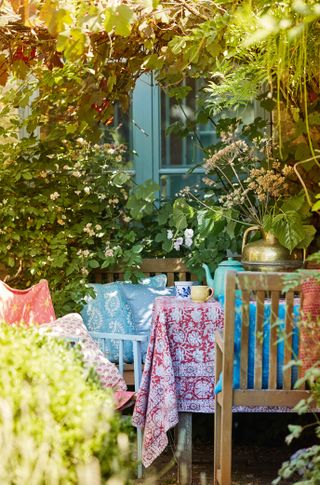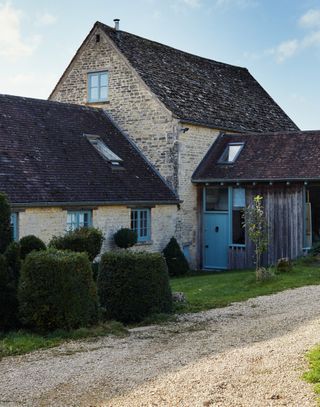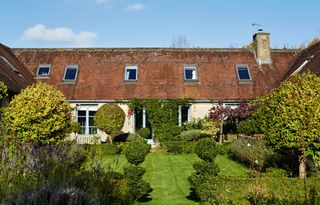 More period homes to admire: