While autumn brings red leaves, long walks and splashing in puddles, it also brings muddy shoes, soggy dogs and slippy floors.
Your hallway needs to be one of the most hardy spaces in your home. Taking daily wear and tear from running in and out, wheeling your bike through, taking off muddy wellies and drying your dog before he destroys your white walls, it's a space that puts up with a lot.
What's more, your hallway is the first thing your guests see when they enter your home, so it needs to give the best first impression.
And so... we've gathered five essential items for keeping your hallway in tip top condition as the muddy and wet seasons approach. You're welcome (as our doormat says).
1. A Hardy door mat designed for wet shoes
Why you can trust Real Homes Our expert reviewers spend hours testing and comparing products and services so you can choose the best for you. Find out more about how we test.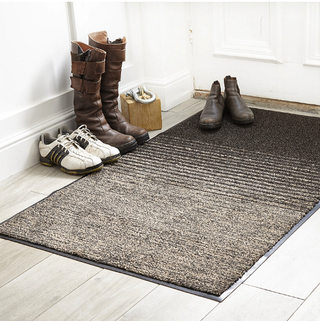 If you've invested in beautiful new flooring for your hallway, you should protect it. This long anti-slip door mat has separate sections to clean your shoes, scrub and dry them and absorb moisture. By the time you've walked from the darker section to the lighter section, your shoes should be clean enough to walk over your floors without a trace. Now that's what we need.
Triple-action entrance door mat, £59.95, Lakeland
2. Storage to encourage the 'shoes off at the door' policy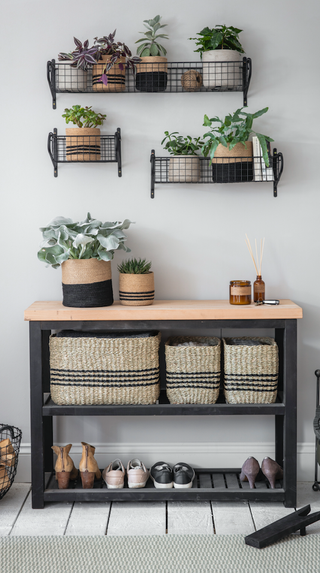 Are you a shoes-on or shoes-off kind of home? Well if you've been splashing through mud, there's only one option. Keep your shoes in order and protect your floors by creating a designated shoe home. These baskets are perfect for stowing away kids' shoes too, avoiding muddy footprints up your staircase carpet. Notgrove console table, £360, Garden Trading.
See more shoe storage ideas in our buyer's guide... and don't miss our guide to cleaning carpets, just in case.
3. A wet dog towel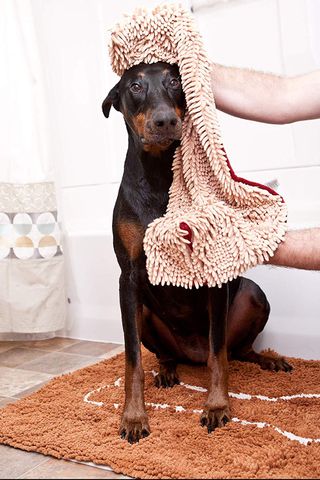 Love your pup to the moon and back but living in fear of your home smelling like wet dog? We hear you. These special dog towels are the perfect way to dry your dog faster and more thoroughly, before (s)he has a chance to gallivant through your house. The towel can hold up to seven times its weight in water, absorbs like a sponge, and has handy pockets for ease. Why hasn't anyone told us about this before?! Soggy Doggy super shammy beige microfibre chenille dog towel with pockets, £19.95, Amazon.
For more ways to clean up after your dog, see our guide.
4. Statement doormat for good impressions all round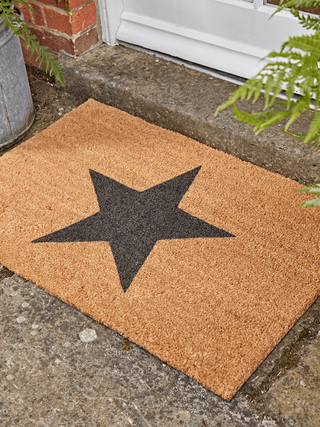 The best way to keep your hallway clean? Clean your muddy shoes outside. An exterior door mat is the ideal solution, protecting your floors before you've even opened your front door. Plus, first impressions count, and this statement star door mat sets the tone for a stylish home. Win win! Star doormat, from £20, Cox & Cox.
See more of the best doormats in our buyer's guide.
5. Wellie hooks for easy drip drying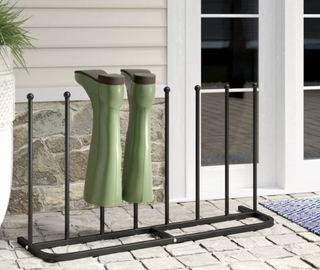 Where do you store your wellies? A heap in the garage? Us too. Get some order and keep things in line with a smart wellie rack! Allowing your boots to dry quicker and also making a cute display, give your most hardy shoes a home of their own. Steel wellington boot rack, £23.99, Wayfair.
Want a boot room for more than just boots? Check out our beautiful boot room ideas.
Read more: