The best Black Friday fridge and freezer deals
Shopping for a fridge or freezer Black Friday deal? Whether you're finishing off your kitchen design with a sleek looking one, or replacing an old appliance in time for Christmas, this big ticket purchase is worth shopping for at a discount.
Well, we've got plenty of American-style, slimline and budget fridge-freezers in our 2018 buyer's guides, but if you want to be sure you've got the best-priced deal this autumn, buying it here on Black Friday (and in the run-up to the big weekend) is your best option because we'll be updating this page regularly so you can get the very best bargain.
Alternatively, you can find all the latest bargains on our deals page.
THE BEST BLACK FRIDAY FRIDGE AND FREEZER DEALS
Save up to 30% on refrigerators at Very
Looking to buy a new fridge this Black Friday? Check out the deals on Very for money off brands like Samsung, Hotpoint and Hisense. View Deal
Fridge deals
Swan SR11050CN Fridge | Was £663 now £557 | Save £106
Similar to Smeg designs, this Swan fridge is A+ rated for energy and can fit 18 bags of food shopping at one time. It also has a wine rack inside so you can easily store your favourite beverages. If you've had your eye on a retro looking fridge for a while, this deal is unmissable.View Deal
AMERICAN-STYLE FRIDGE FREEZER DEALS
Hotpoint Day 1 American Style Fridge Freezer | Was £719.99 now £499.99 | Save £220
An extra large sized family fridge freezer boasting a 402 litres of storage capacity giving you maximum flexibility and Precision Temperature Control which ensures cool air is distributed throughout the fridge cavity, and with over £200 off? Sounds pretty good to us. View Deal
Samsung RS50N3513SA fridge freezer | Was £1,199.98 now £958.97 | Save £241.01
Looking for an American style fridge freezer with an ice dispenser? It's your lucky day as Appliances Direct is currently offering over £240 off this Samsung model. View Deal
Hisense RS694N4BC1 American Fridge Freezer |Was £999 now £749 | Save £250
Fancy a new fridge? How about an American-style one? This one currently has 25 per cent off, a bargain if you're asking us.View Deal
LG GSL961PZBV American-Style Fridge Freezer | Was £1,299 now £899 | Saving £400
Fridge and freezer deals are set to be huge this Black Friday, and this one is our evidence. Saving you an incredible £400, it's time to splurge on that American-style fridge freezer you've always dreamt about having.View Deal
FRIDGE FREEZER DEALS
LOGIK LFFD55S18 50/50 Fridge Freezer | Was £299.99 now £249 | Save £50.99
Compact yet still practical, this LOGIK fridge freezer is ideal for those who want the features of an American style fridge freezer, for example, the ice dispenser, but they don't have the room. With a total storage capacity of 224 litres, it has ample storage for a small family to get by. View Deal
Samsung RB37J5230SL Freestanding Fridge-Freezer, A+ Energy Rating, 60cm Wide, Stainless Steel | Was £799, now £499.00 | Save £300
The Samsung RB37J5230S fridge freezer features a generous fridge capacity of 269 litres and a freezer capacity of 98 litres, so it's ideal for a busy family household. With an A+ energy rating, it'll save you money on your energy bills and help you to protect the environment, too.View Deal
Samsung RB Combi Range Fridge Freezer | Was £599 now £449 | Save £150
Fantastic features and clever technology make this frost free Samsung fridge freezer a great choice. With a 310 litre capacity, it can easily accommodate 17 bags of fresh and frozen food shopping, plus it will all stay fresher for longer thanks to All-Around Cooling technology, which circulates cool air inside the fridge to keep a constant climate. View Deal
Siemens KG39VVI31G Freestanding Fridge Freezer, A++ Energy Rating, 60cm Wide, Stainless Steel | Was £659, now £479.00| Save £180 + Claim an additional 3 year guarantee at no extra cost
With the Siemens KG39VVI31G fridge freezer, you can enjoy an outstanding A++ energy rating without compromising on space or functionality. View Deal
Beko CFP1691DG Freestanding Fridge Freezer, A+ Energy Rating, 60cm Wide, Graphite | Was £449, now £349 | Save £100
The CFP1691DG from Beko is both stylish and practical with its fresh Graphite finish and generous storage options. View Deal
INTEGRATED FRIDGE FREEZER DEALS
Hisense RIB291F4AW1 Integrated 50/50 Frost Free Fridge Freezer
Keep your groceries in the best conditions with this integrated fridge freezer from Hisense. Its 226 litre capacity can hold 12 bags of food shopping, plus it has No Frost technology, which constantly circulates cold air to prevent ice building up insideView Deal
Hoover BHBS172UKT 55cm Wide Integrated Fridge Freezer | Was £579.99 now £329.99 | Save £250
Ideal for smaller kitchens, this Hoover model is just 55cm wide so you don't need a lot of floorspace but you still get 148 litres of fridge space and 94 litres of freezer space. View Deal
Quick links to the best fridge and freezer deals
How to buy the best fridges and freezers at the best price
On the hunt for a new fridge or freezer? We know that buying one online can be nerve-wracking, BUT it's also completely possible with our in-depth fridge and freezer buying guides. Check them out for the best deals and bags of guidance.
Buying guides:
WHEN IS BLACK FRIDAY 2018?
This year's Black Friday is on Friday 23rd November, with sales lasting for about a week or so. Some retailers, such as Amazon, often cut their prices well before, so it's worth keeping an eye out starting from now.
Can you get great fridge and freezer deals on Black Friday?
Yes, of course – lots of deals will last from Black Friday through to Cyber Monday and beyond.
Where should I shop for fridges and freezers on Black Friday?
SUBSCRIBE TO THE BEST HOMES MAGAZINES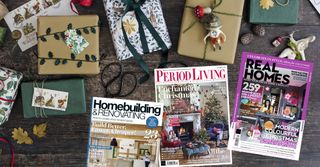 With brands ever more attuned to the Black Friday buzz, you can expect big savings from some of your favourite retailers.
So, you should be able to buy fridges and freezers via Amazonand John Lewis among others. And while we can't predict exactly who will be slashing prices on what just yet, why not take a look back in time with us to see what we might expect?
In 2017, Currys PC World offered top-class deals on their fridges and freezers, including a huge £400 off the LG GSL961PZBV American-style fridge freezer, down to £899 from £1,299.99. Argos offered a huge £200 off the slick-looking Fridgemaster fridge-freezer and AO took £400 off the Miele blackboard edition. Shoppers headed to John Lewis for their Samsung fix, as they cut the price of the Samsung fridge-freezer by £400.
However, sometimes retailers opt out of Black Friday (rumoured: John Lewis) – which is why it's worth checking back here for updates because we'll be monitoring the best deals for you.
Are Black Friday fridge and freezer savings real?
Yes, but... since many products' prices change frequently, checking the price history of what you're planning to buy on CamelCamelCamel.com or PriceSpy will tell you whether the savings are real or not. These sites show you whether a price is likely to re-occur.
What's more, it's also likely that the fridge and/or freezer you're shopping for will be discounted again soon (think Boxing Day sales). Always check, rather than be distracted by the recommended retail price, especially on big ticket home buys.
How we'll help you find the best Black Friday fridge and freezer deals
Finding the deals is the trickiest part of Black Friday weekend. With so many retailers offering huge savings, it can be difficult to know where to start looking.
The good news? We'll provide a guide to the best Black Friday fridge and freezer deals (and, since you ask, on everything for your home, including smart home tech, mattresses, furniture, home accessories and more). That way, we'll do the browsing and you can snap up the bargains.
It's definitely worth preparing yourself early, so that when the 23rd November rolls around, you know what to expect. Teach yourself a thing or two from how Black Friday really works to the dos and don'ts, or have a read of the 10 tips for getting the best deals this year.
Is the fridge or freezer I like right for my kitchen?
Before you buy in a rush, desperate to score that brilliant deal, be sure to check you've got an appliance in the right size and configuration. Always consider the space you have available, too. A side-by-side fridge-freezer may look magnificent in the brochure, but will overwhelm small kitchens. A slender fridge-on-top, freezer-at-the-bottom model is best for compact rooms, and if you don't freeze much, a tall fridge with a single freezer compartment will suffice.
For those who enjoy their wine, a bottle rack is beneficial, and for those who store enough sauces and condiments to run their own café, extra door storage would be most useful. Consider integrated fridges and freezers, too – these are ideal for both small kitchens and ones you want to look completely streamlined.
It's also worth thinking about its interior capacity. Some, like Doctor Who's TARDIS, are bigger than they appear on the outside, so be mindful of the litre capacity, as being stuck with a fridge or freezer that's smaller than you need is an expensive mistake.
Other fridge or freezer features to look out for
If you just want a fridge to store your food in and that's it, then the majority of fridges and freezers will suffice. However, look out for models with a water dispenser, an ice dispenser, and even smart appliances, complete with built-in Wi-Fi and cameras. Don't forget to look out for your new fridge or freezer's energy rating, too.
You should also note the noise output in decibels. If you're looking to store the product in a garage or annexe, it's not as much of a problem, but if you have an open plan kitchen diner and living space, be sure to go for an fridge or freezer which won't disturb your downtime.
More Black Friday and Cyber Monday deals
MORE ON BLACK FRIDAY: