Confession time: my puppy is my entire personality at this point. Ever since bringing my shichon Ebble home six months ago, the little guy has completely taken over my life. TBH, he's totally taken over our one-bedroom apartment, too, and his stuff is everywhere.
Staying on top of keeping our small space clean has become a lot more challenging with our adorable addition to the family, as this playful puppy is constantly throwing his blankets, toys, and treats everywhere.
Luckily, I'm surrounded by amazing design writers and editors every day, and nearly half of our team works alongside their furry family members. To find the best ways to store pet essentials in a small space, I spoke to the pet parents here at Real Homes to find out what the pros do.
Multifunctional furniture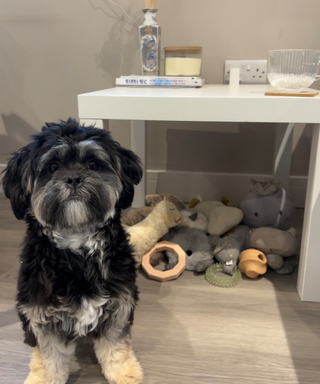 If you're a new pet parent like me and have been caught up in the costs of bringing your new bestie home, don't stress. There are still plenty of ways to store your pet's essentials without compromising your home's aesthetic, and the solution is probably already in your space. I'm a staff writer and the newest puppy parent here at Real Homes, and these are the storage solutions currently working for me and the pieces I'm saving up for.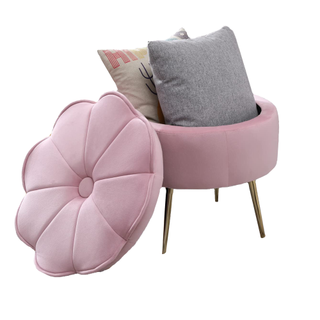 $79/99
Velvet Flower Storage Ottoman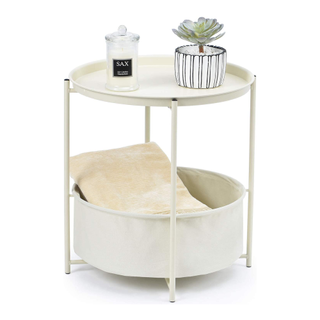 $39.99
Side Table With Storage Basket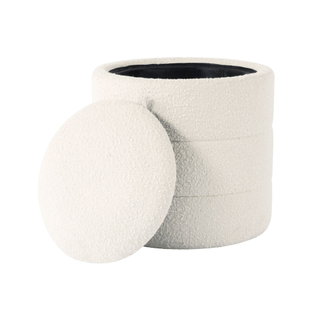 $85.94
Bouclé Round Storage Stool
"As a small-space dweller, I've always sworn by multifunctional furniture pieces. They're even more helpful now that I have my puppy Ebble, as I find my open-plan apartment can get cluttered quickly with his daily toys. I'm currently in the market for an adorable storage footstool or side table with dedicated a dedicated tier for storage.
In the meantime as a part of our evening routine, we always put all of his toys away on the floor underneath our current living room side table. This way, they're tucked away but easy for him to access the next morning. We used to pile them into an open section of our TV unit, but he's ended up turning the space into a little fort to sleep in instead!"
Repurposed decor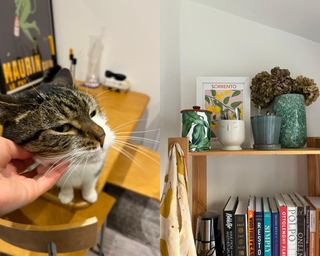 Get sneaky with your pet storage by using decor items as storage solutions for your furry friend's smaller items, and letting their essentials blend in with your home's overall vibe instead of causing a chaotic and disjointed feeling. For example, our former deputy editor Camille Dubuis-Welch loves to utilize planter pots to store her cat's food and treats.
"It makes mornings speedier for me if I have Gaston's pet food pouches on show and out of the cupboards, but the boxes they come in aren't exactly cute. I was clearing out the shelves one day anyhow and when I realized that some houseplants had outgrown their very cute planters, I put two and two together.
That way those planters still serve a decorative purpose and his food has a dedicated spot in the space. I've left them on the top shelf so that he's not tempted to chew them open (which has happened) and so far so good, but you know your cat and if they will just tear anything open, I'd recommend investing in something totally sealed!"
Utilize wall space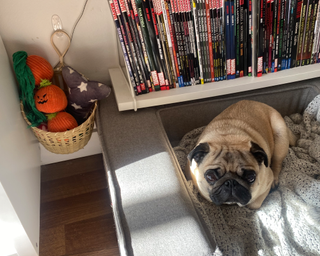 Let's be real, when you're in an apartment or small home, floor space is precious. You want your pet to be able to have fun and enjoy their home, but constantly having to navigate a maze of squeaky toys isn't exactly ideal. Easily keep your floor clear with this solution from our head ecommerce editor Annie Collyer, who makes use of wall storage for her pug's favorite things.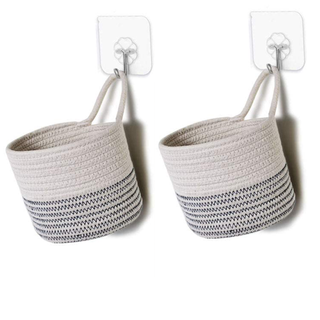 $17.99
Hook And Woven Basket Duo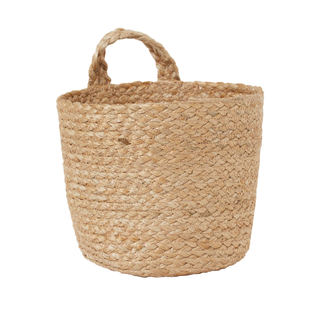 $11.98
Woven Wall Storage Basket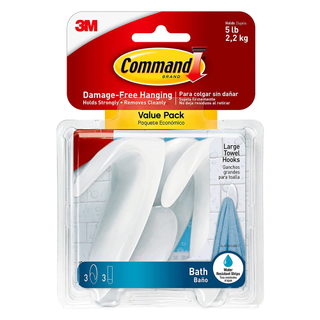 $10.99
Water-Resistant Command Hooks
"My pug Doug loves to play with his toys throughout the day. I used to have them in a storage basket on the floor beside his bed, but it would always be overflowing and I would forever forget to pick it up and clean underneath it.
So, I grabbed some Command hooks and a hanging basket from IKEA and decided to switch this basket with a hanging one to free up precious floor space. It does fit fewer toys, but it means I end up rotating them more and Doug gets lots of variety. Plus, he can still get to them. The best part? I didn't even have to drill any holes into the wall, so it's the perfect rental-friendly solution."
Cute and classic baskets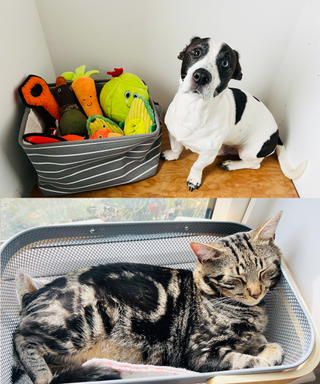 Our team's final storage solution is a classic for a reason. Baskets are the OG multifunctional pieces, and pets love their versatility just as much as we do. Staff writer Beth Mahoney has a dog and a cat, who each have a set of quirks for her to work with when it comes to the way their items are stored. She uses baskets for both her furry friends, but in very different ways.
"Monty, my Jack Russell cross, is totally spoiled (thanks to my fiancé insisting we buy him a new toy every time we go to the pet store) which means there are always toys everywhere. We were constantly tripping over them, so to avoid a potential catastrophe, I picked up a pop-up basket to stash all his toys in. It's small, compact, and perfectly complements my decor. Plus, it allows him to grab his toys as and when he wants them (I just wish he'd learn to put them back!)
As for our cat, Grogu, he has a habit of pulling out our clean laundry and making a bed in it, so I found him this really cute wire basket, popped a blanket in there, and put it on his favorite windowsill. Now my laundry gets left alone and Grogu has his own space to chill out."