There are plenty of small coffee machines on the market. This means that even if you have the tiniest of kitchens, it can still be well-equipped. And, if you are anything like those of us at Real Homes HQ, coffee is a necessity and therefore a great coffee machine is something you really shouldn't do without.
When it comes to choosing a small coffee machine, the choice is varied. So, we've put together list of the best (all under 35cm wide) to help you discover the right one for your kitchen based on its design and functions.
If space isn't a problem, find our pick of the very best coffee machines of all types. But if it is, you might find our guide to designing a small kitchen pretty handy. Don't miss the latest coffee machine sales for bargains, too.
Which are the best small coffee machines?
The best small coffee machine for you will definitely depend on how you like to take your coffee and whether you want the convenience of pods or the authenticity of a machine that uses fresh coffee. For the best of both worlds – and the greatest versatility all round – we love the De'Longhi EC685 which takes both ESE pods and ground coffee. It is the best option for any wannabe barista.
Or you could go for the De'Longhi Distinta Filter Coffee Maker if you are on a budget, or the Wacaco Minipresso NS if you have no worktop space and need an option you can whack in the cupboard after use.
Not got time to read the whole guide? We've listed our top three small coffee machines below, along with their cheapest prices. You're welcome.
How to buy the best small coffee machine
Size
We assume you have arrived here because size is an issue. Fortunately, the best coffee machine manufacturers have managed to pack a lot of functionality and style into some pretty small appliances. All of our machines will take up as little worktop space as a four-slice toaster – some take up less. So measure up and pay attention to the size part of our specs (below).
Type: Pod, bean-to-cup or filter
If authenticity is key, choose a bean-to-cup. These offer the most flexibility in terms of coffee choices and serving styles. Most of our models use ground coffee or you could use beans and grind them yourself (step in our pick of the best coffee grinders). This type of machine will also out cheapest in the long-run.
Filter coffee machines are another affordable option, and although you get a straight-forward filtered brew, these are perfect for making several cups at once. If you need 10 to 12 cups in one go, filter is your friend. See our round up of the best filter coffee machines.
Pod machines have become incredibly popular in recent years and tend to be among the most affordable in terms of initial outlay. However, the pods themselves are not the cheapest and unless you can find an option with pods that can be refilled or recycled, they aren't very environmentally friendly either.
Extra features
Love a latte? A milk frother is a must and some of the machines below feature these. If you're looking at pod machines, most will have milk pods which create a froth using a milk powder.
Some models have timers too, so you can set your machine to have your coffee ready just as you dash through the door on your way to work.
It might seem a bit backwards, but two of our models are hand-powered. The beauty of these is you can use them on the go (hot water allowing) and as well as being portable, they are super small and easy to store.
Cleaning
This is a biggy for some people. A few of our machines have a self-cleaning function which saves time. Others have parts that need to be handwashed, but this shouldn't put you off even if your machine gets a lot of use. A quick swill of essential parts after every use will keep your machine clean day-to-day.
THE BEST SMALL COFFEE MACHINES
1. De'Longhi EC685
Best small coffee machine: for professional barista brilliance on a small footprint
Specifications
Coffee type: Ground or ESE Pods
Tank capacity: 1.1ltrs
Power: 15 bar
Size: H31cm x W15cm x D41cm
Reasons to buy
+ Heats up in 30 seconds + Three interchangeable devices for the perfect crema +Cup warmer+Milk functions and lots of options to customise your cuppa
Reasons to avoid
-Many parts are handwash only
The De'Longhi EC685 might be small, but it's pretty mighty and is our pick of the best small coffee makers – perfect for small kitchens.
What's it good at?
Everything. It works perfectly well with both ground coffee and pods, so if your palate is particularly fussy, you can explore all the options to find the perfect blend. It has a steam pipe for frothing milk, and if you want to grind your own beans, you can get a matching grinder.
What do we like about it?
This small coffee machine is the real deal if you want traditional results at home, thanks to a quick heat up, adjustable steam frother and interchangeable devices for producing the perfect crema.
It comes in a number of colours, too, so can suit many kitchen schemes. While traditional in shape, its matt steel and chrome outer brings it steadfast into the 21st century, at a decent price, too.
What else?
Some reviewers mentioned it comes with an EU plug so check before purchase.
What don't we like?
Cleaning. This is like a mini version of the machines you see in coffee shops so it has a coffee sump and other accessories. This adds to the versatility, but also gives you more things to wash up afterwards.
2. KitchenAid Artisan Nespresso 5KES0503
Best small coffee machine for espresso drinkers: for those who love a short shot (especially one served in style)
Specifications
Coffee type: Pod
Tank capacity: 1.4ltrs
Pressure: 19 bar
Cups: One
Reasons to buy
+Compatible with Nespresso's full range of pods +Makes a great espresso or cappuccino +Six coffee programmes +Good range of colours
Reasons to avoid
-No milk frother-Limited to pod use which is pricier than other coffee types
We love the look of the KitchenAid Artisan Nespresso 5KES0503 but, looks aside, it makes a mean coffee, too.
What's it good at?
It's a robust and well-made coffee machine that won't take up much space on the worktop or in the cupboard. Making a coffee with it is straightforward, quick and easy once you have got to grips with the pod mechanism.
What do we like about it?
You can always rely on KitchenAid to deliver on retro style. But they haven't ignored functionality in this little machine. Whether it's the six coffee programmes, from ristretto to lungo, automatic turn off or a quick, 30 second heat up time, this beautifully stylish small coffee machine will ensure you never regret making the extra space for it.
To make life easier, it features an easy descaling option so you can keep it in great condition for many years of reliable service. The drip tray can be washed in a dishwasher, too. We like.
What else?
It doesn't have a milk frother but is often sold as a bundle with the Nespresso Aeroccino milk frother.
What don't we like?
Some reviewers found it hard to operate, arguing that for a fraction of the price they could have got a simpler Nespresso machine.
3. De'Longhi Distinta Filter Coffee Maker
Best small coffee machine for coffee addicts: for making multiple cups at once
Specifications
Coffee type: Ground
Tank capacity: 1.25ltrs
Power: 1000W
Cups: 10
Reasons to buy
+ Make enough for 10 cups + Sealed carafe plate keeps in aromas+Great budget buy
Reasons to avoid
-Only for filter coffee
If you're looking to please a crowd, the De'Longhi Distinta Filter Coffee Maker is a great buy – it can serve up to 10 cups at a time, but it's pleasingly compact, too.
What's it good at?
When your friends are round for coffee and cake, it can take an age to set up the espresso machine for each person. This filter coffee machine enables you to make up to 10 large cups of filter coffee in one go, which is perfect if it's Americanos or flat whites all round.
What do we like about it?
As we've said, it makes multiple cups at once and it looks great. We are showing the stylish copper version, but it also comes in stainless steel and black. But looks aren't everything and luckily it serves up on functionality just as well.
You can use a ground blend of your choice – none of that 'nasty stuff' that you may have become accustomed to in greasy spoon cafes – always a plus for anyone who doesn't like to be tied to a particular coffee brand.
There's an Aroma function that releases the water into the filter slowly to improve the flavour and smell of the coffee, while the anti-drip system on the filter holder has a spring-loaded mechanism that stops the sizzle you get with poorer quality coffee machines and, as a result, there's no burning smell when you remove the jug to improve the coffee.
What else?
It has 40-minute auto shut off to conserve energy. And, the see-through window of the water tank means you always know at a glance whether you need to top up.
Both the carafe and the filter holder are dishwasher safe for easy cleaning. Hurrah.
What don't we like?
Like other models from this brand, it might come with a European plug so plan ahead or check first. If you are into coffees with frothed milk, you will need to sort that separately so an all-in-one machine may be better suited to your requirements.
4. Russell Hobbs Brew & Go 22630
Best small coffee machine for commuters: love a cuppa Joe on the go?
Specifications
Coffee type: Ground coffee or soft filter pods
Tank capacity: 0.4ltrs
Pressure: 15 bar
Cups: One
Reasons to buy
+ Set the timer so your coffee is ready and waiting for you + Use with regular mugs too for weekend coffee +Works with soft filter pods and grounds
Reasons to avoid
-Small tank means regular refills-Quite big considering the tank size and limited functionality
If you love to drink your morning brew on the go, check out the aptly named Russell Hobbs Brew & Go 22630.
What's it good at?
It is easy to use, hands off and not hard to clean. As it works with any ground coffee and pods, it is as cheap to use as it is to buy. Set it up the night before with the timer ready for when you need to leave home, grab and go.
What do we like about it?
In a busy world, convenience is king/queen, so this is perfect if you struggle for time to grab a coffee on the go. It'll only set you back £30 or so and you can put it on the 24-hour programmable timer so your choice of ground coffee (or soft coffee pods) is hot, fresh and ready for you just as you walk out the door, which means it saves you both time and money.
It isn't just for prepping for the commute – if you want a fresh coffee when you're relaxing at home, just pop your favourite mug on the drip tray instead.
It's easy to use, too: simply add the coffee to the removable filter and pour in the water and press the start button.
What else?
For a single-cup machine with a fairly small water tank, you would expect it to be among the smallest of our machines, but it is wider and deeper than most models.
What don't we like?
Take care when setting it up and filling the tank to check all parts are properly assembled, as some reviewers complained about leaks.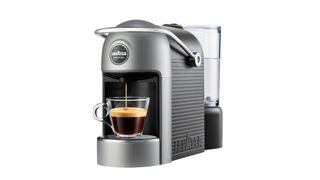 5. Lavazza A Modo Mio Jolie Plus
Best small coffee machine for pod coffee fans: a quiet and compact machine
Specifications
Coffee type: Pod
Tank capacity: 0.6ltrs
Pressure: 10 bar
Cups: One
Reasons to buy
+Super quiet +Authentic Italian espresso +A range of pre-set coffee settings
Reasons to avoid
-Pod-only-Small tank (but it is super compact)
The Lavazza A Modo Mio Jolie Plus is a neat little coffee pod machine that produces a decent cup.
What's it good at?
It is quick and the coffee tastes amazing. It only takes Lavazza pods, but fortunately their coffee is of supreme quality and even capsule-machine skeptics will enjoy a cup from this machine.
What do we like about it?
This stylish coffee machine produces both single and double espressos with a smooth, rich crema. Use compatible milk pods alongside its range of preset coffee settings to create your own drink, whether it's a cappuccino or a latte.
Some pod coffee machines are notoriously noisy – not what you want in an open-plan kitchen – but not the Lavazza Jolie Plus.
What else?
Apart from being super quiet, it is also unobtrusive in size. It does only have a 0.6ltr capacity tank, so it's perfect for individual usage and a smaller tank means it takes up less space on the worktop – win, win.
What don't we like?
The only drawback is the restrictions around the pods you can use. That and the fact that at present, Lavazza's A Modo Mio pods cannot be recycled. However, this is set to change later this year.
6. Wacaco Minipresso NS
Best portable small coffee machine: for making coffee ANYWHERE in the world
Specifications
Coffee type: Ground or Nespresso capsules
Tank capacity: 0.7ltrs
Power: None
Cups: One
Reasons to buy
+Completely portable +Quality espresso on the go+Hand-operated so can even be used off-grid
Reasons to avoid
-Not an all-in-one – you have to boil water separately-Just makes espresso
Find yourself craving an espresso in the middle of a yomp across the countryside? The Wacaco Minipresso NS is for you. It's the ultimate coffee-on-the-go gadget.
What's it good at?
It is easy to use and does not need to be plugged in – you could even take it camping.
What do we like about it?
It's soooo easy to use. Simply fill the base up with hot water, use the scoop to pop your favourite blend of ground coffee in its container, fix together and pump until the pressure starts pushing the water through the coffee – and you're done: a creamy, luxurious espresso.
You can then add frothed milk or more water for your desired Americano, lungo or cappuccino. It is the perfect portable pal for the coffee aficionado.
If you are particularly fussy about your coffee but you're struggling to find a large enough space in your kitchen for a full-sized coffee machine, this clever little portable espresso maker can be tucked neatly in a drawer until you're ready to use it.
What else?
This is probably not for anyone who has problems with their motor skills as you need to hand-pump it. It doesn't deliver lots of coffee in one go, but be mindful that this is intended to make one espresso that you then customise to taste.
What don't we like?
It RRPs at £50, which is not far off the price of filter machines or some of the cheaper pod machines – so if price is of importance, the Wacaco is not your best bet.
7. AeroPress Coffee Maker
Best small coffee machine: for those who like to channel their inner Walter White
Specifications
Coffee type: Ground
Tank capacity: 0.5ltrs
Power: None
Size: H14cm x W11cm x D11cm
Reasons to buy
+ Makes a longer drink than the Wacaco + Perfect for coffee tasting trips+Super compact
Reasons to avoid
-Hands on – not for anyone looking for a press and go coffee
The AeroPress Coffee Maker is another take on the coffee-as-you-go design – but it's a tad cheaper.
What's it good at?
The AeroPress injects a little bit of fun into your coffee-making routine. Whether you're planning a coffee tasting trip to Columbia or heading on the fast train to London Victoria, you can experience coffee wherever you are with the AeroPress.
What do we like about it?
Whittard prove that they're not just about tea with the AeroPress. Much like the Wacaco, it uses manual pressure to infuse the coffee flavour into the water – perfect if you are after a more experimental style of coffee making.
What's the coffee quality like? Well, people rave about the coffee that it produces, and you have complete control over the amount of water and coffee used – something often overlooked with push-and-go machines.
As you'd expect, it's uncomplicated to use and, like our other manual coffee maker, it'll fit in a drawer so won't take up any countertop space.
What else?
If you have no space for a coffee machine, this will certainly fit the bill, but otherwise you might want this one as well as one of the other automated options.
What don't we like?
Again, like the Wacaco, it is far more involved and required more effort than the machines above. As you need to pour hot water into it, you need to be 100 per cent sure it is properly constructed or you risk nasty burns.
Fancy a brew?