Memory foam mattresses offer that sink-in feel that moulds to your body as you sleep. Dreamy in theory, but memory foam is often thought of like Marmite — you either love it or you hate it. Well, you best believe me when I say some of our mattress testers are true memory foam converts after sleeping on some of these foam beauties.
That's right, we've tasked our toughest critics with trying out some of the best memory foam mattresses on the market and have whittled it down to just five. Compared and contrasted for how well they contour to the body, relieve back aches and pains, and offer all-around comfort, these are the top mattress contenders for 2023.
They're from big-name brands (with affordable price tags), like Emma, Eve, and Nectar, and all feature in our best mattress guide so you know you are onto a winner.
The top 5 memory foam mattress of 2023
Why you can trust Real Homes Our expert reviewers spend hours testing and comparing products and services so you can choose the best for you. Find out more about how we test.
More about our favourite memory foam mattresses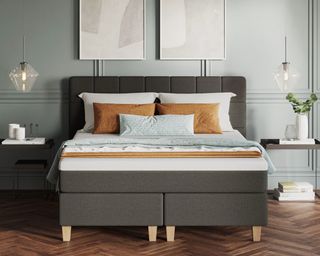 The Emma mattress is the best mattress you can buy, in our opinion. Rated highly by others too, it's one of the top picks for its price. Earning top marks when it comes to motion control and support, it's well-suited to all sleep positions, including those who tend to move a lot in their sleep.
The verdict
Whether you're a side, front, or back sleeper, this mattress will suit you. It's easy to switch positions and comfortable whichever way you choose to sleep that night. We'd rate it towards the firmer end of medium, but it's certainly not too solid nor too soft. You could argue it meets the "Goldilocks standard" of being just right. This is ideal for couples with different sleeping styles, but it's also evenly supportive across the entire surface, so there's plenty of room to spread out if you're a single sleeper.
Construction
The top layer is an elastic foam called Airgocell, which relieves pressure and cradles the body. The memory foam layer is next and, like all memory foam, keeps you comfortable in any position. The base is made from cold foam that supports the above layers and you. It then has a breathable, removable top cover that can be washed at 60°C, this will bust dirt better than the standard 40°C guidance you find with other models. Handles make it easier to manoeuvre.
What do you get for your money?
If you need any more reasons, there's a newly expanded 200-night sleep trial, no questions asked 10-year warranty, and free delivery, usually within one to three working days.
Read the full Emma Original mattress review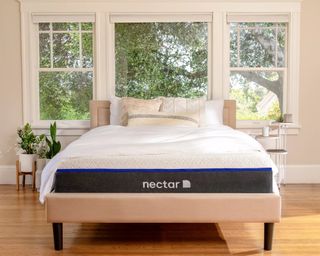 This trustworthy and affordable foam mattress won't lose its firmness even after a whole year's use. And with a 365-night trial, you can certainly put that to the test.
The verdict
Thanks to its foam filling, the Nectar Mattress will make your joints feel cushioned from night one. With regards to motion transfer, the Nectar is as good as any memory foam, and if sliding into your other half during the night is a massive bugbear, this is the best find for you. On the firmness front, the Nectar is rated 5.5–7.5 on the website, which the company claims is "just right." It's also not too firm — nobody wants a mattress that is too firm, trust us.
Construction
It stands out from the rest thanks to its Adaptive Cooling Cover designed to draw away heat from your body and circulate fresh air every time you move. It features a decent layer of proper memory foam which is nicely aerated, and then pressure-relieving foam that deals with contouring to your curvy bits. Finally, the seven-zone base foam provides more contoured support plus depth.
What do you get for your money?
The Nectar comes with an unprecedented 365-night trial period. And, if that's not enough for you, it also comes with a Forever Guarantee so it's a good choice if you are more risk-averse.
Read our full Nectar mattress review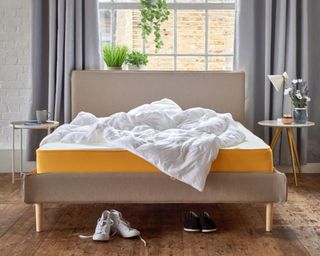 With lovely, thick memory foam and moisture-wicking fabric, even the most restless of sleepers will enjoy a good night's sleep on this ultra-firm memory foam mattress.
Verdict
Once our tester got her head around the bounce-less solidity of memory foam (which takes a couple of nights), the Eve mattress provided really decent, undisturbed sleep. Online reviews also suggest you will have your "best sleep ever." While we cant guarantee this, the Eve definitely outperforms some of the other bed-in-a-box memory foams we have tried, especially if you sleep on your back.
Construction
We'll take it from the top: a 3.5-cm thick open-cell hybrid foam offers maximum breathability, then there's a 3 cm layer of memory foam for contoured support, and a 17.5-cm-thick base layer, again foam, that's sliced into zones to target key body areas. Oh, and the top cover is made from moisture-wicking fabric for a cool night's sleep and zips off for washing.
What do you get for your money?
A 10-year guarantee, free delivery and free, no-fuss returns after 100 days. There are often Eve mattress deals available too.
Read our full Eve mattress review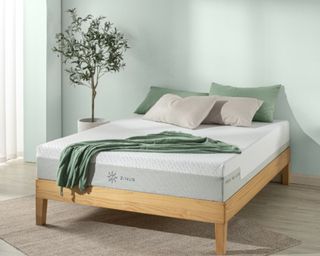 If Amazon is your go-to for purchases big and small, Zinus is the de-facto number-one seller when it comes to the best cheap mattresses. The Zinus Green Tea Memory Foam Mattress has over 80,000 five-star ratings, meaning you can get great support for less.
Verdict
We have to admit, our reviewer felt super supported — like being cradled in a cloud. Featuring a combination of conforming memory foam, soft, airflow-enhancing comfort foam, and durable, high-density base support foam, the Zinus offers a coveted sink-in feeling without skimping on spinal support. The memory foam design is ideal for those who suffer from aches and pains and are looking for pressure relief. However, our reviewer noted the edge support could be better.
Construction
The gel foam is infused with green tea that neutralizes odour and keeps your mattress feeling fresh. It also features moisture-absorbing ActivCharcoal. Available in a range of thicknesses for customizable comfort, the 6-inch and 8-inch models are recommended for back sleepers and the 10-inch and 12-inch versions for side sleepers. Unless you're a front sleeper, there's no reason not to buy.
What do you get for your money?
Okay, so unlike the other memory foam mattresses on this list that offer lots of add-ons and benefits for buying through a direct retailer. This one doesn't offer any extras, you can return it if you're not happy mind, but you will have to check with Amazon's policy.
Read the full Zinus Green Tea memory foam mattress review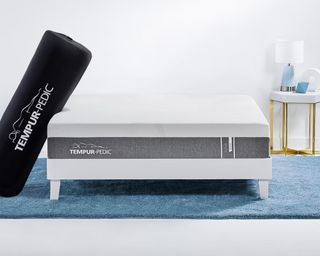 If you've got the budget, this Tempur mattress is perfect for helping with those aches and pains you've been waking up with.
What the reviews say
We're yet to have our full verdict on the Tempur Cloud, but rest assured one of our dedicated mattress testers is well underway sleeping on the job. We'll update you with a star rating and review in a few months' time. For now, it's worth knowing Tempur has been bringing memory foam into our homes and changing the way we sleep since 1991. And the reviews so far, from side sleepers in particular, love how the foam moulds to their bodies.
Construction
On top, there's 5 cm of Tempur® Extra Soft material, in the middle is a 5 cm layer of TEMPUR® Support material, and on the bottom is a thick 11 cm base layer fit with DuraBase technology — all encased in a fully removable cover, washable at up to 60°C.
What do you get for your money?
A 100-night sleep trial, 10-year warranty, free delivery, and free returns. You can also get up to two years of interest-free credit.
---
Real Homes review process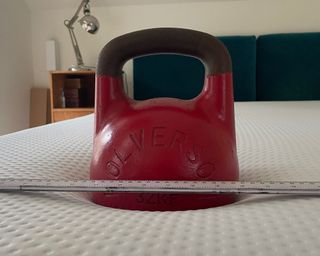 Yes, you guessed it, our expert mattress tester Linda Clayton and her team get to sleep for a living — well, not quite. They have slept on these mattresses for at least six weeks, which gives them enough time to compare and judge what each mattress is like to sleep on. During the process, they've also put various tests in place to assess how good the product is for edge support, motion transfer, and spinal alignment. We understand firmness is subjective, as is sleep position, so we ensure to review mattresses against their claims, rather than personal experience, in this case.
All our mattress reviews are based on the real-life experience of members of our team using these products at home. In each individual review, they've been transparent about their sleep habits, position, and circumstance, so you can relate (or not). To get a good idea of how every kind of sleeper may experience the mattress, we encourage our testers to invite friends, family, and others to try it out and give their first impressions.
Meet our mattress testers:
Linda and her husband have been snoozing away, testing our top three memory foam mattresses (among other pocket-sprung and hybrid options).
"I've been sleeping on a vast range of mattresses and putting them through their paces to bring you a true picture of how comfortable each one is and how much support it provides. I've also roped in my husband Nick to create a balanced view of what each mattress is like for women (so often the purchasers) and men. I've also persuaded friends and family to try them out and have conducted some semi-scientific testing so that you can buy your mattress online with confidence."
Alex Temblador is one of Real Homes' expert reviewers. The Dallas-based freelance writer has covered home, design, architecture, and art in publications like Real Homes, Dwell, Architectural Digest, Artsy, Neighborhoods.com, and Culture Trip, among many others. In addition to her mattress reviewing duties, Alex has tested out everything and anything from hot tubs to small appliances. She's a real thorough tester, so rest assured she's been sleeping away to find you your dream mattress.
She's a first-time homeowner, so you can trust she knows what it means to buy once and buy well.
What to look for when it comes to memory foam
Unless your mattress is older than the recommended replacement age, then it can be tricky to pinpoint what is it you're looking for in a new one, especially if you're yet to try memory foam. To help, we've spoken to Dr. Katherine Hall, a sleep psychologist at Somnus Therapy. "Crucial factors such as comfort, support, and durability, as well as your personal preferences and sleeping habits, are all essential considerations when picking out a mattress," she says. We've broken them down below:
1. Firmness and sleep position
Choosing a mattress according to how you rest is the easiest way to guarantee yourself great a night's sleep. The pillow you sleep on will also impact your sleep position. It might be worth looking into how to choose a pillow as well. For now, see which firmness rating you should choose based on your sleeping position:
Side sleepers can experience achy joints, especially around the hips and shoulders. Opting for a softer mattress you can sink into is the way to go, with medium-soft being the most recommended comfort grade.
Stomach sleepers might experience sore pressure points in the ribcage, knees, and elbows, as well as "general spinal discomfort." In order to alleviate this, you will need to find a firm mattress that supports you wholly but also provides support in those sensitive areas.
Back sleepers are recommended a middle-ground mattress for maximum comfort: not too soft, not too firm. In the words of Goldilocks, make sure your mattress is just right.
2. Temperature regulation
Sweaty sleeper? The newest memory foam mattresses are much better than those first brought to the market 10 to 15 years ago. They're also designed to be cooler to sleep on than older models. If you tend to get hot easily at night, consider one that features additional ventilation or a removable, breathable cover to maximise air circulation and heat distribution.
Or if this doesn't cut it, consider one of the best cooling mattress pads for guaranteed sweat-free sleep.
3. Budget
Finally, Hall notes that budget matters too. "Different mattresses come with a wide range of prices, so consider what you're comfortable spending before making any decisions," she says. "Whether you're looking for a more affordable option or willing to splurge on a luxury mattress, there is sure to be something out there that meets your needs."
Is memory foam better than spring?
While spring mattresses were the original kind, and are still relatively popular for their low-cost and get-what-you-pay-for quality, memory foam is becoming the country's favourite. These tend to be more comfortable and longer-lasting as there aren't any coils to wear or compress over time.