Using lockdown as the perfect time to buy some eco-friendly Amazon products? Smart idea. These simple switches will have you feeling better about your impact on the environment, fast. And, you needn't head out to the (busy) shops to make these changes – you can buy this stuff from Amazon today, and it should be on your doorstep tomorrow. We love to hear it.
These Amazon eco-friendly buys include everything from a way to make your skincare routine waste-free, something the kids will love, and even eco-friendly toilet paper. Don't waste your money on any more plastic-based products and vow to become more planet-friendly once and for all. It's quite easy – trust us!
Looking ahead at Christmas? Shop our eco-friendly gifts for Christmas guide and gift some sustainable buys this year.
10 eco-friendly Amazon buys
Why you can trust Real Homes Our expert reviewers spend hours testing and comparing products and services so you can choose the best for you. Find out more about how we test.
1. Biodegradable cleaning cloths for wiping sides, cleaning dishes and more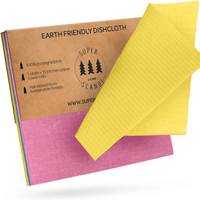 (opens in new tab)
SUPERSCANDI Swedish Dishcloths | £7.99 at Amazon (opens in new tab)
A simple swap such as changing your dishcloths can make a large impact on landfill waste. These Swedish ones are reusable and biodegradable, and each cloth has the durability of 15 sheets of paper towels. They last around eight weeks, and can be washed up to 200 times!
2. A bamboo dinner set that's unbreakable and perfect for picnics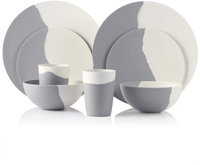 (opens in new tab)
MORGIANA Store Bamboo Dinnerware Set | £39.39 at Amazon (opens in new tab)
This bamboo dinnerware set comes with large plates, small plates and bowls included. It's great for indoor dining (for the kids) and outdoor dining come summertime. They're even dishwasher friendly. No more plastic or paper plates.
3. A mould and mildew resistant shower curtain that's eco-friendly, too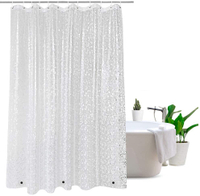 (opens in new tab)
EurCross Eco-friendly Shower Curtain | £10.99 at Amazon (opens in new tab)
You may have thought that finding an eco-friendly shower curtain was impossible, but clearly not! This one comes in a range of sizes, it's non-toxic, made from EVA and anti-bacterial. Just wipe to clean.

4. Buy this wooden bike for your toddler for Christmas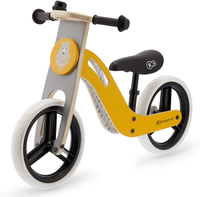 (opens in new tab)
Kinderkraft Wooden Balance Bike | £49 £44.95 at Amazon (opens in new tab)
This sweet kids' bike looks the part and plays the part. Perfect for first-timers and it has an adjustable seat. Any two to five year old would love this for Christmas...
5. Get those dishes sparkling clean with help from this bamboo brush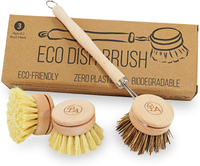 (opens in new tab)
Agile Home and Garden Store Eco Friendly Washing Up Scrubbing Brush | £10.99 at Amazon (opens in new tab)
This bamboo brush can be used to scrub anything clean from dishes to tiles and floors. It's completely plastic-free, and it comes with three heads. Simply replace them when needed. One of the first steps to becoming an eco-friendly house, we think.
6. Wash your clothes the eco-friendly way with this money-saving egg (not the fried kind)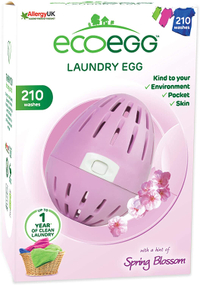 (opens in new tab)
Ecoegg, Spring Blossom | £13.29 at Amazon (opens in new tab)
One of these can wash up to 210 washloads and leave your clothes feeling and smelling clean and soft to the touch. You needn't buy detergent, softener or powder any more. Great for sensitive skin, and if you are looking to save a few £££s.
7. Replace your normal cotton pads with these reusable ones that are waste-free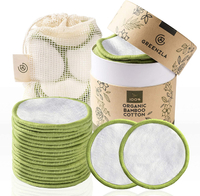 (opens in new tab)
Greenzla Reusable Makeup Remover Pads | £12.99 £9.99 at Amazon (opens in new tab)
Replace your cotton pads with these washable ones and take your makeup off knowing you're helping the environment. These come in a pack of 20, they can be washed in your machine and they come with a pouch for storing. A member of the Real Homes team has these and can't recommend them enough. A great, easy switch.
8. Eco toilet paper that's 100% bamboo and chemical-free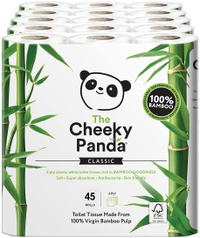 (opens in new tab)
The Cheeky Panda Luxury Sustainable Bamboo Toilet Roll | £27.16 for 45 rolls at Amazon (opens in new tab)
This eco-friendly toilet roll is anti-bacterial, biodegradable, BPA-free, fragrance-free and much more. Not just that but it's soft yet strong, and it can be delivered. And, 45 rolls for under £30 is a bargain.
9. Reusable fruit and veg backs to use while food shopping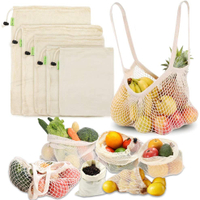 (opens in new tab)
LIVEHITOP Reusable Bags for Fruit and Vegetables | £9.99 at Amazon (opens in new tab)
Take these reusable eco bags to the shops with you and pop your loose fruit and veg in them. This set comes with a range of sizes whether you are buying one apple or eight potatoes, and it comes with a shopper for carrying lots of items.
10. Bamboo toothbrushes for the whole family!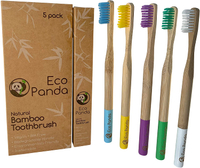 (opens in new tab)
Eco Panda Bamboo Toothbrushes | £9.98 £4.98 at Amazon (opens in new tab)
You didn't think we'd write an eco-friendly list without including bamboo toothbrushes, did you? These ones are great for the family as they are all different colours so you can distinguish between whose is whose. They're also biodegradable, and you can buy five for under a fiver right now. Bargain!
Also see: