Looking for an Alexa speaker but unsure which one (or two) to get? You've come to the right place. Controlled by your voice, an Alexa speaker can do all sorts of clever tricks: from playing your favorite music tracks to checking the latest weather report and switching off lights.
To house such an excellent smart assistant, Amazon has produced a whole family of speakers to suit your needs, all under the Echo branding. But what are the differences between them and which should you pick? To make the shopping process easier we've recapped some of the biggest benefits to having an Alexa-powered speaker below, along with the more specific information on each product following. And if you ever wanted a reason to buy then now is the time: with Amazon Prime Day on the horizon you could be in for a real bargain.
Looking for more voice assistant options? No worries: head over to our best smart speakers guide where we compare Google, Amazon, and Apple.
What is the best Alexa speaker?
Why you can trust Real Homes Our expert reviewers spend hours testing and comparing products and services so you can choose the best for you. Find out more about how we test.
If you're after the best Alexa speaker (in our opinion) then we can recommend you buy the Sonos 1 (2nd Gen). It can pretty much answer all your questions and can connect up to other Sonos speakers to play your favorite tracks. As well as playing some tunes it can check news and traffic reports, manage smart devices and enjoy all those other helpful Amazon Alexa skills using just your voice to control single or multiple speakers.
Want to keep looking? Then keep scrolling for more of our top picks...
The best Alexa speakers 2022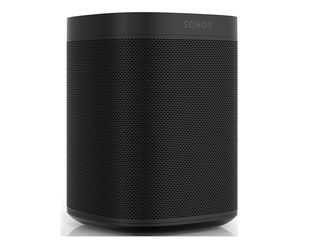 Claiming our top spot for the best Alexa speaker is the Sonos One (2nd Gen). It has recently been upgraded with increased memory and an updated processor. And, now, you can control it using Amazon Alexa AND Google Assistant.
One for the audiophiles amongst us, the Sonos One offers pretty impressive audio quality thanks to its combination of two class-D digital amplifiers, one tweeter, and one mid-woofer. So, if you're looking for a speaker that's impressive in its own right, there's no need to look much further.
You can play music through the speaker even when Alexa isn't on, too, as well as connect it up with other Sonos speakers to have the same audio playing throughout your home.
Real Homes rating: 4.5 out of 5 stars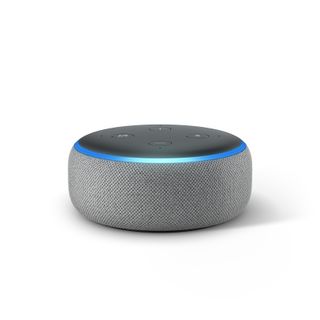 The Amazon Echo Dot is the smallest Echo speaker you can buy, as well as the cheapest, making it great for those on a budget or short on space. It's also the one for those who want the convenience of a smart assistant but don't really want a smart speaker, since you can tuck it away out of sight.
While this Echo Dot has had its sound improved from before, it's still not going to do great things with music playback. You can pair it with a second Echo Dot or even connect it to an existing speaker over Bluetooth or a 3.5mm jack, but you should probably look to spend more if audio performance is important to you.
Still, offering all the power of Alexa for less than £35 makes this a steal for those not fussed by music, plus provides a cost-effective way of introducing Alexa into multiple rooms of the house.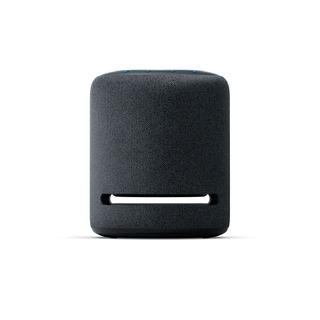 The newest Echo on the block is the Amazon Echo Studio, a much beefier speaker compared with the others in the family, but also with a lot more audio smarts to shout about too.
This is the one to buy if you're looking for a smart speaker that'll do your music proud. It also has a few tricks up its sleeve, including an upwards firing speaker, which makes the Studio compatible with the new 360-degree audio formats released by Sony and Dolby.
The idea is to create a more spacious sound experience, but the jury is still out on just how effective it is. There aren't lots of tracks available just yet either, so while it's fun to test it out, it's not a reason to buy.
No, the reason to buy is because of how good it sounds with your regular music for the money. It even uses clever technology to adapt its sound to your room, so you can be sure you're getting the best performance you can get.
Real Homes rating: 5 out of 5 stars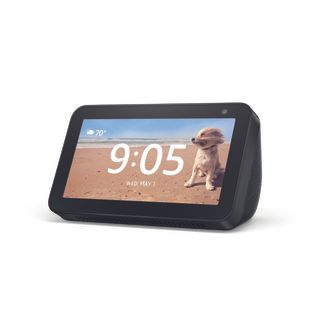 While not officially a speaker, the Amazon Echo Show 5 does everything that an Echo speaker does, but they add in a screen for a touch of visual flair and added functionality.
This means you can watch YouTube videos, make video calls with the built-in camera, use the Echo Show to bring up your smart doorbell or security camera footage, or just enjoy a more visual Alexa search, with supporting images that might help or further your search.
Its tiny speaker means it is not going to do a great job with the music, but Alexa's spoken text and dialogue on YouTube videos is clear enough that you'll get you by.
The Echo Show 5 is on the small side for a main smart display but works great as a secondary device in offices and bedrooms. You aren't going to want to watch much by way of video on it, but it's fine for the odd short clip.
It is also a great size to be used as a bedside alarm clock, and there's a clock face interface you can use for that very purpose. There's even an ambient light setting that wakes you gently by mimicking the sunrise.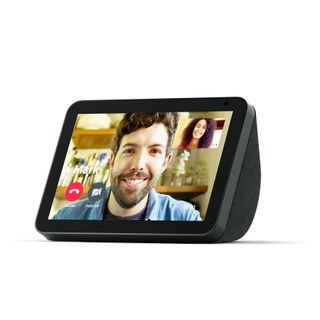 The extra screen size and resolution here compared with the Echo Show 5, without the bulk and price tag of the largest Echo Show makes the Amazon Echo Show 8 the Goldilocks choice of the trio.
Its screen is a better size for using it as a smart home hub, and overall it makes a lot more sense to invest the extra £40 to use this as a main smart display than its smaller sibling.
There is a small boost to the sound compared with the Echo Show 5, though once again, the Echo Show 8 is still not something you'd want to leave solely in charge of your music – it's all about that display and the extra functionality it offers.
There's Bluetooth and the physical camera shutter for privacy concerns as there is on the rest of the range, plus of course, all of Alexa's smarts built-in. We reckon this will be the best choice for most.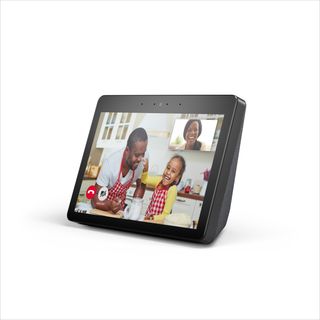 The original Amazon Echo Show, now in its second generation, is the largest of the Echo Show bunch and is the same screen size as most tablets. This makes it great for watching videos, while its 5MP camera means it is the best for making video calls too.
There's a bit more oomph to those speakers, which is good support for the bigger screen, though we still wouldn't suggest sitting down for a movie on it. Recipes, workout videos and other YouTube-type content is what the Echo Show is aimed at.
For the extra £100 on the price, most people will probably be fine to stick with the Echo Show 8, but if you'll benefit from the larger screen and better camera, it's still worth considering.
What can an Alexa speaker do?
Really the question here should be: 'what CAN't an Alexa speaker do?' They can do so much and since their launch a few years, many households would be lost without them.
Answer questions
One of the most common uses for any smart speaker is settling family debates, and Alexa is full of answers for just about every question going. So throw her questions about people, books, movies, historical occasions, and everything else in between, and she'll be able to dig out the answer for you.
Play music
You can sign in to your Spotify or Amazon Prime Music accounts and have Alexa play certain songs, playlists, genres, or artists, or ask her to play a certain radio station from TuneInRadio instead. You can also use Alexa to control playback and volume, use her to discover new music ('Alexa, play music similar to Ed Sheeran'), or even get her to wake you up to your favorite tunes.
Got multiple Echo devices throughout your home? You can sync your music with them for a smart multi-room setup, and then control it all with your voice.
Get organized
You can use Alexa to set to-do lists, alarms, and reminders, add and manage events on your calendar, as well as find out what you have in your diary for today. Much easier than digging through your phone to do it.
Control your smart home
Alexa is one of the most supported smart home assistants on the market and works with the large majority of smart home kits – even Google's Nest products. If you're hoping to build a smart home ecosystem, and Alexa speaker is a good start.
Control your boxset binges
If you have an Echo speaker and a Fire TV device, you can pair them together and have Alexa search for and play shows and movies you might ask for, as well as control playback with your voice.
Keep you informed
Want to keep in the loop with the latest headlines? Alexa's Flash Briefing will tell you the latest headlines, as well as give you a weather update for your area. You can control the news sources from within the Alexa app, though for the UK it is just BBC News at the moment.
You can also find out about traffic on a regular route, such as your commute to work. Once again, you can set this in the Alexa app.
Stay in touch
You can use your Echo speaker to make an announcement to the rest of the Echo speakers in the house, to save you shouting up the stairs that 'dinner is ready' more times than you care to count. There's also the Drop-In functionality to open up two-way communication between your Echo speaker and those owned by family and friends.
For those who don't have a speaker for you to call, Echo speakers now also allow you to make outgoing calls to UK mobiles and landlines, and Vodafone customers can answer phone calls through their Echo speaker too.
Put her on mute
Privacy is a hot topic surrounding smart speakers, and for good reason. Thankfully all Echo devices can be muted from listening in, which disconnects the microphones electronically to give you peace of mind.
For more on smart speakers, read our no-jargon guide on everything you need to know about smart assistants.
What is the best Alexa speaker?
To recap, if you're after the best Alexa speaker (in our opinion) then we can recommend you buy the Sonos 1 (2nd Gen). It can pretty much answer all your questions and can connect up to other Sonos speakers to play your favorite tracks. As well as playing some tunes it can check news and traffic reports, manage smart devices and enjoy all those other helpful Amazon Alexa skills using just your voice to control single or multiple speakers.