Oregon Cottage White Oak door, Jeld-Wen
Remodeling your interior is all about putting your own stamp and own style in to your home and there is no reason that you can't do this with your internal doors. There are plenty of designs out there that can really make an impact on your interior. Why should you go to the effort of perfectly crafting your interior without considering one of the most important additions.
Conservatory connection
A great solution for linking your house and garden room, this pivot door is designed to help keep the cold out in winter months and can be single, double or triple glazed. With a maximum size of H270xW170cm, it will fit the widest of openings.
Modern twist
Wood veneer gives this door consistent colour and grain, as well as an eye-catching contemporary look. Glazed and certified fire door options are available, together with a wide range of sizes.
Stylish wood
Made from oak with double-glazed toughened glass, this handsome door will bring a warm finish to your room. The 6cm-thick design has drop-down sealing to create sound insulation.
Organic warmth
With a veneered oak finish, this door is a fabulous choice if you're looking for an up-to-date take on the natural look. As well as a fire door option, there are a range of glazed versions of the design to suit every room.
Limelight Mistal White door with MDF face and feature grooves, £144 for H198x W76cm, JB Kind
MODERN COLOURWAY
In an on-trend light grey shade, this door has understated style. The veneer is finished with clear lacquer and the design features three panels and a v-groove detail.
Interior bi-fold
Folding-sliding doors look as good between rooms as they do leading to an outside space. This set doesn't have a bottom track, which keeps the flooring seamless, and the exterior-quality seals soundproof the adjoining rooms.
Dark contrast
Walnut veneer works beautifully when set against pale wall finishes, creating a contemporary effect. This design allows a pair of doors to be used together simply by trimming. There's a fire door option available, too.
Space-saving design
A sliding door that doesn't need to open into a room will maximise the floor area available for furniture. This glass design also keeps the light flowing from one space to another.
Unique option
Each door in this collection is handmade, with a coloured sand face on one side and a completely smooth finish on the other. Both frame and trim colour can be selected from a huge range.
Hideaway style
This frameless glass door maximises light flow when closed, and slides into a pocket in the wall for a fully open doorway. Made bespoke, it's also available in a full range of decorative glass finishes, including coloured and printed interlayers that create a digital picture, and ceramic painted glazing.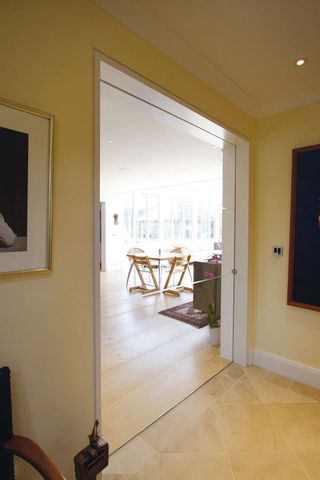 Contemporary look
With a grooved panel effect, this door has modern credentials. The finish can help maximise the light in any area, and there's a glazed version on offer as well as a fire door.
Multi-tasker
Finish this door with clear lacquer to put the emphasis on the wood in a country home, or stain, varnish or paint it to complement your interior style. Also available as a fire door.