Looking for modern dining room ideas that are going to make your space feel chic and contemporary but still warm and welcoming? Well, lucky for you you are in the right place. A successful modern dining room scheme needs a couple of key considerations - less clutter, texture and some shapely furniture. If you love a simple feel but with modern furniture then this look is for you. And it needn't be stark either, you can add in as much color as you want and don't forget there are some great wallpapers that totally suit modern schemes.
Keep scrolling for our favorite modern dining rooms, and head over to our dining room ideas feature for more inspiration.
1. Go for an all wood affair
This beautiful space is for those who are inspired by the Mid-Century modern style with a hint of Scandi. Look at all of the wood - if you want to feel connected to nature and love the rustic feel then consider this for your dining room.
It works seamlessly together and the overall look is warming to the eye even though it's in a modern space. You can add industrial elements like concrete effect vases and whitewashed floorboards to create a contrast and we love the Louis Poulson pendant!
2. Opt for a patterned floor
We often forget that we can use rugs in modern dining rooms, they are seen predominantly in living rooms and bedrooms and this is a great example of how you can make it work. The all-white scheme acts as a blank canvas so the patterned rug steals the show - that and the fabulous high gloss table with brass base! Add in a layer of texture with the super stylish chairs and rattan pendant.
3. Go for striking black dining room furniture
You may have noticed that black is creeping into our homes more and more...We think it works really well as long as you balance it with other colors and texture. It works well in this dining room as the space is light and bright and the table and chairs have a curvy appeal - this is important as you don't want too many angles with dark colors. The gorgeous pendants add that pop of color - you could carry that through into the plates and glassware and add texture with patterned jugs and bowls.
4. Or go monochrome
Sleek and stylish, this smart dining room has a touch of 80s styling with its black and white houndstooth check dining chairs. Mix and matching pattern with plain is a winner as it prevents a look from becoming too overpowering. Pull in some textures for the table and add a striking pendant light and your monochromatic dining room is complete.
5. Ditch the chairs for a relaxed look
We love this easy living look, it's casual and stylish and who says you need to have dining chairs? Benches and stools are just as adequate and you can fit more bottoms on benches so they are ideal if you have a big family. Make them comfier with cushions and sheepskins - they will also add color and texture.
6. Go bold with your colors
Your dining room should be a reflection of you, the colors you love and style you love. This bright and cheery dining room blends color and texture perfectly, it's a happy space that will lighten your mood whatever time of year it is. You could paint your walls behind the table in two shades of pink and match your chairs. Then choose accessories in similar shades to use on the table.
7. Mix and match your chairs
There's nothing to stop you having all your chairs in different colors, in fact it adds an eclectic feel to the space and makes it easier to accessorize. Teamed with a modern glass topped table the tapered legs match the chair legs – cohesivity is key for creating a stylish look, it's all in the detail so look out for these touches if you can.
8. Pick upholstered chairs for style and comfort
If you love entertaining then comfort is key, these upholstered chairs look very squishy which is most important we feel. As they are in a neutral shade they will go with any scheme, which is ideal if you like to change your look frequently. We love the use of a tablecloth – not something that's seen often right now, but it works well here and adds an illustrative quality. And that view! Crittal windows and doors are increasing in popularity and are ideal for enhancing a space.
9. Create a glamorous vibe with gold
For a fabulous luxe look check out this fabulous table and chairs. We love a bit of pizazz and this dining space ticks all of those boxes. Due to the floor also being amazing (get your terrazzo patterned tiles on order) it's best to keep the rest of the scheme simple so as not to compete. Keep the walls plain and your accessories streamlined.
10. Keep things neutral
Neutrals have their place – they're calming for a start, which is always a bonus! And they are an ideal existing scheme to add new colors too. They work brilliantly with pastels and here, you can see black used as an accent color. It's bold and beautiful - it immediately updates the look of the space and gives it a stylish edge. The vertical wooden table and sideboard match the pendant light. These all create a layer of texture and when combined with the black chairs and plates they complete the look.
11. Add a bold wallpaper to a contemporary dining room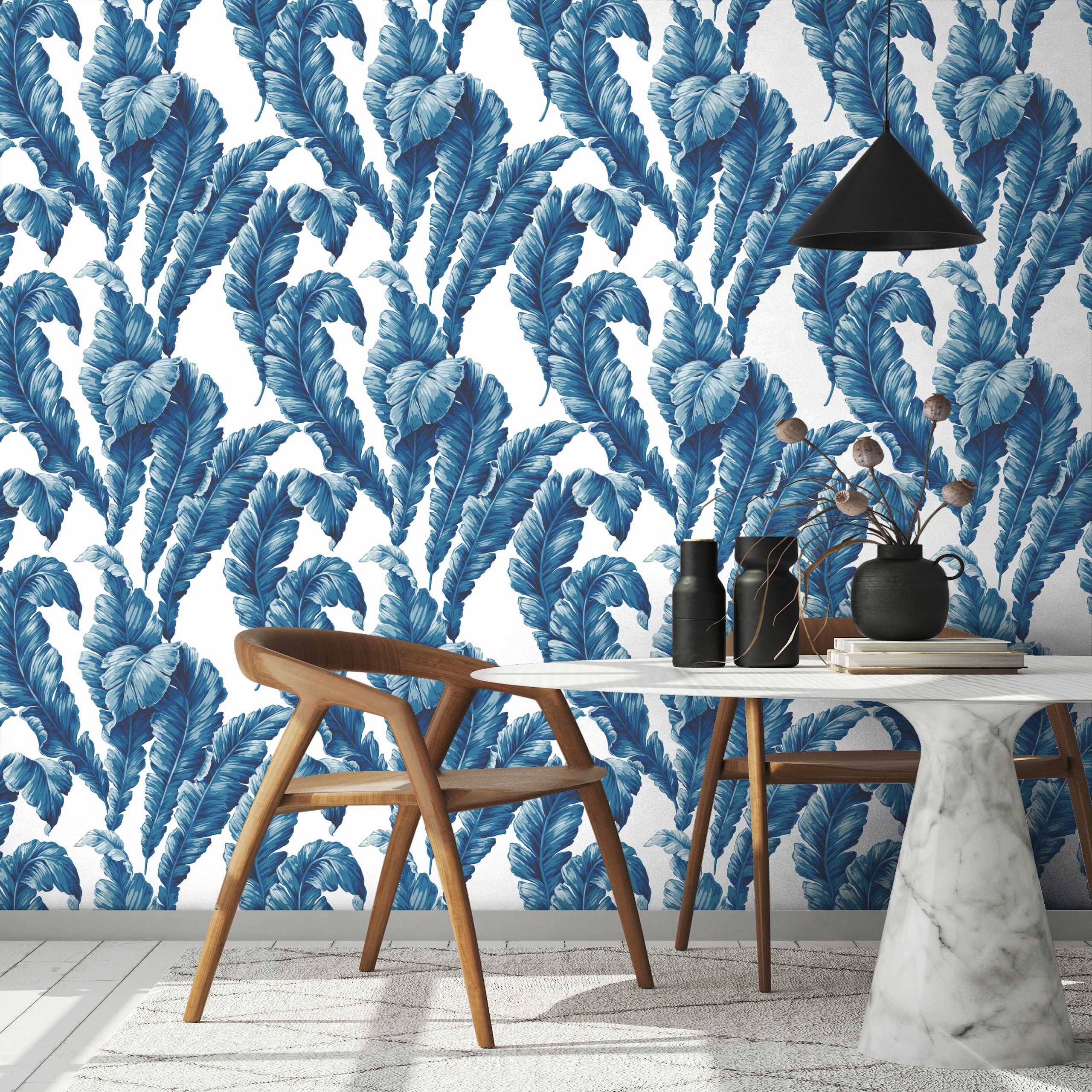 To wow your guests as soon as they walk into your dining room, how about popping up a beautiful wallpaper as a focal point? It's a great modern touch and if you pick a design that's a single color it will be even more striking. Allow it to be the star of the show by keeping your furniture and tableware simple, and that goes for your colors too, the black vases and light are great additions to this simple yet effective scheme, and the stylish wood chairs add warmth to the overall look.
12. Use dark walls as a back drop to modern furniture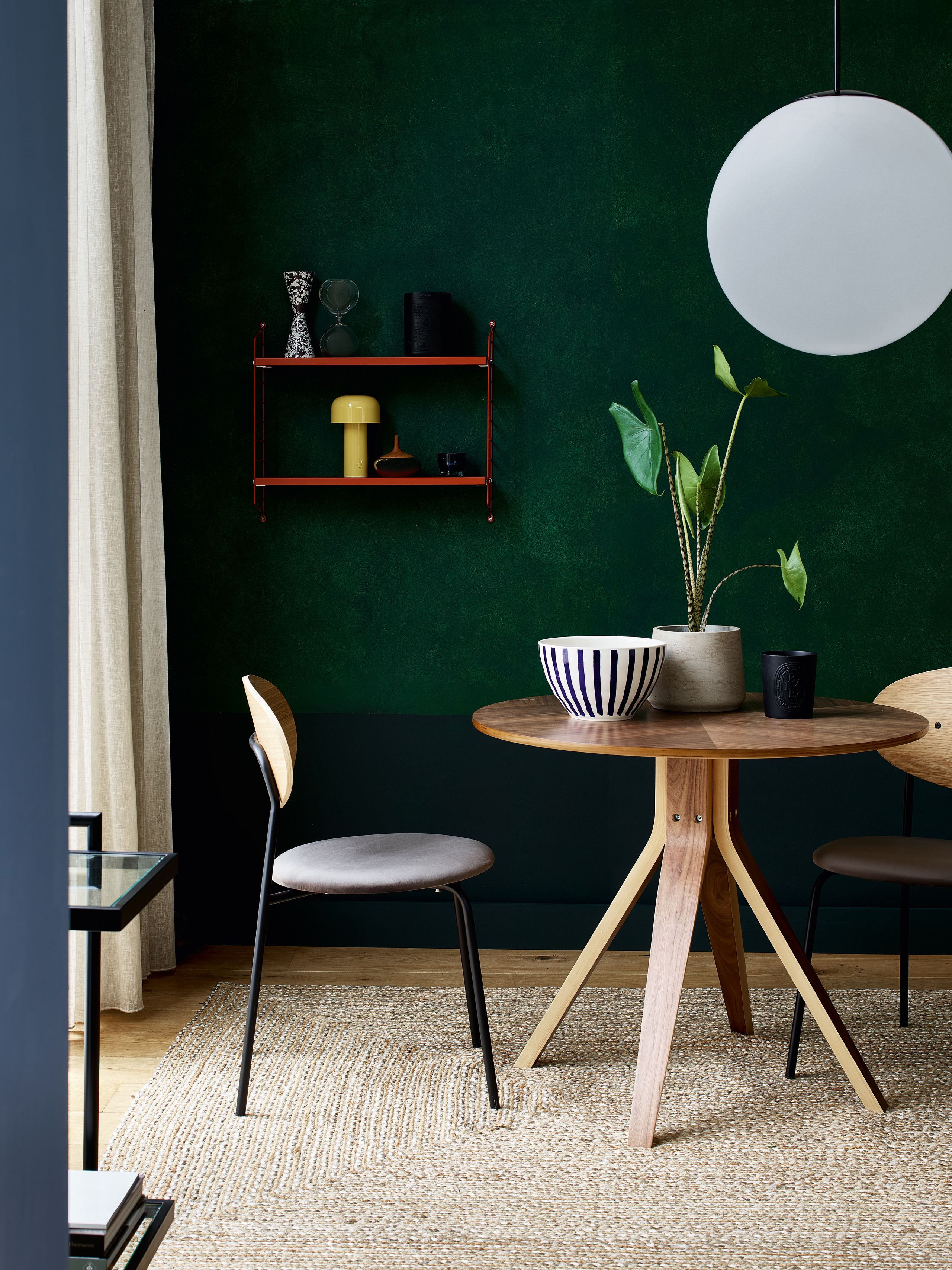 This fabulously dramatic wall provides the ideal backdrop for this contemporary dining room. We love how the wall has been split into two, with the black skirting and wall painted around the bottom and the bottle green textured effect above. The bright red shelving adds a splash of color and you can change the accessories on it to add in more pattern and bright shades as and when. Opt for interesting shapes like this modern table and chairs - especially that table, and we love the globe light!
13.Create a modern dining room that's clutter free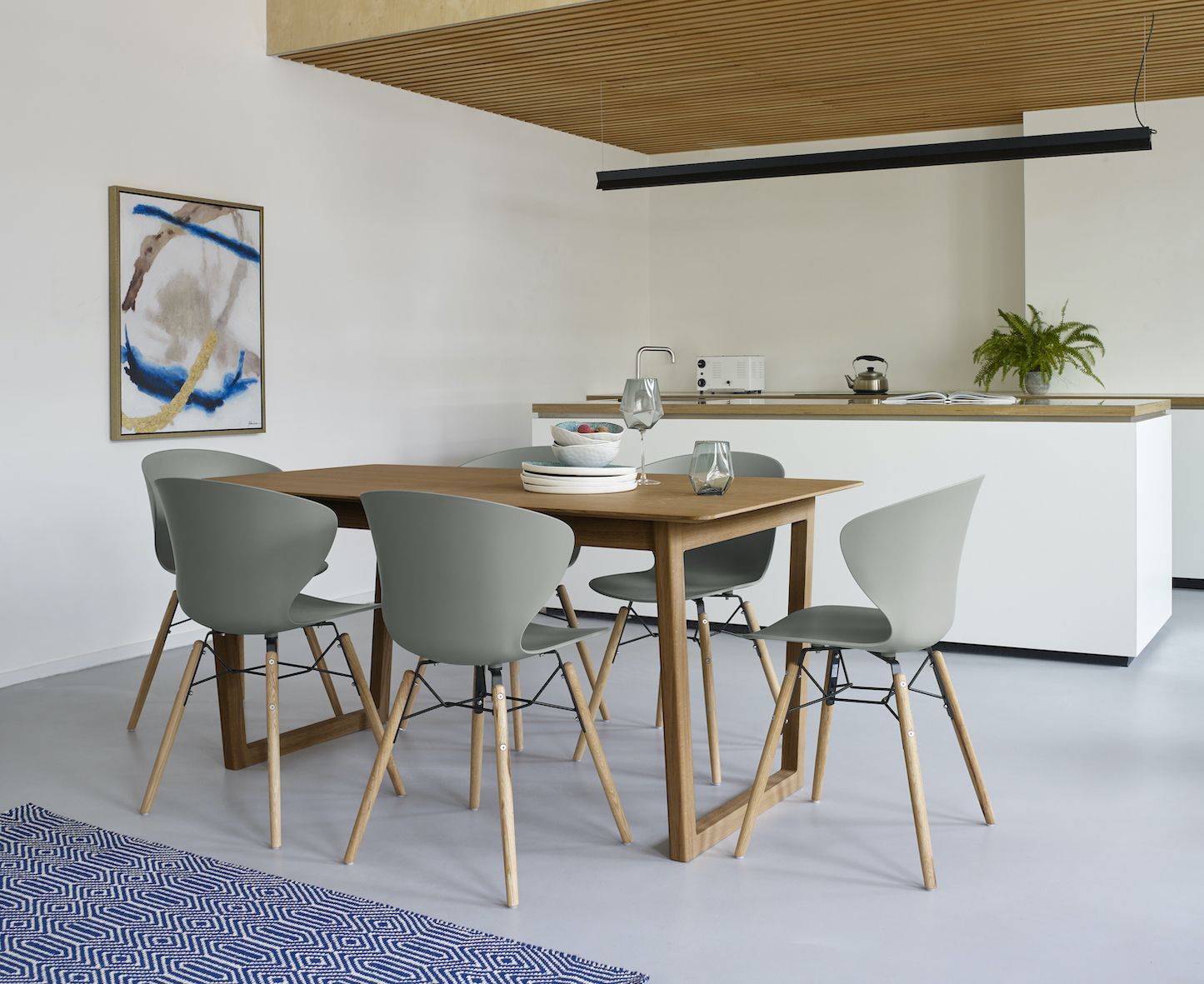 Modern means minimal essentially, and so you need to keep clutter-free as much as possible! To prevent the look from becoming too clinical it's worth bearing in mind the furniture that you pick - mid-toned wood works wonders for this and in this dining space the modern table and Eames chair legs all visually link to the kitchen worktop and ceiling panels. The patterned rug and artwork add a decorative touch and consider the shapes – the curvy chairs and glasses make the overall look much more interesting and less angular.
14. Keep things relaxed... in a contemporary way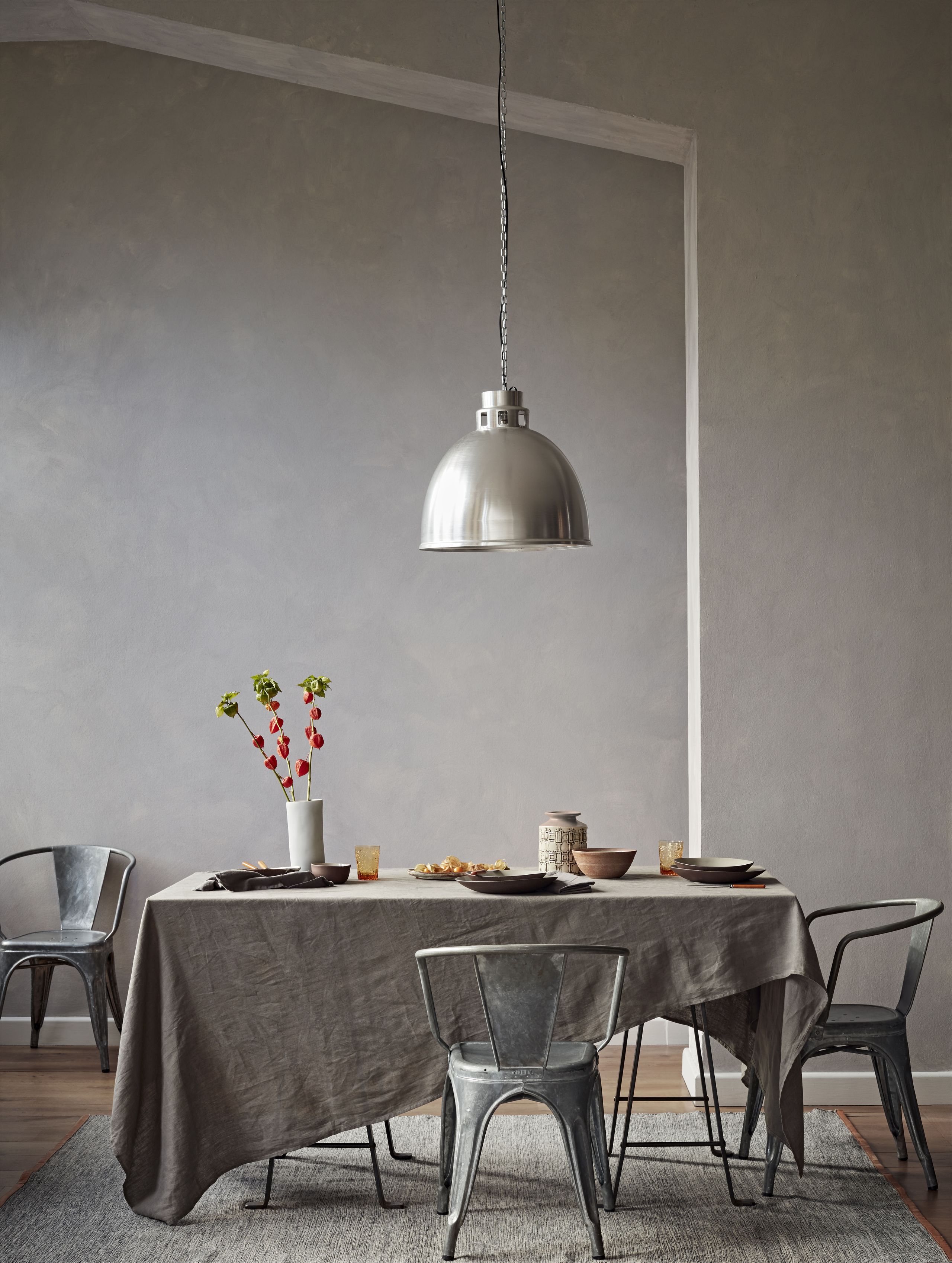 Modern interiors often can get a bad press, they can be thought of as stark and angular. This relaxing scheme has a hint of both industrial and modern styling. It is minimal in terms of 'things', the table is contemporary yet softened by the linen tablecloth and the chrome pendant and galvanized chairs give a modern feel. The earthenware adds character and gives an organic element to the room together with the textured rug. This look would work with flat bare walls too.
15. Go for an all-white color scheme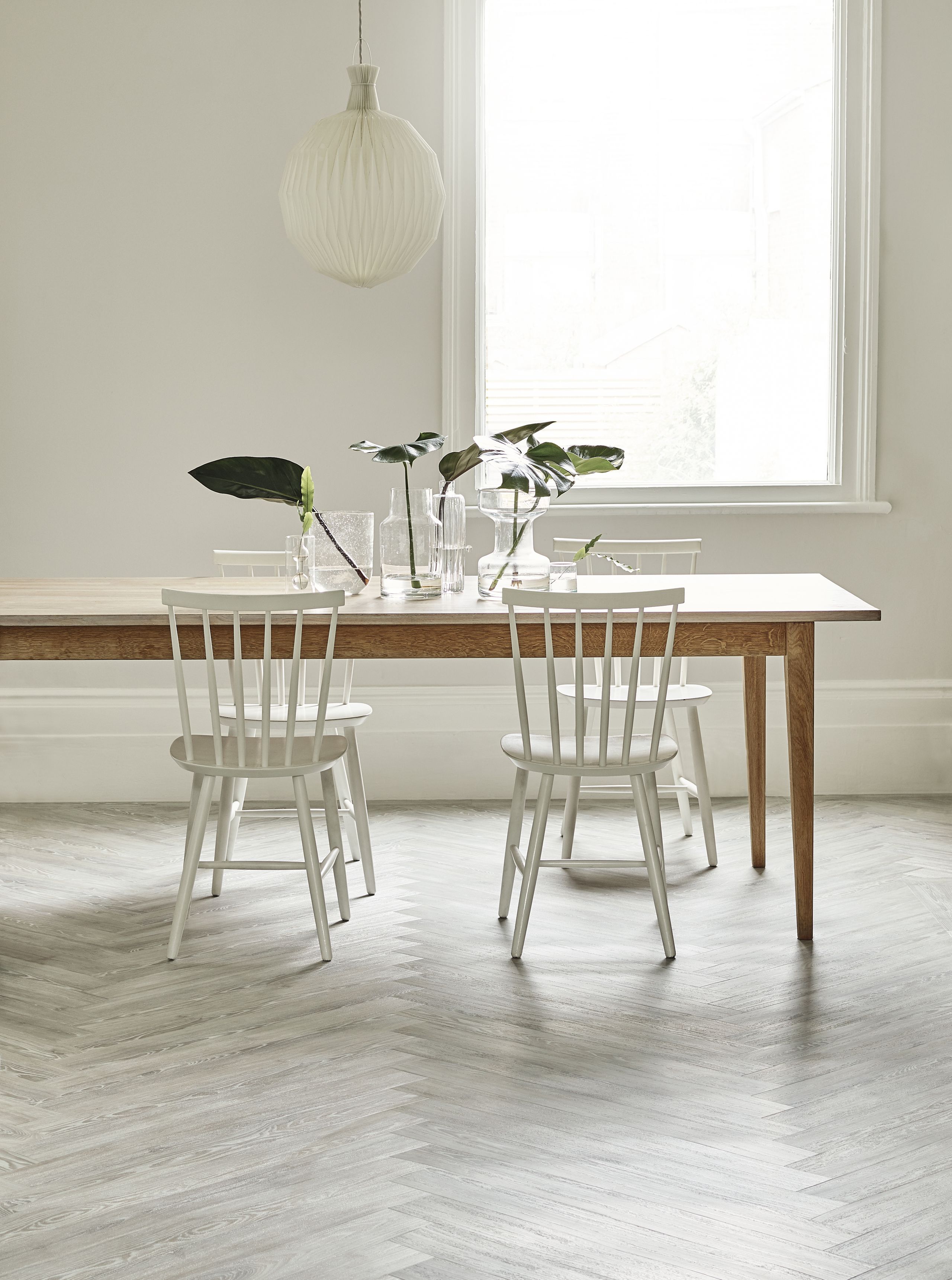 If an all-white scheme is your thing, and let's face it, it's the ultimate in modernity when it comes to interiors, you do need to consider a couple of key elements. Firstly, do try to add in some wood, it creates a visual break and although we say it a lot, it does add warmth.
The other important thing to consider is texture, this creates interest and prevents the look from becoming flat. So in this case, the herringbone floor and pendant both tick this box successfully! And finally, consider your accessories well, although the vases on the table are all clear glass, the shapes are interesting and that's why it works for a styling point of view – and always add in some greenery or fresh blooms.
If you want some white kitchen ideas to match head to our gallery.
16. Mix a contemporary dining room into a traditional space
Modern dining room ideas don't have to be reserved for modern homes. We love the look of this space – the contemporary sculptural furniture with the period features creates such a cool contrast. Plus the dark walls make the white chairs and the pale wood stand out even against the wooden flooring.
What's trending in dining rooms?
As of 2020, a lot of us are working from home a whole lot more, so dining rooms that previous may have been neglected have been called up as home offices and school rooms. That has resulted in a trend towards dining rooms being less formal, more relaxed and flexible spaces that can work as both a place to well... dine and a place to work.
That means dining chairs have to be comfortable, decor has to be relatively neutral and space has to be used carefully. Prioritize a larger table over say a stylish cabinet that while looks lovely doesn't have much of a function – you can add personal style in other ways like lighting, soft furnishings and wall shelves.
How do I modernize my dining room?
Your dining table and chairs are obviously the focus of the room so start there. Pick a contemporary set as your base and you can add in your own personal style to that. You can always mix in some more traditional pieces to create a modern but more eclectic look. Adding in some Mid-Century modern chairs to a very simple contemporary dining table will create an equally modern look.
Lighting is also an easy way to modernize your dining room. Try switching out you ceiling light to something really striking and sculptural and make that the focal point of the room.