If you want to know which composite decking is best, it's advised that you should consult the experts. But rather than calling around and speaking to a salesperson, or spending hours online or in-store – we've got expert advice.

Introducing a deck idea into your garden doesn't have to be intimidating or expensive. In fact, it can be one of the most low-maintenance design decisions you can make for your outdoor space. This stable platform can provide a pleasant-looking foundation to place garden furniture and is a contemporary contrast to grass, shrubbery, and other architectural arrangements in your yard.
But what is composite decking, and how do you go about choosing a particular set of planks to lay? That's where industry advice goes a long way. So we spoke to one professional who literally laid everything down for us (in layman's terms and easy-to-understand language), so you can choose the best composite decking for your family, taking into account where you live, what sort of fixtures you have (ie: a pool), and if you need to build in contingency for any adverse weather.
On the flip side, we'll also break down why composite decking might not be right for your home, and what alternatives you have available to you on the market. Ultimately, we want you to make an informed decision and, spoiler alert: the most expensive decking doesn't always look the best.
Allan Jeffrey is the founder of Ultra Decking, the UK's fastest-growing composite decking supplier. With years of experience in the design, development, fabrication, and integration of advanced new composite materials with an attention to detail to match, Allan has a wealth of expertise covering composite decking and garden design to bring new and exciting designs to the sector.
What is composite decking?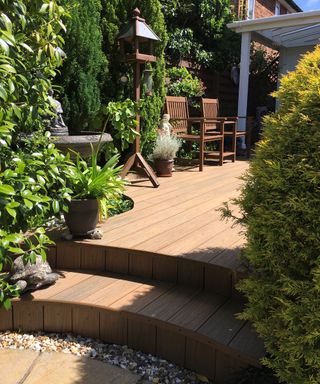 'Composite decking is a composite material that contains both wood and plastic.' explains Allan Jeffrey, managing director of Ultra Decking.
'These two materials are what make up the composite decking board. Wood-plastic decking boards are visually more appealing than wood and often need less maintenance.'
'Composite decking material tends to last longer because it is less prone to damage. A wood-plastic deck will not crack and splinter like wood and is resistant to insects that cause damage to wood. This means that termites cannot damage a composite board. This means a composite board can span up to 30 years and above.'

If you have noticed corrosion from creepy crawlies on your wood decking, use our insect identification guide as a helpful reference point. The chances are, you'll want to learn how to get rid of termites or remove carpenter bees, safely, and potentially make the switch from an all-wood deck to this hybrid innovative alternative. Hopefully, the mix of wood and plastic won't be as appetizing to them.
What are the different types of composite decking?
Composite decking uses a mix of recycled wood and plastic so you get the best of both worlds. Benefitting from both the durability of plastic and the natural look of wood, it's perfect for flooring projects inside and outside of the home.

'When it comes to decking construction, your budget and project type can help you decide on the best type of composite for you.' advises Jeffrey.
Here he lays out the advantages of each material type so you can see which composite decking is best suited for your outdoor space.
Solid composite decking: Solid composite decking boards are the easiest composite decking boards to manufacture. They are strong, durable, long-lasting, and look like real wood. Solid composite boards are a great choice; however, they do have some disadvantages. They are considerably more expensive, heavier, and harder to work with, and are also more prone to shrinking, expanding, and warping due to moisture.
Hollow composite decking: Hollow composite decking, unlike solid boards, are lightweight - making them cheaper and easier to work with, whilst still being a sturdy choice. As the name suggests, they are manufactured with hollowed portions within the boards, making them perfect for installing cables and wires. Hollow boards are also less susceptible to shrinkage or expansion caused by different weather conditions. However, they can look less like wood, and may be more prone to damage from heavier impact. With that said, new machine technology borrowed from the aerospace and car industries has improved strength, durability, and appearance.
Uncapped vs capped composites: Uncapped composites are typically first-generation boards, which, despite being strong and durable, are more vulnerable to damage from mold and mildew, meaning they need to be maintained regularly to prevent damage. Sales for this type of composite board are decreasing in favor of capped composite decking, which has a special coating that helps to prevent damage from mold, mildew, staining, and UV fading. This makes them easier to clean and maintain and can provide a dual-color design, with differing surface colors and patterns on each site, allowing buyers to reverse the boards after years of use.
What should I look for when buying composite decking?
Balance quality and cost
Let's get things straight – decking isn't exactly the cheapest of garden ideas. But one of the biggest decking mistakes homeowners can make is compromising quality over price.

'It can be tempting to use low-priced materials, even if they are low-quality. However, you will eventually spend more money if you prioritize getting lower prices over quality,' warns Jeffrey.
'Likewise, buying expensive composite decking may not all be worth it to some people. Not everyone has a big budget to spend. Consider balancing quality over cost to get the most out of your money. Is the price reasonable for its features? If expensive, do they have advantages that other composite decking boards lack? If you are on a budget and choosing cheaper options, is the quality good enough for the price?'
'To get the best composite decking, look for composites of a superior make. Go with capped composite decking boards. Opting for anti-slip, fade-resistant and stain-free decking boards is very much worth it.'
'Composite decking is resistant to moisture, which is the worst enemy of wooden decking. When wooden boards absorb water, it expands. It shrinks back to its original size as it drains or releases moisture, causing boards to expand or shrink faster than others and warp, bend, and crack. While composites still shrink and expand due to the wood fibers in their makeup, the rate of expansion and contraction is more uniform throughout the board. The plastic fibers also help to keep the shape intact, making composites resistant to warping and bending.'
'Composites also can withstand mold growth and rot. When mold and mildew grow on the surface of wooden decking, it's only a matter of time before wooden boards begin to rot. While fungi don't necessarily cause decay, they will increase the ability of wood to absorb moisture, which leads to rotting. As composite decking is impervious to these kinds of damage, it has a far superior lifespan.'
'Lastly, composites age differently compared to wood and plastic, especially when exposed to harmful UV rays from the sun. Constant exposure to UV rays causes wood to lose its color and turn grey. Composite decking still fades, but is only slightly lightened in color compared to plastic which fades at a much faster rate.'
Thankfully Jeffrey practices what he preaches and that's reflected in the composite decking options available by Ultra Decking. One of our favourites is the teak mixed colour composite decking, as it allows you to have two looks in one space. But, it's not all style over substance, as their boards are coated with patented shielded (co-extrusion) technology to provide additional stain and fade resistance to Mother Nature's harshest elements.
Look for top brands with affordable pricing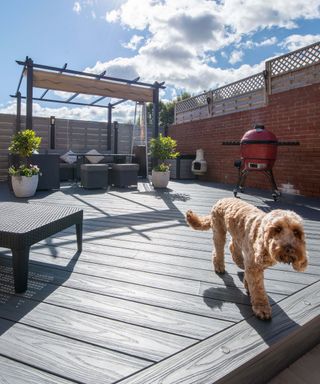 There are various brands that you can choose from when buying composite decking materials. But not all give the same value for your money. Some brands sell high-quality products, but you may find comparable boards that are just as high-quality as the ones they sell but at a lower price.
While many people think lower-price items are automatically lower quality, it is not necessarily the case most of the time. Some manufacturers and suppliers offer composite boards at various price points, giving you the freedom to choose how much to spend on materials. Choose a brand that has high resistance to fading, staining, and slips. You also have a choice of colors and designs. Look out for occasional discounts, special offers, and limited-time deals.
Never settle for anything less than the best. Some suppliers offer affordable products with equal, or even better, quality if you are on a tight budget. Taking advantage of promotions and sale discounts will also get you better value for your money.
The reversible Habitat+ Grey Composite Deck board, available from B&Q is an affordable option, with prices starting from £24 a pack. We like that one side has a woodgrain effect and the other has a grooved finish. Comes with a 15-year guarantee for peace of mind – don't forget your starter clips, hidden fixings, and screws!
Check the warranty
Another way to get the best composite decking for your money is to get the best warranty possible. Most often than not, more expensive composite decking boards will offer a more extensive warranty and guarantee. Some brands are also known for having excellent warranties and guarantees, ranging from 15 to 30 years.
While many deem it expensive, you will not regret adding composite decking to your garden. Even if you are on a budget, you can still have beautiful, long-lasting, and durable decking. However, you don't want to compromise quality over price. Look for materials that offer excellent quality and value for your money. When buying materials, choose the best and most affordable brands. Checking the warranties and guarantees also helps to get the best out of your money.
Many composite decking brands on the market offer a lot more benefits than wood. Composite decking is a great choice for flooring your outdoor space. However, when planning to buy composite decking, there are things you need to look for.
If you are buying composite decking for the first time, choosing the right decking for your home might be difficult. Composite decking comes in different colors, sizes, and textures. Some brands even offer a limited warranty for their decking.
There are different kinds of composite decking boards on the market. You should select a type that will suit your needs. You have the choice of capped or uncapped, grooved and ungrooved decking.
Capped decking boards are more resistant to water. Grooved decking boards are installed using a hidden installation method. On the other hand, ungrooved boards use a surface installation method.
Consider the brand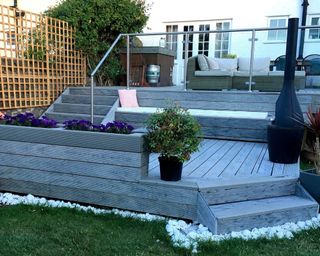 All quality composite decking brands offer limited warranties for their decking boards. You should also check online reviews of prospective suppliers to discover what customers have said about their buying experience, quality of the boards, and a company's after-sales service and support.

The Heritage Composite Decking (above) by Homebase is made from responsibly sourced, 100% FSC certified wood and reclaimed high-density plastics, which should put any concerns at ease. In our opinion, the contemporary look and feel of this material would look great in any modern garden design. This low-maintenance, environmentally-friendly option comes with a 25-year conditional warranty so you can rest assured you'll have planet-friendly planks with retailer support even after you've made your purchase.

Consider the location of the deck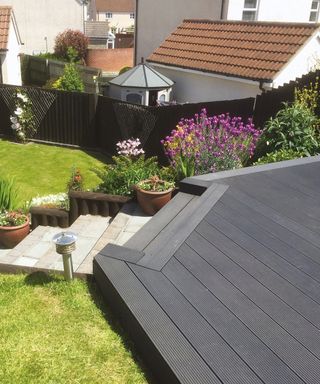 The location of where you plan to build your deck should also be considered when buying composite decking boards. Do you want to build a deck in your garden? Will there be shade over your deck? Considering the deck's location will help you determine the type and size of the deck area including how large it's going to be.
Also, considering the location will help you choose a suitable decking color. If you are going to build the decking under a shade, you can use any color that appeals to you. But if you are exposing the decking to the weather, bear in mind that a dark-colored composite decking board will absorb more heat from the sun than light colors making your decking hotter during the summer months.
The Bridge Board Composite Decking (shown above) in Ebony by Homebase is a classic example of a dark colour in situ. It creates a beautiful contrast between the verdant grass and terracotta hues of the planters and the colourful florals in your garden. Moreover, the slip-proof material is an essential feature to ensure your family can enjoy the garden safely, whatever the weather.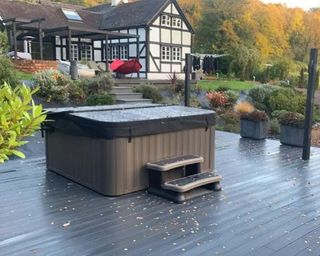 Consider non-slip decking as the preferred floor surface for your pool or hot tub. Just be wary that it can get hot (more on that below), but if you want something that has stain, scratch, and UV fade resistance properties, composite lumber is a viable option you may look to.
A prime example is the Premier Anthracite Grey composite decking board by Ultra Deck. At just over £5 a metre, it's an affordable option for most, and it's super easy to clean this decking after the kids (or adults) have been splashing about.
Which is the best composite decking?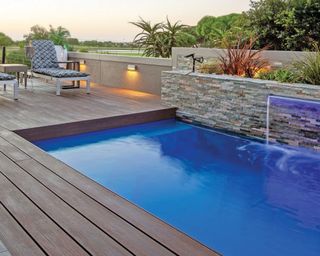 The only way to tell the difference between a higher quality common composite decking board from that of a lower quality one is over time. Higher quality boards will stay looking better for longer, and won't need replacing as quickly.
Over years of development, companies have incorporated higher-quality raw materials into the production process. These enhancements were taken with a view to creating a collection of first-generation composite decking boards that offered sharper wood grain patterns and improved colour stability and consistency over a longer service life. The new boards offer more colour stability and experience very minimal colour fade changes.
With the use of CAD (Computer Aided Design) and advanced software, composite machine technology randomly injects 'flaws' onto the wood grain pattern together with the injection of different color tones to produce a collection of first-generation boards that mimic the beauty and features of real wood.
Take this Brazilian Teak Composite Apex Deck Board (available from Wickes). We think you'll agree that the ultra-realistic appearance and colour variation makes it almost indistinguishable from real wood decking.
The best composite is the one that meets your needs, but if you're looking for strength and longevity, the boards known as shielded, capped, or second-generation composite decking may be the best option.
In short, every second generation of composite decking board now comes with a protective layer that covers the entire board to prevent damage from mold, mildew, staining, and UV fading. Not only do these next generations of composite decking boards mimic the aesthetics and appearance of real wood decking boards, but they are also stronger and more durable.
The Exclusive Ipe Composite decking board from Ultra Decking (below) gets top marks for realism. Just take a look at the imitation grain markings and faux wear. This is great if you're looking for a more traditional/classic garden feel where most modern materials would look out of place.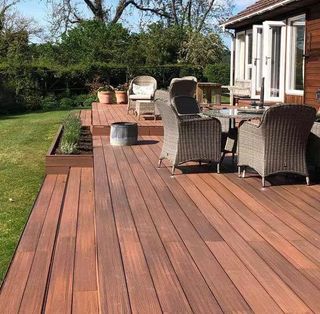 Composite decking vs. wood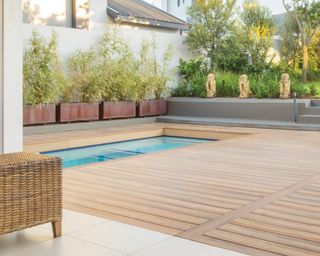 Composite decking will last at least 20 years, whereas wood decking can last for around five to 20 years, depending on the quality. Composite decking is also more resistant to weather, moisture, and insect damage. Many composite boards also have added protection from fading, slipping, warping, and staining.
Wood decking will also likely require costly upkeep that will add up over the years. You need to stain, paint, and seal them every few years. On the other hand, composite decking does not require any of those treatments, saving you a considerable amount of maintenance costs.

Since wood is prone to damage, wood decking requires a lot of maintenance. If you have a wood deck in your home, you will need to treat the deck to make it last for a very long time.
Also, wood decking color can fade over time. Hence, they require annual staining or painting to maintain their looks. If you do choose this route, our respective guides on the best decking paints and decking stains can keep yours looking like new.
Wood decking may also splinter over time, and crack due to the wear and tear of the material. or swell if it absorbs water unless you waterproof your deck.
We're not sure about you, but we had to double-take the Himalayan Cedar Composite Apex Deck Board (shown above). If we hadn't known, we would have assumed this was 100% real wood. It's a great product and the light look is ideal if you want to introduce a Scandi-style aesthetic. Barefoot-friendly too, so there'll be no tears or sore tootsies.
Alternatives to composite decking: PVC decking
If you're not fussed about a wood-plastic hybrid mix, consider PVC decking. Do note, however, that it is a more costly choice, but Jeffrey explains why you may or may not want to go forward with this material.
He says: 'PVC decking is similar to composite decking. But it differs from composite in that it contains only plastic. Similar to composite, PVC decking is also durable and long-lasting, but it is often more expensive than composite decking. In addition, PVC decking is synthetic and doesn't have the aesthetics of natural wood or quality composite.'
What is the most durable decking material?
When it comes to how to install a deck, you want to use the most durable and longest-lasting materials available. Durability can mean a couple of things. First, it can pertain to the ability of a material to resist or withstand damage. It can also determine how long a deck would last. For this reason, the jury's out when it comes to deciding which composite decking is best.
Some of the commonly used materials for decking are softwood, hardwood, pressure-treated wood, plastic, composites and aluminium.
To help you decide which one to use, let's go over how durable each material is.
Aluminium: Aluminium decking is the least used material for residential decking and is more common in industrial settings. However, aluminium decking is best suited near your above-ground pool design (as part of a pool deck idea) or if you own a hot tub. This is because they are resistant to most types of damage including rust, which can happen in wet areas.
Despite what it seems, aluminium decking stays cool even in the hottest weather. The downside is that aluminium decking is significantly more expensive than all other decking options. Regarding their appearance, aluminium is not something that most homeowners prefer.
Aluminium decking can last for a lifetime. However, very few people build decks using aluminium due to their appearance and high cost. Without a doubt, aluminium decking is the most durable decking material. However, it's not for everyone. Alternatively, you can use composite decking materials lasting for 30-50 years with the advantage of plastic without losing its wood-like appearance.
Softwoods: Softwoods are the cheapest and most common decking material. They are the least durable decking material since they are less dense and weaker than the other available decking options. Wood is also susceptible to mold growth, weather damage, splitting, and splintering. In addition, they are the least fire-resistant.
A softwood deck can last for 10-15 years if maintained properly. Maintenance includes regular cleaning, staining, sealing, and painting. If not taken care of properly, the service life of softwoods is significantly reduced.
Hardwoods: Hardwoods are a step up above softwoods. They are denser and more durable than softwood. They come from slow-growing, deciduous trees. Due to their density, they are more resistant to moisture, fire and insect damage. They are still prone to fading from UV exposure and other problems attributed to wood.
Since hardwoods are thicker, they are harder to work with and more expensive than softwoods. Hardwoods last exceptionally longer than softwoods. They can last for at least 25 years with regular maintenance including cleaning, oiling your deck (using the best decking oil) and refinishing it every few years.
Pressure-treated woods: pressure-treated (PT) woods are covered with chemicals to add more protection. They are more resistant to rotting, weather and insect damage. However, because of the chemical coating, burning them can be toxic. PT woods last slightly longer than their non-pressure-treated counterparts. This means that depending on the quality of the timber; it can last for more than 25 years, again with proper care and maintenance.
Plastic: plastic decking is produced with various types of polymers and synthetic materials making them resistant to most types of damage. A big problem with plastic is that it can heat up quite fast in hot weather and can be very slippery when wet. On top of that, they don't look very natural. As for longevity, plastic decks can last for about 25-30 years and are also low maintenance.
Composites: Composite decking materials are produced with recycled plastic and wood fibers often called wood-plastic composites (WPC). They combine the best attributes of the two materials. They are more resistant to mould growth, splitting, splintering, UV fading, and weather damage due to their plastic fibers. And the best thing is that have the beauty and appearance of real wood.
Composite decking can last for more than 25 years. Some manufacturers even claim that they can last for 50 years. They are also low maintenance, requiring only regular cleaning.
What are the disadvantages of composite decking?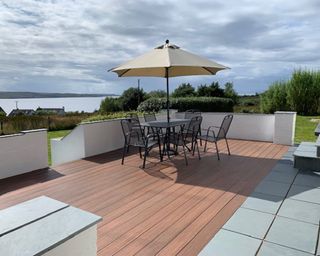 Composites can't be painted: If you are a person who loves redecorating and repainting decking, composites may not be the best for you. Unlike wood, painting a composite decking can do more harm than good, as most paint won't adhere to the surface of most composite boards. To paint decking like a pro, you will need to sand the boards, which will damage the capping and remove all its protection from moisture and molds.
Composite decking may get hot: Because composites have plastic fibers, they can get hotter faster than wooden decking. For this reason, you may want to prepare decking cooling methods if you do prefer to use composites. You can use outdoor rugs, garden parasols, and even your best portable air conditioning units to cool your decking. Compared to pure plastic decking, however, composites are much more heat resistant. PVC decking tends to warp due to high temperatures, whereas composite decking retains its shape better.
Composites may become slippery: As with other synthetic decking, composite decking can be slippery. However, for a better and safer choice, you may opt to use wood grain or textured boards for added friction. You can also install non-slip decking strips to make it safer.
While resistant to molds, fungi can grow on dirt and debris on your decking. These, too, can make any decking, whether it's plastic, wood, or composites, more slippery. For this reason, composites also need regular cleaning.
Generally, composite decking materials are not as slippy when compared to PVC and wood. In some cases, it may become slippery if fallen leaves and debris accumulate, and older generations of composite materials may also absorb more moisture causing mold and moss that can make a deck more slippery.
Ways to help prevent your deck from becoming slippery: Always keep your composite decking clean. Remove fallen leaves, pollen, dirt, and debris from your deck. These can cause the growth of mold and fungi. If you observe spots or stains, immediately scrub them.
Although composite decking does not absorb moisture, any surface water can still be a breeding ground for mold and algae. Keep composite dry during winter, and allow for proper drainage of rainfall. Keep the gaps or spaces between the boards clean to allow water to flow to the ground easily. Boards with grains or grooves can also improve slip resistance.