The best decking oils will expertly nourish your deck, making it more resilient and supple – consider it the 'conditioner' treatment of the wood world. Old wood particularly benefits from oiling, especially if you're beginning to see hairline or more significant cracks that require some attention as the material ages over time.
A deck can also greatly benefit from being oiled, particularly when the new wood is very light. For example, if you're going for a Scandinavian aesthetic for your outdoor scheme, the oil will add a richness that will help the deck blend in, and give it a healthy look. Adding some of the best garden furniture can also help to achieve a polished aesthetic...
All the decking oils in our guide do a great job of saturating and protecting your deck – some even have a bit more of a tint to them if you want an even richer color but don't want a decking stain. Not all are quick-drying, so we've indicated drying times for each product, to manage your expectations for the task at hand.
Prevention is better than cure for stopping moisture from getting into your wooden decking. After all, we'd like to think that you'd take just as much care of your exterior spaces as you do your lovely interiors. And smelly, rotten, algae-infested wood frankly isn't on-brand for anyone's home!
Which is the best decking oil?
Why you can trust Real Homes Our expert reviewers spend hours testing and comparing products and services so you can choose the best for you. Find out more about how we test.
We think the best decking oil you can buy is Ronseal decking oil. It's available in seven different colors and takes only 90 minutes to dry, and it's also very easy to apply. Find out more about it in our full review below...
---
The best decking oils as chosen by our expert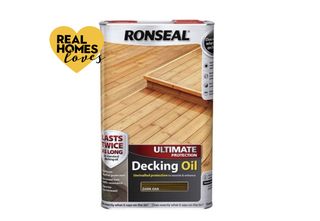 Softwood, hardwood; smooth or grooved; bare or pre-treated; this Ronseal Ultimate Protection Decking Oil not only works on all manner of decking, it works wonders.
Its specs are impressive – rainproof in just 90 minutes and up to twice as resistant as other decking oils. Reviewers gave it the praise to back them up, saying that this oil seemed to last forever and that rain instantly beaded off, adding that it was easy to apply, fast-absorbing, and cleaned off tools smoothly. All this, plus a choice of seven colours and a low VOC content, make it fantastic all-round deck oil for any size deck.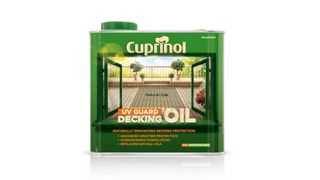 Just as we'd use sunscreen on our skin to protect ourselves from the elements, your knowledge on looking after your deck, should go beyond just knowing how to lay it. Consider it the BB (or CC) cream with SPF for your decking, to help achieve a microporous finish that does not crack, flake, peel, or blister. Its benefits include being water and dirt-resistant, moisture-regulating – plus, it reduces wood swelling and deck shrinkage.
The formula of this Cuprinol UV guard decking oil, means it can be spray-applied as well as painted on for an even faster finish, but it has more cleverness to offer still.
While the weather and other external factors can fade the natural colour of your wooden deck to a grey patina over time, this oil-based decking product has been developed to resist against this, while adding a tinted colour of your choice to the wood's natural appearance.
It's designed to penetrate deep into the wood to replace the natural oils lost over time through weathering, and to offer deep-seated protection against splitting and drying, while the tinted oil brings out the colour in greyed wood for a fresh look.
Reviewers loved the rich, almost glossy look it imparted to their boards, and said that rainwater just beaded off, proving its weatherproofing prowess.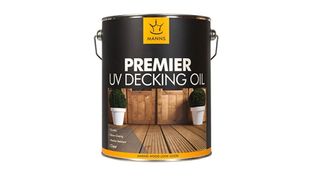 A steal at around £30 for 5 litres, reviewers were left impressed by the excellent value of this Mann's UV premium decking oil, and found that it performed especially admirably for the price, offering great coverage, easy application, and effective waterproofing straight off the bat – one user commented that water now runs off their deck like it would a newly waxed car.
Longer-term users were pleased with this deck oil's longevity too and found that its UV-protective formula kept wood from bleaching or greying in the sun, or weathering at all over a harsh winter.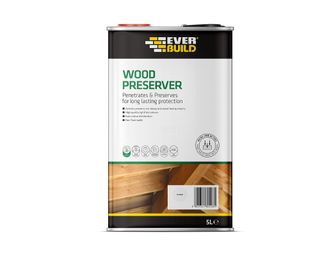 Possibly one of the best decking oils if you're trying to be more eco-friendly, Everbuild Lumberjack wood preserver, is a solvent-free, low-odour and non-flammable solution, which not only means fewer harmful fumes released into the atmosphere, but also fewer toxic nasties for you to breathe in while you're applying.
If you suffer from a respiratory disorder or are just a bit nervous about using harsh chemicals on your deck, this one is a good bet. Plus, it's fast-drying, can be applied to wet timber without losing any of its mojo, and penetrates the wood deeply with a fungicidal, algaecidal, and anti-decay formula – what's not to love?
We've shown you the clear product here, but it's available in a variety of colourways including Fir green, Dark Oak, Golden Chestnut, and Red Cedar, for any colour decking. And, unlike some other brands, this oil can be overpainted, stained, or varnished later if required.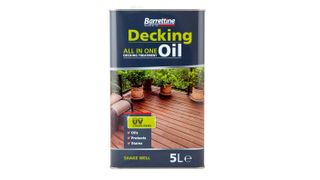 Start as you mean to go on with this decking oil by Barrettine, which is one of the best decking oils for newly-laid and untreated planks. Its all-in-one formulation is designed to nourish, protect and stain in a single step, leaving you more time to enjoy the sunshine!
When the weather does inevitably take a turn, the water-resistant formula means that rain will bead and run off without having the opportunity to soak into the wood, reducing the risk of splitting, while the finish is said not to crack, peel or flake away, leaving long-lasting protection.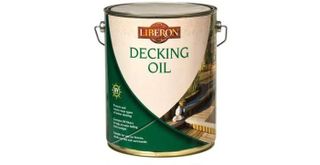 This hardworking decking oil from Liberon, delivers impressive water-repellant quality, as well as protecting your deck from UB radiation. It's easy to apply with a brush and the first coat is dry within just 15 minutes – the final result after the second coat then takes about 24 hours.
Apply and enjoy watching water bead up on top without damaging your deck. A standard five-litre tin goes a long way and can also be used to oil your fence, furniture, or hot tub (with a wooden exterior), making it a very versatile product.
We recommend using the clear version, as it delivers a beautifully natural finish. The same can't quite be said about the teak colour, as it's a little orange.
---
What are the benefits of using a decking oil?
'Oils often come in natural colours or clear, and enhance the natural appearance of your wood,' explains Jimmy Englezos, senior product manager at Sherwin-Williams.
'Decking oils soak deeply into the wood and penetrate the grain to provide protection from the inside out. This prevents the wood from cracking, splitting, or warping and should keep your wood nourished and healthier for longer.'
'Oil is also really durable and is easy to maintain – you just need to keep it clean and touch it up every now and then. It's very resistant to dirt and water so doesn't require much upkeep at all.'
'You may find you need less decking oil than stain to get the job done too. Our oils cover around six to ten metres squared so you might only need one tin to protect and nourish your deck.'
'It protects against the rain and sunshine too, so your wood is less likely to weather and grey and will instead look better for longer. Decking oil also tends to be less slippery because it penetrates the wood instead of sitting on top of it. However, oil can't be stained or painted over, so if you want to change the finish you will have to strip the oil off first.'
Why should you use a decking oil?
'The importance of oiling decks is often understated, but regular importance or upkeep is invaluable,' says Chris Moorhouse, category director of gardens, Wickes.
'Decking oils protect wooden decking from within, shielding from the long-term damage of sun, wind, and rain. High concentrations of oil and wax make decking boards resistant to water and also coat them with a highly durable finish.'
'As a result, your deck will stay in prime condition for longer and the natural ageing of your timber will be delayed. If you don't look after your decking, you will see a fading, warping, and weakening in your material.'
'In some shady or wet locations, mould or fungus can intrude and prove to be an unattractive health hazard. If your decking is new, we recommend leaving it natural for about six months before being oiled, so that any existing treatment has eroded before a fresh coat of oil is applied.'
What's the difference between a stain and an oil?
The best decking stains and oils can feel quite similar. But, 'The difference is in the finish and the level of protection. An oil soaks into the wood and nourishes it. It gives the wood a lightly tinted finish. A stain gives richer colour and a bit more protection.' says Englezos.
How often should a deck be oiled?
'Decking treated with decking oil will require recoating at least once or preferably twice a year (spring and autumn) depending on the climate where the decking is laid and how much use it is subject to.' says Richard Bradley, marketing manager, Liberon.
While Englezos says: 'This is a tough one to put a timescale on because there are a number of factors that could impact the time, such as the quality of the oil, where the decking is placed (in the shade, under a tree, etc) and the condition of the decking when the oil is applied.'
'Out of all the types of coating for the decking, oil typically needs the most frequent maintenance. I would say you should at least check the decking every six months to see if it requires coating and you may find it can last up to a year plus between recoating.'
Can I use decking oil on hardwoods?
'Decking oil is not suitable for some foreign hardwoods such as iroko, balau, ipe and sapele which are naturally very oily. We advise for hardwoods be allowed to weather for 12 months.' says Bradley.
How long should you leave new decking before oiling?
'New decking will most likely have pre-treatment present to protect from the weather which can reject the new coatings,' says Englezos.
'If you leave the new decking to weather for six months then this pre-treatment should have disappeared and the deck can be oiled. Alternatively, if you use the Ronseal Decking Cleaner and Reviver and give the brand new deck a good scrub, then you can get to work oiling the deck straight away as the cleaner will remove the pre-treatment.'
'If you want to check if the new decking is pre-treated then sprinkle a small amount of water on the deck; if the water forms strong beads on the surface of the deck then the pre-treatment is present.'
How can I find out what the final finish will look like before I complete the whole job?
'Always test and try products on spare wood or in an inconspicuous area to check for colour compatibility and end results first. Oil-based finishes will slightly darken the wood. A wet surface will be an indication of the final colour of most clear finishes.' says Bradley.
How can I make my decking stain or oil last longer?
'Inspect your decking regularly; if any deterioration or opening in the coating is seen address this as soon as possible by touching up where needed. Preventing water from getting into the surface will lessen the chances of the product lifting over time.' says Englezos.
What is the best way to apply decking oil?
'The Ronseal Decking oils can be applied with synthetic brushes, but you may need to check if you should be using a different brush type if you are looking at another brand,' says Englezos.
'Alternatively, for a much quicker application, you can use the Ronseal Ultimate Finish Decking Pad Kit which helps get the job done up to 5x faster than using a brush, comes with a handy scrubbing pad to help clean the deck, and saves your back.'
What to consider when buying the best decking oils
Which finish?
In a nutshell, if you're looking to add some colour to your planks, decking stains offer the widest range of shades in both solid and translucent finishes, while decking oils are best if you're after a colourless treatment that sinks into the wood to protect from within, rather than forming a layer on top. That's not to say that there aren't colourful options out there, as our top pick shows.
UV protection
Some decking oils boast better UV protection for decking, keeping the wood bright across the seasons. Consider how much you need and want depending on where your deck is located in your garden.
Low odour
Some decking oils offer lower-odour formulations – look out for these, too.
Water-based or oil-based?
Not all products marketed as 'decking oils' are actually oil-based; some are water-based and work slightly differently from oil-based decking oils. Water-based products will penetrate less and form more of a layer on top, performing more like a stain. They will also dry much quicker than oil-based products.
Which wood are you treating?
If your deck is made from expensive hardwood, for example, teak, you definitely want to use a decking oil to enhance the natural look and texture of this type of wood. Cheaper decking materials such as pine will do better with decking paint.
Decking oil, decking paint, or decking stain: which do you need?
There's a wide range of decking treatments out there, and it can be confusing. As a general rule, we'll say that decking oils are primarily for nourishing and restoring your deck, not altering its appearance.
Of course, as our guide shows, they can have additional properties such as UV protection or an anti-slip effect, but the primary purpose of a decking oil is to deeply penetrate the wood and protect it from weather extremes. Stains go one step further by subtly tinting your deck; the best decking paints are more suitable for a complete transformation with colour.
What is the best time of year for oiling your deck?
The truth is, there's no one perfect time of year for oiling your large or small deck – it's more about the humidity in the air during the week when you decide to apply your deck treatment. The whole point of the oil treatment is to nourish the wood while stopping moisture from getting in, so you need environmental conditions that are as dry as possible.
Dry heat is fine (provided you do the oiling in the morning or evening, avoiding very hot lunchtime sun) as is dry cold weather; early summer and early autumn are probably the worst times for applying any sort of treatment to decks because high humidity combined with warm temperatures increase the amount of moisture that gets into your deck before you've applied the oil. A cool week without rain in late autumn or early spring is our favourite time to oil a deck.
How to oil your deck
1. Clean: the quality of your finished deck is directly dependent on its condition before oiling so, for best results, give your deck a thorough clean first (use one of our best deck cleaners). If you're not sure what to do, our guide on how to clean decking runs through ways to tidy up wood and composite types.
2. Repair: use exterior wood filler to repair any cracks or holes in your deck. Always do the patching up before applying the oil.
3. Apply: aim for an even finish and in one go per coat; don't do the job piecemeal, as the inconsistency will show in the finish.
Is decking oil eco-friendly?
The most eco-friendly option is to just treat your deck with linseed oil, of which you'll find a good selection online at Amazon, or in your local hardware store. It will nourish the wood, although it will not have dirt-repelling or fungicidal benefits, so be prepared to do a bit more cleaning. If you're going for a commercially available eco-friendly option, choose one that says 'solvent free' or 'low solvent'. Our number four choice in this guide is also a good eco-friendly option!
What else can I use decking oil for?
If you've oiled your decking and still have some leftover, some products are suitable for windows, doors, cladding, fencing, and other vertically structured joinery too, making it a good value, multipurpose product – of course, check before you start applying it to all aforementioned surfaces.