Wondering what are the best decking oils on the market? The best decking oil product is always the best one for your needs. What do you most need it to do, bring out the natural beauty of the wood, or protect it from a damp climate? Or perhaps it's anti-slip properties that are the most important? We have a best decking oil for every requirement.
Jump down the page to find out how to buy the best decking oil and for deck oiling tips.
What is the best decking oil you can buy?
Quick links to buy the best decking oils
We think the best decking oil you can buy is Ronseal decking oil. It's available in seven different colours and takes only 90 minutes to dry, and it's also very easy to apply. Read more below.
In a rush and don't have time to read the whole guide? We've listed the three best decking oils below as well as their cheapest prices. Dig in.
THE BEST DECKING OILS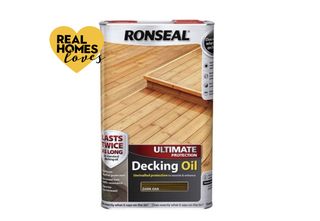 1. Ronseal Ultimate Protection Decking Oil
The best decking oil: with an impressive set of specs to its name, this one really does do what it says on the tin
Specifications
Best for: All woods
Volume: 5ltrs
Drying time: 90 minutes
Colours available: 7
Reasons to buy
+ Really easy to apply + Fast-acting protection
Softwood, hardwood; smooth or grooved; bare or pre-treated; this Ronseal decking oil not only works on all manner of decking, it works wonders. Its specs are impressive – rainproof in just 90 minutes and up to twice as resistant as other decking oils – and reviewers gave it the praise to back them up, saying that this oil seemed to last forever and that rain instantly beaded off, adding that it was easy to apply, fast-absorbing, and cleaned off tools smoothly. All this, plus a choice of seven colours and a low VOC content, make it fantastic all round.
Shop more decking oils at Amazon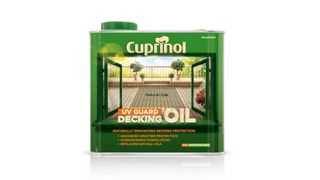 2. Cuprinol UV Guard Decking Oil
Best weather-proofing decking oil: guard against British weather, come rain or shine, with this weatherproof decking oil
Specifications
Best for: Weather protection
Volume: 2.5ltrs
Drying time: 6 hours
Colours available: 4
Reasons to buy
+ Spray or paint application + Lightly tinted oil boosts natural colour
The formula of this Cuprinol decking oil means it can be spray-applied as well as painted on for an even faster finish, but it has more cleverness to offer still. It's designed to penetrate deep into the wood to replace the natural oils lost over time through weathering, and to offer deep-seated protection against splitting and drying, while the tinted oil brings out colour in greyed wood for a fresh look. Reviewers loved the rich, almost glossy look it imparted to their boards, and said that rainwater just beaded off, proving its weatherproofing prowess.
Shop more decking oils at UK Tool Centre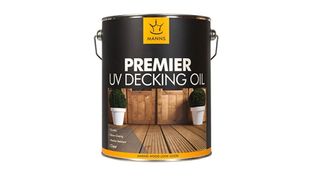 3. Manns Premier UV Decking Oil
Best UV-resistant decking oil: water-proof and protect your deck from the sun with this UV-resistant decking oil
Specifications
Best for: UV protection
Volume: 5ltrs
Drying time: 12 hours
Colours available: 3
Reasons to buy
+ Long-lasting protection + Effective anti-UV
A steal at around £30 for 5 litres, reviewers were left impressed by the excellent value of this decking oil, and found that it performed especially admirably for the price, offering great coverage, easy application, and effective waterproofing straight off the bat – one user commented that water now runs off their deck like off a newly waxed car. Longer term users were pleased with this product's longevity too, and found that its UV-protective formula kept wood from bleaching or greying in the sun, or weathering at all over a harsh winter.
Shop more decking oils at Tooled UP
4. Everbuild Lumberjack Wood Preserver
Best eco-friendly decking oil: with fewer solvents, lower odour, and a quick drying time, this one's great for busy DIYers
Specifications
Best for: Low-odour
Volume: 5ltrs
Drying time: 48 hours
Colours available: 5
Reasons to buy
+ Fungicide- and algaecide-infused + Low-solvent and low-odour
Possibly the most eco-friendly decking oil on our list, Everbuild Lumberjack wood preserver is a low-solvent and low-odour solution, which not only means fewer harmful fumes released into the atmosphere, but also fewer toxic nasties for you to breathe in while you're applying. If you suffer from a respiratory disorder or are just a bit nervous about using harsh chemicals on your deck, this one is a good bet. Plus, it's fast-drying, can be applied to wet timber without losing any of its mojo, and penetrates the wood deeply with a fungicidal, algaecidal and anti-decay formula – what's not to love?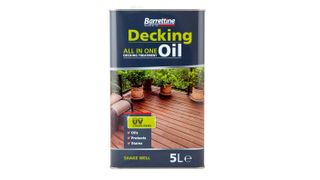 5. Barrettine Decking Oil
Best fast-acting decking oil: with this fast-acting decking oil, it's one and done
Specifications
Best for: New decking
Volume: 5ltrs
Drying time: 24-48 hours
Colours available: 6
Reasons to buy
+ All-in-one formula+ Durable finish
Start as you mean to go on with this decking oil by Barrettine, our best for newly-laid and untreated planks. Its all-in-one formulation is designed to nourish, protect and stain in a single step, leaving you more time to enjoy the sunshine. When the weather does inevitably take a turn, the water-resistant formula means that rain will bead and run off without having the opportunity to soak into the wood, reducing the risk of splitting, while the finish is said not to crack, peel or flake away, leaving long-lasting protection.
Shop more decking oils at Amazon
How to buy the best decking oil
Deck oiling tips
Clean: the quality of your finished deck is directly dependent on its condition before oiling so, for best results, give your deck a thorough clean first (use one of our best decking cleaners).
Repair: use exterior wood filler to repair any cracks or holes in your deck. Always do the patching up before applying the oil.
Apply: sim for evenly and in one go per coat; don't do the job piecemeal, as it will show in the finish.
Which finish?
In a nutshell, if you're looking to add some colour to your planks, decking stains offer the widest range of shades in both solid and translucent finishes, while decking oils are best if you're after a colourless treatment that sinks into the wood to protect from within rather than forming a layer on top. That's not to say that there aren't colourful options out there, as our top pick shows.
UV protection
Some decking oils boast better UV protection for decking, keeping the wood bright across the seasons.
Low odour
Some decking oils offer lower-odour formulations – look out for these, too.
Water based or oil based?
Not all products marketed as 'decking oils' are actually oil based; some are water based, and work slightly differently from oil-based decking oils. Water based products will penetrate less and form more of a layer on top, performing more like a stain. They will also dry much quicker than oil-based products.
Which wood are your treating?
If your deck is made from an expensive hardwood, for example teak, you definitely want to use a decking oil to enhance the natural look and texture of this type of wood. Cheaper decking materials such as pine will do better with a decking paint.
Is decking oil eco-friendly?
The most eco-friendly option is to just treat your deck with linseed oil. It will nourish the wood, although it will not have dirt-repelling or fungicidal benefits, so be prepared to do a bit more cleaning. If you're going for a commercially available eco-friendly option, choose one that says 'solvent free' or 'low solvent'.
MORE WAYS TO SPRUCE UP YOUR GARDEN: