When you are looking to buy the best coffee machine for you, you're going to be looking at a variety of coffee machine types, all of which can make you a very nice coffee, but at what cost?
There's always going to be the initial, upfront cost of buying a coffee machine which is sure to divide the espresso sipper from the latte indulger (for example) due to the nature of the machine at hand. If you enjoy a shot of espresso in the morning then you're going to be looking at a bean to cup coffee machine which will grind and express from the coffee bean of your choice. Whereas if you like a latte then it's likely that a pod coffee machine is going to be more in favour – this type of coffee machine is also a much more affordable option, initially. But what we're interested in from hereon in is the running cost of the machines; think coffee subscriptions, buying coffee from the shelf and pod bulk buys.
To help wade through the options we've being doing a little research (and some maths) around the options, breaking them down by coffee machine type so we can get to the bottom of exactly what is the cheapest coffee machine you can buy when thinking long term.
Pod coffee machines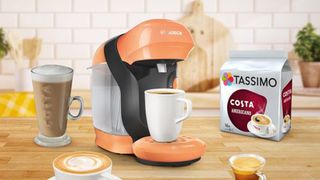 Coffee pod recycling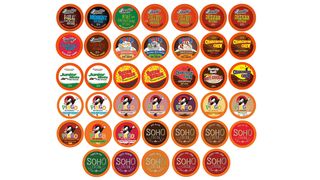 You'll find that one coffee pod will make you one coffee, and then you are left with an empty pod. Coffee pods can not be recycled with your household waste but brands such as Nespresso have launched schemes to make it (a little) easier whereby you bag up and take them to a boutique or drop off. Lavazza have compostable pods, too.
These are quick, faff-free and very affordable from the offset with prices starting from £30 for one of the best pod coffee machines. There's a vast selection of pods to choose from with coffee (tea and hot chocolate) pods readily available from the likes of Amazon, supermarkets or direct from brands such as Lavazza. You will just need to make sure that the pods you buy are compatible with the coffee machine you already own.
Pods are available to buy in bulk with prices starting from as little as £2.65 (plus p&p). For a little spot of maths, this particular pack of pods from Italian Coffee has 18 pods which would be enough for a couple of weeks, give or take, based on 2 cups of coffee per day. That means that after the initial cost of buying the compatible Philips Senseo coffee machine for £50 you're looking at spending a further £5.30 (plus p&p) per month for 36 cups of coffee at £0.14 per cup, which is pretty cheap!
This differs by brand, however, since our research reveals that although the Tassimo machine is cheap (circa £50) the pods are about £5 for a pack of eight which makes one cup of coffee £1.60 per cup which is pretty pricey.
Another option is, of course, a coffee subscription which is available for your Lavazza pod coffee machine: Lavazza My Way. This type of pod coffee machine retails for anything between £59 for the Lavazza Tiny to £199 for the Lavazza Desea and uses single use pods to make one coffee. If you don't already own one, Lavazza are offering a coffee subscription service where you pay £1 for the machine and commit to buying 144 pods (worth £44) which makes it £0.27 per coffee. You can choose the frequency of delivery, too, so if you go for less frequency it'll cheap this price as it is but make it more frequent the more expensive it will be.
A means to save money however, which is especially relevant to latte lovers, is that such a thing exists as latte pods, as seen here on Amazon. These combine coffee with milk so if you don't have milk in anything other than in your coffee, this would be a good means to an end. Alternatively, a bean to cup coffee machine would be the next best option here because they often come equipped with a steam wand (more on this coffee machine type shortly..)
Bean to cup coffee machines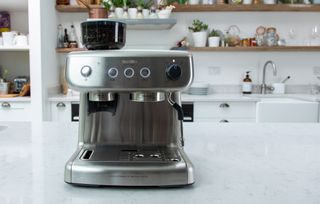 Comparably, the best bean to cup coffee machines can be a pretty hefty initial investment to start with but coffee beans are much cheaper and go much further, too,. They can even make you all manner of coffees from espressos to lattes, and even a hot chocolate (if you just want to use the steam wand).
For example, the Breville Barista Max is an espresso coffee machine which currently retails at £299 at Currys PC World. With it's integrated grinder it'll blitz through beans of your choice which are available in a selection of bag sizes – not to mention a vast selection of country of origins and flavours.
Pact Coffee offer a coffee subscription service of beans and pods. We like the philosophy of these guys who pay coffee growers more so that they have the time and resources to produce higher-quality coffee. By the bag, their House Coffee Blend is available for £7.95 which is enough to make 15 cups of coffee (that's £0.53 per coffee). Or at the other end of the scale, there's Gran Fondo Espresso for £11.95 which will make you 15 cups of coffee for £0.80 per cup.
Another site where you can buy coffee beans from is direct from illy. These come from countries such as Brazil, Ethiopia and India which all have a varying richness to them. Their whole beans are available for £7 per 250 gram canister, which is enough for 15 cups. Each cup of illy coffee therefore works out at being £0.46 per cup.
And of course you can get much more affordable coffee beans from your local supermarket with 227g bags of quality beans from around £2.50. You will get 12–15 cups from one of these, meaning a cup could cost as little as £0.17.
Filter coffee machines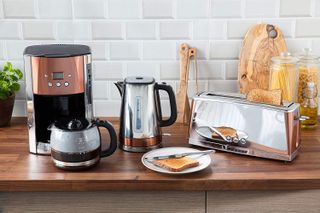 Another option is to invest in the best filter coffee machine. This type of machine uses already ground coffee beans which are more readily available in the supermarkets from the two options we've looked at so far.
You can often pick one of these coffee machine types up for £50 – such as the Morphy Richards 162010 Pour Over Filter Coffee Maker – which is on par with a pod coffee machine when it comes to price. These work by heating and pouring water through ground beans, and into a jug underneath. What you're left with are some damped grounds which can be put into the food caddy or compost bin in the garden.
You can also find a selection of ground coffee from Pact Coffee (two bags) for £10 which will make you 30 cups of coffee for a mere £0.33 per coffee. Or even Whittard who have prices from £3.50 (beans or grounds) to make seven cups of coffee for £0.50 per coffee – opt for a 1kg bag for £28 to enjoy a coffee for just £0.16 per cup! Supermarkets such as Tesco have ground coffee from the likes of Taylors of Harrogate on their shelves which retails at £3.75 for a 227g bag, which is enough to make 15 cups of coffee for £0.25 per cup.
What is the cheapest coffee machine type to buy?
We need a coffee now but the results are in... after closely looking at the numbers the filter coffee machine offers the best value for money. The machines themselves are relatively inexpensive – especially when bought in a coffee machine sale – and the ground beans can be easily bought in the supermarkets or from online, too.
We're looking at £0.16 per cup of coffee with an initial cost of £50 which means that you will easily make your money back (if you drink enough coffee) and also continue to save you money in the long run since an Americano from a popular coffee shop will set you back £1.95 per shot. Yes, you can make a cup of coffee for the same price in a bean to cup machine, but the initial outlay for that machine means the filter type works out much, much cheaper.