Listen, I love the idea of a Sunday reset, but the thought of spending half of my precious weekend inside cleaning every corner of my home? Not so much.
I'm also guilty of staring at the mess in my apartment, getting overwhelmed, and distracting myself by scrolling the day away instead. I was constantly finding that by the end of the weekend, I hadn't done even a fraction of the cleaning I had planned, and I'd also missed out on social plans.
I've been able to claim my Sunday brunches back by creating a daily and weekly cleaning checklist and using some time-saving cleaning hacks to make each item even easier. Having a tangible list of tasks seriously reduces the amount of time I have to spend cleaning each room, and being able to finish everything on a to-do list is so satisfying.
To perfect this list for my fellow apartment and small-space dwellers, I've spoken to a professional cleaner and together we've created the ultimate daily and weekly cleaning checklists for you to save.
Weekly cleaning checklist
"There are certain things you need to do weekly to keep your apartment, dorm or small space clean," says Sara San Angelo from Confessions of a Cleaning Lady. "While daily tasks would involve things like doing the dishes every day, weekly tasks would require a little more elbow grease."
Some areas deserve attention a little more frequently than others, too. "You should do a thorough kitchen cleaning weekly — wiping off countertops, appliances like the stove and refrigerator, and wiping down cabinets," says San Angelo. "You should also clean your bathroom once a week. This includes the toilet, tub, and shower."
The kitchen and bathroom are by far the most time-consuming rooms to clean each week, but they're also super important to stay on top of. Having a clean and fresh-feeling space to prep your food and get ready (and un-ready) in are both key for your physical and mental health, and can help you stay encouraged and motivated to keep up with good habits.
Ready to get in a routine? Follow these weekly cleaning checklists so you don't miss a thing.
Kitchen
Wipe down the sink and handles
Clean your table, stove, countertops, and oven
Clear out your fridge and throw out expired food
Wipe down the inside and outside of your fridge
Take out the trash and clean your garbage can if needed
Wipe down any cabinets
Sweep and mop
Clean the microwave
Bathroom
Clean the sink surface and handles
Thoroughly clean the toilet
Wipe down your toiletries in the bath/shower
Clean your bath/shower (don't forget your glass door or curtains!)
Living Room
Dust your windowsills, TV unit, coffee tables, and any trinkets, books, or decor
Vacuum your floor and sofa
Wash any throw blankets or cushion covers
Spray down your windows with glass cleaner
Bedroom
Wash your sheets
Clear off all bedroom surfaces
Dust your nightstand, windowsill, headboard, and dresser
Vacuum and mop if applicable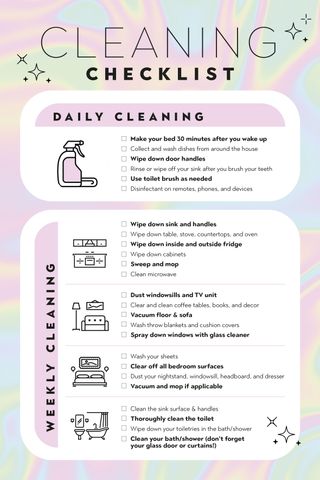 Helpful daily habits
Dedicating some time each week to a big reset cleaning session is great, but you can claim some of your weekend back by doing a few quick and easy tasks each day to make cleaning day way easier. This daily cleaning checklist may look long, but most of these tasks take only a few seconds each day and will make a world of a difference at the end of the week.
Make your bed 30 minutes after you wake up
Collect and wash any dishes from around the house (and after each meal right away)
Wipe down your door handles with a disinfectant wipe or spray and reusable cloth
Make sure you rinse or wipe off your sink after you brush your teeth in the evening
Keep a toilet brush in the bathroom and use it as often as you need to
Disinfectant on remotes, phones, and devices you use regularly
TLDR: weekly cleaning is much quicker if you clean up after yourself throughout the week and make sure your space is fairly put-together before you go to bed every night!
Cleaning with roomies
Let's be honest: some cleaning tasks are much less fun than others (we're looking at you, toilets and bathtubs). Make sure you and your roommate or significant other are splitting the not-so-glamorous chores up fairly by setting a weekly schedule and rotating rooms, or by leaving it to luck.
"If you have roommates, you can divide up the chores to make it easier," says San Angelo. "Make things more interesting by picking tasks out of a hat or rewarding yourselves with a pizza or movie night afterward."
Pick up some adorable cleaning supplies to up the fun factor even more.