In the market for a AEG washing machine? Whether you want a wifi-connected smart washer, like the idea of doing less ironing, or want to reduce the noise in your home, there's a machine from AEG that could suit you down to the ground. We've made selection easy with our guide to the top models on offer, and we'll save you time hunting down the best value on the web with links straight through to great deals.
Not sure how to pick the best washing machine? Trust in our guide to give you all the knowhow you require.
WHICH IS THE BEST AEG WASHING MACHINE? OUR TOP 5 MODELS
Why you can trust Real Homes Our expert reviewers spend hours testing and comparing products and services so you can choose the best for you. Find out more about how we test.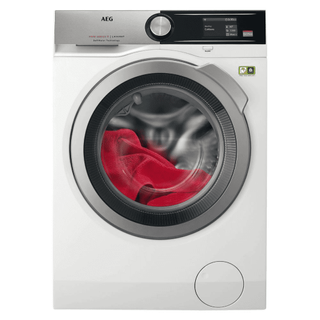 The AEG L9FEA966C freestanding washing machine is our number one buy. Find out why below.
Best features?
Wi-Fi ready, this machine can be connected to an app to get programme recommendations and cycle customisation, get refill notifications when detergent is running low, and remote control of the machine. It'll filter and soften the water that goes into the drum to maximise detergent efficiency, and to help avoid colours fading. The model also has a multitude of specialist programmes including for curtains, jeans, towels, working clothes and more.
The verdicts
Although it's an investment buy, if you want a smart washing machine, this model should definitely be on your list. We think it has a brilliant range of programmes, and some clever tech to keep clothes looking their best for longer and to cut time spent on ironing. The lack of noise is also a huge plus point in our book.
An overall five out of five stars for this machine was the verdict on the AEG site. Buyers liked the easy access to the large capacity drum, the lack of noise from even the 1600rpm spin cycle, and its results on dirty rugby kit.
On AO.com, the score was an average 4.8 out of five for the washing machine. Buyers appreciated the way in which its water softening translated to softer clothes, the choice of programmes, and its quietness.
Shop more washing machines at AO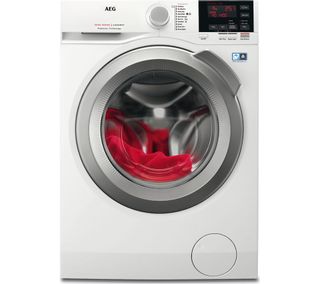 The AEG L6FBG842R freestanding washing machine gets top marks for allergy and quick settings. But what else?
Best features?
Weighing of loads ensures this machine can adjust washing times to minimise water and electricity use. It has an Eco TimeSave for an energy-efficient wash that's as speedy as possible, too. There's a 20 minute wash for a 3kg load that could get you out of a tight spot, too, and a programme for outdoor items and an anti-allergy cycle among the selection.
The verdicts
We reckon this is a good value buy with a large enough drum size for many family homes, and all the cycles you'd want, including if you have someone with allergies in your household. Although it's a tad noisier than some of the AEG machines we recommend, it still does very well for quietness.
On the AEG site, it's an overall 4.5 out of five for the machine from pleased reviewers. They commented on its large door – making access easy – the quietness of the maximum 1400rpm spin, and the effectiveness of the spin in getting clothes as dry as possible.
For those who purchased this model at Currys, the average verdict was 8.8 out of 10 with build quality, ease of use, and the noise level getting the highest ratings. The machine's users were happy with the clear and easy to operate control panel, the ample washing options, and appreciated the 20 minute quick wash.
Shop more washing machines at John Lewis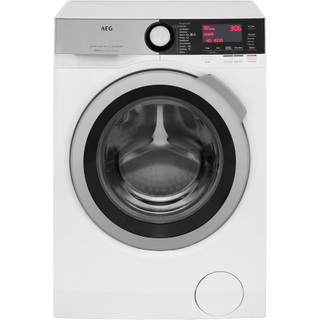 Want a quiet washing machine? The AEG L8FEC866R freestanding washing machine is a good bet.
Best features?
This machine's quieter than many and gets a Quiet Mark accreditation for its prioritisation of noise reduction. It's designed to dissolve detergent and fabric softener before it goes into the drum for better distribution and cleaning results. You can complete a wash cycle in 59 minutes, too, to save time and energy.
The verdict
It's a big thumbs-up from us for this machine's noise level because even in a utility room, but especially in an open-plan scheme, a washer can be an unmissable presence. This machine is big enough to cope with family loads and doesn't lack in terms of programmes on offer. If someone in your home has dust mite allergies, you'll like the cycle that ensures the temperature is constantly above 60°C to get rid of them.
It was full marks from buyers of this machine on the AEG site with five out five stars overall. Reviewers said it was easy to use, found it extremely quiet, and praised the wash results.
On AO.com, the score was nearly as enthusiastic with an average of 4.9 out of five. Here, the model's users mentioned the effectiveness of the spin in getting clothes dry, said it had reduced electricity bills, and found the controls easy to use.
Find more quiet washing machines in our buyer's guide.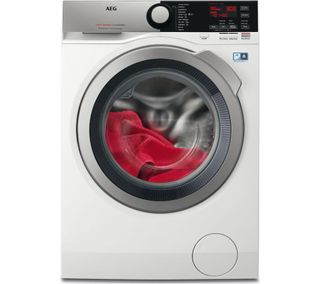 Looking for crease-free clothing? You'll like the AEG L7FEE845R freestanding washing machine.
Best features?
Hate ironing? You'll love the fact that this machine has a steam feature that can be used at the end of a cycle to reduce creasing. It's also Quiet Mark accredited so should prove a welcome relief from washing noise. You don't have to choose between saving time or saving energy with this machine. You can select both options together to get a wash that promises to be energy efficient and as speedy as possible.
The verdicts
We like the balance of cost and features this machine achieves. Less creasing and therefore less ironing is welcome, so it gets due credit from us for its steam function, and we don't think you'll be disappointed by the range of programmes on offer either. The clear display is welcome, too.
Reviews via the AEG site resulted in a five out of five overall rating for this model. The machine's buyers were happy with a drum large enough to fit pillows and duvets, liked being able to adjust temperatures and lengths of programmes, and found the spin very effective.
On the Currys site, the average rating was 8.9 out of 10 with the machine's users giving highest marks to its build quality, noise level, and ease of use. The model's large door – enabling easy loading – 20 minute 3kg wash, and easy programme selection were all acclaimed.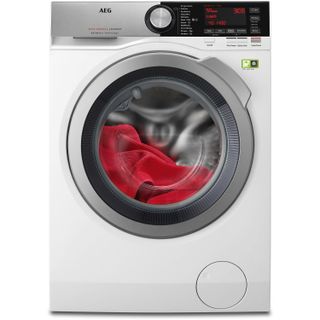 Need a family-sized machine? The AEG L9FEC946R freestanding washing machine is your model.
Best features?
This machine has a Quiet Mark – awarded to products that prioritise noise reduction – and will keep disturbance down even when it's part of an open-plan area. It has a filtering system for the water that goes into the drum so detergents and fabric softeners work at maximum efficiency, and it promises to distribute detergent and fabric softener evenly for thorough cleaning. It also weighs each load to tailor the cycle time for effective washing without waste of water and energy.
The verdicts
We think this is a good choice for big families because it will accommodate large loads, and it has useful programmes on top of those you'd expect, including an anti-allergy cycle, and steam refresh. We like the fact that it's part of the AEG 9000 series, which was voted household appliance product of the year 2018 by consumers, so it's received the plaudits of everyday users of the machine.
On the AEG site, this model gets a ringing endorsement with five stars out of five overall. Buyers rated design and function most highly. They liked the steam facility, appreciated the machine's water filtering system for the washing results it gave in terms of softness and freshness of clothes, and found it exceptionally quiet.
Those who bought their machine at John Lewis awarded 4.7 out of five stars overall. Reviewers noted that it had improved the colour of whites, found the control panel easy to navigate, and noted the large capacity drum favourably.
MORE CLOTHES CLEANING CONTENT: