Art is one of the most prominent forms of expression. It's powerful, beautiful, and personal. Whether you're the artist or the admirer, how you enjoy and absorb art is totally unique to you.
Although what's on your walls may not seem like it will impact you that much, displaying art in a bedroom and around the rest of your home can actually influence how you feel day to day.
I've collected prints, paintings, and so many different forms of art over the years. I've also rented my entire adult life, so I've always used wall space as a means of adding more personality to my surroundings over making more dramatic cosmetic changes. Long-live the self-adhesive strip and hook.
Until a few months ago, art going up was always very positive. My mini gallery walls and isolated prints added design interest, elevating my space and my mood by tapping into those cool gallery vibes. But suddenly, I just wasn't feeling my room. I was working with a smaller space, but having decluttered and feng shui(ed) my furniture to the max, I still felt a little overwhelmed and oddly claustrophobic.
Next thing you know, I took a good look at all the prints and frames I'd put up some 12 months prior and decided to take them all down.
The role of art in your home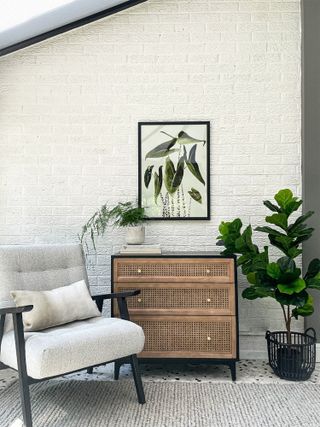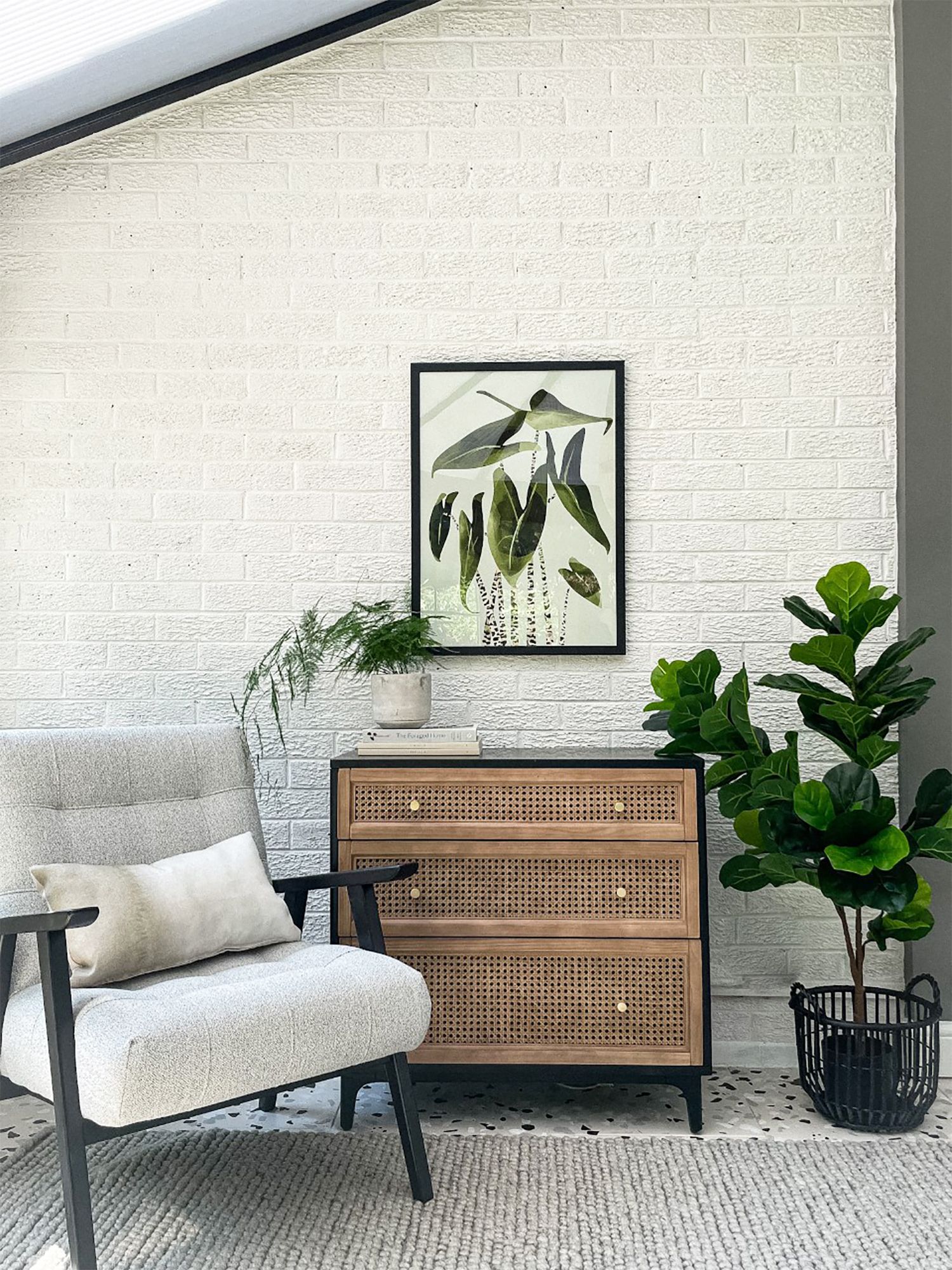 Art = happiness, at least in my books. So I found it a little mind-blowing that I was almost rejecting some art forms in my space that had previously brought me a lot of joy.
I spoke to a couple of experts in the field to solidify my thoughts on what role art takes in the home.
"Art not only adds style to any living space but also pieces of your personality, whether that's through specific colors, textures, or shapes," says Annica Wallin, executive creative director at Desenio.
I also spoke with Michelle Collins, artist and founder at Green Lili, to gauge a little more on how art can make you happy in your surroundings. "Art is a great way to express yourself, and when you choose the right piece, it helps you feel like your space is completely yours," says Collins.
In the moment that I decided to take the art off my walls, I was feeling unsettled. Then suddenly something clicked, and I started thinking that actually too much was going on on the walls and that it was too overwhelming, in more ways than one, for such a small area.
Although it might seem drastic, taking everything down for an evening gave me room to think and that claustrophobic feeling lifted almost instantly. I was excited to start with a clean slate and to be really critical of my art choices. I wanted to curate my own little gallery.
Art mistakes to avoid
When we moved in, I was in overdrive and once I had my furniture set out, up went all the frames and prints I had had on display in my previous bedroom. Only one or two were kindly demoted to the hallway or living room, but otherwise, I had basically gone with the same display. Turns out, this was the real faux pas to begin with.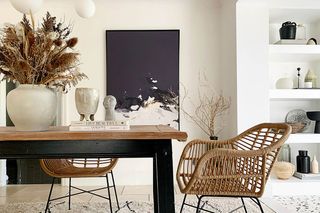 "Art is such a personal thing, and everyone's tastes differ," notes Collins If you're not feeling it, don't force yourself! There's nothing worse than hanging a piece of artwork you don't like and having to look at it every day — if it doesn't speak to you the way other pieces might then avoid."
For my story, lots of the pieces on the wall weren't that reflective of me anymore and there was too much going on. It's not that I didn't like them necessarily, but I knew I could do better to make my space feel both more calm and inspiring.
If you're also not feeling your space, consider the following errors that are all too easy to commit.
1. Your pieces no longer reflect you
"Every piece of art is unique and by finding artwork that reflects your personality or interests, makes you smile, or reminds you of somewhere you've been, you can create a happy place where you want to spend time," says Collins. I had clearly not appreciated this enough and all the frames I'd hung were not actually that reflective of me anymore.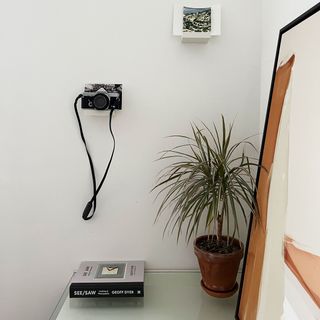 It's not that I don't like them, but I could do better to make the space feel more inspiring rather than dated. For those I took off, I actually just relocated them to other areas of our home where they were better suited. "Art ultimately provides a seed from which a whole interior design scheme can truly blossom so making sure you pick the right prints is key," adds Wallin.
Just as you change, your taste in art will develop to reflect that too; it's fun to tap into this and to refresh your surroundings at the same time.
"Take the time to find pieces of art that has meaning to you and make you feel relaxed and happy." Adds Collins.
Now, my one large rust and neutral print along with the medium-sized piece of photography on two walls balance the room as a whole; the postcard-sized photography and tiny landscape piece (in acrylic painted by yours truly) feel very 'me' so add more character to the room. The balance is on point if I do say so myself and honestly, it's all the room needs (for now).
2. You don't work with your space
It's worth noting that my room is not the box room of the house. Like in all London homes, there is one, but it's not large either and I have much less square footage than in my previous rental. Additionally, the space is awkward with two alcoves, which makes it even more challenging to work with.
My desk fits into one of those alcoves, which is ideal, and previously I'd put up a very busy gallery wall in this same alcove because the 'blank' space was there, so it seemed like the right thing to do. What I learned was that space doesn't always need filling, and that too much was going on which almost suffocated my surroundings.
"Don't cram every wall with art. Choose one large piece to anchor the room visually, and maybe even incorporate that into the design scheme." Says Collins.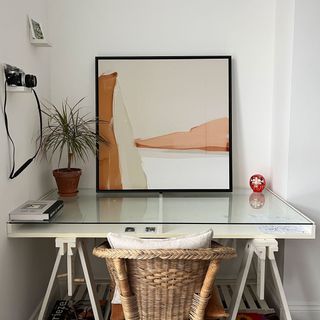 This large desert abstract canvas does just that, and I love it simply leaning on my desk rather than hanging on the wall for a more relaxed finish, that's renter-friendly.
"Then dot smaller pieces around different parts of the room—this helps create interest without overcrowding or overwhelming your eye with too much detail. Too many pieces of art in a small space can make it feel cluttered," adds Collins.
You can see I've kept a couple of photos on my Command Brand ledges (which I legitimately love) and I think it adds a bit more personality to this corner of my tiny room, without being too much.
Collins notes how this applies to other spaces in the house also. "In kitchens, for example, wall space can be limited, and it's not always easy to find ways to include art in such a small space. A couple of smaller prints would be better suited here. They look great leaning against a worktop or sitting on shelves, and if you like sharing your home inspo, they bring your kitchen shelfie to life!"
3. The colors don't match your desired aesthetic
From the color of the art itself to the display frame, it all taps into a cohesive finish. Collins notes that the hues you pick are "a great way to bring positivity and really set the mood on how you want to feel when you walk into the room."
Of course, I'd given thought to my frames at the time of framing years back, but this time around I had put up the same eclectic combination of thick, colored frames and thinner wooden frames. In the prints themselves, there were bursts of rust red, dark colors, florals, and a couple of standalone figurative shots. It was a lot, and so many clearly weren't a match for my bedroom where I didn't want total zen per se, but less chaos.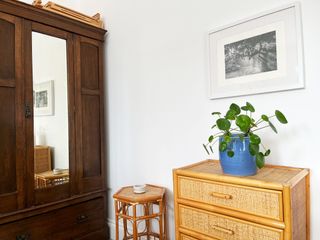 "Looking at oversized artwork with lots of bright colors and abstract shapes might make you feel happy or excited and bring energy to the space," says Collins.
"If the artwork is dark and moody, it might make it luxurious and indulgent. Choose soft, muted colors and minimal-style art on your walls if you want to feel relaxed and calm." She also notes that colors can evoke different emotions, so be mindful of that when picking out artwork. "Neutrals never go out of style and bring warmth to your space," she says.
4. Not considering how your space feels
How you display art completely depends on the effect and ambiance you want to create in your space. And although it is in essence, a little different from stepping into a gallery, in some ways it is actually very similar. After, all, you're creating an experience for yourself and for your soul.
Color, form, expression, positioning — it all comes into play, and if you hadn't given that much thought to what's on your walls, you are missing a trick.
"Art helps to bring a feeling to your space, and while it might sound obvious to some, choose calming colors and avoid loud pieces if it's a calming and relaxing space," explains Collins.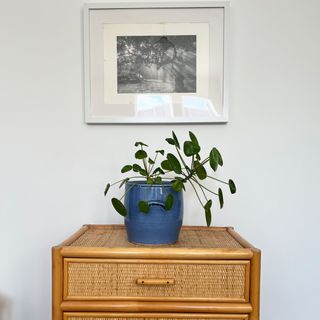 This was a piece I kept. I bought it in Bordeaux some years ago. It was a great city break, with good friends, and I'm still into how moody and yet dreamy the shot is. For me, it serves pure escapism.
How to get art right in your bedroom
Art is so important to have around the home, and just like different art movements take shape over time, so can your taste in art and how your space needs it.
Although an abstract print hung opposite your bed may have been the cherry on top of your decor scheme one year ago, if the colors or placement don't match your current mood or the energy and ambiance that you want to bring to the room, allow yourself to be okay with that.
You don't need to throw the art away either. Consider rehoming your art (try selling or gifting to a friend) or simply moving prints to a space where they might work.
Once I realized that the art in my space wasn't doing it for me, acting on that felt really powerful and I am still enjoying the pared-back, curated finish.
I felt way more chill having taken down the art from above my headboard. I'd never hang a shelf above where I sleep (for fear of it falling on my head) so a frame, let alone multiple, just didn't need to be there either.
Here are some cute picks that I think would make easy art upgrades:
Taking everything down and starting afresh made such a significant difference to my space. Even if you simply take a couple of dark-colored pieces down and swap them out for brighter picks to tap into dopamine decorating, or calm things down with neutral pieces, there is so much more to displaying art than you may think. I highly recommend getting hands-on with it to make your space work for you.