We bet you're aware, be it consciously or unconsciously, of dopamine dressing – the idea of putting on a red dress, yellow jumper, or bright green tee, specifically to boost your mood and make you feel better.
Wearing bright colors is an instant and effective way to lift your spirits, but can the same be said for decorating your home? Can a bright interior paint trend really make you feel happier at home? Dopamine decorating suggests that it can...
Several studies (pretty much every one ever conducted) have shown that your surroundings can greatly influence your mood. The link between brightly colored decor – from bedding and lampshades, to rugs and more – and our happiness levels has come to light in recent months, as more and more of us are choosing to decorate boldly.
Kelly Collins, interior design expert at Swyft has noted the shift in the number of people buying brightly colored sofas.
'We're definitely seeing people being bolder and braver with their design decisions. Before people usually chose a neutral sofa and bright cushions, but now it's the other way around. Sales of our brightest orange sofa have shot up since the start of the year.'
Lee Chambers is a psychologist and well-being consultant that specializes in color. He says that 'using intense and bold colors in our spaces can generate physiological and psychological responses, and they also have the power to trigger nostalgia and bring back positive experiences.'
Nowhere is this more evident than at the popular London attraction – Dopamine Land. You simply wander around colorful, textural rooms, and feel the burst of happiness hit you. It's marketed to channel the imagination of your inner child.
So it's not just any bright colors that can lift us, we've got to choose the right ones that will affect us in the right way.
Using brights to optimize your vibe
Marianne Shillingford, creative director at Dulux reveals how to choose bright shades that'll optimize your vibe.
'Look at your wardrobe and the personal things you surround yourself with to find the colors that really make you happy. These are the ones that make you feel great when you wear them and the ones that bring back happy memories of childhood.'
The link between vibrant colors and childhood can't be underestimated. By rejecting the play-safe neutrals and getting more confident with color, we're tapping into a more carefree, courageous and child-like version of ourselves.
'People aren't worried about design rules anymore – they're being inspired by Pinterest to just paint rooms or go for a bold feature wall in whatever color they fancy. We're finding that people, after lockdown, have a new-found interest and awareness of interiors and so they're more confident to make bolder design decisions,' says Collins.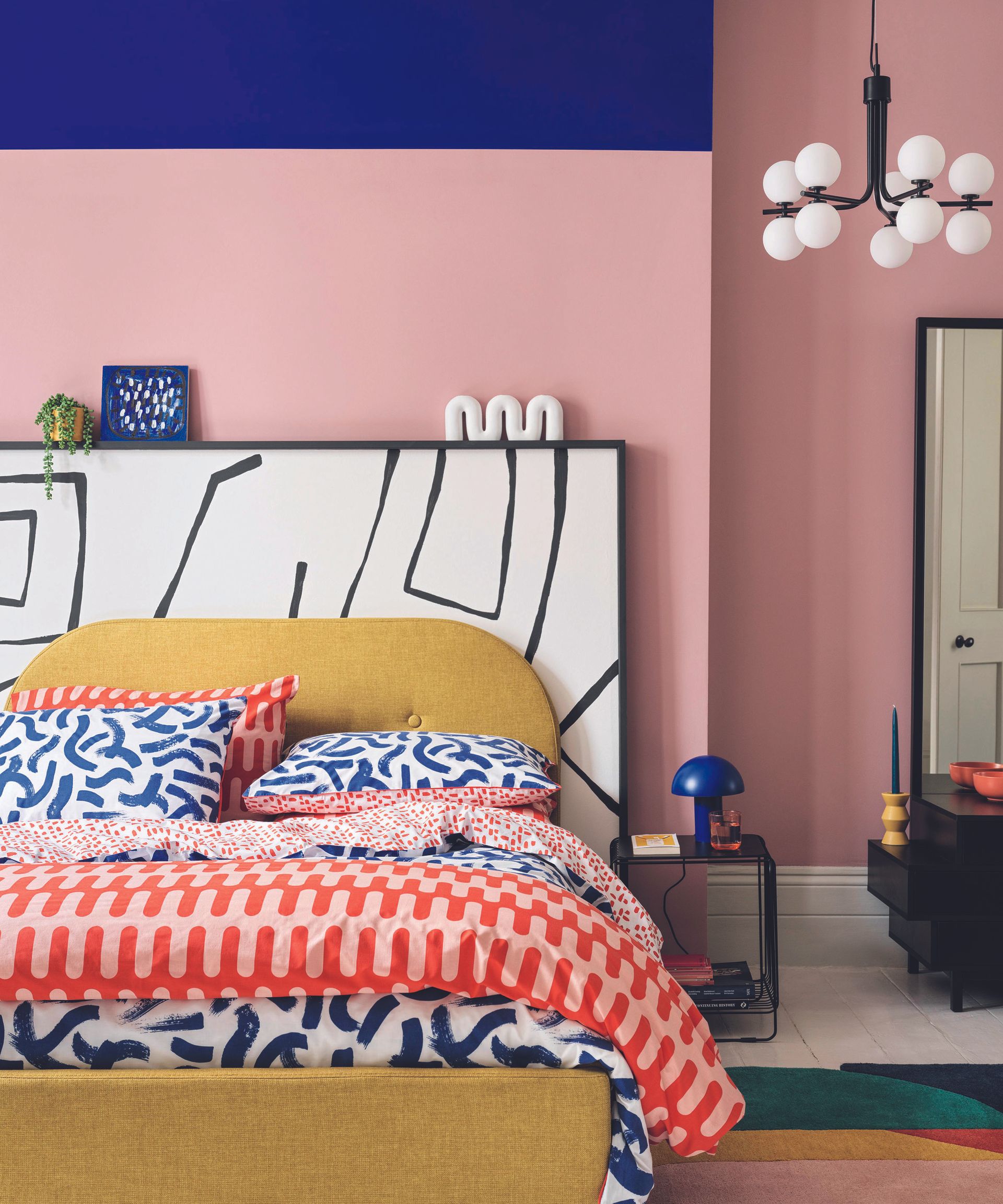 After years of lockdown and stagnation, we've gained a whole new level of respect for our homes. And with a very understandable urge to go a little wild with life now that things are on the mend, it's no wonder we're looking to go statement with our interior colors too. And if it's proven to make us happier, someone just hand us the bright pink paint pot please.