There are a whole host of different types of door locks out there, so you might be wondering which you should choose for the range of doors in your home.
Secure locks for the entry doors to your property are vital, of course, and these include the latest option of smart locks as well as more traditional locks for keeping your home safe. And patio doors also need good locks.
Meanwhile, inside your home, bathroom door locks are crucial for privacy, and you might want locks for bedroom doors as well.
We've got a full guide to all the types of door your home might have in our special feature, and to find out about all the different types of door lock sets, just scroll down.
Different types of door locks
Why you can trust Real Homes Our expert reviewers spend hours testing and comparing products and services so you can choose the best for you. Find out more about how we test.
Doors to the exterior need different types of door locks from the doors in the interior of your home. Want to know what the choices are for each? They're right here.
1. Smart door locks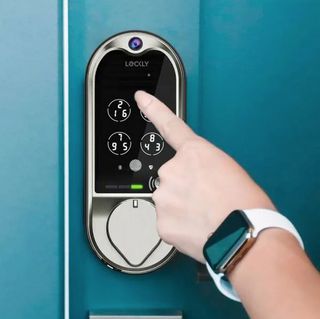 Smart locks are the latest type of door lock. With the best smart locks you won't need to carry a key around when you're away from home. Instead, and depending on the lock you choose, you could be opening the door by tapping in a numeric code, using a key fob, or via your smartphone.
When you're choosing, bear in mind that some smart door locks work with your home wi-fi, while others need a hub along with your home wi-fi network.
As well as being able to go keyless, one of the advantages of fitting a smart lock is that you can let guests in remotely.
Worried about adding one of these to your entry door. Don't! You can install a smart lock yourself.
2. Electronic door locks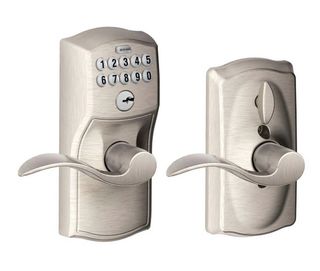 If you like the idea of a lock that doesn't require a key, but don't want to use smart technology, consider an electronic door lock.
These are opened by entering a code on the numeric keypad, so you don't have to remember to take keys with you every time you go out, nor worry about giving out copies to family members or friends and then losing track of them.
They can be straightforward to install yourself, much like when hanging a door.
3. Entry door knob locks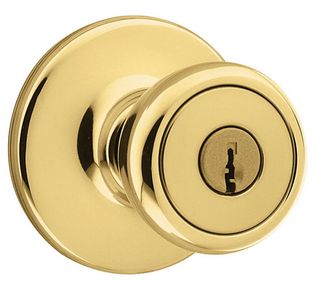 A popular solution for exterior doors, entry door knobs are easy to fit yourself. They're an inexpensive choice, but secure. Choose from a range of styles and finishes to co-ordinate with other door hardware.
They are best combined with a deadbolt lock, too (see below).
4. Entry door lever locks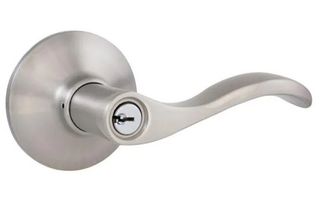 Entry door lever locks are a great alternative to door knob locks because they're easier to operate, and many are ADA (Americans with Disabilities Act) compliant.
They're straightforward to fit to an entry door and available in a variety of modern and more traditional styles and a range of finishes allowing you to create your preferred look.
Although you can expect to pay prices that start a little higher than those of entry door knob locks, these are still a great value option.
Combine with a deadbolt for maximum security (see below).
5. Deadbolts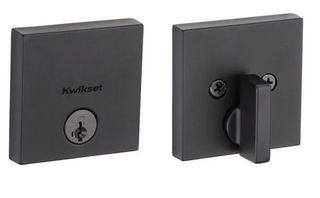 If you want to up the security of an entry door, opt for a deadbolt along with an entry door knob lock or entry door lever lock.
You can choose between single cylinder and double cylinder deadbolts. What's the difference? A single cylinder deadbolt is key operated from one side, and then has a lever or knob on the other side to be used from the interior. A double cylinder deadbolt is operated with a key on both sides.
A single cylinder deadbolt is a favorite for homes – it's more convenient if you don't need to use a key to lock and unlock the deadbolt from inside.
A double cylinder deadbolt offers additional security, and could be a great choice for a door with glass panels that an intruder might smash in order to turn the lever and open the lock. Bear in mind if you choose one of these that in an emergency leaving your home would take longer. For this reason, building codes can require a single cylinder version.
With an entry door that's pre-drilled for a deadbolt, installation is easy.
6. Lever handlesets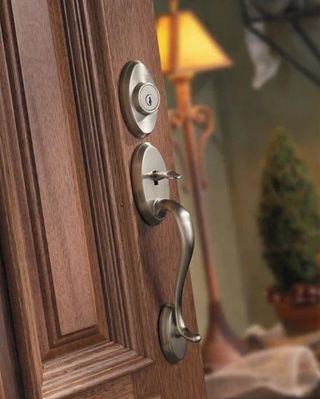 As an alternative to buying a deadbolt separately, consider a handleset, which includes both a handle and a deadbolt.
They're available in both traditional and modern styles, and a range of finishes, and will give your front entry door a smart look.
7. Sliding door locks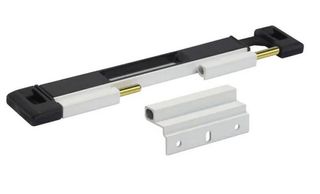 Wondering about sliding glass door locks? Special sliding door locks are available to maximize the security of sliding patio doors. Designs for uPVC doors along with those made from other materials are available.
8. Interior door locks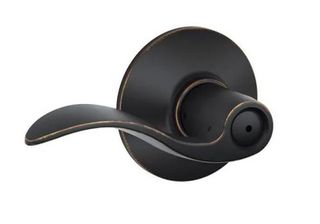 Want to be able to lock bedroom doors and the bathrooms of your home? You'll need locks specially designed for interior doors.
Choose between knobs or levers to complement the rest of the door hardware in your home. Either way, these designs are fitted so there's a lock on the inside of the room, which might be pushed or twisted to operate.
You don't need to worry that one of these might leave someone locked in. They are designed so they can be unlocked from the outside with a coin or similar if that happens.
Which lock is the most secure for homes?
The most secure lock for homes is a deadbolt, teamed with a locking door knob or handle.
'Deadbolts are considered the most secure type of door lock since it's difficult to move them from the locked to the unlocked position,' says Johnathan Kaloara, Founder and CEO of We Buy Properties in the Bay Area. 'Since it requires rotational movement to unlock from the outside, it's not possible to rotate it when it's locked making it the most secure of all the door locks.'
When you're buying a lock, look out for the ANSI (American National Standards Institute)/BHMA (Builders Hardware Manufacturers Association) grade level. These are assigned after testing and range from the highest grade, one, followed by grades two and three.
For a deadbolt, look out for a lock with a grade two rating at least. Grade one is a commercial rating, and will likely prove more costly, but you could use one of these on your home if you prefer.
Entry door locksets with levers or knobs should have a grade two rating.
For interior doors, a grade three rating is sufficient.
When you're buying, make sure you choose exterior door locks that are resistant to picks along with bump-proof.
Where to buy locks from: