Assess the damage
It's time to cut out any dead branches from your trees and shrubs to help improve aeration and reduce the risk of fungal diseases taking hold. Now that everything is coming into full leaf, the bare dead stems will really stand out and often just snap off in your hands, although a clean cut with secateurs is preferable for thicker branches.
Go through the foliage
Remove any foliage that has been discoloured or damaged by the winter weather to make your plants look tidy and to simultaneously promote fresh new growth. The dead foliage in grasses can be easily removed by combing your fingers through the leaves, saving the need to chop off the whole lot and being confronted with an unsightly stump.
Trim the hedges
Now the danger of frost is greatly reduced, it's a good time to give your box hedge its first trim of the year. Bigger structural bushy shrubs will also benefit from a light prune around this time to keep their size and shape under control before they put on all their summer growth. If you don't touch them until the end of the season, they often end up looking 'leggy', with untidy, long, heavy branches with clumps of leaves swinging about on the ends.
Don't neglect weeding
One of the most boring yet garden jobs is a thorough weeding of your borders before weeds get a foothold. This is the only way to give your herbaceous perennials a head start without having to compete with uninvited weeds for the same light, moisture and nutrients in the soil.
Enrich the soil
Enrich the soil by incorporating products such as fertilisers, peat free compost, well-rotted manure or chicken manure pellets to fuel your flowers and foliage.
Find out how to make your own compost as part of an eco-friendly garden project.
6. Deadhead to prolong flowering
Cut back any faded winter/early-spring flowering stems on perennials such as Bergenia cordifolia and you may even get a late second flush. Dead heading generally is always worth keeping in mind as you walk around the garden, not just with roses but any blooms that you can see starting to fade, if you remove them before they go to seed, then usually the plant will produce more flowers in a desire to secure its continued existence.
7. Look out for pests – and do it sooner rather than later
Investigate for potential pests and diseases while you can still easily navigate around the plants in your borders; later in the year when they've all started to fill all the space it will be much more difficult to isolate problems with particular plants. Apply the relevant pesticide, fungicide or non-chemical remedy for the issues you find and, because you are hopefully catching them relatively early in the season, you stand a good chance of preventing them from spreading from one plant to another.
8. Keep the planting scheme dynamic
Gardens are constantly evolving. It's a good idea to keep an open mind and not let the planting become stagnant. Over the years, certain plants or shrubs will inevitably do better than others and before you know it they've taken over. Take a step back to consider what your garden is lacking – it might be in need of more variety in colour, shapes and textures, or it may be that introducing some aroma would help to refresh the surroundings.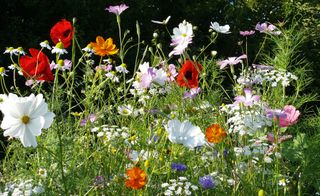 Introduce new plants
When you've worked out what qualities you need new plants to have, then you can explore the options at your local garden centre. Try not to be seduced by what you see flowering there and then. It might look great on that day but could have a very short flowering period and might just be a boring clump of leaves by the following weekend. Always check the labels so that you know its flowering period, what growing conditions it's suited to and its mature size and growth rate. It would be a waste of time to plant something compact in the middle of the border that will over time be completely obscured by taller specimens surrounding it.
Plan ahead for a natural garden effect
Once you have chosen which plants you want in a mixed border, a little planning will go long way. Flowering perennials are most effective in odd numbered groups of say three, five or seven, depending on how much space you have. If you also position different groups of perennials so that they weave into each other, this will result in a much more natural effect than just clumping all plants of the same variety together. Repeating planting groups in different combinations throughout the garden will help to unify the whole scheme, giving it more impact and re-enforcing the illusion that your garden is nature's creation.
Read more: