Self-isolating due to coronavirus? These are the best recipes you can make with tinned ingredients you probably already have at home – no need to go to the supermarket, which is a bonus right now. Don't worry about the lack of flavour or finesse because these meals come from a tin, you won't believe how good they taste.
Oh, and did we mention that all of these meals are healthy? Even more reason to explore.
Want more food tips and recipes? Head to our hub page.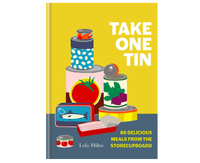 From Take One Tin: 80 delicious meals from the storecupboard by Lola Milne, Kyle Books |£9.72 at Amazon
These meals are from the wonderful recipe book by Lola Milne, Take One Tin. It's full of delicious ideas and ways to celebrate those store cupboard ingredients that are always knocking about but never take centre stage! Who knew tins could be so versatile?
1. Sweetcorn cakes with green chutney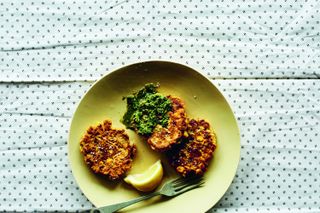 Ingredients for the chutney:
50g fresh coriander, leaves picked
20g fresh mint, leaves picked
1 garlic clove, roughly chopped
juice of 1/2 lemon
40g desiccated coconut
1 green chilli, finely chopped and seeds left in if you like spice
salt and freshly ground black pepper
Ingredients for the corn cakes:
2 x198g tins sweetcorn (drained and half roughly blitzed)
2 eggs
100g self-raising flour
2 teaspoons mild curry powder
1 small red onion, finely chopped
1 tablespoon flavourless oil (such as sunflower)
1 lemon, quartered (optional)
Method:
1. To make the chutney, put the coriander, mint, garlic, lemon juice, coconut and chilli with 2–3 tablespoons of water into a blender or food-processor. Blitz until smooth, adding more water if needed (the final consistency should be like pesto). Season and set aside.
2. To make the corn cakes, in a large bowl, mix all the sweetcorn, the eggs, flour, curry powder and onion, then season.
3. Heat the oil in a large frying pan, then dollop in a heaped tablespoon of mixture for each cake.
4. Flatten each slightly and fry for 3–4 minutes per side until golden and crisp; you may need to do this in batches. Set each batch aside on a plate lined with kitchen paper while you cook the rest.
5. Serve the cakes with the bright green chutney and garnish with a lemon wedge.
2. Vietnamese Crab cakes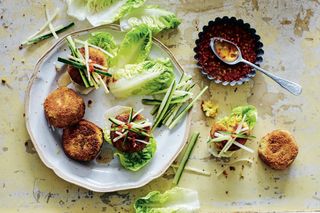 Ingredients for the crab cakes:
2 x 170g tins of lump crab meat, drained
2.5cm piece of fresh ginger, peeled and grated (about 1 and 1/2 tablespoons when grated)
1 red chilli, deseeded and finely chopped
1 garlic clove, finely chopped
15g dill, finely chopped
1 teaspoon ground turmeric
2 shallots, finely chopped
10 tablespoons dried breadcrumbs
2 eggs, beaten
1 tablespoon flavourless oil (such as sunflower)
Ingredients for the dressing:
4 teaspoons fish sauce
juice of 1 lime
4 teaspoons soft brown sugar
1 red chilli, deseeded and finely chopped
1 garlic clove, finely chopped
Method:
1. To make the crab cakes, mix the crab, ginger, chilli, garlic, dill, turmeric, shallots, 4 tablespoons of the breadcrumbs and half the beaten eggs in a bowl.
2. Shape into eight patties and stick in the fridge to firm up for at least 20 minutes.
3. To make the dressing, mix all the ingredients with 2 tablespoons of water, check the balance of sour, sweet and salty and adjust accordingly.
4. Just before frying, dip each cake in the remaining beaten egg and then into the remaining breadcrumbs to coat.
5. Heat the oil in a large frying pan over a medium heat and fry the cakes for 4 minutes per side until golden.
6. Serve alongside the dressing, for drizzling or dunking.
Tip: Try nestling a crab cake in a lettuce leaf with some finely sliced cucumber, then drizzle with the dressing.
3. Herby tuna & haricot bean salad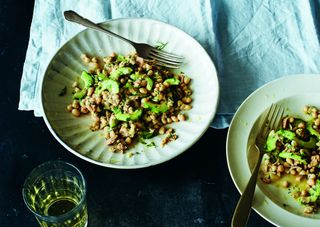 Ingredients:
1 teaspoon Dijon mustard
2 teaspoons vinegar (white wine or cider)
1 tablespoon olive oil
zest of 1 lemon
1 shallot, finely chopped
15g dill, leaves picked and finely chopped
160g tin tuna in olive oil, drained
410g tin haricot beans, drained and rinsed
1 small cucumber, deseeded and cut into half moons
salt and freshly ground black pepper
bread or toast, to serve
Method:
1. Start by making the dressing: whisk the mustard, vinegar and oil together. Season and then stir in the lemon zest, shallot and dill.
2. In a separate bowl, mix the tuna, beans and cucumber together, then pour over the dressing and toss lightly to combine.
3. This is best served with a slice of bread or toast to mop up all the juices.
4. Flageolet bean & artichoke gratin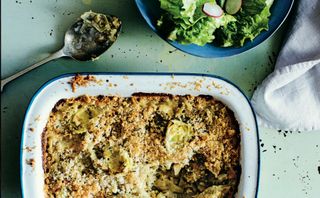 Ingredients:
25g butter
2 onions, chopped
3 garlic cloves, sliced
3 sprigs of rosemary, finely chopped
3 tinned anchovy fillets, drained and finely chopped
50g soft, fresh breadcrumbs
30g Parmesan cheese, grated
400g tin flageolet beans, drained and rinsed
400g tin artichoke hearts in water, drained, rinsed and torn in half
200ml double cream
salt and freshly ground black pepper
Method:
1. Preheat the oven to 180C/gas mark 6.
2. Melt the butter in a frying pan over a low-medium heat.
3. Once the butter is foaming, add the onions, garlic, rosemary and anchovy fillets. Turn to low and soften gently for 20–25 minutes until the onions are tender and turning golden.
4. Meanwhile, mix the breadcrumbs with the cheese and set aside.
5. Once the onions have softened, add the beans and artichoke hearts, season and heat through for 5–6 minutes, then add the cream.
6. Bring the mixture almost to the boil, then tip into a baking dish and top with the cheesy breadcrumbs.
7. Bake for 25–30 minutes until golden and bubbling.
8. Serve with a hunk of crusty bread and some salad.
Tip: Experiment with adding a pinch of chilli flakes when you're softening the onion.
5. Pear & prune cobbler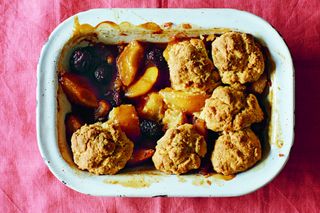 Ingredients:
3 x 411g tins pears in juice, drained and cut into quarters
290g tin prunes in juice (not drained)
6 pieces stem ginger in syrup, finely chopped
juice of 1 lemon
100g soft brown sugar
125g slightly salted cold butter, cut into small cubes
250g self-raising flour
50g almonds (or pecans or hazelnuts), roughly chopped
cream or ice cream, to serve
Method:
1. Preheat the oven to 170C / gas mark 5.
2. In a baking dish (roughly 1.5 litres in capacity) mix the pears, prunes (and their juice), stem ginger, lemon juice and 50g of the sugar. Bake in the oven for 10 minutes.
3. Meanwhile, to make the topping, in a large bowl, rub the butter into the flour until it resembles fine breadcrumbs.
4. Stir in the remaining sugar and the nuts.
5. Add 2–3 tablespoons cold water and using your hands bring together into a dough.
6. Remove the fruit from the oven.
7. Using your hands, roll the dough into small balls, then sit them on top of the fruit, leaving space in between each ball.
8. Return to the oven for 25–30 minutes until the topping is golden and puffed up and the fruit below is bubbling.
9. Tuck in straight away with scoops of ice cream or a river of cream.
Read more: