When you're choosing an entry door or patio door, not only do you want something that is structurally secure and good looking, but ideally it will be resilient and easy to maintain also. But which is better? We spoke to some experts in the building world to understand all the pros and cons when it comes to steel vs fiberglass doors.
Wooden entry doors are a classic and have been popular for years – for their sheer beauty and relatively good durability. However, they require pretty rigid maintenance to ensure they stand the test of time, which is why rival door slab materials like steel and fiberglass have become increasingly popular in recent years. From style to strength, cost, energy efficiency and more, it's key to consider all the options to find which of these two types of doors will be best for your home.
Steel vs. fiberglass doors: security and strength
Steel is simply stronger than fiberglass which can crack. Hit with force, steel will dent but it won't break or warp and it is the more secure option. Steel also offers more security with bad weather, being more resilient than fiberglass or wood for that matter. So knowing how to fix a hole in a door won't be essential with steel.
Stephanie Khouri of SM Door Automatic & Hardware, 'Unmatched security is associated with steel doors, and they can last a lifetime; however, failing to repair scratches may lead to rust.'
Steel vs Fiberglass doors: looks
'The front door of your house is the doorway to your home for more than one reason. It creates the tone for the rest of the house because it's often the first thing visitors notice after the color of your house," notes James Kalim, founder and CEO at Only Silent.
That said, steel is very attractive and can fit into most modern and even period home aesthetics. However, fiberglass doors are the more attractive option as they are widely available in an array of styles and colors, and mimic the look of wood. Fiberglass doors can also be painted so are customizable with grooves and so on. But, this also makes fiberglass doors the more expensive option.
Khouri adds, 'Fiberglass doors consist of composite materials within a fiberglass panel that resembles wood and are available in various design options, including size, glass inserts, and finishes. They are known for being beautiful, and their smooth finishes can either be painted or stained in different colors. Steel doors are designed at different gauge levels to designate a performance level and impact the lifespan. Covering the door and frame is epoxy-coated galvanized steel with a baked enamel finish painted in a color of choice. Steel doors are appealing no matter the style, from modern to traditional.'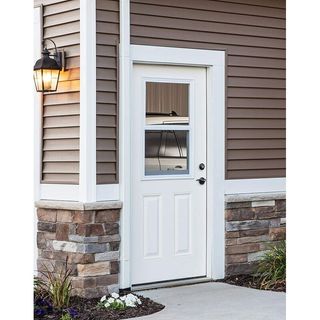 Steel vs. fiberglass doors: costs
Fiberglass doors tend to be more costly and can set you anything from $3000 – $5000, depending on the quality and any customization. 'Since fiberglass doors are available in many options, they may tend to cost more when customizing,' adds Khouri.
Steel doors will set you back around $1300 more or less, but it depends on the size and weight of the door.
Tylor Pemberton, general manager for LockTight Impact Windows and Doors Inc. adds 'The pros of a steel door are essentially the price point and lead time. You can usually find these in stock at Home Depot at a reasonable price, these are very popular with DIYers or handymen.' Pemberton mentions, however, that some steel doors can come with a shorter warranty compared to fiberglass entry or patio doors.
Steel vs. fiberglass doors: maintenance
When it comes to maintenance, fiberglass requires little to none, unless you decide to change the paint color at some point. Steel however can rust so it won't last as long or stay as good looking as a fiberglass entry door, especially if you don't tend to it and remove rust that often.
Steel vs. fiberglass doors: energy efficiency
Steel doors are solid energy savers especially if fitted with wooden frames. As fiberglass doors are built with composite materials, their energy-efficient core can lower bills also.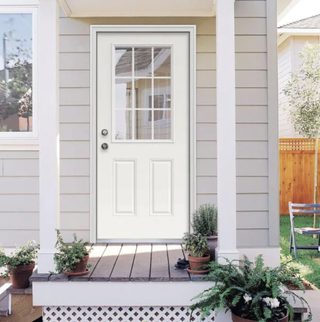 What is better, a steel or fiberglass door?
'As a business owner, the best exterior door would be fiberglass. Fiberglass is similar to steel, except it is lighter, rust-free, and less likely to split,' says Kalim. 'Steel gets easily rusted and it is heavy. Fiberglass has two primary disadvantages: it is more costly and can break when subjected to a lot of force. The latter, however, should be avoided with good maintenance and vigilance. Fiberglass's pros are it can be painted with your chosen color, and since it is light-weight it does not produce annoying sound when you use it. On the other hand, steel doors' advantages are less maintenance and are resilient to extreme weather elements.'
Adds Khouri, 'Also known for their longevity, fiberglass doors resist denting and scratching and do not rot, rust, or deteriorate. With an energy-efficient core, they can lower heating and cooling costs. Steel can suit all styles plus, 'they have impressive energy efficiency, which includes insulation held by wood frames. They even tend to be less expensive than fiberglass doors.'
Pemberton says, 'Today there are many material options to choose from when picking out a door. Vinyl, Aluminum, Fiberglass, and Steel. We find that when a customer is choosing between a Fiberglass and steel door, most often the Fiberglass door makes the most sense.' The cons of steel can include a shorter warranty and depending on the door you buy, some can be less aesthetically pleasing or energy efficient as others. Whereas, 'Many fiberglass doors offer a lifetime warranty, are extremely durable, energy-star rated, and are much more aesthetically pleasing.' Pemberton mentions also that the cons of fiberglass include their much higher price point and that when custom made, this can result in longer lead times.
It's ultimately down to you to decide depending on your needs and budget.
The best places to shop steel and fiberglass doors