Life on the road must be so liberating. I say this as someone who loves travel but long-term, admittedly, fantasizes more at the thought of a tiny apartment to myself than a totally nomadic life. I'm sure other city dwellers can relate. The connecting factor, however, is that both small space living situations bring organizational challenges.
Staying organized shouldn't be rocket science, but there is no one rule that suits every space or every person. And no matter how much square footage you're working with, staying on top of your things can feel next-level difficult.
In my eyes, the only difference between keeping a large and small space organized is that in a bigger home, you have less pressure to get it perfect. If one sock or lip liner is out of place, it's less likely to interrupt your groove, or as my roommate calls her tiny bedroom space, your "eco-system."
Said roommate has the tiny box room in our home, and I admire how well she keeps it in place, to the point where stepping inside feels like a breath of fresh air compared to other rooms in the house, which are bigger by comparison. Practice makes perfect after all, and to help nail organization in all kinds of awkward spaces, who better to ask than those who do it well in every single part of their home?
"Living in a tiny house on wheels can be a freedom like none other, but to make this lifestyle work it takes some creative thinking," says Caleb Brackney of @roamerbus, who swapped out a large apartment for a 220-square-foot school bus he bought on Facebook Marketplace. "This downsize exercise turned out to be a fulfilling experience, but only because I was determined to find unique ways to store each of the tools I used daily."
Similarly, Lindsey White of The Sunny Diaries is enjoying a different way of life and now living a (very cute) bus life traveling up the west coast with her family.
Here is what they recommend for keeping tiny surroundings organized and fulfilling.
1. Be honest about your organizational needs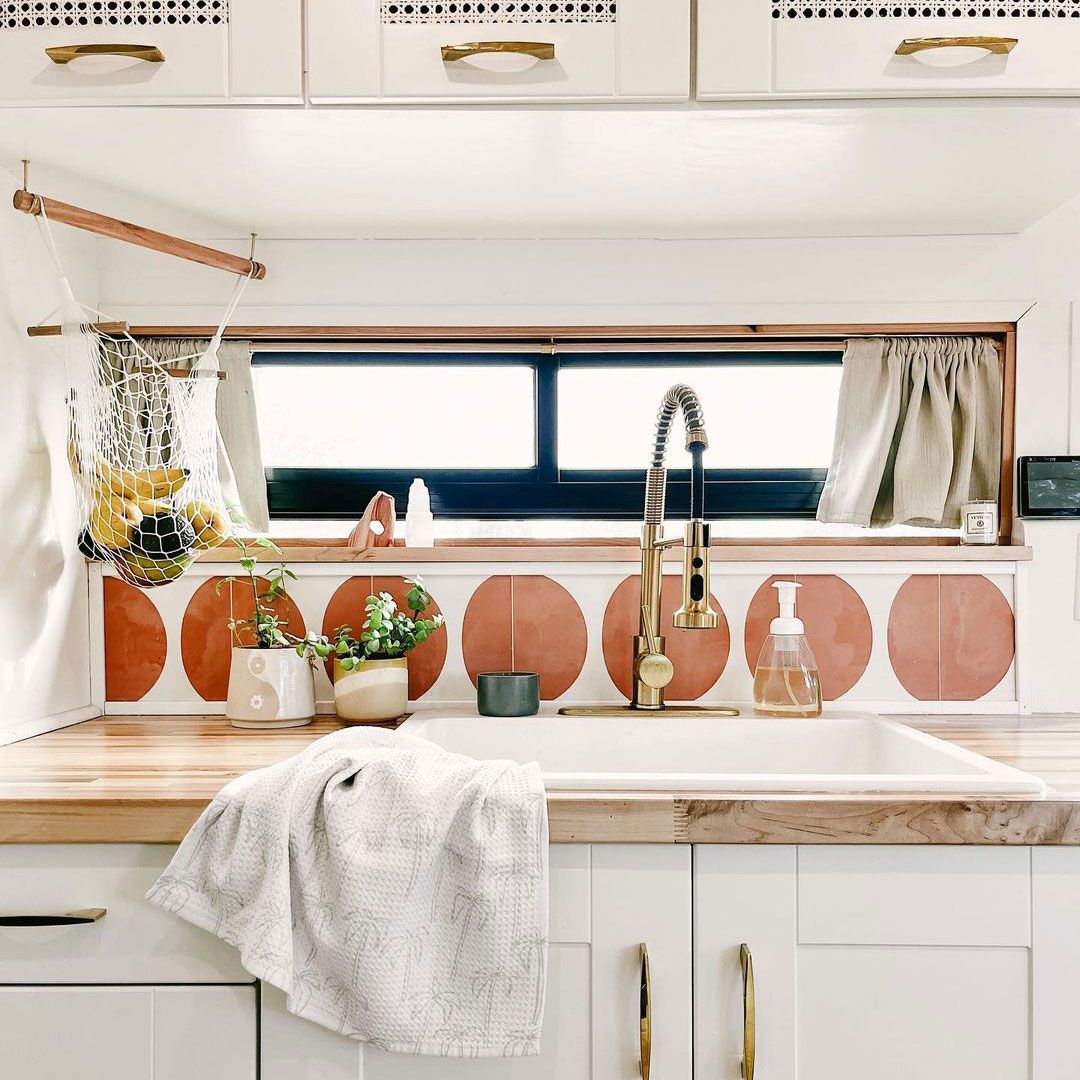 "I think one of the first steps is to go through all the items you're trying to organize and really think about what you need and don't need," shares White. "It's a lot easier to stay organized with less to keep track of in the first place."
2. Organize by area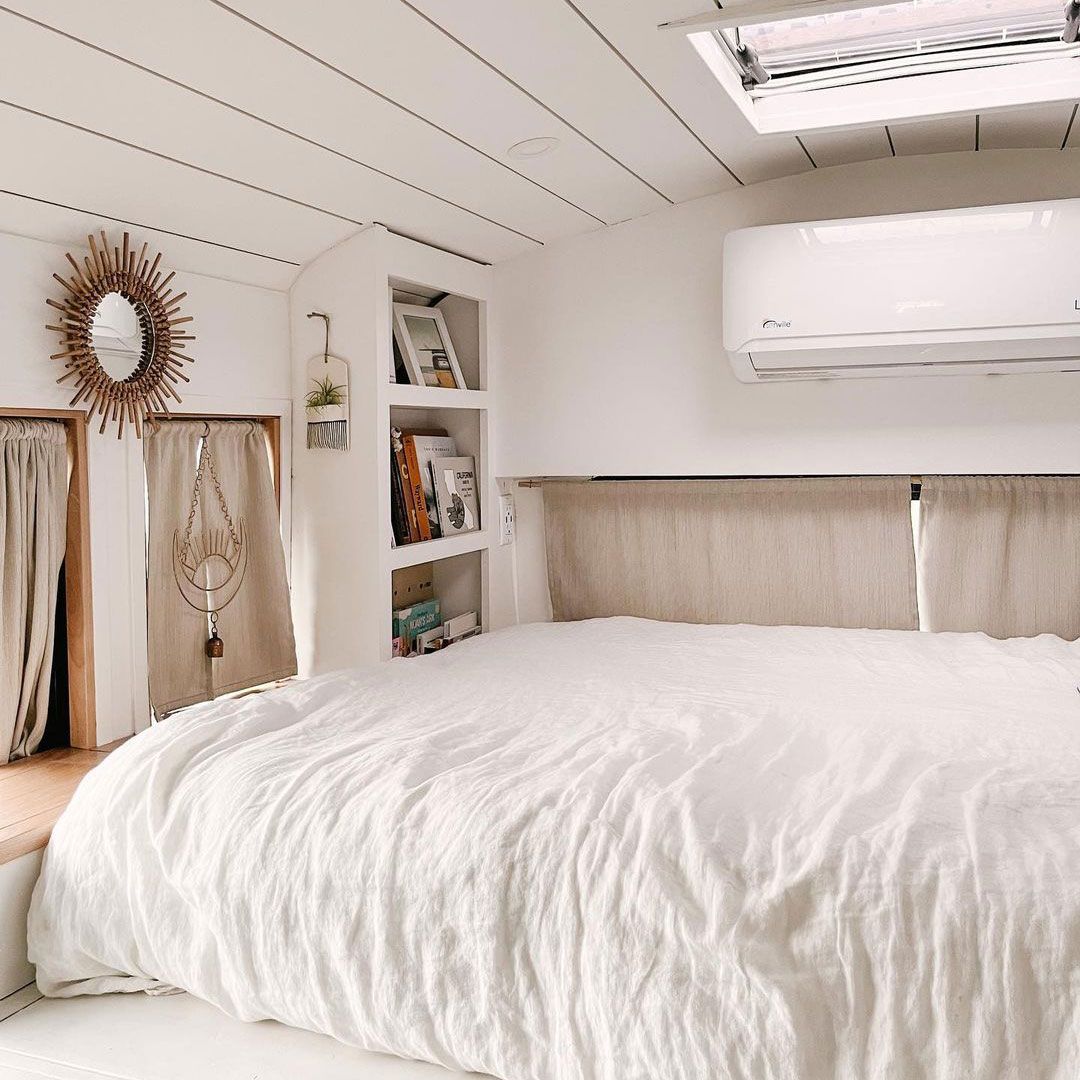 White shares that tackling each space at a time helped them to get better organized, noting that it's then easier to see what organizers you need, like baskets, containers, drawer organizers, etc. "For us, we need to organize and maximize every area so they're all set up specifically for our wants and needs," says White.
3. Think outside the box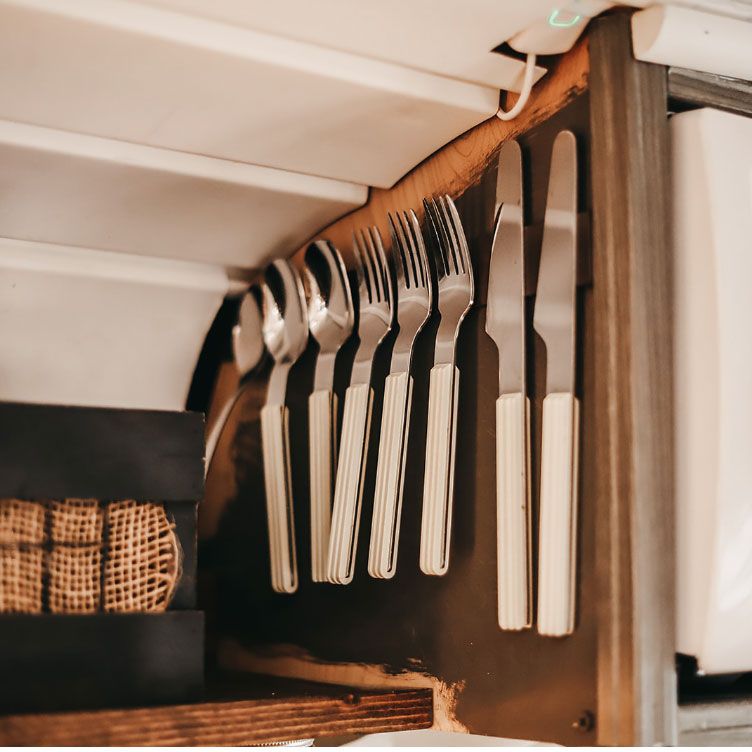 Brackney admits that some areas are harder to get into shape than others, but that perseverance and creativity pay off most of the time. "From silverware to dry goods, limited storage in the kitchen was the most difficult to adjust to, so I found myself scouring Pinterest and Instagram to find ways to make the most out of every square inch."
Sometimes, a plain organizer won't cut it which might leave you feeling a little lost. But, where there's a problem, look hard enough and you will find a solution that works for your space: "My favorite two organization hacks were using magnets to store metal utensils and screwing the lids of mason jars into the underside of shelving to hang glass jars from — turning an empty space into valuable real estate," says Brackney.
4. Be your own cheerleader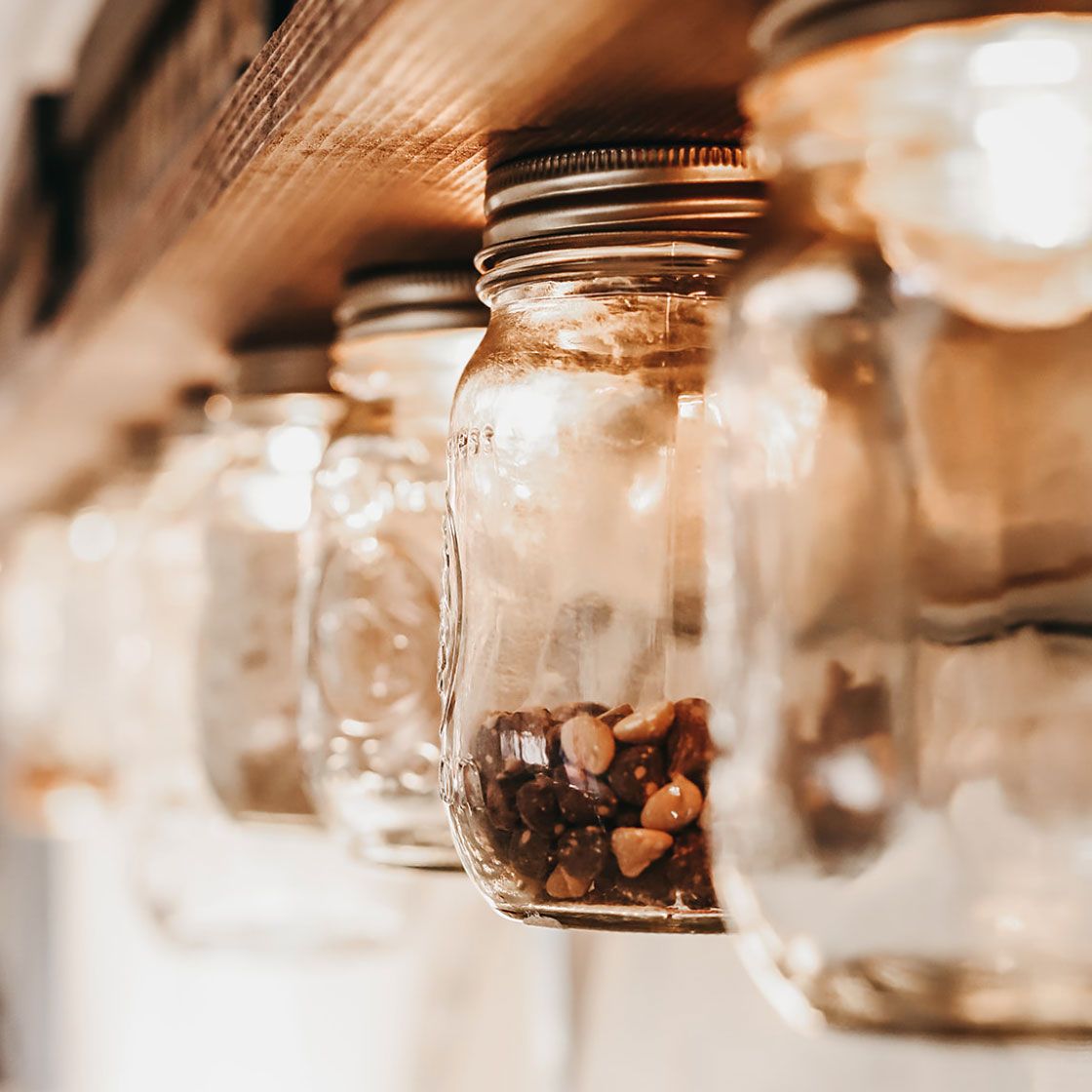 Encouragement can go a long way, and if you're tackling your tiny space and organizational system solo, remember to give yourself credit for trying new things because you never know where even the smallest success will take you next.
Brackney highlights how implementing just a couple of fresh organizational hacks into the space gave him new ideas. In particular, how to add more lighting into the space without compromising on space that could be used for other items.
"After some discussion with my brother, who was helping me with hanging the mason jars, we thought about dropping outdoor string lights into the jars and running the wire from the top — drilling a hole through the shelf and screwing the light bulb in from underneath," says Brackney. "The result was stunning! Instantly, wasted space became the frame of one of my favorite features in the entire bus, and it would never have happened if we didn't pause for a moment and think outside the box." It was that instance of confidence that encouraged him to continue experimenting.
5. Use every single nook and cranny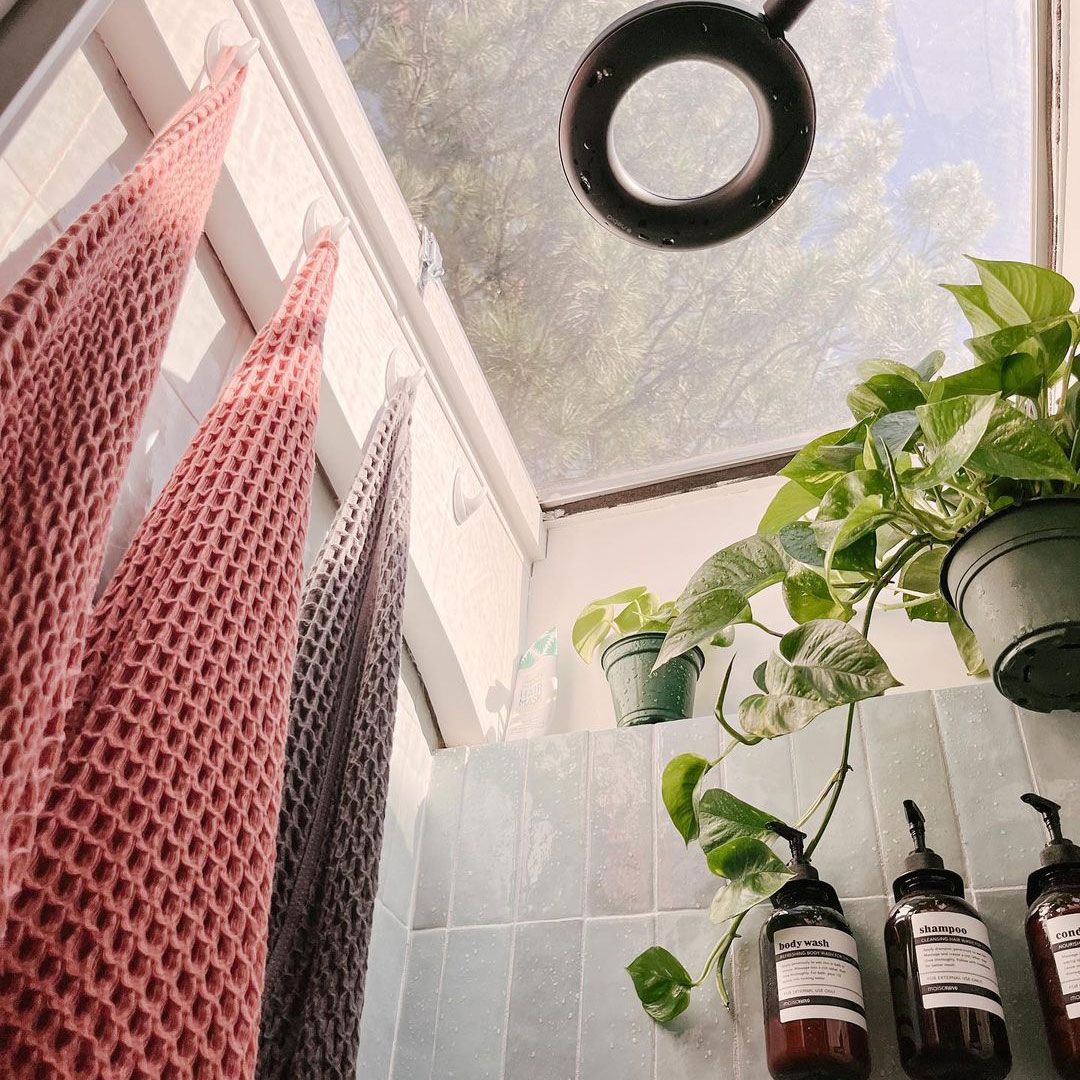 Making every space work hard isn't a surprising theme here, but since Marie Kondo introduced us to consciously giving items "homes," I'm sure that I'm not the only one who thinks back to this clever concept time and time again. White rates this system also, especially when space is at a premium, noting how absolutely any small nook and cranny should be put to use for something.
"It seems small, but when you have a space for everything already planned then it's much easier to stay organized," says White. "And if you're building out a tiny home, bus, or van and there's any free space in between walls or anything else utilize that and make it into a little cubby or shelf. In our bathroom, we built shelves into the wall instead of sealing it off with a solid wall. And on top of our water tank, we had four inches of space between that and our bed, so we sealed that off with fabric and made room for a few extra items."
6. Find your own folding methods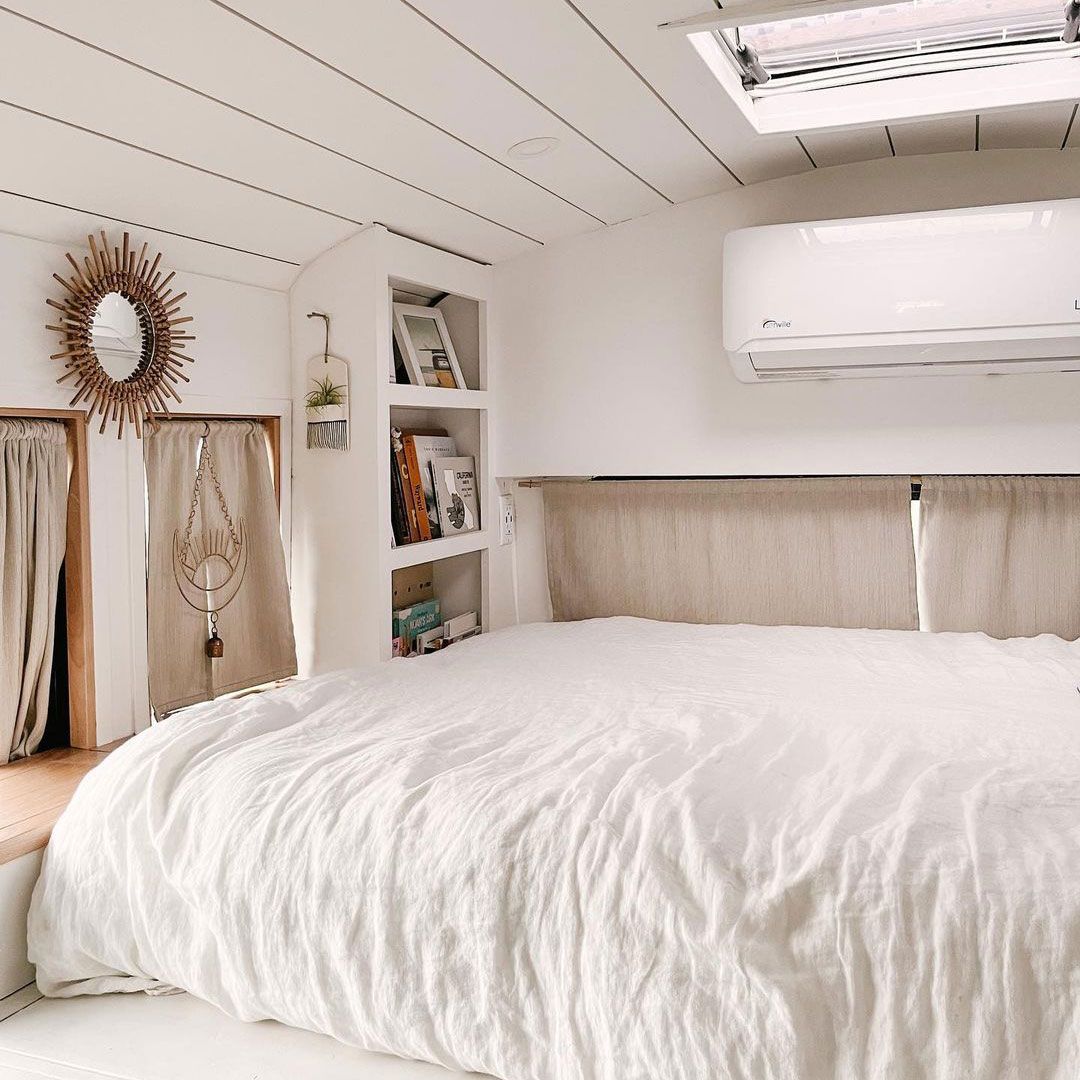 On the subject of Marie Kondo, White shares that sorting out clothes was initially the biggest organizational challenge they faced but that a couple of closet organizers, including drawer spacers, were beneficial.
"Playing around with how you fold your items can also help, we watched a lot of Marie Kondo and followed a few of her ideas for T-shirt folding and things like that to maximize the kids' clothing storage," says White. Try different techniques and the one that works best for you will stick in time.
7. Be a label lover
Embrace the Monica in you and be into labels. White claims it's one of the best organizational methods they took on to help keep on top of the kids' toys and more.
White shares how label makers become your best friend when you're getting organized. This Niimbot Label Maker Machine Tape is a cute pick from Amazon. "We only get one or two bags out at a time and when it's time to clean up we just put them back in the bag and under the couch. Easy clean up and easy storage."
8. Keep editing along the way
Think about getting organized as a lifestyle change rather than something you put effort into doing properly only in January. "We've learned that it's a constant process," shares White. "It's easy for things to get messy over time so staying on top of everything and re-organizing areas is key. It's much more manageable when you focus on smaller areas at a time. If a few drawers are getting out of hand, go through them periodically instead of waiting for everything to get messy and feeling overwhelmed with it all."
So even if you start small with just a label maker and some baskets, know that you're headed in the right direction.
Brackney adds how he continues to learn and find inspiration to better his organizational game. "The biggest advice I have for others trying to find organization hacks or advice for living in a small space is to not stop after finding cool ideas on the internet that other people tried, but to put your own twist on them and make it your own," he says. "This not only will make you prouder of your solution, but it will give you the confidence to keep brainstorming and find other ways to make your space seem more personal, useful, and fulfilling."
It's clear that building on your surroundings with storage in mind is ideal. Both White and Brackney's homes include custom-made storage as they built out their own spaces almost from scratch, and it clearly makes a difference. It's not an option for everyone, but food for thought when it comes to maxing out your tiny home's (organized) horizon.