Smart lighting is one of the most satisfying and easy to implement of smart home gadgets to install in your home. It allows you to control the brightness and colour of your lighting all around your home through your voice.
Philips Hue is one of the market leading systems you can use for smart lighting, while Amazon's Alexa voice assistant – the one you'll find in Amazon Echo and some other third-party speakers – helps it be an easy way to control your lights.
Below TechRadar's James Peckham talks you through what you need to install Philips Hue lighting in your home, how to control it and what you else you can do when you've paired your lights with Amazon Alexa.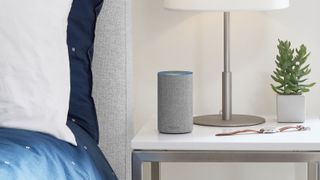 What is Philips Hue and how does it work?
Philips has a range of lighting products under the Philips Hue banner, all of which can be controlled through an app on your phone or with your voice through a smart speaker.
It means you can change the colour of your lighting, how bright it is or just turn your lights on or off without having to use a traditional switch on your wall.
The Philips Hue range is now quite expansive, and you won't need to buy specific fittings to be able to use it. Philips Hue comes in a variety of bulb types so it'll work in your ceiling sockets, freestanding lamps – and some products come as a fully formed light.
You can pick and choose the products you want to add to your Philips Hue lighting collection, but what you'll need to get started is a product called the Hue Bridge.
This is the hub for the whole lighting system – it can be bought separately or if you decide to buy a Philips Hue Starter Kit, you'll get one alongside your first selection of bulbs. You'll have to think about what areas in your home you want to have smart lighting and what type of lighting you'll want – you can see the whole range from Philips here.
How to set up Philips Hue with Amazon Alexa
All the major smart speakers support Philips Hue, but this guide is specifically for how it works with Alexa.
You'll need to grab your phone or tablet (that needs to have Android 5 or iOS 9 software onboard) and get the Amazon Alexa app ready. We expect you've already used it to set up your smart speaker, plus you'll find it helpful to be near your smart speaker, too.
When you're within the Amazon Alexa app on your phone, you'll then be able to open the main menu by pressing the three horizontal lines in the top left corner. You'll then find a section called 'Skills'. These are the apps you can use your Amazon Alexa with, and in here you'll want to search for the word 'Hue'.
Once you've found it, you'll find a button called Enable that's in blue at the top and you'll want to tap on this. Then you'll need to add your details for your My Hue account, or setup an account from this section.
This is the service from Philips that allows you to register and control products, and you'll have to have this to proceed. Once you've signed up, head back to the Amazon Alexa app where you'll be asked to sign in. You've now enabled the skill and connected your accounts.
Once all your smart lighting is set up in your home, you'll be able to use Alexa to control it.
How to use Philips Hue with Amazon Alexa
You'll have to set up your Philips Hue lights with the instructions that come in the box, and then you'll be all set to use them alongside your Amazon Echo speaker. There are so many possibilities here too.
As with most Alexa skills, you just have to say the name to wake your smart speaker. From there you can then ask a request, and we'd say the first one you should try is 'Alexa, turn on my lights'.
That'll turn on all the lights in your home to full power. Depending on whether you have white or colour bulbs, you'll be able to change a variety of different settings.
Some bulbs from Philips are just for white lighting, but others have over 30 million colours, meaning you can set the lighting to a variety of different shades. If you ask it to go red, it'll be able to do that but you can also set up your favourite colours in the app, too.
When you're first setting up your Philips Hue lighting, you'll be able to set up rooms.
If you're planning to set up lighting all around your home, we'd recommend doing it within the app. Then you can ask 'Alexa, turn my kitchen lights on and the colour green'.
This is one of the most useful features as you don't have to ask Alexa to control specific devices. If you want to turn the lighting in your bedroom down before you go to sleep, you can say 'Alexa, turn bedroom lights to 25 per cent' and it'll sink down to a lower brightness.
This makes it easy if you've got two or more lights set up in one room. If you've just got one light in a room (or even just overall) you can say the name of the light or just refer to it as 'my lights'.
One tip we have when you're changing the tone of your lighting is to refer to it as either warmer or cooler. Alexa understands that language best when you're trying to get a more relaxing shade of light in your home.
As much as it's useful to say 'turn my lights to blue', you won't always get the perfect shade the first time. We find it useful to set up colours within the Philips Hue app, and then you can ask Alexa to turn your lights to that colour.
For example, name it 'evening living room lighting' and that's all you'll have to ask Alexa for when you want that exact set-up again.
Philips Hue lighting already works fantastically well with Alexa, and the two companies are constantly improving the service so you can expect to discover more and more features in the future too, with extra updates landing all the time.
Read more: