With the best lawn mower, having the lush green garden of your dreams is made instantly easier. As spring starts to bloom, you're probably thinking ahead to the essential lawn care duties you need to carry out, which will likely include cutting little and often to promote the health of your lovely green grass.
Armed with one of these spectacular lawn mower picks, including some robot mowers that take the task entirely out of your hands, keeping up with mowing will be a total breeze. That's especially if you opt for models with helpful features built in, like ergonomic handles and lightweight designs, so that you can concentrate on the trickier stuff, like cutting your lawn to the perfect height.
If you want your garden to be a greener space in more ways than one, then opting for an eco-friendly electric mower can do great things for your outside space, plus it will mean there's no chance of tripping over wires whilst mowing. It's always best to consider the battery life of each of these mowers if you're going cordless, just to make sure you don't get caught in the middle of creating your lawn stripes.
Also on the list of criteria to tick off is a price tag that can fit within your budget, with this guide featuring capable mowers at affordable prices. We've also included in-depth buying advice at the end of this guide, to help you through the more technical features before you hand your cash over.
If you're looking for something suitable for your smaller garden, then head over to our pick of the best small lawn mowers. First though, see the best lawn mowers as ranked by our reviewers.
The best lawn mower
Why you can trust Real Homes Our expert reviewers spend hours testing and comparing products and services so you can choose the best for you. Find out more about how we test.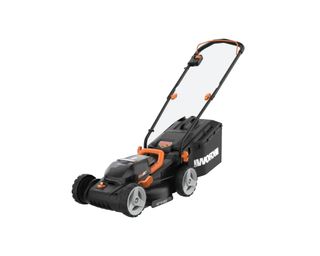 If you have a medium, or perhaps even a larger plot, little space to store a big mower, and just want something that will do a quick and easy job every weekend, then read our Worx 40V Cordless Lawn mower review to discover why this pick is perfect for you.
Great battery life
The impressive double battery on this mower makes it suitable for lawn sizes that are normally just too big for cordless mowers. It packs power and won't run out of battery too soon for a larger plot. And, you can buy spare batteries so you always have extra on supply.
Easy and safe to use
The mower is easy to start up – just attach the grass box, insert batteries, and you're good to go. The safety key means children won't be able to turn it on accidentally. The mower is easy to push and turn thanks to the good-sized wheels. Height adjustment is no problem thanks to the side lever and you can fold the handle down for easy storage after use.
Confusing instructions
It's a good thing that the mower is so easy to set up – because the instructions make it look harder than it is. The picture led guide does not help much, but luckily the set-up is fairly self-explanatory.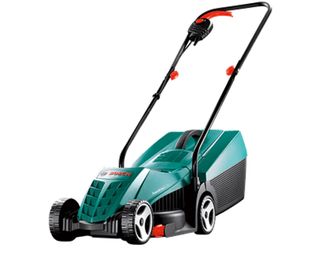 If you're after a good all-rounder and your lawn is an average size (ie: not a massive expanse of meadow), then this Bosch Rotak 32 is for you.
Ease of movement
This lawn mower is easy to manoeuvre thanks to its lightweight 6.8kg design and a grass comb that allows you to cut effortlessly along walls, flower beds and lawn edges.
Ease of emptying
The grass collection bin can fill up pretty quickly, but, it's easy to empty, and you should only need to empty it once or twice for a small to medium garden.
Great for tall grass
You can use this mower on tall grass too, so it's not a problem if you've let the lawn grow for a few weeks. This is due to its hardened steel blade and powerful 1200W motor.
Find more electric lawn mowers in our guide.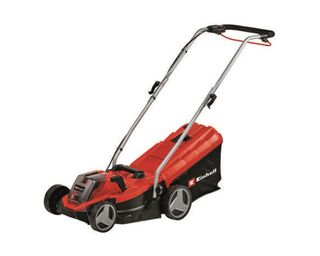 When it comes to ease of use, this cordless model from Einhell scores high. Featuring a brushless motor, this pick is ideal for gardens up to 200m². Plus, because of its smart design, it can be stored away neatly.
Have it your way
Thanks to the ingenious central cutting height adjustment, you can choose from five different levels to mow at. Oh, and did we mention the handle? It's height-adjustable too, offering three settings and the utmost convenience. A truly customised cutting experience.
Kind on grass
No one likes a patchy garden. Thankfully, this has a lawn-friendly running surface, warding off uneven spots and is fitted with wide wheels. It also has a filling level indication, so you can keep track of the grass box.
Wear and tear
Perhaps the most used item in your shed, a lawn mower goes through a lot. For that reason, you'll want something robust and made to last. With blow-tough, premium plastic housing, this option should do nicely.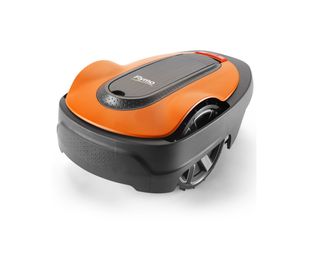 Not sure about robot mowers? The Flymo EasyLife 200 will convert you, we promise, with wonderful features and intuitive controls, as we delve into in our Flymo EasiLife 200 robotic lawn mower review.
Ease of movement
When it comes to movement, it couldn't get any easier than using this little beauty. It's a robotic model so it moves all on its own. Simply turn it on and it goes off cutting the lawn before returning to its charging station when it needs a power boost.
Smart features
This clever mower will adapt to different weather conditions, so it can tackle even wet grass. It will also adapt its cutting schedule according to how fast your lawn regrows. Now that's smart. Oh, and it will tackle sloped of up to 35 per cent.
Ease of emptying
There's no bin to empty as the grass cuttings produced are so small that they simply disappear back into the lawn, acting as a natural fertiliser.
Great even for irregular-shaped lawns
Simply bury the boundary wires (provided) around the perimeter of your lawn.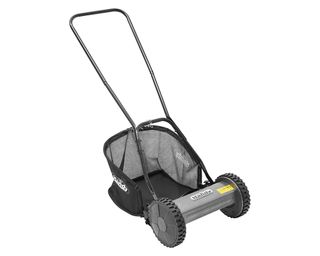 If you like the idea of something that uses no fuel and is nice and quiet, get the Handy Hand push mower. It doesn't use any electricity or petrol – you just need elbow grease to get the job done.
Lightweight
While it's certainly lightweight and can easily be lifted up with one hand, mowing the lawn is definitely harder without the benefit of electric power. This is fine if you only have a small lawn to deal with but it's not advised for use on large gardens. We rate it super highly thanks to its eco credentials though.
Ease of emptying
It is easy to empty, but the grass collector falls off a fair bit, which can be annoying.
Scissor-like blade
The five-bladed cutting cylinder has an adjustable cutting height from 17cm to 43cm. The cutting mechanism is scissor-like rather than rotary – very gentle, which makes this the perfect model if you grow fine grass in your garden. It might take a bit more work, but the results are brilliant.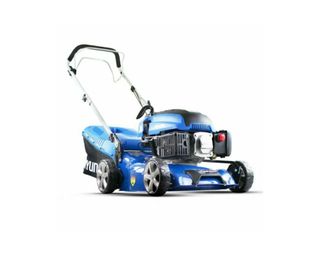 Our top pick for larger gardens is petrol run, but is OHV 4-stroke Euro 2 low emission compliant, and is extremely economical to run.
Smooth operation
The ignition on this is super easy, with just a push of a button. No ignition keys, although you have the recoil option as a backup. It's a self-propelled model, allowing for easy gliding without unnecessary stopping and starting.
Large grass collector
The impressive 45-litre grass collector on this machine means you'll be spending less time emptying the collector and can mow your lawn quite a few times before needing to do anything else.
Long-lasting
Made from high-quality components, this lawn mower will last you a long time. An advanced safety mechanism means that the mower won't run when your hand is not on the handle.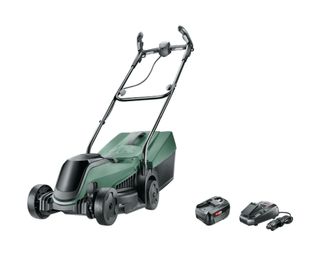 If you want a mower that is small, mobile and easy to store – all while being powerful enough for rough grass – the Bosch CityMower is for you.
Perfect for small spaces
The name is apt, as while this mower might be outweighed in a large rural garden, it is perfect for a small urban plot with a simple lawn up to around 300m2. It has ample grass box capacity, battery life and cutting width to make light work of the job.
A quiet cordless for city gardens
This model is nice and quiet, so if you have lots of neighbours, your mowing habits won't bother them. And by mowing habits, we mean regular chops that are made easy with a light and quick to start cordless like this. It is great for keeping on top of a small lawn and will encourage you to mow more often – which is great for lawn health.
More power than you'd think
Our reviewer felt that the sturdiness of some parts had been sacrificed to keep it lightweight. While nothing broke, she did think some elements of the mower were a little too light and flimsy. That said, while it might be lightweight, it still packs enough power for the job. The battery easily did 25 minutes and it is part of the Power For All Alliance so the battery can be shared with other Bosch power tools.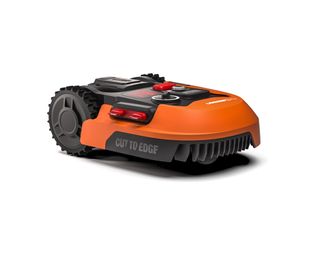 We all know how a robot mower will save you time and effort, but what we love about the Worx Landroid M500 is that it has a great app with loads of handy features.
App control
The Landroid will build its own cutting schedules for max cutting optimisation, or do as it is told. They are always adding new features too, from party mode for keeping it out of the way when you have people in the garden, to the very cute 'save the hedgehogs' setting that stops it from interrupting spiky garden visitors (and other wildlife) at night.
Regular mows for big lawns
The Worx Landroid M500 will get your lawn in top condition by doing regular mows. As it can handle a lawn of up to 500m2 it is a real time save for busy families who just want to enjoy the summer and not spend ages on grass maintenance. By cutting little and often, it improves the quality of your lawn by dispersing the clippings back into the soil below – something that would need regular cutting if done manually.
Easy to use once set up
Our reviewer found set up was a little tricky. The instructions were a bit hard to digest in places and if the boundary wire was not really tight, the mower would cut through. After proper set up, the mower is so easy to use. You can press and go at the charging unit, or use schedules on the app, or let it work to its own schedule. There are rain sensors so it won't cut a soggy lawn and it returns to its base when it runs low on juice. So, all in all, worth the set up hassle.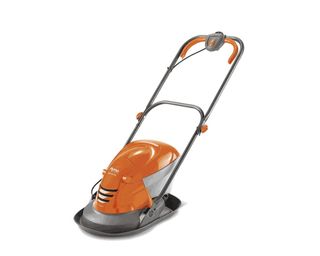 As it's only 8.8kg, this design is super-light, which means it's easy to move around and to store, too.
Ease of movement
For those who have a small to medium-sized lawn, the Flymo Hover Vac is a great choice, as it's so light that it simply glides over the grass with minimum effort. As it folds down, so won't take up much room.
Ease of emptying
The collector is quite small compared to other lawn mowers, which means you will need to empty it quite a few times during a grass cutting session. It's easy to empty as the lid simply flips off and it compacts the grass as it mows.
Short cable
It's easy to push so long as your lawn is fairly flat, but you may need an extension lead if your lawn is medium sized or bigger.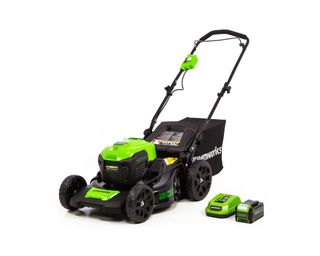 Bigger and weightier than our other cordless options, the Greenworks cordless is a fab mower for those with lots of garden and space to store it's bulkier frame.
Ease of Movement
This smart Greenworks cordless lawn mower does away with the need for cumbersome cables and extension leads – simply pop the easy fit battery in and it works just like a cordless drill. That said, as it is heavier than some of the other models on our list (4kg heavier than the Worx), we think it is best suited to people with plenty of storage space to just wheel it in and out.
Ease of emptying
It's super easy to empty with a removable rear bag that holds a whopping 50 litres, and you can also remove the grass bin entirely if you want to mulch instead. If you have lots of lawn – or separate lawns around the property – the Greenworks cordless lawn mower will make the job much quicker.
Good for all grass lengths
There are five different cutting heights, from 2.5cm to 8cm, and a slight slope on the lawn is no problem.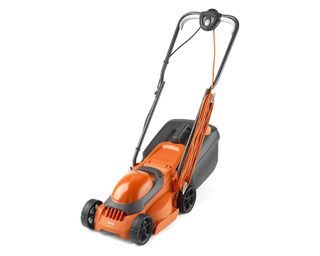 If you need a new lawn mower but are on a budget of £100, then this is the option for you, and for your garden so long as it's not a very large space. This corded electric lawn mower from Flymo boasts everything you need to simply just trim your grass, plus it folds away after use so that you can easily slot it in an empty corner of your shed or garage, ready for its next use.
Close edge cutting
This lawn mower, though affordable, can give a tidy finish thanks to its close edge cutting. It can trim around flowerbeds, paths and borders so that you needn't get your trimmer out afterwards. It even has a rear roller to keep it stable when cutting over edges, to ensure no scalping. It offers a cutting width of 30cm cutting width and an adjustable cutting height between 20mm - 60mm.
30L grass box
With a built-in grass box to capture cut grass, depending on the size of your lawn you should be able to get one or two uses out of your mower before you need to empty this box. Not to mention that it boasts an integrated roller in its great to perfect your grass lines.
Operation
Though corded, this lawn mower does have a generous 10m cable for flexibility, plus it has dual lever handles for comfortable use during long periods. You can also operate it using both hands, and according to reviewers, it's more than easy to maneuver.
---
How we chose these lawn mowers
We've had hands-on experience with many of these lawn mowers within our own homes, tending to our own lawns with them to establish just how good they are and putting them through their paces for an extended period of time to see the real results. For those mowers that we haven't been able to test, we've used a careful set of criteria to make sure we're delivering the best options to you. That includes making sure that reviews from customers are satisfied, to get the opinion of those who have them in their homes, as well as studying specs and features to make sure we've covered all of the necessary bases.
What to consider when choosing a lawn mower
Lawn mower types
Choosing the right lawn mower will be dictated by everything from budget to what kind of garden you have. It is amazing how much power sockets have an impact too, so if you can't reach a plug, your options will be narrowed to petrol, cordless and manual mowers.
Read through the sections below to see all of the choices you need to make, but first, here is a quick summary of the different types of mower we have listed in this guide:
Electric mowers: this includes all mowers powered by electricity. They can be corded (the cheapest option) or cordless battery powered, including robot options.
Petrol mowers: the earliest cordless mowers were in fact petrol. They use petrol for power and mean you don't have to worry about plug sockets.
Cordless mowers: modern cordless mowers tend to be battery powered with rechargeable lithium ion batteries of 18–20 volts. Some will use more than one battery at once to extend battery life and power.
Robotic lawn mowers: the tech has come on to make these a great option for those with the budget but little time. Most use a boundary wire to keep them cutting in a set area, but there are more expensive models that are wire free and just need a base and an app-created map of your lawn.
Manual push mowers: the simplest type of mower to use, but they do require a little more effort on your part. We love them because they need no fuel so are quiet and eco-friendly – but they are better suited to smaller spaces.
Cylinder, hover or rotary?
Different types of lawn mowers cut the grass in different ways, with some being more effective than others. A cylinder mower uses a rotary blade to scissor the grass, which works pretty well on small areas, but as soon as it rains, you'll find it tougher to cut the grass with this type of lawn mower. Hover mowers are a little more robust and can cut their way through uneven patches of grass with ease. Rotary models are the most commonly purchased type of lawn mower, mostly because they feature one blade that can deal with long grass and uneven lawns, however, they're not amazing at giving that landscaped look.
Consider the cutting width of your lawn mower
The size of your garden will determine which type of lawn mower is most suitable. It's important to take into account the cutting width of the mower blades, as the wider the blade, the less time it will take to finish the lawn. Ultimately if you have a larger lawn it would benefit from a mower with a larger cutting width, such as 40 or 43cm, to make the job quicker and easier.
Consider the size of the lawn mower's blade
The blade size is also known as the cutting width of your mower. Choosing the correct cutting width will allow you to mow your lawn efficiently and move your mower around easily. As a general rule, choose the cutting width as follows:
A lawn of less than 50 square metres needs a blade width of between 30 and 34 centimetres
A lawn of between 50 and 150 square metres needs a cutting width of between 35 and 40 centimetres
A larger lawn of over 150 square metres will need a cutting width of at least 40 centimetres.
Corded or cordless?
Choosing between corded or cordless lawn mowers is dependent on your garden size: if you don't have easy access to a mains power supply, cordless is the best option, a battery-powered lawn mower, which will give you freedom from power cables and allow you to roam across the lawn, while having as much power as a corded option. A lithium ion battery can provide enough power to last for up to 90 minutes, and in most cases will take an hour to charge.
The downside to a cordless lawn mower? They may not quite have the power needed to tackle really long grass.
We have both corded and cordless models in our buyer's guide to the best electric lawn mowers.
Consider size and weight
Try out a selection of lawn mowers to establish the comfort of the design in use and its weight. Look out for styles that you'll be able to use without hunching over or stretching to reach the controls as this could cause muscle strain. The most comfortable lawn mower for women will also likely be a smaller, lightweight model. If you have limited mobility, a robotic lawn mower might be the best solution.
Consider what finished look you would like
You should give consideration to how you want the finished lawn to look once it is mowed. Some lawn mowers include grass combs, which allow you to mow up to and over the edge of your lawn, without the need to always finish the edges with a separate tool. Choosing a lawn mower with an integrated rear roller will allow you to recreate the traditional two-tone stripe look too. Find out how to mow a lawn for best mowing results.
Consider an eco-friendly lawn mower to help the environment
The days of lawn mowers being regarded as gas-guzzling gadgets that emit toxins and create noise pollution are long gone. Today, the lawn mower has had something of an environmental makeover with battery-powered options now presenting a more eco-friendly option, reducing noise, fumes and use of non-renewable fuels.
What is the most reliable lawn mower?
To ensure that the lawn mower you pick will do the best job for you, you need to be sure that you've considered the size of your garden first. There's petrol, electric, push and cordless mowers to choose from. A petrol model is the best option for those with larger gardens; electric lawn mowers should be considered by those with small to medium sized gardens. Opt for a cordless version if you've a difficult shaped garden when it comes to plug sockets, and push mowers are the best option for those with small gardens as they're inexpensive. Be sure to closely check the specs above to select your ideal mower.
Grass boxes: are they necessary?
Most lawn mower models include a grass box that collects the grass trimmings. The bigger the grass box capacity, the less frequently you'll have to stop mowing to empty it, and with particularly large ones, you might be able to leave the grass box unemptied between mowings as well. Just bear in mind that the grass box is one of the main things that affect the mower size: even the handles fold down, a large grass box will affect how you'll be storing your mower.
There is a newer breed of lawn mowers, though – look out for terms such as 'mulching attachment', although robot mowers will do the mulching as standard, as they're too small to have a grass box. Mulching isn't the same as simply leaving the grass trimmings behind: the mulching mechanism chops up the grass very finely and then sprinkles it over your lawn, which nourishes the new grass without choking it. As a rule, mowers that mulch are more expensive than traditional grass box models.
Robot lawn mowers: are they as easy as they look?
Robot lawn mowers are often presented as the easy, hands-off mowing option, and they are – but only after you've properly installed them. What not everyone realises is that the majority of robot mowers require you to bury wiring in the perimeter of your lawn/garden, which can be time consuming initially. There are some models that don't require pre-wring your lawn boundaries, but they will be more expensive (by at least a third) than ordinary lawn mowers.
Lawn mower maintenance: our top tips
Yes! Lawn mowers need maintenance: some of it you can easily do yourself, but sometimes it may also become necessary for a professional to look at it.
1. Most lawn mowers will need the undercarriage bowl cleaned every few months, as it can get caked with compressed grass and dirt. Scrape it our with a stiff wire brush and then hose it down.
2. Petrol mowers should be emptied after each use; old fuel that hasn't been changed in a while can cause problems, including the mower not starting up properly.
3. A clogged filter will also make your mower run less efficiently: these are typically made from paper or foam, and are easily cleaned out or replaced.
4. If you're noticing that, after a few years, your mower is tearing at the grass rather than precision cutting it, you need to get your mower blade sharpened. Don't try to do it yourself, though: take it to a mower repair specialist.
Otherwise, if you are a total beginner and this is your first ever lawn mower, then see our top tips on how to mow a lawn properly.