Painting a garage door is very straightforward and is an excellent project for a beginner to tackle. As usual, the key to success is in the prep, and spending a bit of extra time getting the surface smooth and clean will pay dividends.
Whatever type of garage door you have – metal, steel, fiberglass or wood – paint will refresh its appearance but also help maintain the door's condition. What's more, it will work wonders to up your home's curb appeal all while avoiding the costs of replacing a garage door altogether...
A garage door is sizeable enough to make a major impact on the exterior design of a home. And while the interior might be used for your vehicles, as a workshop, for storage or, in some garage conversions, simply be left as part of the facade, because of its dimensions, sprucing up the door by painting it is worth spending a little time and money on.
How to paint a garage door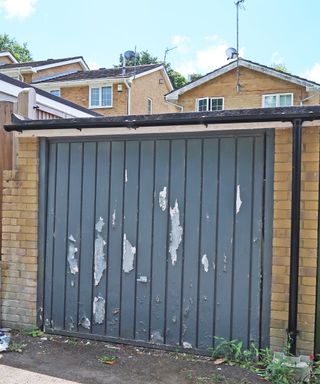 When it comes to what paint to use, my top tip is to use Rustoleum All-surface paint as it is suitable for wood & metal doors & is a paint and primer in one which saves money and time. Rustoleum also offers a wide variety of colors which is a win as I find standard garage door paint often comes in a limited range of shades. It's also easy to apply with a roller or a brush and doesn't drip.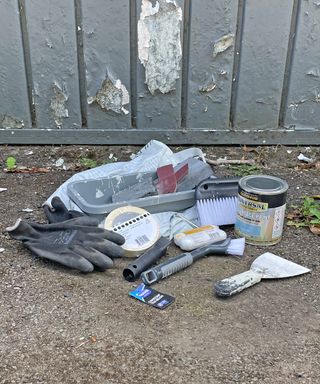 1. Clean the doors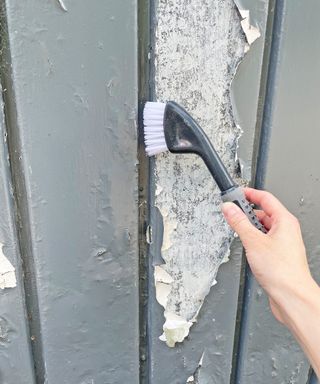 Begin by cleaning the doors off. A diluted sugar soap solution or simply warm soapy water will do the job – ensure any product is well rinsed off before the doors are left to thoroughly dry.
Top tip: If your garage door has grooves like this one, then a stiff tile grout scrubbing brush like this Addis one from Amazon is great for cleaning out the grooves.
2. Remove door furniture
Either remove the garage door handles, hinges and brackets or use masking tape to cover them up.
3. Sand and prep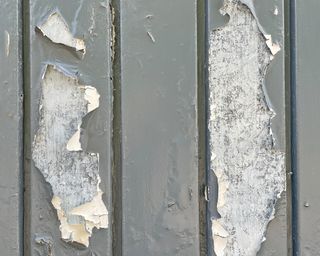 Sand the doors down. In the case of flaking metal garage doors, you might need a wire brush. For timber doors, a fine or medium grade sandpaper will do the job. Ensure there is no loose material left on the doors and wipe down again.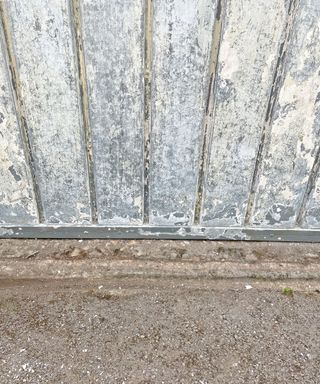 Top Tip: If the paint is peeling badly, a putty knife is a handy tool to scrape the paint from the door quickly.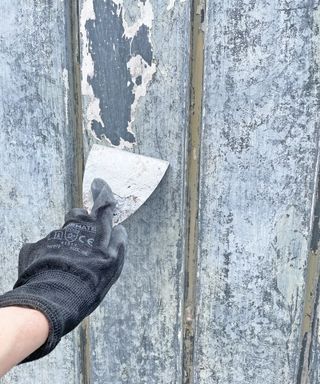 4. Prime the doors
Unless you are using a product that doubles up as a primer, begin by priming the doors. A large paintbrush (between 3in and 5in) is a good choice for this job – it is hard to get in between panels using a roller. Let dry completely having first checked for any paint runs.
5. Paint the doors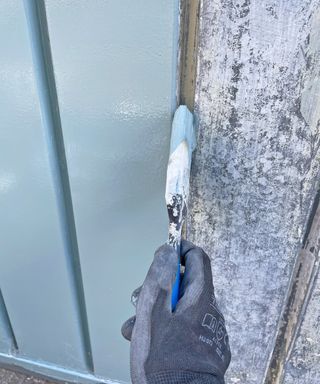 Paint the garage doors using a large brush, using a smaller model for the edges of the doors. It should not be necessary to remove the doors for painting, even in the case of 'up and over' designs. Paint from top to bottom in the case of vertical panel doors, or from the top then side-to-side with horizontal panels. Two coats will usually be required – allow to dry thoroughly between coats.
Top tip: A 4-inch roller makes light work of painting the flat panels and as long as it is not overloaded with paint, it will create a smoother finish than a brush.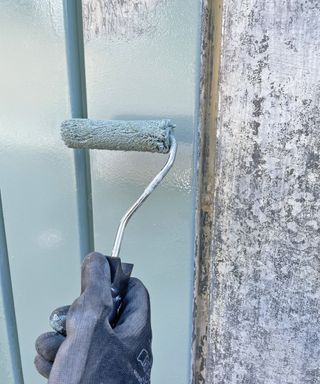 6. Leave the paint to dry
Leave the doors to dry for at least 12 hours before using – or for the time stated on the paint you have chosen.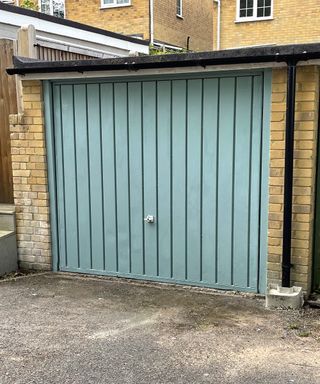 7. Clean up
Clean brushes using a solvent such as white spirit.
Top tip: To save washing the roller tray out (and pouring chemicals down the drain) cover the tray with a bag. Once you've finished painting, allow the residue paint to dry on the bag and place it in the bin. You might even be able to feel the dried paint off the bag and reuse it and there are lots more safe and eco-friendly ways to dispose of paint also.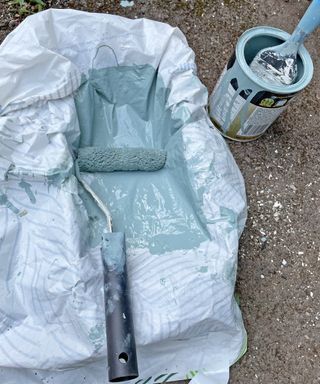 How to paint a garage door to look like wood
If you want to paint your garage door so that it looks as if it's made from wood, you will need to work with two different paint colors to create the faux finish. You might want to do a test run on a piece of board before you get started on the garage door to perfect your technique.
Prepare and prime the door as above, then use a matt base paint with a warm mid brown tone. Allow to dry thoroughly.
Working in a small area of the door first, apply a dark brown paint. Then, take a clean, lint-free cloth and use it to wipe the darker paint, revealing the lighter paint color below until you get a wood effect you like.
Repeat the process over subsequent sections of the door to create a consistent color from one to another.
Allow the paint to dry thoroughly. You can add a matt clear finish above for extra durability if desired.
Prefer an all-in-one kit that will allow you to give a garage door a faux wood finish? Check out the Giani Wood Look Garage Door Paint Kit.
How to paint glass reinforced plastic (GRP) and fiberglass garage doors
Fiberglass doors can be painted, but they are not structurally as strong as the alternatives, so before deciding to go to the effort of repainting, do check that their condition has not deteriorated beyond repair.
When sanding GRP or fiberglass, wear a mask and go gently – a brillo pad, wire wool or very soft sandpaper will be enough.
Fiberglass can be resistant to paint, so use a good bonding primer and a paint recommended for fiberglass.
Do I need to prime a garage door before painting?
Generally, you will need to prime a garage door before painting. It's part of the preparation work for the project and helps ensure you get good and lasting results.
A primer will prepare the surface of the door for the topcoat, preventing peeling and flaking of the new paint, and getting it ready for a color change. Using primer is particularly important if you are going to be using a much darker shade than before. It can also be vital for galvanized steel doors, which are difficult for paints to adhere to.
The exception to the priming rule is where you are using a paint that is designed to be used as primer and topcoat in one (see above). So if you use my recommended paint (Rustoleum All-surface), there is no need to use a separate primer. However, with most standard garage door paints you will need to apply a primer first.
What kind of paint do you use on a garage door?
Which paint you should use to paint a garage door depends on what the door is made from. Using a primer first will often be necessary (see below), although some paints do not require this. Check the tin for details.
You could use an acrylic paint that is specifically for garage doors. Alternatively, select a paint made for external wood, metal, steel or fiberglass as appropriate depending on what your garage door is made from.
Bear in mind that in the case of galvanized steel garage doors it is particularly important to check that the paint you are using is suitable as not all metal paints last well on a galvanized surface.
There are specific garage door paints out there:
Is it better to paint a garage door with a brush or roller?
This depends on the design and surface structure of your door. If you have lots of grooves or detailing, you will definitely need a brush for those areas, but generally, my advice is to use a roller where you can.
How much does it cost to paint a garage door?
Paint the garage door yourself and a little time and expenditure can deliver great results. Expect to pay from around $15 a quart (£14 per liter) for the paint you'll need for the door. You might want to go for a specialist kit to give your garage door a wood look as an alternative. Take this option and you can expect to pay around $70 (£50).
If you decide to call in the professionals to paint your garage door, the job should take no longer than a day, depending on the condition of the door and weather allowing. Therefore you'll likely pay from around $150 to $550 and upwards, depending on the size of the door (£120 to £200 plus, not including paint in the UK). Some companies offer a garage door spraying service too.