Wow your friends and family this festive season with this festive red rose Christmas table centerpiece that's easy to make and won't break the bank.
Made from foraged greenery with supermarket roses, this arrangement will bring festive cheer to your Christmas table setting on the 25th. Source ivy, fir pine, spruce, berries and holly and add in some dried fruit extras to give it that truly Christmas feel and scents.
How to make a Christmas table centerpiece step-by-step
The beauty of this centerpiece is that each one you make will be totally unique. Use what you want and customize it with home dried fruit and other festive decorations.
While you're out sourcing greenery for your floral centerpiece you could get enough to make a Christmas wreath and perhaps a garland too.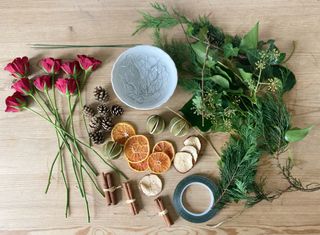 You will need:
A good selection of foraged foliage – fir/pine, evergreen stems and ivy
A bunch of red roses, supermarket ones will be fine
A small square of chicken wire – Kingfisher from Amazon is fine
Floristry tape
A small bowl or rectangular waterproof vase
A selection of dried fruit, dried orange slices, apple slices, limes, cinnamon sticks and pine cones
Floristry wire for wiring the fruit
Secateurs
1. Wire your dried fruit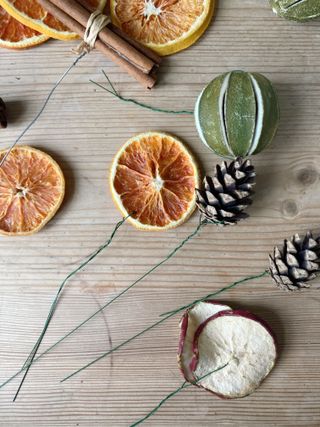 You can't beat the scents of Christmas, of which there are many. Dried fruit is synonymous with festive arrangements in Christmas garlands and wreaths and can be used in table arrangements too if you wire them first.
We've used dried orange and apple slices, with whole dried limes and pinecones. The cinnamon sticks were pre-wired but you can buy them individually and wire them yourself.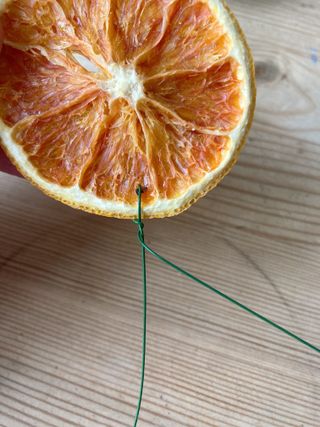 Take your orange and apple slices and insert wire into them, bring the other end through and twist them together. Because the apple slices are more delicate we wired two together.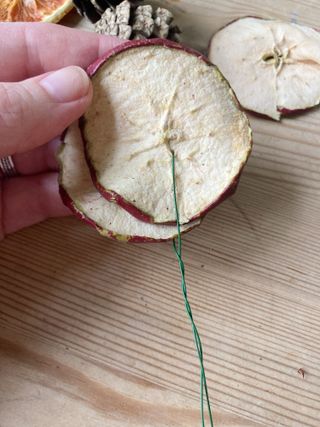 For the whole lime and pinecones, you take a wire and place it across so you catch the wire securely and then twist the ends together.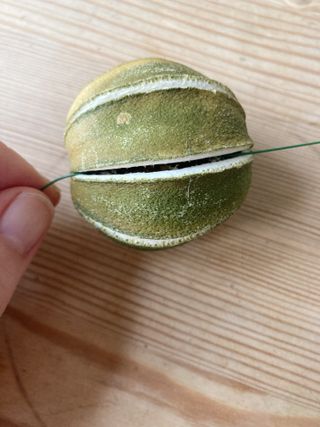 2. Prep your vessel with chicken wire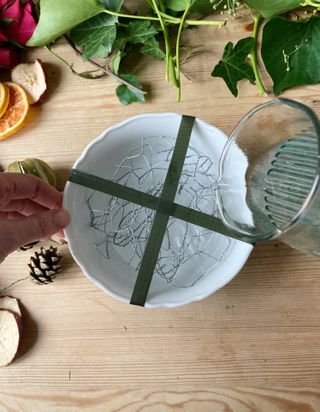 Avoiding floral foam is wise if you're trying to be more eco-friendly as it's fairly detrimental to the environment. Chicken wire is a great alternative and easy to use. You can buy a small roll online or source at a local DIY store and for this, you only need enough to make a small 'pillow' in your vessel. Then tape it twice with floral tape so it's secure and fill it with water.
3. Start by placing the foliage into the chicken wire
Place your greenery by pushing it through the chicken wire, we used fir tree, ivy and berried ivy that was foraged. The foliage is your base, so be plentiful and allow the stems to fall naturally.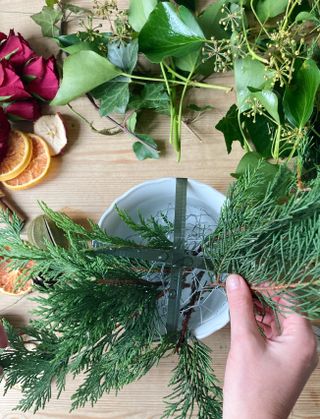 4. Prep your roses and pop them in the vessel
Remove the leaves from your roses and cut the stems to around 5-6 inches, but keep some longer ones for variation and to add height.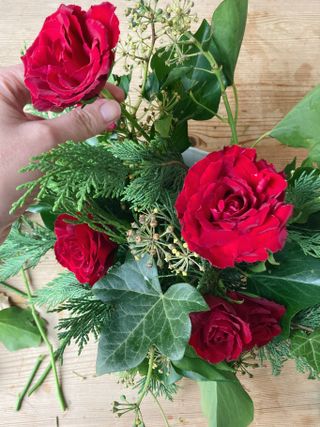 5. Fill it out with your wired pieces
Once your bowl is looking lush and has a good variety of foliage and roses at different heights you can start adding in your wired fruit, pine cones and cinnamon sticks.
Nestle them into any gaps you may have and make sure they're evenly spaced. The wire will stick through the chicken wire and stay in place.
Keep your centerpiece watered, as your blooms will drink a lot especially if the heating is on during this festive season.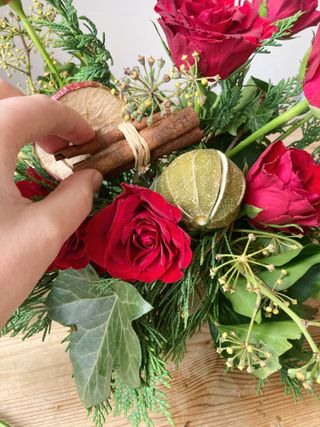 What can be used for a table centerpiece?
To make your own Christmas table centerpiece you can use anything that has that festive feel – those thin Christmas tree branches at the bottom are ideal, holly (if you can bear the prickles!), berries, ivy and eucalyptus are perfect. Then consider brightening it up with fresh flowers, red roses will give you that classic look, but if you want to step outside the box a little then go for a deep orange or even a dark pink, we use brightly colored baubles so it's okay to do the same with your table decs.
Adding those deliciously scented extras like dried orange and apple slices combined with cinnamon sticks will give your centrepiece that perfect festive finish.
How do I make a cheap centerpiece?
The cheapest way to make one is by using foraged greenery where possible – have a good look in your yard to see what you can use, and ask your friends and family too to see what they might have. We used supermarket roses that were under $6 for 12 and dried the fruit slices. The pine cones were found whilst walking, it is possible to create something wonderful on a budget, we promise!