Need to find out how to cool down a room fast? Maybe it's hot, steamy heatwave weather? Perhaps your rooms are south-facing sun traps? Or are you regretting the acres of glazing you installed? Here, we list the fastest ways to keep rooms cool during hot weather – and suggest a few longer term solutions you might like to introduce to a home renovation project.
Find more house renovation tips on our hub page.
1. How to cool down body temperature on hot nights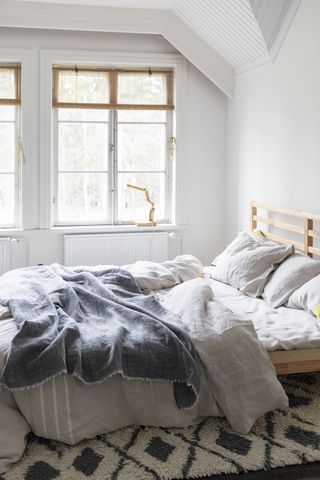 It's all very well being hot during the day, but most of us need a bedroom to be under 21˚C to have a comfortable night. Beds can become heat sinks pretty quickly, with your hot bodies releasing heat into the mattresses and pillows.
Your hypothalmus controls body temperature – so keeping your head cool is absolutely critical to comfort. There are several ways of doing this artifically at night – one of which are pillow- or mattress-cooling pads (see our reviews – basically, they're toppers that act like hi-tech versions of mother's cold flannel).
The JML Chillmax Cooling Pad goes on top of the pillow and can be refrigerated before bedtime. You could also go for a temperature regulating pillow itself such as Simba's Hybrid Pillow, which aims to ventilate and regulate temperature through OUTLAST® technology.
You could also switch up your bedding to help you stay cool on hot nights. Cotton is the best material to go for thanks to its body heat-regulating properties that absorbs moisture fast for the ultimate in comfort. Look out for Tencel cotton bed linen which is not only sustainable (this one is made from eucalyptus) but it offers luxurious comfort in its fine fibres, aiding you in getting the sleep you need in those hotter months.
2. Or just freeze your sheets
Yes, really. Pop your sheets in a plastic bag and stick them in the freezer for a few minutes before bed for icy cool bedding. If your freezer isn't big enough to store your sheets then try it with your pillowcases instead.
3. How to keep rooms cool naturally
Warm air rises, so it's important to ensure that the windows at the top of the house remain open where possible. This is a very simple way of explaining ventilation theory – in particular, passive stack ventilation. Essentially, you should use a combination of cross ventilation, the rising of warm air and the venturi effect (suction created by air passing over flues) to feed warm air up and out of the house.
In other words, make the most of all that cooler night air by cracking all the windows before you go to bed, letting the overall temperature of your house drop.
4. Hang up damp sheets to cool down a room fast
Another weird hack for keeping your house cooler is to hang up a damp or even wet sheet near an open window. This will help cool down the temperature of the breeze as to flows into your room.
5. How to cool a room without AC
As we all know, bedroom fans (see our best buys) don't cool air down, but they do move air around – which can help with comfort on hot nights. You can boost the fan's action by filling a mixing bowl with some icy water or an ice pack and placing it in front of the fan so it pushes the cooler air around the room instead.
Oscillating fans work best. The ProBreeze oscillating 40 inch tower fan is a good place to start, offering remote control, a seven-hour timer (perfect for getting children to sleep) and three speed settings. They provide a significant improvement in comfort on relatively modest noise outputs.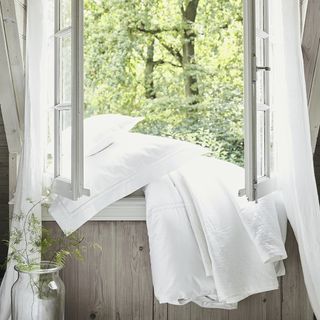 Or, if money's no object, Dyson's Pure Hot + Cold Link is useful in winter and summer. For looks, though, we love the Stadler Form Q fan (above, shown in black but the brushed steel is better...). Does the job of keeping you cool and looking cool...
6. How to cool a room down fast
Want the baby's room to stay at a comfortable 21ºC? One step up from a room fan, portable air conditioning units give the means to reduce the temperature of a room by around 5˚C is hugely valuable in a heatwave – but it's not a cheap option, both in terms of upfront cost and running costs.
One of the best we found was EcoAir's Artica D122 Portable Air Conditioning unit, which delivers 2.3kW of cooling capacity and aims to reduce temperatures down to a minimum of 16˚C. It takes moisture out of the air (so the internal tank needs draining quite a lot in humid conditions) and has Wi-Fi functionality for remote operation. It's relatively quiet at a typical dB output of around 50 – about the same as a floor standing fan.
Bear in mind the not insignificant running costs of 0.9kWh – depending on your energy supplier that equates to around 13p an hour. But it will get a hot room over the worst of the heat and give you a good night's sleep – and sometimes, that's all that matters.
7. Try sleeping downstairs
If you are struggling to sleep in the heat, consider sleeping downstairs where it's going to be naturally cooler. Hot air rises so if your bedroom is on the second floor or in the loft it might be worth trying to kip on the sofa.
8. How to keep a room cool that faces the sun
The sun provides valuable extra warmth for most of the year, but in a heatwave it can serve to provide extra heat to rooms particularly on the southern elevations of homes.
The simplest solution on bedrooms and converted lofts is to look at so-called thermal blinds (like the ones below from Duette), which tend to have an aluminium-lined honeycomb construction designed to reflect up to 85 per cent of the sun's heat. Try the DuoShade from Blinds2Go – they have the added benefit of keeping the light out on those early summer sunrises.
These will be even more effective if you have blackout curtains or blinds; they aren't expensive (you can get them from Dunelm for as little as £8). Invest now so you are sorted for the rest of the summer.
Another option is solar control film (shown in the picture, top). Try Purlfrost's range.
9. Use your oven sparingly
Sure, it's obvious, but we are going to say it anyway, using your oven is going to raise the temperature of your home so avoid it when you can in hot weather. Really, if it already feels like a million degrees in your home, the last thing you want to do is turn on a 200ºC oven, so make the most of the good weather and get cooking outside! Our pick of the best barbecues can help with that... or see below for today's best deals.
10. Turn off the lights
Light bulbs, even if they are environmentally friendly, give off heat, so switch them off whenever you aren't using them.
Read more: