When temperatures begin to soar, knowing how to cool a room down fast is a must. Whether you're too hot to sleep in your bedroom or desperately trying to entertain guests in a very humid lounge, rest assured that there are lots of quick ways to bring the temperature down so that everyone stays comfortable.
Of course, it makes sense to invest in one of the best fans out there, but there is more you can do to keep your room comfortable, morning through to night.
Brian Dillon from Crafted Beds notes how 'Throwing open your windows and letting the breeze flow through may be your natural instinct, but this can be counter-productive, especially during the hottest hours of the day.'
According to experts, being clever with ventilation, window coverings and, ehem, ice cubes... May be your best bet to cool down a room quickly.
How to cool down a room fast
South-facing rooms or homes with lots of glazing are particularly prone to becoming uncomfortably warm, making for muggy days and sleepless nights. According to the Sleep Charity, the ideal sleeping temperature is 16-18°C/ 60-65°F, but when the mercury has catapulted past that, you'll want to act fast, especially if you have young children, elderly people or pets in the house.
Phil Steele, future technologies evangelist at Octopus Energy notes how 'Keeping your room cool during heat waves relies a lot on keeping your room from heating up too much and using less energy.' Thankfully, there are plenty of quick and surprising ways to cool down a bedroom or other space fast.
1. Close windows and blinds when temperatures rise
Keeping your windows closed whilst the sun is at its highest will prevent hot air from entering your room. Sure, it seems such a shame to block out the sun's beautiful rays on a glorious day, but it will keep direct heat out and stop your bedroom window from acting like a greenhouse. This is especially important if you have leather sofas or seats in your living room as no one likes the sticky and sweaty feeling of peeling yourself off the settee.
'South and west-facing rooms are the trickiest ones to keep cool. Draw the shades over the windows to reduce heat and sunlight coming in from outside,' suggests Steve Truett, president of Aire Serv, especially during the part of the day when the sun is shining directly into your space.
Steele adds how 'Keeping windows closed, blinds down and curtains drawn from morning to night will help keep your room cool.'
Adam Pawson, from Safestyle adds: 'If your windows are south-facing, it is best to close your curtains or blinds, or put the window in the night vent position to allow some air in. Whereas, if your windows are north-facing, it's advised to keep them shut to avoid any hot air coming in.'
Experts at Crafted Beds add that 'blackout curtains and blinds are perfect for preventing heat build-up in homes during hotter periods. They stop the sun's rays from entering your room and help to regulate the indoor temperature. Investing in blackout curtains and keeping them closed during the day will mean you and your guests have cooler bedrooms to come back to at night".
2. Ventilate strategically
So although a breeze is tempting, you need to be strategic when it comes to ventilating your room to cool it down as letting the warm air in from the outside will be counterproductive, especially during peak hours.
That's not to say that you can't open windows in hot rooms, you should just do it at the right moment.
Warm air rises, so it's important to ensure that windows in rooms at the top of the house remain open where possible to circulate the air. Then you want to make the most of all that cooler night air by cracking all the windows before you go to bed, letting the overall temperature of your rooms drop.
Essentially, you should use a combination of cross ventilation, the rising of warm air and the venturi effect (suction created by air passing over flues) to feed warm air up and out of the house.
Steele adds 'If it feels stuffy, then keeping a fan on to circulate the air will stop it from being uncomfortable, while still being quite cheap to run.' Without you having to budget for the cost of installing air conditioning either.
3. Open your loft hatch to let heat rise
If you have a loft at home, keep the hatch open during the warmer months and let the heat rise. This can help to keep your bedroom cooler as the heat won't stay trapped on your second or third floor and instead will rise into your loft.
4. Make your current fan work harder
As we all know, the fans don't cool air down, but they do move air around – which can help with comfort on hot nights. There are lots of clever ways to make a fan blow cold air including filing a mixing bowl with some icy water or an ice pack and placing it in front of the fan so it pushes the cooler air around the room instead.
Oscillating fans work best. The ProBreeze oscillating 40 inch tower fan is a good place to start, offering remote control, a seven-hour timer (perfect for getting children to sleep), and three-speed settings. They provide a significant improvement in comfort on relatively modest noise outputs.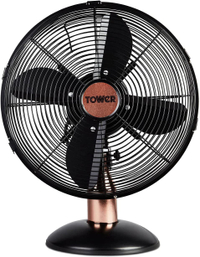 Tower T611000B Cavaletto Metal Desk Fan | £39.99 £32.99 (save £7) at Amazon
Need to buy a new fan, fast? Yes, it's going to be 35C in some areas of the UK on Sunday, so it might help to be a little prepared. This compact fan is perfect for small homes and small budgets, coming in at just £33.

Pro Breeze® 30-inch Tower Fan with Oscillation | £79.99 £47.87 (save £32.12) at Amazon
If you're in the market for a new fan because of the current heatwave, then this one is a good contender. Pay less than £50 for a tower fan, which can be controlled by a remote so you needn't move to increase the speed. With three modes and a 7.5 hour timer, this fan is a total steal.

5. Run your fan counterclockwise
Ceiling fans are also a great alternative when you don't have an AC unit or are looking to cut back on your energy footprint. 'Make sure to run fans counterclockwise during the summer months, as this motion has the potential to cool the room by 4-7 degrees F,' explains Truett.
This allows more air to come into the room: more air circulating around = a cooler room. When the weather cools down, just change it back again.
6. Cool the room with ice
'Pour a glass of water, dump ice cubes in it, and place your hand above the cup. The air feels cooler here, doesn't it?' According to Truett, you can supersize this cooling effect by putting a big block of ice on a baking sheet or in a casserole dish. 'The cooling effect from the ice helps keep the room at a more comfortable temperature.'
7. Place bowls of water around the house
Similarly, vessels of water dispersed around the home can help to cool down a room.
It also acts as an impromptu water bowl to keep pets safe in summer and hydrated throughout the day. Just be sure not to dish out nanna's finest crockery in case of any accidents or spills. And remember to keep them away from electrical devices and plug sockets too.
8. Toss out old school incandescent lights and put up energy efficient ones
According to Truett, lighting accounts for up to 12 percent of your energy budget, and those old incandescent lights give off 90 percent of their energy as heat, thus warming up the room more than homeowners may realize. Replace those bulbs w/ CFLs (use 75 percent less energy and last 10x longer) or LEDs (use 80 percent less and last 25x longer) for substantial savings and cooler rooms.
9. Hang up damp sheets to cool down a room fast
Another weird hack for keeping rooms cooler is to hang up a damp or even wet sheet near an open window. This will help cool down the temperature of the breeze as to flows into your room.
10. Be selective with window treatments
If you have a room that gets constant sunlight, or hot summer sun when you don't want it, you'll know how annoying it can be to regulate the amount of light that comes into the room.
If you get blackout curtains, it becomes too dark, while ordinary window blinds might not give you enough protection from the heat.
'Thick, dark curtains with a white reflective backing area (commonly known as blackout curtains) are the most effective for keeping a room cool that faces the sun.' Says Truett. If you have a natural cooling home design, there may be trees on the south and west sides that help shade your home in the afternoon.
The day and night blind is an innovative solution to this problem – a highly adjustable type of blind that has panels of transparent and opaque material that can be angled in exactly the way you want it, made completely transparent, or block out the light completely (useful at night).
We especially like the Origin day night blinds from UK-based 247 Blinds.
11. Turn off the lights and use candles instead
Light bulbs give off heat, so switch them off whenever you aren't using them. In balmier climates, the best candles can offer gentle and romantic lighting, gorgeous aromas, and can feel like you're relaxing in a tropical retreat.
Yes they still give off a little heat, but in comparison, it's negligible.
12. Install door holders to encourage fresh air
Want to keep your doors open to encourage airflow, without damaging them? A door holder might be the answer. Using strategically-placed magnets, they are a safe and easy way to keep your doors open. Simple and easy to install, they're often a better choice than door stoppers which can often cause damage to doors over time and are a lot more convenient to use.
But their biggest asset is that they help ventilate the room, which can help offset trapped heat and increase airflow, which comes in handy if you're in need of a breeze.
Don't like magnetic door holders? A decorative rope-inspired weight like this Rope Knot Fabric Weighted Floor Stop on Wayfair is the perfect accessory for Nautically-decorated homes. Try something made from Jute or sheepskin (like the White Company's Curly Sheepskin doorstop) for a farmhouse scheme.
13. Apply heat-reducing film to your windows and glass doors
With a third of ambient heat coming into your home via the windows, one way to cool down a room fast is to apply a reflective, heat-reducing window film to help regulate the temperature.
It's especially effective when placed on any east and west-facing sides of your home to offset the sun as it passes through the sky, and it doesn't affect the beautiful views of your front or backyard.
And as an extra bonus, during the colder months, reflective film is great at keeping warm air inside so it's a great investment all year round.
KESPEN's offering on Amazon has a 4-star rating with excellent written reviews about the product.
How can I cool my room down drastically?
Dillon recommends 'Get ahead of the game and plan your furnishings for upcoming spells of hot weather. For a long-term solution, we'd recommend choosing a light or white wall paint or paper and pairing this with soft furnishings in bright neutral tones. This will prevent heat absorption and is especially effective for south-facing rooms that are prone to reaching sweltering temperatures.
Whilst a maximalism style may suit some, it isn't great for air circulation. We recommend stripping back your furniture and furnishings to allow the cool air from windows or fans to flow freely.
More practically, you can also try dampening a bed sheet or towel and drape this over any window with a breeze in the early morning - this will block out the harsh morning sunlight and cool down any air as it enters your home.'
How do you cool your bedroom at night?
Dillon says 'It's best to take preventative action before nighttime so your fan doesn't have to work as hard to reduce the temperature when you're ready for bed.' Noting how if the air is still very warm in the evening, it may still not be wise to open the windows 'Contrary to popular belief, keeping your windows and blinds closed will actually be beneficial, as hot air will be kept outside. Whilst you can keep them open in the early morning when the air is cool, close them before temperatures peak to prevent your bedroom from heating up. If you're able to, you can also swap regular blinds and curtains for black-out products for maximum effect.'
As with most things, a multi-pronged approach will work best. Investing in cooling sleeping accessories can help keep you more comfortable in the evening also. Additionally, Dillon recommends 'Switching your bedding to a breathable material, such as linen, is just one way to prevent heat build-up in your bed. We also recommend the addition of a cooling mattress topper which are designed to increase air circulation for a cooler sleep.'
'Whilst it's tempting to sleep in less clothing, switching to cotton pyjamas is the best option as they're lightweight and moisture-absorbing to help you remain comfortable throughout the night. Beds with slatted bases are also likely to stay cooler than their solid base counterparts as heat can escape from the mattress between the slats.'
Should you invest in the best fan?
If money's no object, Dyson's Pure Hot + Cold Link (available on Amazon) is useful in winter and summer. We've tried and tested it and loved it, and it's a favorite of the Queen of Clean, Mrs. Hinch, too.
For looks, though, we love the Stadler Form Q fan (available via Walmart) too. It does the job of keeping you cool and looking cool...
But if you're looking for an answer that's backed by science, we've done some research. Or rather, gone to the right person. 'When you're choosing between a fan and an air conditioner, it's usually down to personal preference.', says Phil Steele, future technologies evangelist at Octopus Energy.
'Fans are cheaper to buy and almost ten times cheaper to run than a portable air conditioning unit, but they only effectively push air around a room and can only really cool down one person sitting near them.'
'Air conditioners cool the whole room but cost more money to buy and run, so you need to consider your own situation before making a decision.'
When should you install air con?
If you can't regulate the temperature in your home, it could be worth installing air-con. If you want the baby's room to stay at a comfortable 21ºC for example. Up to now, it's been pretty tricky, not to mention costly, to buy a residential air con unit. But, BOXT has introduced the UK's first next-day domestic air conditioning installation service.
The smart home systems installer can deliver and fit internal units that will cool and purify the hot air, catching airborne dust particles and neutralizing bacteria, fungi, and microbes. The Bosch units include 5 modes: Auto, cool, heat, purify and dehumidify for a healthier, more comfortable home and sleeping environment.
Alternatively, beat the heat with one of the best portable air conditioners.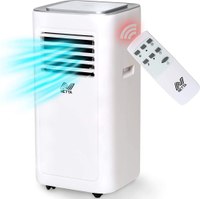 NETTA 8000 BTU Portable Air Conditioner | £279.99 £249.99 (save £30) at Amazon
You can set the desired temperature on this model in a range from 16 to 31ºC, and it will cool rooms of up to 20 metres square. Choose from three fan speeds, and operate it from the LED control panel, or stay on your sofa or in bed and use the remote control.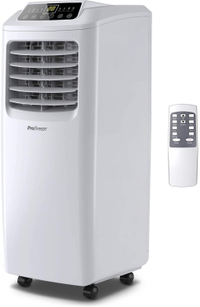 Pro Breeze 4-in-1 Portable Air Conditioner | £499.99 £279.89 (save £220.10) at Amazon
You can cool your home down to 16ºC with this air conditioner. The louvres can be adjusted to direct the airflow, and there's a choice of two fan speeds. The sleep mode gradually reduces the fan speed until it switches off to help you stay cool while keeping costs down. It currently has more than £220 off for Prime Day, so get in fast.