Rescuing art from thrift stores is trending! Second hand shops are brimming with art, wall décor, and frames waiting for new homes. Much of the inventory is ubiquitous prints, word art, and wine by numbers, made during pals' night out. But there are diamonds hidden in the stacks of frames, in the form of original oil paintings and pretty prints.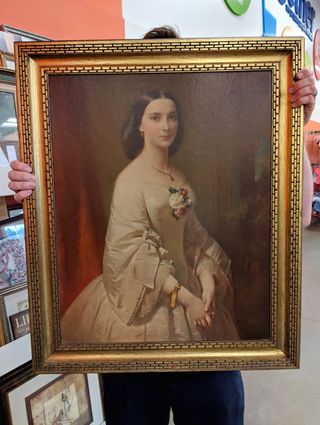 Personally, I'm always on the hunt for originals. Touch the art for tell tale textural, signs of real paint. Watercolor? Flip it over and see if there's bleed-through on the back of the paper. Pick your subject: Given my traditional-leaning style, I am partial to landscapes, portraits, and floral still life pieces. I get excited when I spot a Chinese silk painting of birds and flowers, too.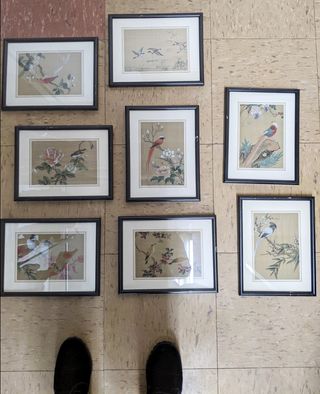 As I'm thrifting, I grab any artwork that catches my eye and immediately put it in my cart for further review. I like to snap a picture of the piece isolated from the piles of distracting frames and canvases. I'll google the artist if there's a distinguishable signature. Taking a photo with Google Lens and conducting an image search can result in similar works and signatures or exact matches for prints.
How to work thrift store art into your décor
1. Pair it with something more modern. You can couple a vintage original with a more modern print or mirror for a fresh look. Create a layered gallery wall where the sum of the parts is greater than the whole. Mix similar-subject pieces with more contemporary examples, minimalist furniture silhouettes, or a bold paint color.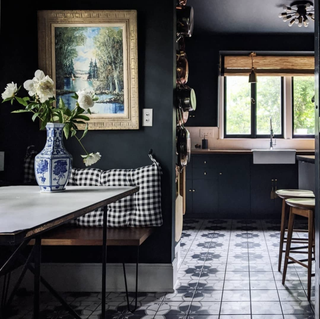 2. Fix up the frame. I often paint a wood frame with midnight blue chalk paint or Rub 'n buff it into golden glory. Frames sometimes come with stained and dated fabric inserts surrounding the mat. I mix chalk paint with water and "dye" the fabric. You can also paint the paper mats any color of the rainbow. Simple frames can get an upscale makeover by taping off and painting campaign corners. And you can always ditch the frame entirely to create a deconstructed canvas vibe.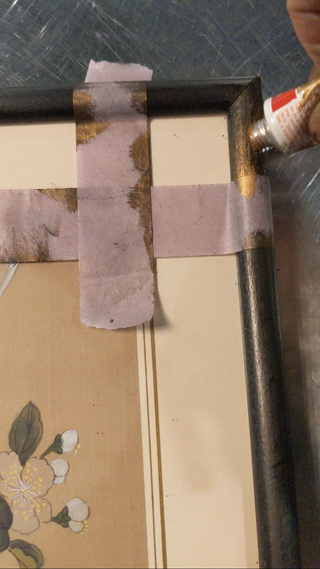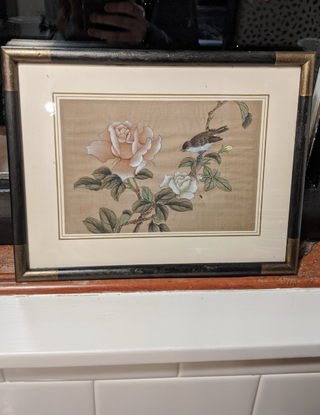 3. Double-thrift. Art print books plus empty frames are a thrift-match made in heaven. Clippings from coffee table books of famed artists or botanical print books can be slipped into one of the many available, empty frames you'll find during a thrift haul.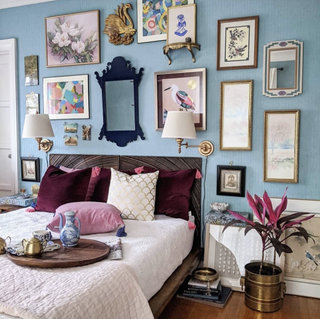 4. Go ahead, alter that art. Funny, irreverent, altered art is having a moment. Mix medias using cutouts or 3D elements to DIY-embellish your finds. Paint quirky pop culture additions. Dip the art, frame and all, in paint or tape off to create geometric lines. Altering artwork is the perfect way to create whimsical, wall décor for kid spaces. In my daughter's room, I added a butterfly mask, to an ordinary portrait print, cut from a thrifted butterfly coffee table book. I finished with bubble gum pink, paint sharpie details on the glass itself.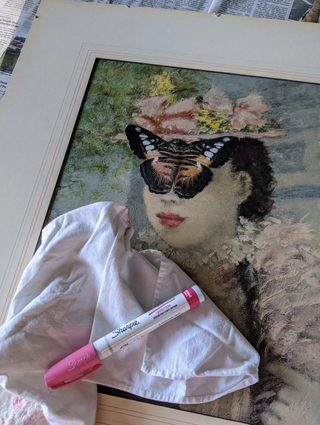 Like the look, but don't want to put in the work? There are lots of vintage inspired art options at Society 6 and Etsy.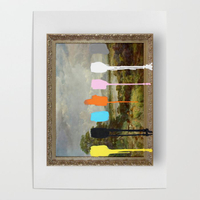 Thrift Store Landscape with a Color Test Poster | $15.99 at Society 6
This altered landscape print gets a fun, modern touch thanks to brightly colored paints dripped down the front.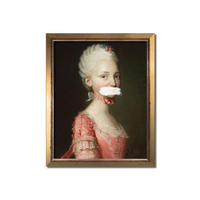 Altered Vintage Print Portrait of Lady Eclectic Maximal Wall Art | $28.99 at Etsy
You've probably seen works like this on Instagram and Pinterest, since the altered portrait is a big decorating trend. This piece is perfect for fitting inside a vintage frame, and starts at just $28.99.