We love a blackboard wall at Real Homes – or should we say 'chalkboard wall', as this versatile paint is available in so many more colours than standard-issue black. In fact, you can imagine how excited we were to learn that you can create your own version from a whopping choice of 3,500 colours.
Yep, paint supremos Benjamin Moore offer all of their colours in a chalkboard paint option, so you can match to any colour scheme. So whether you want a handy place to scrawl notes, or just somewhere to show off your artistic flair, here are our top tips for adding a chalkboard wall to your home. It is a great weekend project that will transform how your room looks and works in no time.
1. Think about positioning
Narrow spaces are not the best places for chalkboard walls. You risk brushing past and ending up with clothes covered in chalk dust. Likewise, keep upholstered furniture away from it. If you decide to paint a chalkboard section instead of a whole wall, make sure you can easily reach it to write.
2. Prep the wall
For the best results, tackle this as you would any other painting project.
1. Thoroughly clean the wall with sugar soap, making sure to have filled and sanded any imperfections beforehand.
2. Tape off the area you wish to paint using quality masking tape.
3. Protect the floor. This is especially important if you use blackboard paint as the heavy pigment will stain easily.
3. Get painting
Use a roller for larger areas and a smoother finish. Cut in first, using a brush for neat edges. If you use a dark colour it may look like one coat is enough, but for the best results you will need two to three.
4. Make a wall planner
You will be hard pushed to miss another birthday if it is scrawled in 72pt font on your wall. Why not use blackboard paint to make a family wall planner, or a personal planner in your home office?
You can buy blackboard decals to stick on the wall (as seen below), but for a bespoke version, use masking tape to mark out a grid, or create a large stencil to paint around.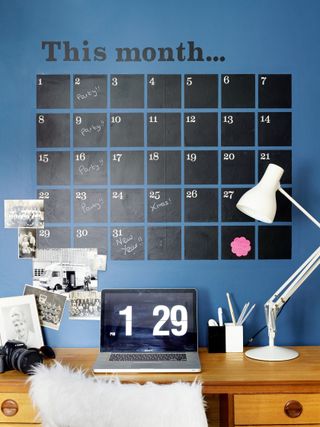 5. A shopping list you will never lose
If like us you are forever misplacing scraps of paper with groceries scribbled on them, why not turn a kitchen wall into one big shopping list. Always close to hand, you can quickly scrawl a note on the wall when you use the last tin of beans or run out of kitchen roll.
6. Let the kids break the rules
Usually doodling on the walls is strictly forbidden, but chalkboard paint is great in kids rooms. It offers a way for them to customise their own space and a place to play, learn and draw.
7. Use it for recipes and reminders
Chalkboard paint by nature is wipe-clean, so you can safely use it in the kitchen – even in areas that might get splashed. This means it is really handy to paint behind worktops as a place to jot down recipes or meal ideas. No more splattered cook books!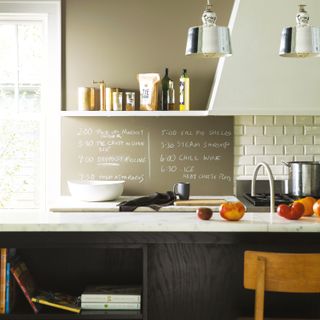 8. No free walls? Try a chalkboard door
Most chalkboard paint can be applied to pretty much any surface, so you can use it to update cupboards too. This is a great way to integrate a blackboard if you don't fancy repainting your walls.
Give your tired kitchen units a makeover and create somewhere to jot reminders at the same time!
Read more: