If you're wondering how to cover carpet in a rental, it's likely that you've inherited a carpet that simply doesn't match your design needs, or that is just plain tired and worn out.
After all, moving into a rental unit often means dealing with existing decorative elements that you wouldn't necessarily have chosen for yourself – it's all part of the fun right? – with wall-to-wall carpeting being one of the most polarizing. If you've recently started renting an apartment or house with carpet and you're looking for a way to distract the eye there's good news: temporarily covering carpet in a rental unit is entirely possible and can be done in a budget-friendly and efficient manner.
Whether you're looking for a quick and easy solution to cover bad carpet in a rental unit, if carpet cleaning won't cut it, or you're looking for a smart project that'll improve the look of your space with a little legwork, we've rounded up some of the best ways to cover carpet in a rental, according to experts.
Therese Germain, Director of Core Product at Ruggable (opens in new tab) suggests: 'Layering a rug over your carpet is a great option. While Ruggable systems are designed for use on hard floors, many customers successfully use them over wall-to-wall carpets, and we have several rug textures that can give a carpeted room a different look and feel. We also love to layer Ruggable rugs with each other – a Shag rug layered on top of a Chenille rug can instantly elevate a space.'
1. Invest in large area rugs
(opens in new tab)
Investing in an awesome rug will add style and cozy function to all floors but, if you want to cover carpet completely, go big! Shop rugs like the above at Overstock (opens in new tab) for a bargain that will make a huge difference.
'If you really like an apartment but it's covered in outdated carpet, you may find yourself considering dropping the rental altogether but I discourage this as there are many ways to cover up the carpet,' says Andre Kazimierski, CEO, Improovy (opens in new tab). 'My favorite way is with additional rugs. Depending on the color and thickness of your carpet, you may be able to complement the space nicely with a few different rugs, one large in the living space and one more in the hallway.'
2. Layer carpet runners
Although area rugs are unlikely to cover all of the different types of carpet in your rental property, large runner carpets can cover most of the high-traffic areas. Home Depot (opens in new tab) has a great selection. 'Consider runner options that complement your existing flooring if the old carpet is visible around the perimeter of your rooms or hallways,' says Robert Johnson, founder, Sawinery (opens in new tab). 'If the carpet is neutral, you can go bold, but if the carpet is bright or patterned, you may want to choose something more subtle.'
3. Position your furniture strategically
Additionally, if you wish to cover up carpet without opting for rugs or runners, large furniture might be the best option. 'From big couches to multiple tables and lamps, there are ways to distract the eye from the carpet down below,' shares Kazimierski.
4. Lean into eye-catching decor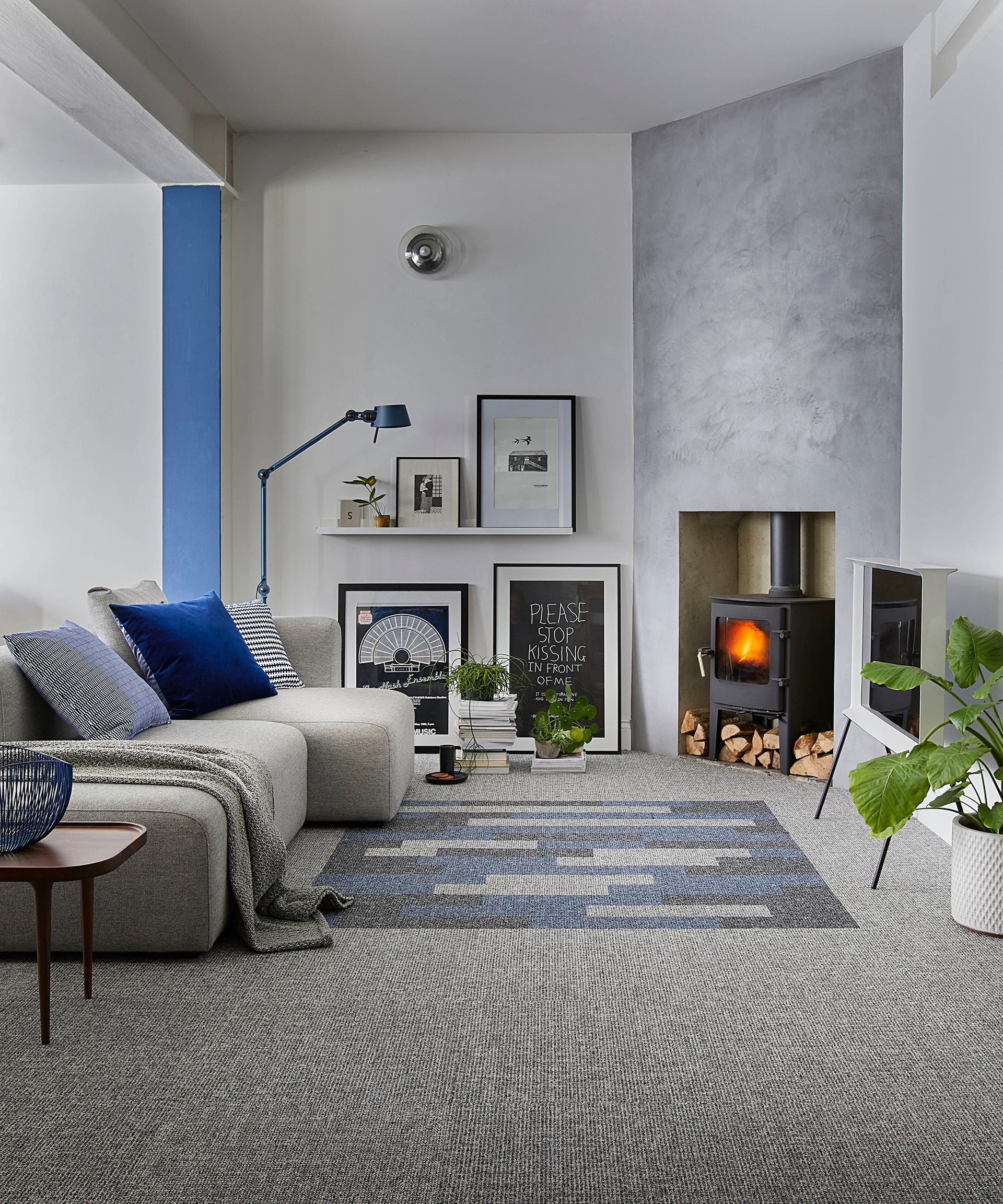 (opens in new tab)
You don't need to physically cover the carpet in order to lessen the hold it has on a space or room. According to Kazimierski, eye-catching decor such as bold artwork and plants are also a great distraction in a home.
5. Opt for temporary flooring
(opens in new tab)
Another option is to install temporary flooring over the carpet like peel and stick floor tiles that you can find on Amazon. (opens in new tab) 'There are a variety of options available for temporary flooring, including vinyl tiles, foam mats, and even cardboard,' explains Ismail Kuden, co-founder, Kuden Rugs. 'Be sure to choose a flooring material that is easy to clean and that will not damage the underlying carpet.'
6. Consider a carpet rake
Bad rental carpet sees a lot over the years – but a decent carpet rake could actually help to breathe new life into the carpet. Most carpets will naturally lose volume over the years and a carpet rake (like this one from Amazon (opens in new tab)) can help restore the carpet by fluffing up the fibers and removing stuck-on dander and dust. Add this to your cleaning routine and spot the difference.
7. Swap the color scheme
Sometimes all you need is a fresh coat of paint to see a space in a whole new light. By focusing on a bold new splash of paint on the walls you'll draw the eyes up and away from the carpet. Intentionally matching the paint and carpet colors can also help to create a more cohesive feel in your space—even if you don't absolutely love the look or feel of the carpet.
How can you cover up carpet without removing it?
There are a few ways you can cover up your carpet without having to remove it. 'You can use a rug, which will add some color and pattern to the room, or you could install flooring over the top of the existing carpet,' says Kate Diaz, founder, Swanky Den (opens in new tab). If you go this route, make sure to choose a type of flooring compatible with your existing flooring and durable enough to stand up to traffic.
Another option is to install a carpet pad over the top of the existing carpet. 'This will add some insulation and padding, making your floor more comfortable to walk on,' explains Diaz. 'Whichever method you choose, make sure to take into account the color and style of your room so that you can find a solution that will be both functional and aesthetically pleasing.'
Can you temporarily cover carpet?
Yes, there are a few different techniques that make temporarily covering carpet feasible. Here's what Diaz recommends for best results when temporarily covering carpet in an apartment rental:
Vinyl sheeting
Wool carpet pad
Wall to wall resilient carpet pad
Rug or carpet runner