Want to know how to clean oven racks to get them nice and shiny again? It's many homeowners' most-hated household task, but it must be done every once a while, if only to keep your oven hygienic. Fortunately, cleaning oven racks doesn't have to be an arduous task – although if you don't mind scrubbing away at them, you will get even better results.
Of course, some of us are lucky and have a self-cleaning oven. If this is you, you'll still need to remember to take the racks out of the oven before running the appliance on the cleaning cycle, which means you'll still have to clean your oven racks by hand.
Learning how to clean an oven is all about saving yourself as much time and effort as possible, using only the best cleaning products. This expert advice should help you to get your oven racks gleaming again, with minimum elbow grease.
The best ways to clean oven racks: an expert's view
There are many different ways to clean oven racks, but fundamentally all the different methods boil down to two main categories. Jeremy Tompson, the Strategic Cleaning Advisor at YouthfulHome.com and the Operations Manager at Quick Response Janitorial Services, knows a thing or two about cleaning. He is responsible for creating long-term cost-effective cleaning plans for hotels, apartment buildings, retirement communities, and other residential facilities.
Jeremy explains that 'cleaning oven racks will either involve a lot of elbow grease or soaking followed by rinsing. Either way, you're going to make a mess if you try to do this in the kitchen sink. You could go outdoors, but the easiest way to clean oven racks is in your tub.'
1. How to clean oven racks in the bathtub
Jeremy recommends 'putting cleaning agents on the rack, or in water that covers the rack. Overnight soaking will leave grease and gunk easy to remove with a sponge or cloth.'
Cleaning oven racks in the bathtub is more time-consuming than just taking out them out and scrubbing them, but it definitely requires less effort, since the cleaning agents will just dissolve the grease over time. Jeremy's favorite cleaning agents for oven racks are Bar Keeper's Friend, widely available on Amazon, baking soda, one of the best oven cleaners, or dishwashing detergent. If using baking soda, 'you can use it by itself or apply the baking soda and then spray it with vinegar, for a fizzing effect.'
Jeremy told us that 'these methods are not only easy, they will leave your oven racks clean and shiny. You'll keep them that way if you clean the racks and your oven twice a year.'
2. How to clean oven racks with dish soap
Let's say you're disciplined when it comes to cleaning all round your home and every job gets done regularly, including tackling the oven and all its parts. Or perhaps you cook most of your meals in the microwave? Or maybe you order in a lot? If any of the above apply, then it's likely that your oven racks will be less dirty, and more straightforward to clean. This is how to clean oven racks that aren't caked-on with dirt.
In this case, you can use just straightforward dish soap to clean yours. Make sure the racks are cool before you start, then soak them in a lukewarm dish soap solution, using one the best washing-up liquids. Use a scouring pad to work off any grease or debris, but make sure it's a non-abrasive version. Rinse, then dry them using a soft cloth.
Once they're dry, you can put the racks back. If you find they aren't sliding as easily as they should, just put a little cooking oil on wax paper and rub the side rails so they'll move smoothly again.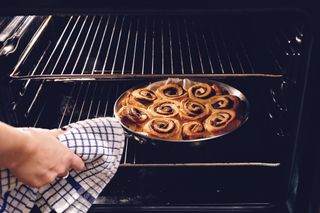 3. How to clean oven racks naturally
Fans of natural cleaning methods, step right this way. You can use store cupboard favorites to make oven racks clean and bright. Oh, and you'll also need the bathtub.
Jeremy's recommendation is to 'put a towel down first to prevent scratching the tub.' Put the oven racks on top of it, then sprinkle them with baking soda. Pour on white vinegar, and watch the combo foam. When the foaming stops, add hot water to the tub until the racks are fully covered and leave them to soak overnight.
In the morning you can use a soft cloth or sponge to wipe off any grease and grot. Stubborn spots left? A toothbrush will help you work round all the bars of each rack.
4. How to clean oven racks with dryer sheets
Yep, you did read that right. Plenty of people swear tumble dryer sheets are the answer to grubby oven racks. Line the bottom of the tub with the sheets, then put the racks on top of them. Fill the tub with hot water until they're covered, adding a half cup of dish soap for its degreasing effect.
Leave the racks to soak overnight (best to warn early morning bathroom users), then drain the tub and wipe the racks down with the dryer sheets. A toothbrush is again the answer to any debris that's clinging on.
Rinse the racks, then dry with a soft cloth before putting them back into the oven.
5. How to clean oven racks with foil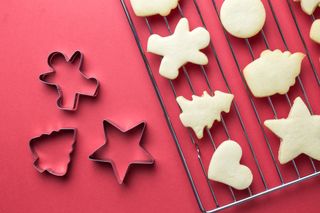 OK, yes, this does sound strange, but users of this method have raved about the results when it comes to how to clean oven racks. First, wrap the racks in aluminum foil. Place an old towel in the bottom of the bath, then put the wrapped racks on top. Add a couple of dishwasher tablets, and cover the racks with hot water.
Then (you guessed it), leave to soak overnight. In the morning, unwrap the racks, and wipe them down with a soft cloth. Rinse and dry (soft cloth again, people), then replace.
Should you clean oven racks using ammonia?
You'll find plenty of people recommending cleaning oven racks with ammonia. Our strong advice? Don't. Although ammonia is an ingredient in many household cleaning products, adding it to a trash bag to clean oven racks is a bit different.
Bear in mind that ammonia needs to be used in well ventilated areas, and because it's an irritant you'd have to wear eye protection and protective gloves, and avoid getting it on skin and clothing. In other words, use one of our easier methods, and avoid the hassle.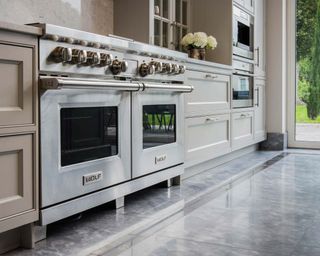 Expert tips on cleaning oven racks
Mrs Hinch, aka Instagram cleaning guru Sophie Hinchcliffe, shared with fans 'I usually soak my oven racks in a large blue soaking tray but can I find it? Nope! And I can't be bothered to go in the loft today so bath it is ✔️Washing up liquid✔️White vinegar ✔️ Warm water ✔️' and the result? 'Oven = HINCHED 😉✔️'
Melissa Maker author and creator of Clean My Space uses the bathtub method but instead of using baking soda she recommends powdered dishwasher detergent or laundry detergent if it's all you have to hand. 'Dish detergent is designed to specially work on this type of mess, this grease. So if you can find powdered dish detergent, go for it.'
What is the easiest way to clean oven racks?
If hard scrubbing isn't your thing (is it anyone's?), you should look into professional-grade oven cleaning products. Not all of them are suitable for home use, but some are, and will save you a lot of time and effort.
Jessica Randhawa, the head chef, recipe creator, and writer behind The Forked Spoon, swears by a product called Easy-Off Fume Free Pro Commerical Use Oven Cleaner, available from Amazon. She calls it 'an excellent choice when used with non-scratch sponges.' If Easy Off is not available, Spray Away Heavy-Duty Oven and Grill Cleaner is also a good product, according to Jessica. These are 'heavy-duty chemicals', but they do work.
Alternatively, Bar Keeper's Friend should do the job on most oven racks. According to David Mason, the owner of The Knobs Company, the pros of this product is that 'it's available in most grocery stores' and you only need to let it sit on your racks 'a short time'.
How do I make my oven racks shiny again?
According to Mason, 'the easiest way to make oven racks shiny again is by using a Brillo product. It's available in most grocery stores. Simply wet the oven racks, sprinkle on the Brillo, let it sit for a few minutes, and then scrub with a brush.'
You can, of course, also use baking soda, lemon, and plenty of elbow grease to really get those racks to shine.
Can I clean oven racks with vinegar?
The short answer is: yes, you can use vinegar when considering how to clean oven racks. The longer answer is that for best results, David Mason recommends that 'mixing vinegar with baking soda paste can help restore the luster to your oven racks. First, mix 1/2 cup of vinegar with 1/4 cup of baking soda. Then, scrub the oven racks with a soft brush, allowing them to sit for 5 minutes. Rinse off with clear water and allow to dry.'
Or, if you are in a hurry or don't have any other ingredients, go ahead and 'use straight vinegar on the racks.'