Knowing how to clean a stainless steel sink properly will go a long way to keeping your kitchen hygienic. Stainless steel itself is a very hygienic material – it's called stainless for a reason. It also doesn't harbor smells, so we love the look and freshness of this durable sink material.
Still, with daily use, and especially after oily/greasy cooking and washing up, your stainless sink may begin to look a bit dull and accumulate buildup.
Whether you want to know how to keep your stainless sink clean on a daily basis, or want to give yours an epic deep clean, this simple method will get yours back to its brand-new sparkling look.
Cleaning stainless steel is easy – you just need to know the correct technique and use the right products.
How to clean a stainless steel sink
Make this expert step-by-step part of your cleaning ritual for the best results if you have a stainless steel sink. It is easy and doesn't use lots of harsh over-counter cleaners – most of what you need is probably already in your pantry.
To clean a stainless steel sink you will need:
1. Rinse the sink out
First, put on some gloves and remove any food debris from the plughole. Then rinse the sink with clean, warm water from the tap.
If your sink is slow to drain and/or blocked, learn how to unclog a sink first. Make sure there's no standing water left in the sink before you clean.
2. Sprinkle bicarbonate of soda all over
Sprinkle baking soda or bicarbonate of soda over the entire sink including the taps. This is a great stainless steel cleaner as it's abrasive enough to scrub away stuck-on grease, food and limescale, but not so abrasive it will scratch the shiny steel.
3. Work the solution in to the sink
Wipe the cloth around the sink. Get into the corners and around the taps, using an old toothbrush if necessary. Make sure you don't scratch the stainless steel sink by using a damp, soft cloth instead of a scourer.
4. Put the kettle on
Allow the solution to sit for a few minutes while it does its work. You can put your feet up, boil the kettle and have a cup of tea for this bit.
5. Spray with white vinegar
Cleaning with vinegar is a failsafe method for lots of different areas in the home. Spray undiluted white vinegar over the baking or bicarbonate of soda residue left in the sink. The vinegar and soda will fizz when they come into contact with each other. Vinegar is a good disinfectant and great for removing water spots.
6. Give it a final rinse
Once the sink's looking clean, rinse using warm water from the tap and buff dry with a soft, clean rag.
7. Apply a little oil for a gleaming sink
If your sink isn't shiny enough, you can polish it by buffing oil into it using a dry cloth.
That's it. Cleaning a stainless steel sink is super easy, and if you repeat this process weekly, yours will always be shiny and hygienic.
How do I remove stains from stainless steel?
Using baking or bicarbonate of soda will help remove marks and hard water stains from a stainless steel sink. However, if you have bigger stains, try the following:
1. Mix a paste of equal parts washing up liquid/dish soap with baking soda.
2. Use a microfiber cloth again to rub this gently over the stains, ensuring you do this in the direction of the grain.
3. Rinse and dry, then follow with your favorite sink shining method.
How to prevent water spots and other stains on a stainless steel sink
To avoid having to clean a stained stainless steel sink in the first place, follow these guidelines on a daily basis:
1. Rinse off your sink after each use: As dish soap contains chlorides, rinsing it off helps reduce the appearance of watermarks and any corrosion.
2. Scrub in the direction of the grain: This will better blend the surface texture of your sink.
3. Leave out scourers: Regular carbon steel brushes can not only leave scratches on the surface, but any iron particles deposited when using them can later lead to rust.
4. Dry thoroughly: Finally, wiping down and drying your stainless steel sink's surface is a must to avoid any water spots or rusting over time. Ensure your dry towel is clean and free from old oil for the best results.
How do you restore a stainless steel sink to shine?
Sparkling water can be used to renew the shine in your sink. Yes, buffing your sink once cleaned with a cooking oil as mentioned in our video is one great method to shine your sink. But this alternative using club soda is worth a shot.
1. Simply pour sparkling water into the basin after placing the plug back in your sink.
2. Rub it in to your sink with a clean microfiber cloth.
2. Dry and buff with a separate soft cloth.
What is the best cleaner for stainless steel kitchen sinks?
There is a huge choice of cleaning products out there, but, in our experience, whatever cleaning spray you use, the final result is largely down to the quality of the mechanical scrubbing of your sink. Cloths work well but do require a lot of elbow grease. Try the Joseph Joseph 85025 Edge Dish Brush (available from Amazon) instead – it's a stiff brush that really gets into all the corners and crevices, but it's not too abrasive and won't scratch your sink. The way it lifts stains and grime is very impressive.
You can use the brush with baking soda or with Method Stainless Steel Cleaner.
What should you not use on stainless steel?
Steel wool and steel scourers must be avoided – they will scratch and ruin your sink. The same goes for harsh abrasive chemicals. Never put bleach or chlorine down a stainless steel sink and avoid products that contain ammonia. Also, while it may be tempting to us your oven cleaner in your sink, don't, as most oven cleaner contain caustic soda, a no-no with stainless steel.
How can I clean a stainless steel sink without scratching it?
Just rubbing a lemon cut in half all over your sink will do wonders for it. And if you're using baking soda, always work it in with a microfiber cloth or soft sponge. Never use anything abrasive – that includes table salt.
Will vinegar damage my stainless steel sink?
Vinegar is a popular household cleaning ingredient and most people have no problem cleaning their stainless steel sinks with it. However, according to Monarch Metal, 'long-term exposure' to vinegar can damage stainless steel. So, to be on the safe side, never leave vinegar in your sink for long periods; a quick spray is more than enough. And if you are worried that you're using vinegar too often, use lemon instead. Always rinse after.
How to clean a sink like Mrs Hinch
There are Mrs Hinch sink cleaning hacks galore, and when it comes to cleaning stainless steel kitchen sinks, Sophie Hinchliffe recommends using Cif's Ultra Power stainless steel, leaving the it to soak in for 10 minutes before cleaning it off.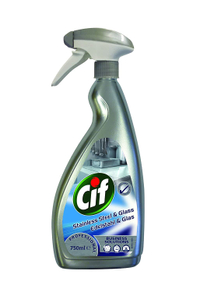 Enjoy your stainless steel sink that shines like new!