Designing your living space begins with making countless decisions, like whether to choose blinds or curtains or bigger aesthetic decisions, like whether to design with color or opt for more natural elements. Whatever your design preferences, when establishing the look and feel you want in your space, learning how to choose the right coffee table can make or break your decor.
An online search for coffee tables brings up an overwhelming amount of choices — in shape, measurements, materials, and even color. Finding the best table for your space isn't always as easy as adding to your shopping cart. So where do you start?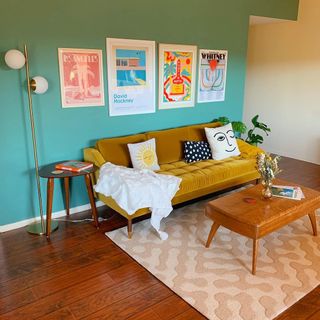 How to choose a coffee table that's perfect for your space
For Rose Duke, the content director behind the Instagram beloved by designers and nostalgia lovers 70sWorship, the coffee table is a central part of how you live every day in your space. "A coffee table is a natural companion to a set of chairs and sofas oriented to entertain," she explains. "The right coffee table will hold our drinks, food, chess boards, card games, places, remotes, records, and more in such a way to elevate the overall functionality in those places designed for leisure and entertainment."
Duke's Instagram content focuses on a decade where coffee table designs weren't afraid to mix materials. "1970s design was all about creating a fun and sexy yet sophisticated atmosphere," she says. "Naturally inspired materials like wood and exposed concrete were paired with earth tones and bold patterns and often complemented by metal alloys like chrome and gold." Using the 1970s bold designs as inspiration, you can find the right coffee table for your space by imagining what differences in shape, materials, and colors will have on the overall look.
First, think about function
To get started, Duke says you gotta think about function. "Your first step when shopping for coffee tables is to consider how you're going to use it," she explains. "Will you use it just for coffee? (Hint: You won't.) So, will you want to eat meals on the floor around it? Play games around it? Put your feet up while you watch TV? Thinking through this will give you an idea of how you want it to feel and complement your lifestyle." By considering the everyday utility of the furniture piece and if you need a coffee table with storage inside as well as on top of it, you'll better understand your needs when shopping around.
Measure and get the size right
There are also practical reasons to choose the right table for your room. "Generally speaking, coffee tables shouldn't be more than 12 to 18 inches away from your chair or sofa," says Duke. "Anything outside of that will probably feel too close or far away."
After carefully measuring the space and accommodating the surrounding area, keep the measuring tape out. "Measure the room but most importantly, measure the length and width of the couches or chairs you are looking to pair this with and the distance between them if you have more than one big piece of furniture in the ensemble," Duke notes.
Figure out your budget for a coffee table
Those on a budget need not worry. According to Duke, "Coffee tables do not need to be expensive to look fabulous." Though a shiny new piece from a high-end shop or your favorite vintage dealer sounds dreamy, you can find your dream coffee table in other ways that are nicer to your wallet.
"It's all about figuring out what you're looking for and what's going to serve your space best," she says. "Adding a budget-friendly Facebook Marketplace or Target coffee table with the right materials and dimensions can completely elevate a space, especially when you get into accessorizing the table surfaces."
Inject your personal style
No matter what type you choose, injecting your personal style can be as simple as accessorizing your coffee table, according to Duke. "No matter what coffee table you use, the accessories you pair them with will totally change the narrative," she says. For someone who spends time poring through coffee table books for her Instagram, she is clear on one thing: "Choose your coffee table books wisely."
Beyond choosing the wrong accessories, another mistake people can make is not prioritizing function. "Most people often don't stop to think about how they are going to actually use their coffee table," Duke says. "Be honest with yourself. Often, we choose aspirational design pieces without considering function. The key is finding the intersection of aspiration and functionality." The ideal coffee table is only the right one for your space if it functions well and ends up being an important functioning place in your living room. Happy shopping!