There's nothing nicer than relaxing in your own garden, be that after a busy day WFH or when chilling with friends and family on a weekend. But, if yours is looking pretty overgrown, uninviting and frankly not meeting your needs then it's time to give it a makeover.
Whether you simply want to tidy it up, copy a colour scheme from the best garden ideas around, invest in new planters, or, you if you want a complete overhaul of your landscape and are considering employing a garden designer, we all know how garden makeover costs add up. The good news is, you can have what you want without forking out needlessly. To stay on budget, keep scrolling and get clued up with our guide on where to spend and where to save.
What to consider before you start
It can be daunting when you've decided to re-design a garden, but with some careful planning and inspirational research, you can achieve the outdoor space of your dreams without going overboard on garden makeover costs.
We asked Christopher Ray, Head of Outdoor at B&Q for his top tips on what to consider initially, 'Decide what sort of outdoor space you want - is it for the kids to play in? Somewhere to eat and drink with friends and family? Or maybe you want to create a space to grow plants and vegetables? Once you have decided the kind of garden you need, you can divide the area up into different zones which can create a different purpose for each zone.'
Then, you can get inspired and look to Instagram, Pinterest, magazines and even in your local park for everything from flower bed ideas to garden layouts and more. The aim of the game is to figure out what you like, and what you don't like for your garden.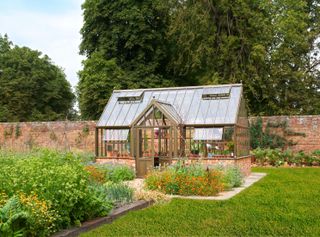 Ray recommends to 'Make a plan of the garden – on a piece of paper draw a plan of your ideal garden. A good tip is to use a tape measure to take accurate measurements of all the basic dimensions including any fixed structures or points. Now is the time to be thorough as it will help you avoid expensive mistakes later.'
'Another important factor is to check the regulations, because planning regulations vary from area to area, and there are usually tight restrictions on what may be done to listed buildings and that includes their gardens. It is also worth having a chat with your neighbours to discuss anything that might affect them. This usually prevents any complaints or issues further down the line. If you are making a lot of changes consider breaking the project down and completing it over a period of time to make the expense more manageable. Even if you are planning on doing as much as you can on your own remember that some jobs must be handled by professionals.'
How much does a garden makeover cost in the UK?
This can be a 'how long is a piece of string' type answer, so we asked gardener, author, and horticultural broadcaster, Ellen Mary for her thoughts on budgets;
'Budgets vary vastly on your garden space and design, from the materials used to the plant choices, furniture and hard landscaping. In general, for a small space you might be looking at a minimum of £5,000 upwards and for a large garden the costs can soon sky rocket, so have an idea what your budget is and look at what you can achieve with that amount. Don't let the cost put you off though because many gardens can be designed on a small budget.'
How can I give my garden a makeover for free?
If you want to give your garden an overhaul but don't have any money to spare, there are some jobs that will really make a difference, Ray shares his top two below;
'Mow and weed the lawn – first things first begin by getting your lawn under control. Giving your lawn a trim is a simple way to make your garden look neat and tidy. A good tip is to get a lawn mower with a grass collection box as it leaves no mess behind. You can then use a grass trimmer to leave crisp edges' says Mary.
'Tidy paths and patios – with a stiff broom sweep any paths, paving and decking to remove leaves, dust and dirt. If you have time, you can pressure wash surfaces to bring them back to life.'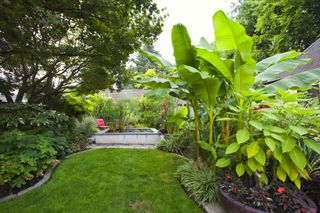 What can I achieve myself on a tight budget?
With a small budget and a bit of know-how you can still achieve a lot without going overboard on the cost of your garden makeover, all you need is to be clever with what you spend your money on. Landscape architect Victoria Wade, gives the following advice;
'It's really worthwhile investing in quality materials, especially for your patio - cheaper materials such as sandstone often aren't very robust, and do keep an eye out on eBay and Facebook marketplace for bargain second hand garden furniture and even building materials, there are some fabulous bargains to be had if you perceive. Plants can be expensive, especially if you have a whole garden to fill, so taking cuttings from a friend or neighbours garden is a great way to fill your borders for free. Keep an eye out in bargain corners in the garden centres too.
And don't forget to scour your local reclamation yard too - I love using reclaimed vintage containers as planters - old water tanks and tin baths work really well.
If you're up for a bit of DIY think creatively about what you could upcycle - with some love you could transform a stack of old pallets into a garden sofa, garden bar or playhouse!'
Should I hire a designer to help with a garden makeover?
'Hiring a garden designer is undoubtedly the best way to make the absolute most out of your garden and avoid any pitfalls which could come with completely overhauling your space,' says Mary. 'Look for local designers if possible who will know your area well and work with local contractors plus always ask for previous customer reviews. You can absolutely overhaul your own garden yourself, just make sure you do lots of research, get plenty of advice and enjoy the task of building your own dream garden.'
Wade also shares a fabulous tip if you're trying to save on garden makeover costs, 'If you can't afford to hire an established designer because you are on a tight budget you may be able to find a garden designer who has recently graduated or set up their business who could help for a fraction of the cost '. We think is a great idea!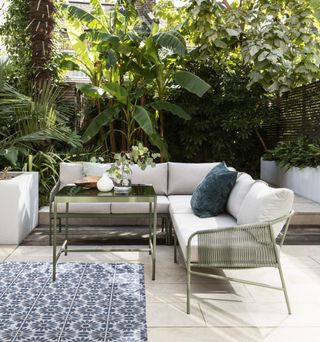 Can I lay a patio myself?
Yes you can, but you do need to have a certain level of skill to know how to lay a patio like a professional. Should you be so lucky, you will save on garden makeover costs. Springtime is the perfect period to do it, ready for the warmer months ahead. It is a weekend job and you will need to know how to lay hardcore, compact it with a wacker plate, know how to level it off and be able to make mortar mix - working out your tile layout is the easiest bit! If it feels a bit overwhelming, then it might be worth hiring a contractor who will be able to do it much quicker for you.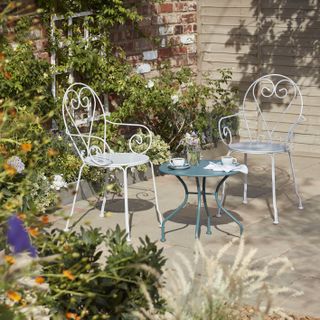 What garden features will add value to my space?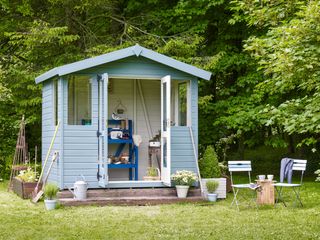 There are several features that can add value to your garden space when giving it a makeover, the top one is by investing in the best garden shed you can. That perfect place to keep your tools in or turn into a small summer house. Other aspects to consider are a garden pond or sculptures.
The other key feature is a traditional style greenhouse or glasshouse and over the last year they have become more popular due to people wanting to grow more of their own vegetables and flowers and they can also be a beautiful focal point.
We asked Tom Barry, CEO of renowned greenhouse company, Hartley Botanic for his thoughts on investing in a greenhouse and what people are using them for;
'From our conversations with customers, the vast majority are using their greenhouses for horticultural reasons, as you would expect – for growing edibles, raising seedlings etc. Most commonly however, we are seeing a trend for greenhouses to be used for al fresco dining and as a space for morning and evening relaxation.
In its simplest sense, although single-glazed, a greenhouse still offers some outdoor shelter from our changeable weather conditions, allowing gardeners to spend longer savouring and being amongst their plants. The environment of a greenhouse is also extremely calming, allowing you to both fully take in your garden and be surrounded by the plants you are growing. Its role as a garden 'room' also means gardeners can curate the space in a similar way as they would their interiors.'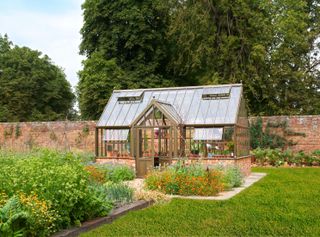 Garden = beautiful. Budget = in tact.