So many books, so little time (and space). My small bedroom bookshelf ideas are as lengthy as my TBR list... and the pile of novels that I said I'd read before buying something new. I just can't help myself at Barnes & Noble, OK?
Upon signing the lease to my first apartment, I had a lot of lofty ideas for my personalized library. However, when it came time to allot space for my literary companions, I wasn't terribly thoughtful in my approach. (You were right, Mom.)
When it comes to small bedroom ideas and bookshelf ideas, proper planning is essential. I eventually found some cool bookshelf ideas that really helped transform my space, even though they were not necessarily what I was expecting.
Small bedroom bookshelf ideas I *thought* I'd try
I live in a small Brooklyn studio, and I divided the room by section. You enter the "bedroom" first, followed by the "living room" and "dining room" in the distance. Since I already had a rug that didn't fit (but I refused to part ways with) and not one, but two tables, I figured it'd be best to leave my bookshelf in the bedroom area. From there, I started noodling on some ideas about where to house the paperbacks and hardcovers that didn't have a spot. (Spoiler alert: there were a lot of 'em.) Figuring out how to organize a bookshelf was certainly a tall order.
1. Book tower
I had long been eyeing vertical bookshelves, and I know eating up wall space is a go-to move among designers. I planned to snag one of these bad boys and stack my hardcovers and paperbacks according to my color scheme (navy and light pink.) When I realized just about every corner and empty wall space in the room was utilized, I knew that would be a no-go.
2. Utility Cart
Unless I stationed my utility cart right in the middle of the apartment with no purpose or direction, I wouldn't have been able to make this move happen. Plus, I needed at least three carts in order to give every title a home. Another one bites the dust.
3. Floating shelves
I'm pretty keen on getting my security deposit back and not allowing the walls to collapse on me. Since I had one too many selections for shelves, I decided it was best to leave the floating shelves for my antique mirror and a small pot of ivy.
Bookshelves to buy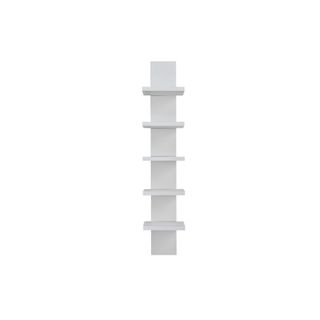 5-Tier
Price: $37.99
Size (in.): 5D x 6W x 30H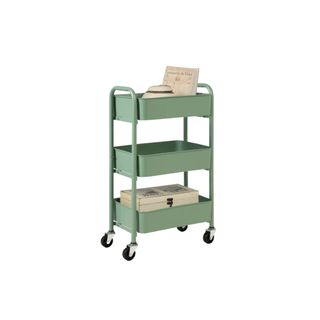 Rolling
2. SunnyPoint Metal Utility Cart
Price: $43.99
Size (in.): 10L x 15W x 26H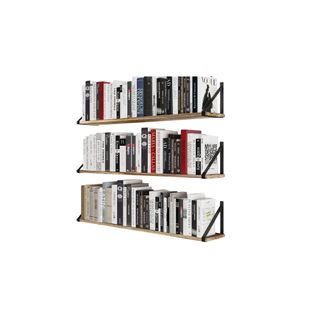 Floating
3. Wallniture Floating Shelves (set of 3)
Price: Was $62.99, now $49.99
Size (in.): 6D x 36W x 7H
How I organized my bookshelf
I had just *enough* vertical and horizontal space to stack my additional titles next to the already full bookshelf. I assumed it'd be a temporary space-saver until I figured out where I'd put my overflowing pile. Two-and-a-half years later, I'm still freestylin' it, much to my surprise.
I'll be honest, I never thought I'd be one to take such a lax approach, but I absolutely adore this bookish spot: it's neat, organized, and everything is easily accessible. When I'm feeling crafty, I'll put something on top of it to add a li'l pizzazz.
Even better? The two stacks — one hardcover, one paperback — still have space for new additions. That means I'm due at Strand for a quick peruse. But once that area fills up, all bets are off.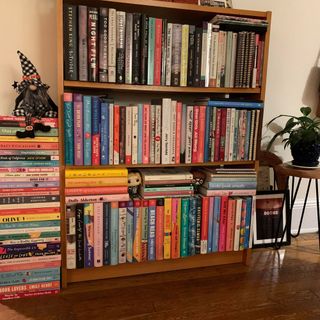 What I'm planning to do next
When I inevitably run out of space for a second time, I'm going to have to get resourceful... again. Since I'm enjoying this very chill freestyle maneuver, I've considered putting additional stacks under my coffee table, arranging them by color and size. But I also enjoy the idea of having my favorite reads close to my bed, so a storage headboard isn't out of the realm of possibilities, either. Whatever's next, I just hope it all fits!
---
Have a big love of literature but no place to house your novels? The best bookshelves for small spaces will keep your ever-growing collection neat and organized. If you're up for a project, how about learning how to build a bookshelf all on your own? (It's easier than you might've imagined.)