The right living room wallpaper ideas can totally transform your space quickly, easily (honestly, it's not hard to DIY it) and usually pretty cheaply. And it's the perfect weekend DIY project for when the rain hits. 
You can wallpaper all four walls or simply one to create a focal point and, used expertly, you can use wallpaper designs to make a space feel larger, and ceilings higher – read on to find out how. Can't find a design you like? We agree, it can be a minefield as there are so many designs to choose from, so we've found five different looks for your living room wallpaper below to get you inspired.
For more living room ideas make sure to check out our gallery too. 
1. Go for a traditional living room wallpaper (even in a modern space)
Although classic patterned wallpapers do lend themselves to period properties like this space, the colour schemes they come in means they can work in more modern settings too – so don't rule them out! This stunning Crowe Hall Lane design in gilt looks fabulous in this high-ceilinged living room. And the white/creamy background of the wallpaper will keep your space feeling light and bright. The accessories have been chosen to perfectly fit with the colours from the wallpaper in mind to create a lovely cohesive look. 
For more traditional living room ideas head over to our feature. 
2. Pick a grown up jungle print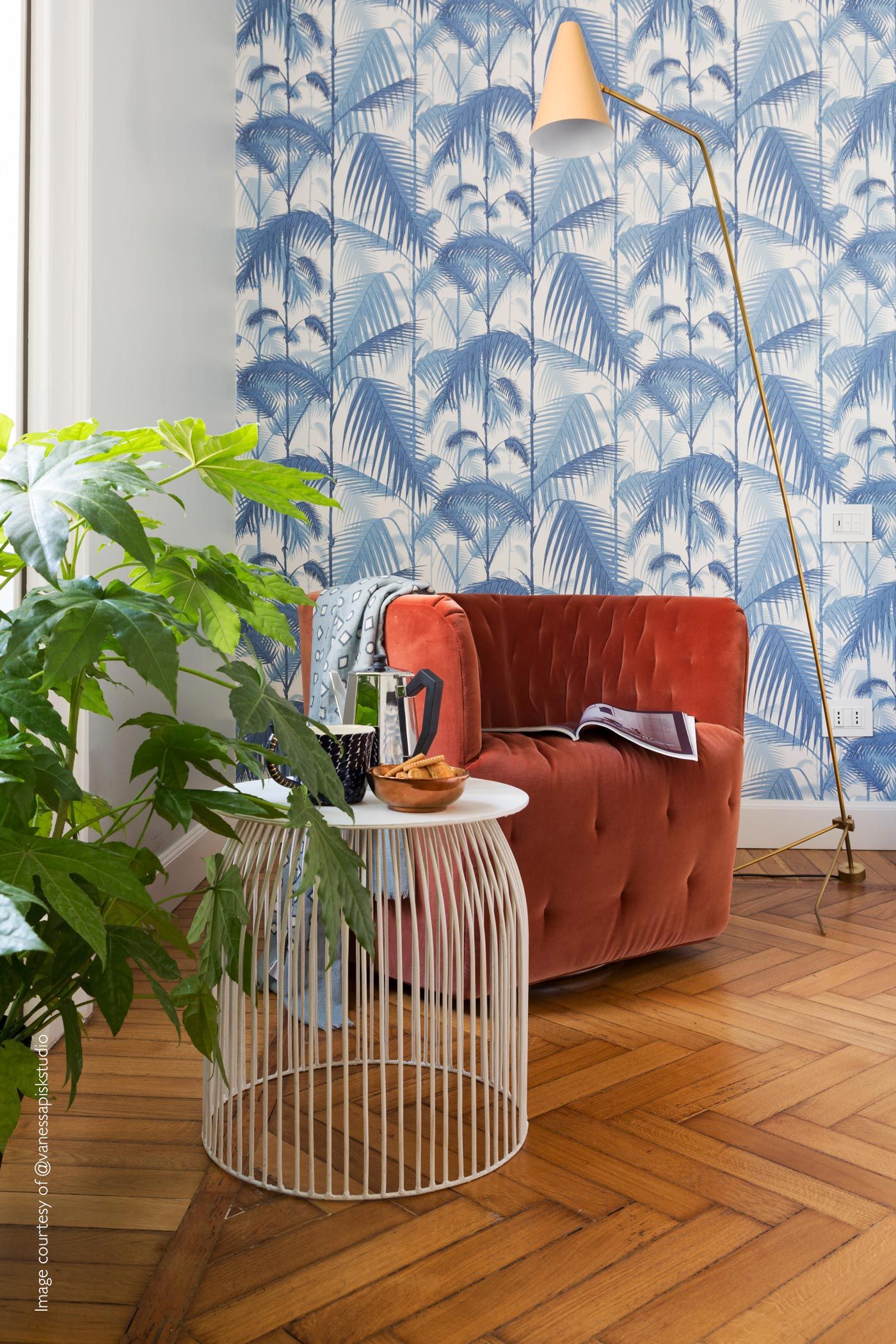 Jungle print wallpaper has been on trend for ages now, and our love for the palm leaves and banana plants aren't going anywhere. We love Cole & Son's Palm Jungle and a chic, grown up take on the style and there are so many colourways to choose from so you will definitely find something to suit your space. Note how gorgeous the burnt orange looks with the blue – a colour combo we are for sure going to test out. And about making a ceiling feel higher? Any wallpaper with a vertical stripe (like this one, even if it's subtly hidden amongst the leaves) will make a room feel taller.
3. Be bold with a stunning wall mural 
Who wouldn't want a wallpaper this spectacular in their living room? It's almost like a painted mural. The colours are so gorgeous, not too bright so it won't overwhelm the room but obviously it's a wallpaper you are going to notice. You could have it on a single wall and the rest painted in a plain accent colour, then pick out the key accent colours for accessories and add in some gold highlights. This lovely paper is Oasis by Woodchip & Magnolia. 
4. Pick an exotic print that's not too hectic
Inspired by the beauty of original Ajraks, MADDER is an authentic Gujarat style pattern created with wood block printing natural dyes. An ancient design showing repetitive handmade geometric motifs combined with elements which symbolise nature, such as stars and flowers. Available in two colour versions: grey and the original red – but we think the grey (above) is perfect for a living room. If anything we'd guess it was an exuberant Scandi design. Either way, it's fab.
5. Create a fresh look with pastel shades
Featuring blackbirds, leaves and branches in pretty soft pinks and sage greens, this delightful wallpaper was originally created by hand-printing with a lino block. It's available in five other colourways and is a digitally printed 'paste the wall' wallpaper. Team with candy coloured accessories and furniture and hints of white for a fresh look. 
Walk in the Woods wallpaper in putty and sage, 52cm wide, £15 per metre, Louise Body
6. Add copper tones with a metallic wallpaper
Copper is all the rage right now, so create a feature wall with hints of it like this design. It's a good example of how wallpaper can enhance a space rather than take it over. The velvet sofa is perfectly matched and it pulls the scheme together, with a mixture of plain and decorative cushions to add interest and depth to room.
7. Go bold with monochrome living room wallpaper ideas
If you're feeling brave and want to go for a statement living room wallpaper idea then pick a monochromatic wallpaper in an all-over stripe. This design is 100 per cent eye-catching and will certainly create a wow from guests as they walk in. Add pops of colour to balance the look, like with this electric blue sofa and pink ceiling. 
Osborne & Little Minaret wallpaper, £76 a roll, Jane Clayton & Company. Eden sofa in Omega II Italian velvet in azure, from £1,299, Sofa Workshop
8. Create a calming space with indigo hues
Invoke a calming atmosphere with this Japanese-inspired Shibori design – a striking geometric pattern that has been printed on non-woven 'paste the wall' wallpaper. This is a good example on how to use a decorative wallpaper around a bay window, too, cleverly creating a frame around each window. Follow the lead here and use mustard, grey and navy accessories to recreate the look.
Indigo blue wallpaper, £50 a roll, Graham & Brown. Otto chaise, from £3,110, Porter rug, from £169, both sofa.com. 
9. Opt for a bold feature wall in sunny hues 
To create an statement you don't need to paper the whole room; in fact, you'll make more of a focal point if you don't! This beautiful print looks perfect in this all-white room; the stand-alone decorative aspect makes it feel like a piece of art instead of wallpaper. Pull out key colours like the sunset orange, sky blue and citrus and look for vases, cushions and throws in those shades to add more colour to the scheme. 
Loriini in Jasper wallpaper, £94.50 a roll, from the Archive Trials II collection, Little Greene
10. Find retro living room wallpaper for a Mid-century vibe
If you would love a Mid-Century modern living room, then consider a retro style print. Charming and stylish, this wallpaper features abstract forms with illustrative textures and patterns and is inspired by the High Plains and Grasslands of the Mountain States. There are seven colours to choose from (shown here is Dolly in a matt finish), all of which look great with retro style furniture and accessories. 
Denver Dolly wallpaper, £64 a roll, Miss Print 
11. Be creative with a colourful geometric print
For a colour explosion, look no further than this iconic living room wallpaper design that features a kaleidoscope of pinks, oranges, purples, blues and greens. Printed using a four colour separation process to create the best colour results, this design is most definitely for colour lovers.
Prism wallpaper, £100 a roll, from the Geometric II Collection, Cole & Son 
12. Add interest to a simple space with an abstract print
For the ultimate in a large scale graphic design this bold print depicts branch formations from oak trees. Not for the faint hearted, it comes in five colourways: mustard, pale verdigris, stone, lido and (shown here) Douglas fir. Team with sleek modern furniture and super smart accessories.
A Forest wallpaper in Douglas Fir, £55 a roll, Wallpaper Direct
Read more: